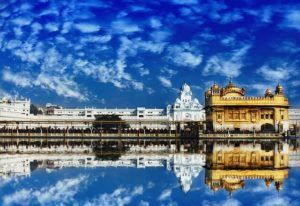 Being a female solo traveller taught me a lot of things. First of all it made me aware of my own shortcomings and that of my country. Let's admit it, India has gotten a bad reputation when it comes to women's safety and its not hard to figure out why. This article here provides an in depth analysis of the violence against women in India. Growing up in India, I was painfully made aware of the desolate state of women safety in India. I am not talking about the rampant casual sexism that I've had to face while growing up, but of more serious sexual harassment I had to endure every once in a while. Be it the the stranger who groped me on a busy market street or the 50 year old men who tried to put his hands on my thighs as I sat in the bus as an 11 year old. When I grew up, I hoped for things to improve and they did to certain extent. However, the primary reason turned out to be my metamorphosis into a confident woman from a timid young girl rather than a change in the prevalent social conditions.
Travelling in India as a female solo traveller
I remember travelling India solo for the first time. I was scared to death. However, I ended up having an amazing time. From people inviting me for tea/coffee to going out of way to help me out, I was able to travel to remote destinations without a glitch. Though I made sure that I never let my guards down. This India was different than the India I had experienced so far. So what changed? Was it the fact that I was a tourist? It had to be. There had to be a reasoning. A lot of people were amazed at a Indian female solo traveller. They had seen westerners travelling on their own. Of course, I've had my share of bad experiences too. I remember travelling with a female friend to the hippie town of Hampi. Since both of us are comparatively fairer in complexion and happened to wear harem pants, some of the local people mistook us for the innumerable foreigners who inhabit the city. We could see people making leering remarks at us in Hindi and trying to click unsolicited photographs of us. Luckily there was no physical harassment or anything. Strangely, Hampi was the last place I'd ever have thought anything like this would happen. But my dear India never ceases to amaze me.
My first trip abroad
When I went for my first solo trip overseas, I wasn't much prepared. I booked a one way ticket to Vietnam with the first day hostel stay. Despite the lack of research, It turned out one of my best trips ever. I drove my rented bike in remote areas in Vietnam where no one could understand a single word of English. I crossed into Laos from Vietnam on Land and stayed in the non touristy village of muang khua with hardly any foreigners in sight. Never did I ever have to face any unpleasant incident. No unwanted staring or unsolicited physical touching or groping. It came as a breath of fresh air for me. I felt more safe travelling abroad than travelling within India.
Should I travel in India as a female solo traveller?
Ever since I've been on the road, I've met a string of backpackers who are rather intrigued by India. It often starts with either 'I love Indian food' or ' I've always wanted to visit India'. I realised that people who've been to India have a strange love-hate relationship with it. It's either people who got enchanted with India and ended up visiting again and again or people who have had horrible things happened to them and vowed they'd never set foot in India again. I realised that most of the people who fell in the later category happened to be women. That definitely wasn't a coincidence. One of the most frequent questions that I was asked now and again by fellow travellers was whether India was safe to travel as a female solo traveller or not.
Should I give an honest answer?
Well, my answer to this question would mostly start with a long ummmmmmm..... I love India. I mean not only as an Indian but as a traveller. It has everything you'd expect from a travel destination. Specially, the beautiful cultural diversity. I've been travelling in India ever since I was a kid and it still overwhelms me at times. You've got the beautiful mighty Himalayas to hike, the mesmerising north east India, god's own country Kerala and much more. There is something for everyone. Not to forget some of the warmest hosts I've ever had were in my own country.
However my answer generally is ummm, I wouldn't recommend that.
I am not branding my country as an inherently unsafe place. Obviously a lot of that depends on which areas you chose and how do you conduct yourself. I've personally had wonderful experiences travelling solo in India and I met female solo travellers who loved travelling to India. Having said that, however you need to keep the statistics in mind.
My social experiment on Facebook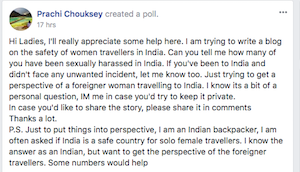 Hence I decided to gather some numbers and figure out the first hand experiences for foreigners who had travelled to India. I posted a poll on a famous Facebook women traveller group. In no time, I'd gained enough attention.
The ugly truth unrevealed
The responses I'd gotten were overwhelming. It ranged from constant harmless staring to incidents like catcalling, to physical harassment like groping and much more serious ones. Although majority were people who went to India weren't harassed, there was still a big chunk of ladies who had to face harassment. I had a couple of women who privately messaged me about their experiences.
There were few who didn't feel harassed.




Then there were few who faced a few incidents.

There were few who faced more severe harassment.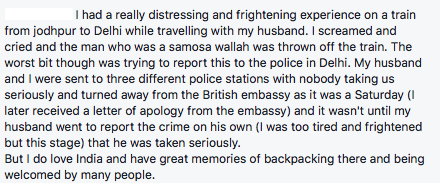 I realised there is a pattern, for example, the infamous holi celebration.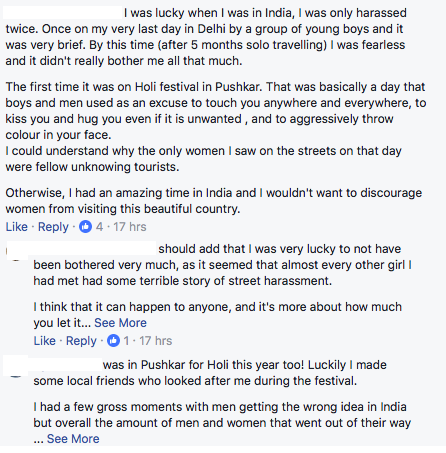 Some of them do not recommend travelling India alone.


Some of them would like to return to India despite their experiences.

There were some varied opinions too

and some victim blaming.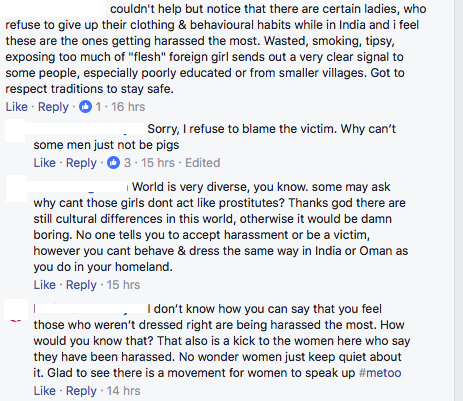 There were people who want to visit India but the safety concerns has deterred them.

I also got some personal messages.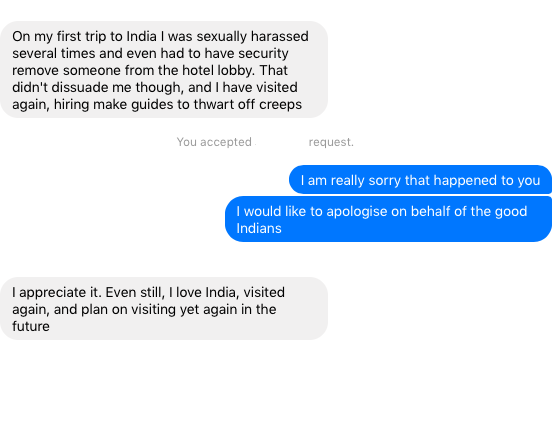 The hard hitting numbers
Thought the total number who responded and participated is insufficient to draw a conclusion, I'd like to present some numbers just to draw a picture.
Out of the total women who responded:
38% have never been to India but always wanted to go. 44.4% have been to India. 8% said they've never been and would not go (doesn't seem safe for a female solo traveller). 5.4% said they've never been, would love to go, but have been recommended to not go alone and get a local guide.
59.34% said They weren't harassed. 40.65% said that they were harassed .The final conclusion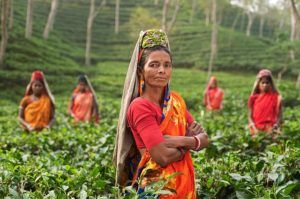 There is no denying the fact that we haven't been able to provide a safe and welcoming envorinment for female travellers. The main problem is the deep rooted patriarchy which is harmful not only for women but equally poisonous for men. Additionally, Hollywood's portrayal of white women has led some Indians to erroneously believe that white women are easy. As an Indian, it pains me to tell people that my country is not very safe for a female solo traveller.
I hope for a day when life for a woman in India, be it an Indian woman or a foreigner, will be safe and they won't have to think twice before stepping out of house alone. Till then it becomes our moral obligation as the citizen of India to make sure that any form of harassment, be it on a man and woman is not tolerated and we ourselves that any unfavourable situation is taken care of.
For more articles on travelling through India, keep following GeekHippie.