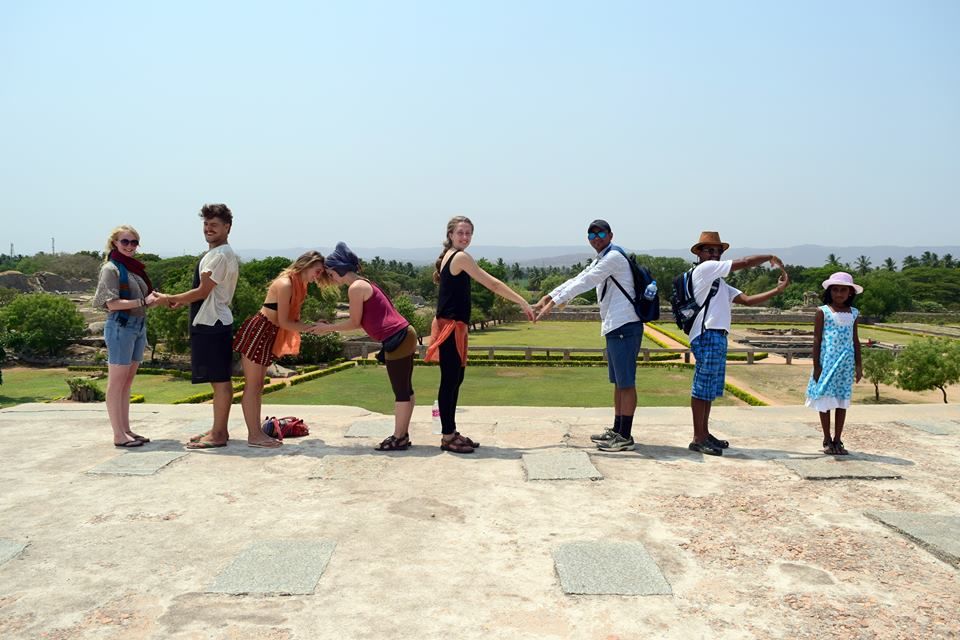 Our life is like an empty notebook, people we meet and the situation we encounter leaves their impression on that notebook forever. Altogether it makes our life story. People I met during my stay in Hampi trip too left some wonderful sketches on my notebook.
It all started when Ivy and Trishten casually looked back when they heard a dog barking in an otherwise quiet morning. I, who was walking a few meters behind them, waved my hand to acknowledge them. They decided to wait for me and that gave an outline to my otherwise unplanned trip to Hampi. Ivy had already signed up for a bicycle trip and she asked Tristen and I if we would like to join her. I was anyway thinking of renting a bicycle or an Auto-rickshaw to explore the places around Hampi, luckily, now I had company.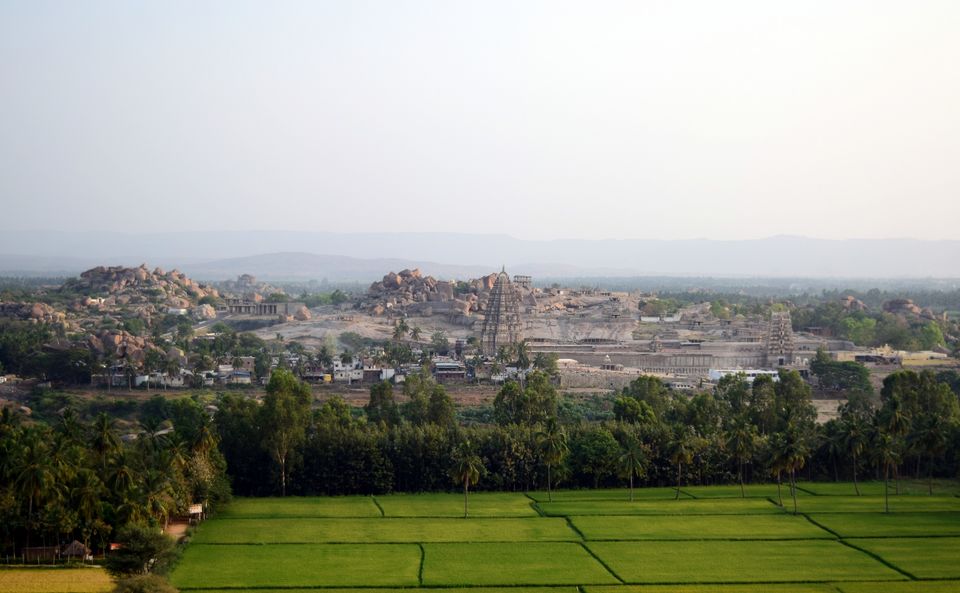 Confined to an area of just 25 Square Kilometer Hampi is known for its glorious past which is embedded in its ancient temple complexes. But Hampi is more than just the temples; it features a unique topography, rich history and mythological connection. Most of the architectures of Hampi dates back to 14th Century when this place used to be the capital of powerful Vijayanagara Empire. Owing to its remarkable architecture, this group of monuments of Hampi is recognized by UNESCO as one of the world heritage sites. Moreover, the area is surrounded by heaps of giant boulders, giving it an appearance of an alien planet. River Tungabhadra which flows through Hampi acts as a lifeline of the village and the people living around it.
Since we were staying on the other side of the river, on the area called Virupapur Gaddi, we had to cross the river to reach the Virupaksha Temple, the starting point of our trip. Luckily the water level of the river stays low during the dry seasons so we could cross the river easily. I could see some abandoned boats, which are used to ferry people from one side to another during rainy seasons.
Upon reaching the Virupaksha Temple, Ivy introduced us to our guide, Mr. Hanuman. Before moving out he gave us a brief about Hampi, its temples and the mythological connections associated with them. We were told that as per legends during the time of Ramayana, the monkey kingdom of Kiskinda was around Hampi and it is also believed that Hampi is the birthplace of Lord Hanuman. Referring to the Virupaksha Temple he explained that the temple is dedicated to Lord Shiva where Virupa refers to Lord Shiva and Aksha means eyes. We also saw the three-headed statue of Nandi, which we were told is not commonly found. The temple also has an elephant named Lakshmi who draws lots of attention of the visitors.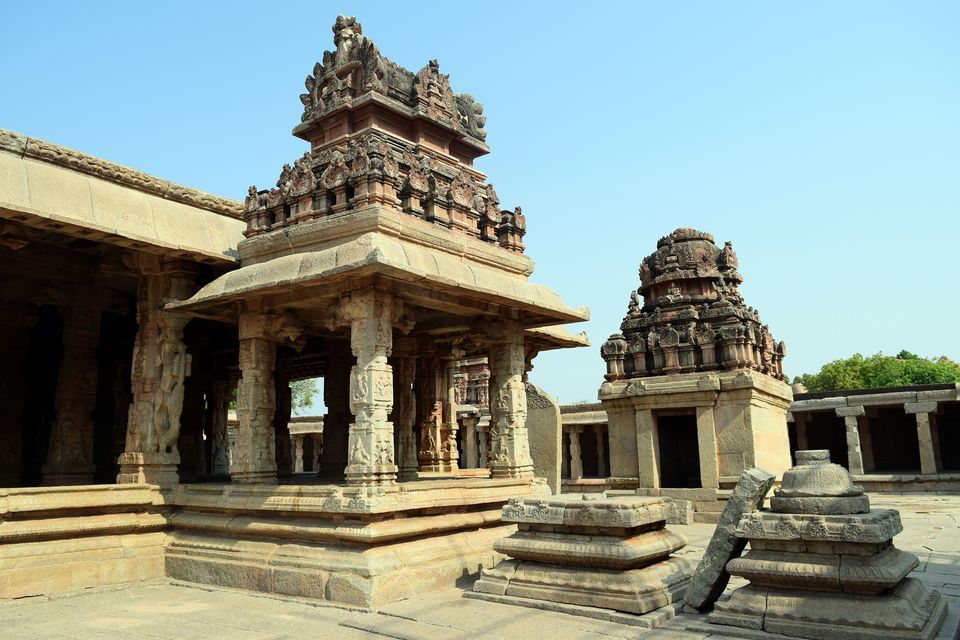 Soon we took on our bicycles to explore the other temples. We were joined by a few other travellers, Jenna, Sarah and Bina. Starting with the Ganesha temple we went to the underground Shiva temple, Krishna temple and many more temples one after another. The Ugra Narsimha statue near the Krishna temple was one of the amazing sculptures we saw during the trip. The fact that the sculpture is carved from one single stone makes it even more special. After touring this group of temples I had an obvious question, why none of these temples is working temples? I was told by our guide that during the Muslim invasion most of the idols in the temples were partially destroyed. So the deity is no more considered pure to be worshipped. Although the invaders destroyed and looted many of these magnificent temples, they still echo the architectural marvel of those times.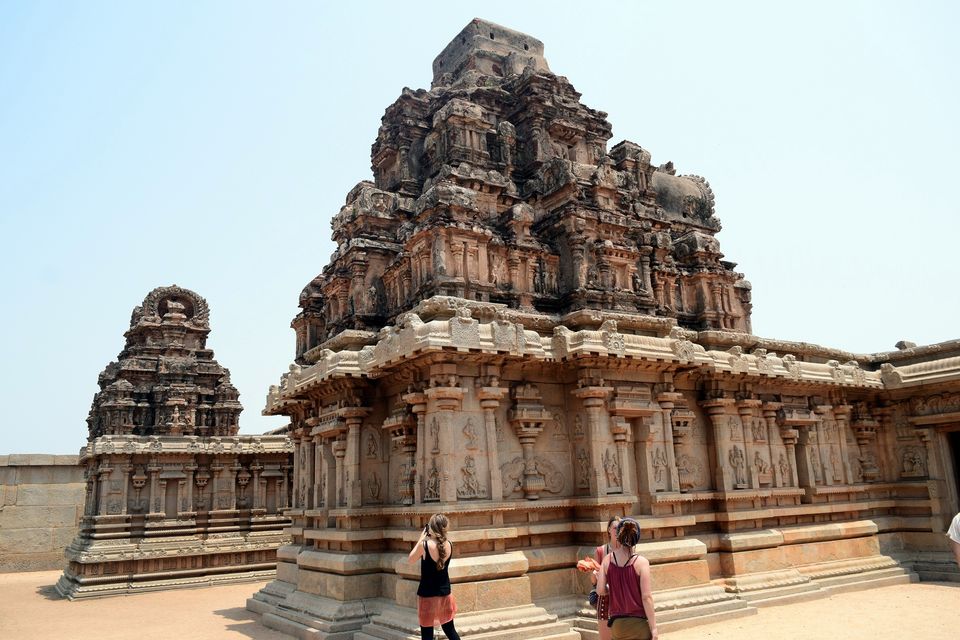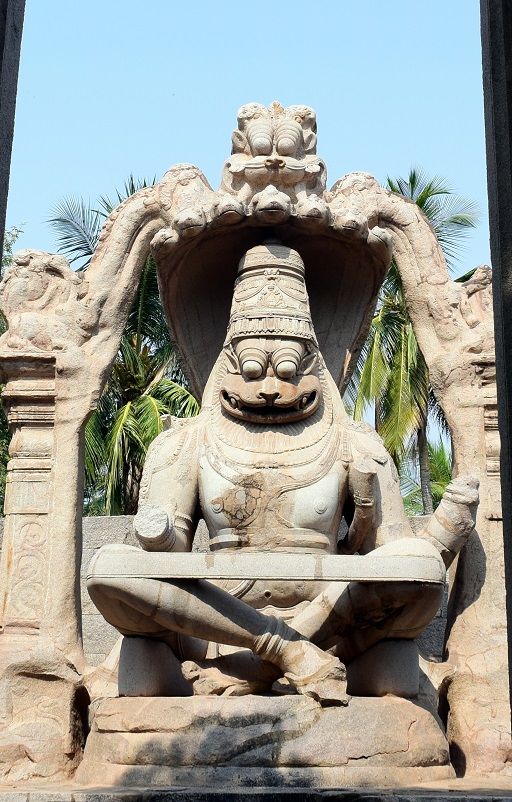 Our next stop was the Royal Enclosure, which used to be the seat of the mighty Vijayanagara Kingdom but now it is scattered with old relics. And next to it was the Queen's bath, an enclosed area with a water basin in the middle. The water to this bath was channelled from the Tungabhadra River. Having a guide helped us in knowing about those places better, rather than just admiring the beauty. After showing us some of the other interesting sites like the Hazara Rama temple, Stepped tank and the Elephant stable, our guide bade us goodbye. And we too headed back towards Hampi market.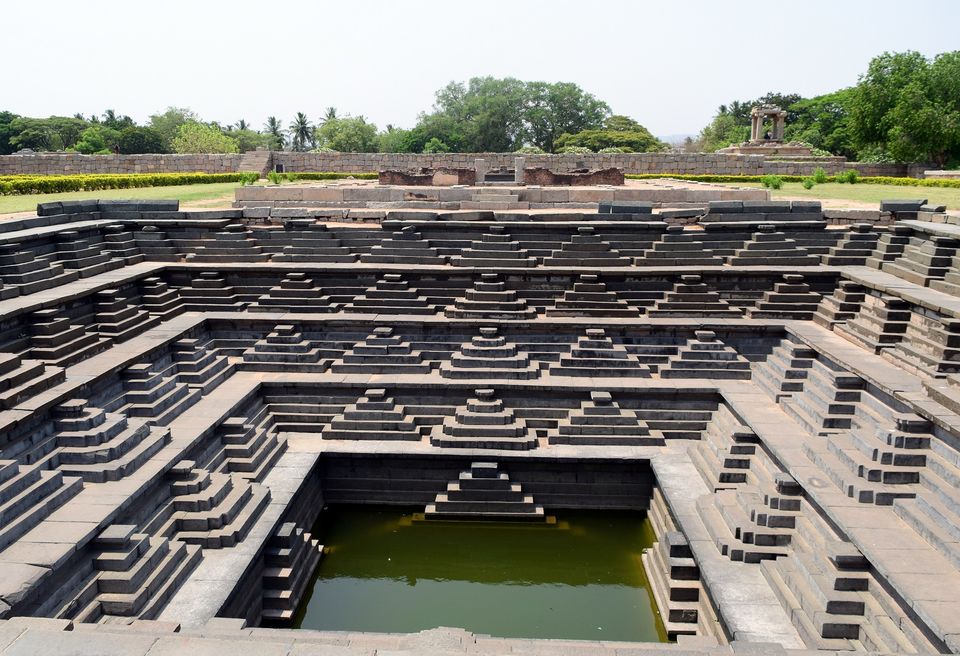 As we rode from one destination to another we had enough time to know the other members of the bicycle tour group. Naturally, we all were tired and hungry after that 4-hour long tour on the Sun, so we headed to a café to cool off. While having our lunch a plan was made to go to the Sanapur Lake. We hired Mopeds to reach to the lake, which cost around Rs.100 per Moped. Riding through the paddy fields and giant boulders we soon arrived at the lake. Finding the lake was also not difficult, as we had the services of locals, directing us to our destination.

Upon reaching the lake we waste no time to jump in the water and the feeling was priceless. Water was calm and surroundings were serene, but our only worry was crocodiles. Someone suggested that there may be crocodiles in the lake, which made us a little worried but soon we were assured by a boatman that there is none. That coracle boatman persuaded us to take a trip on his coracle but we enjoyed more staying in the water instead. It was rejuvenating to be on the water on a sunny day like that. After spending around two hours near the lake we were coming back to Hampi.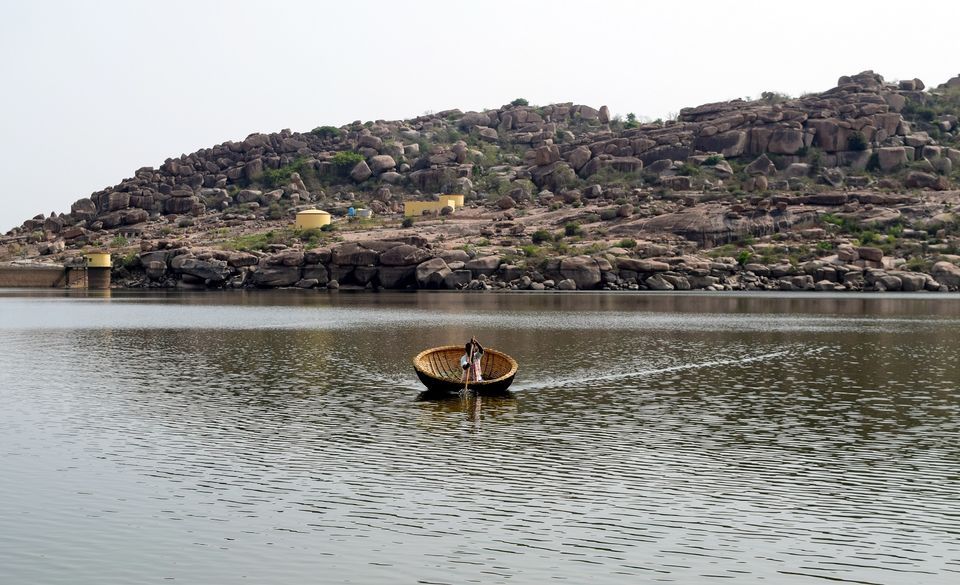 On our way back we stopped at roadside café named Benjamin Café. And spent the rest of the afternoon sharing each other's travelling adventures. The conversation took a new turn when Trishten offered to play something for us. We had an impromptu jamming session and even Mr. Benjamin, the owner of the café too joined us. We lost track of time while enjoying our time there. As it was getting dark outside, we bid goodbye to Mr. Benjamin and came back.
We came back but our conversations were far from being over. So we continued hanging out at the Goan Corner guesthouse for the next few hours. I was amazed to know how much my new found friends admire India. Since they had been working with different NGOs across India they could see the real India, which many of us may have never seen. Once again over the course of dinner, we made plans for the next day. Jeena suggested going to the Matanga Hills to witness the Sunrise next morning and we all nodded to her idea. With a promise to meet next morning we all got scattered to our respective hostels.
It must have been ages since I woke up before the Sun but that day I had no choice. I had to meet Trishten first, then we would go and meet the rest of the group on the other side of the river. It was dark when Trishten and I started from our hostels and it was a bit scary to cross the river, jumping over the rocks while holding the torch. Thankfully it went eventlessly. We gathered all the other members one after another and started walking towards the Sunrise spot.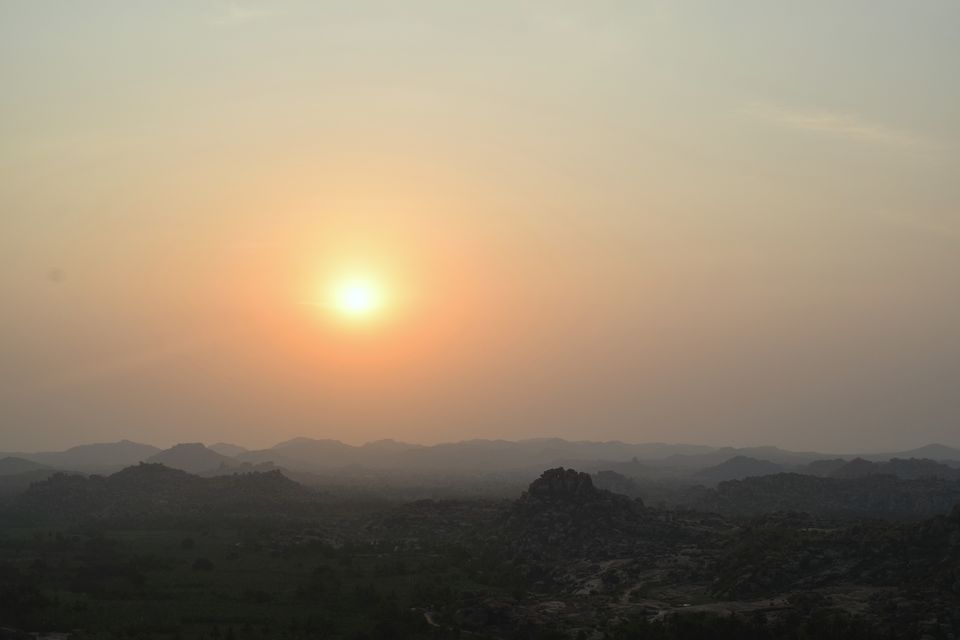 Climbing through the big boulders of Matanga Hill was a big test for my fitness. Thankfully the stairs were cut on the rocks for easy access to the top. Finally, after walking for half an hour we arrived at the top of the hill. And what a view it was from the top. That 360-degree view of entire Hampi including its temples, curves of Tungabhadra River and green rice fields from the top was breathtaking. It took away all the pains of reaching up to there. Coupled with the orange hue, the cool morning breeze made our wait even more magical. Soon the Sun emerged on the horizon. All our eyes were fixed in one direction and mind sparkled with awe. It was one of the most beautiful Sunrises I have seen in my life. Wish the time had frozen and I could relish that moment for hours. We stayed there till 7.30 AM cherishing every moment of that morning. By the time we started coming down no other visitors were there on the spot.
After witnessing that lovely Sunrise all we wanted us was a good breakfast. So we went to a rooftop café. Sipping on cups of hot coffee we were discussing what to do next. It was our last day in Hampi and we wanted to spend the day in the best possible way. We had an option to visit a few other temples but instead, we agreed to go in search of a waterfall on the Tungabhadra River. And once again Mopeds seem to be the best mode to reach there. As the plan was to stay at the waterfalls for long, we packed some fruits, cakes and chips for a light picnic.
Through the bumpy rural roads, we went in search of our destination. After getting lost for a couple of time we finally arrived at the spot. Due to lack of rain, there was no waterfall on to the river. But in this portion, the river flows through some rocky cliffs making it a perfect spot for cliff jumping. As the Sun was shining with its full glow, jumping on the cold river water was a great respite.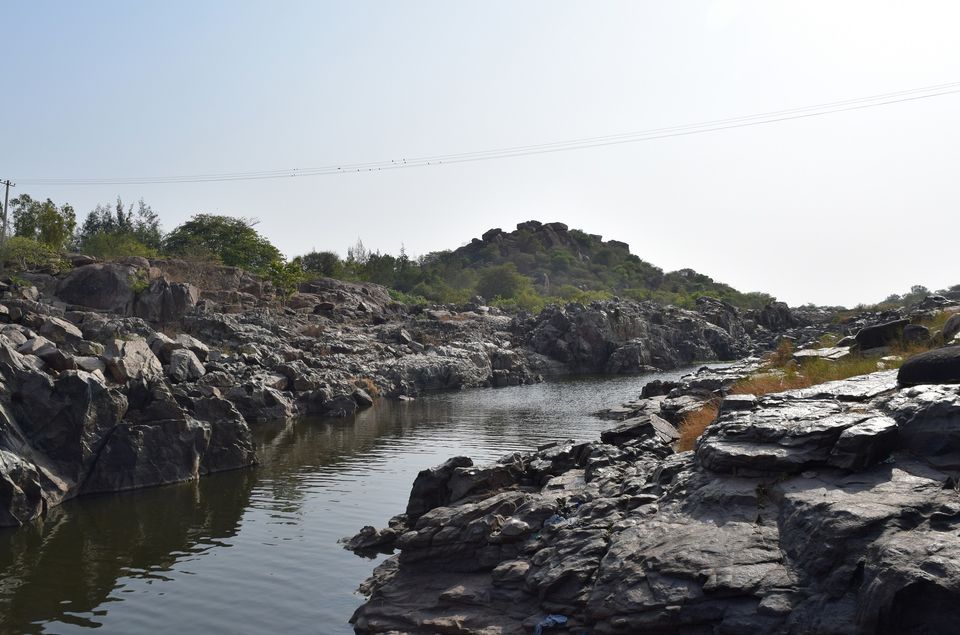 But there was nothing to hide from the blazing Sun after coming out of water except a sheet of torn tarpaulin held by four sticks on its corners. It was set up by a guy selling juices and beers. We sat on the shade of that tarpaulin in between our swims as sitting on the rocks exposed to Sun was beyond any option and had our picnic there itself. We left the spot around 3 PM with a plan to stop at the Benjamin Café for lunch.
Mr. Benjamin gave us a warm welcome. Interestingly, it was his birthday too, so we wished him and got treated with some delicious homemade banana cake. As we wait for our lunch to be served, Bina showed us her Hula Hoop skills and we are all impressed with her swift moves. Soon the lunch was served. I had a tasty south Indian Thali. But that day we didn't have time to continue our interesting conversation till eternity. We had to take on our Mopeds to chase the Sunset. We went to the monkey hill to witness the Sunset. Thankfully, we were on time for it. The Sun had already painted the sky saffron and as we gazed to the horizon, the Sun hid behind the rocky hills surrounding Hampi. The day, which we started with a wonderful sunrise ended with an equally beautiful sunset.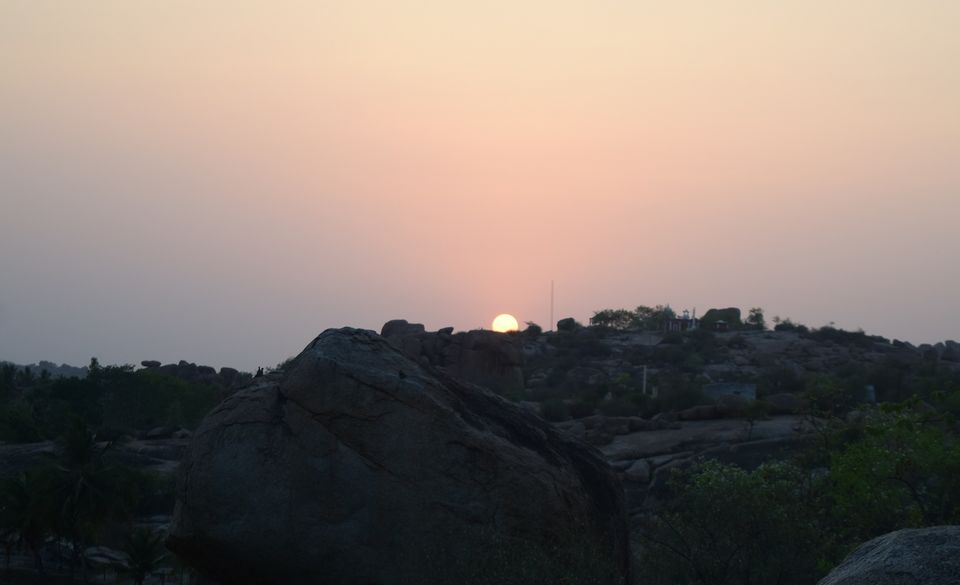 After wishing goodbye to the Sun from Hampi, it was our turn to bid adieu to each other. Two days back, we were six different individuals hailing from six different countries. Hampi brought us together, showed us its real beauty and showered us with some wonderful memories. But now was the time to leave Hampi and move to our onward destinations. We bid goodbye to each other with a big hug and a promise to meet sometime in the future. I may or may not get the opportunity to meet them again but I can always turn back the pages of the notebook of life to revisit and relive those great moments which we shared in Hampi.
For more amazing travel stories check my blog here