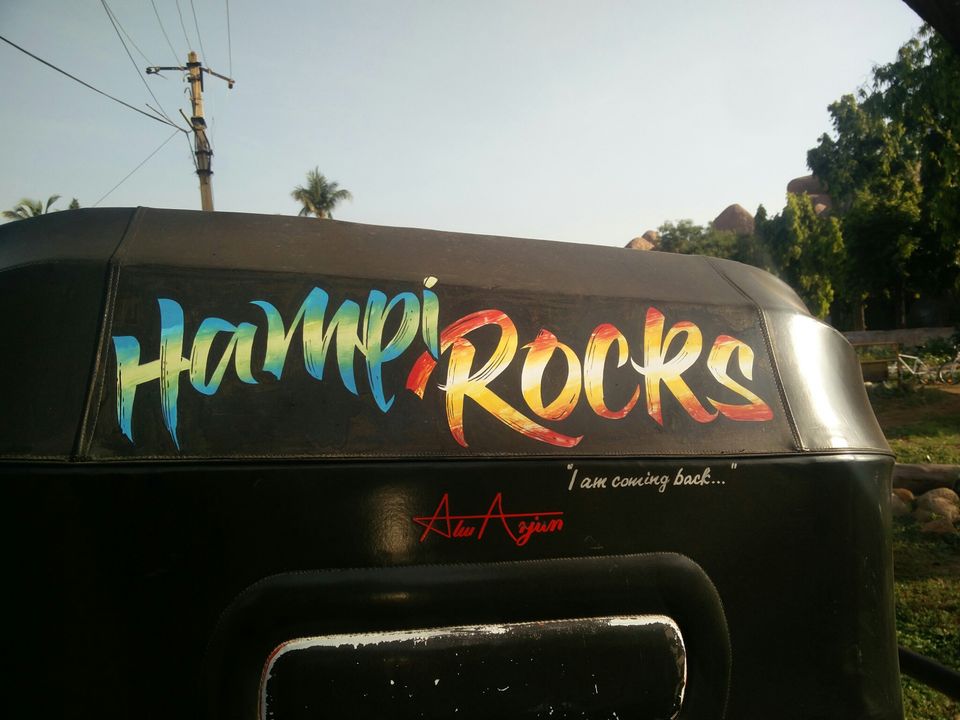 From having a hard time in finding a temporary home till laughing our abs, out Hampi gave us all!!
Having no clue about the city, the 5 of us set out to explore the 'UNESCO World Heritage site' and decide whether it was worth the hype or not..!!
It was during Dasara, on a long weekend when our bus arrived at Hampi and having made no efforts to plan the trip in prior we knew it right away that getting a place to stay was no piece of cake!! It was a relief for the moment when we found a decent hotel near Virupaksha Temple to freshen up. Since it was already around 9:30-10 in the morning, we got ready straight up and left for the day!
Hampi mainly is comprised of two parts- The Temple Side and the hippie island as commonly known among travellers.
On contrast to the temple side which has most of the ruins and offers a lot of heritage and cultural experience, the hippie island is a much laid-back place to chill for your weekend!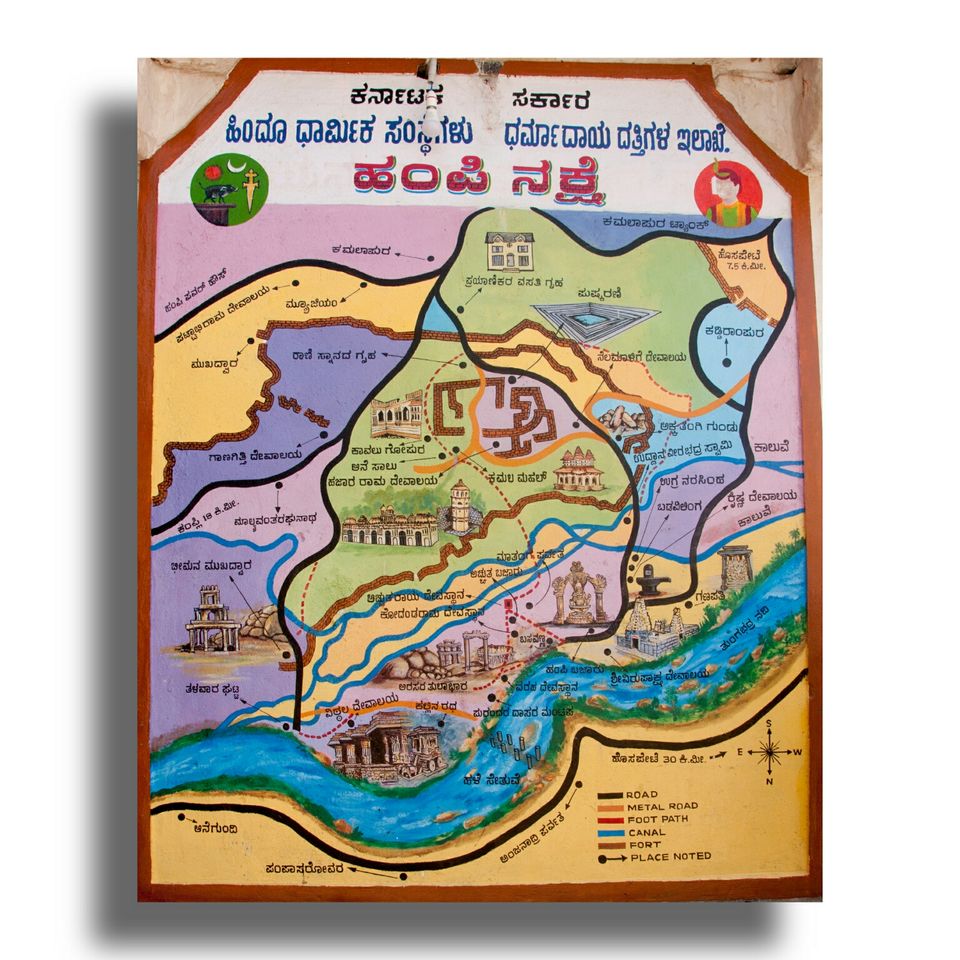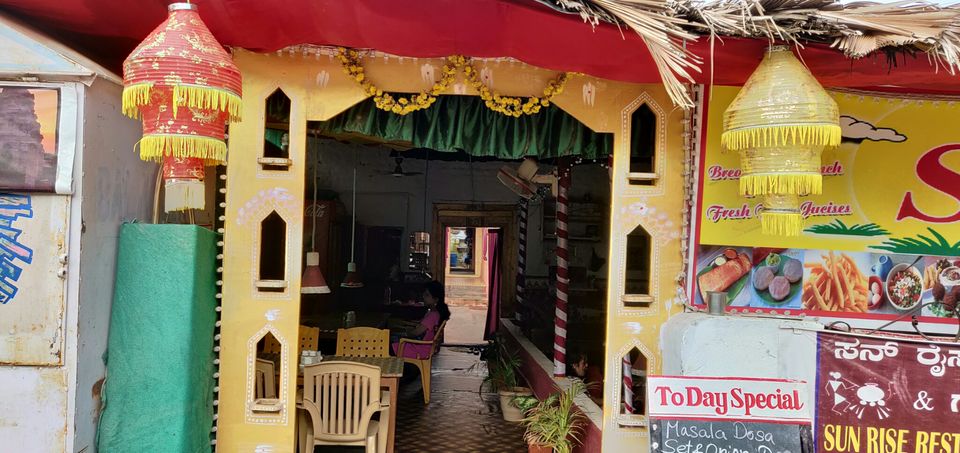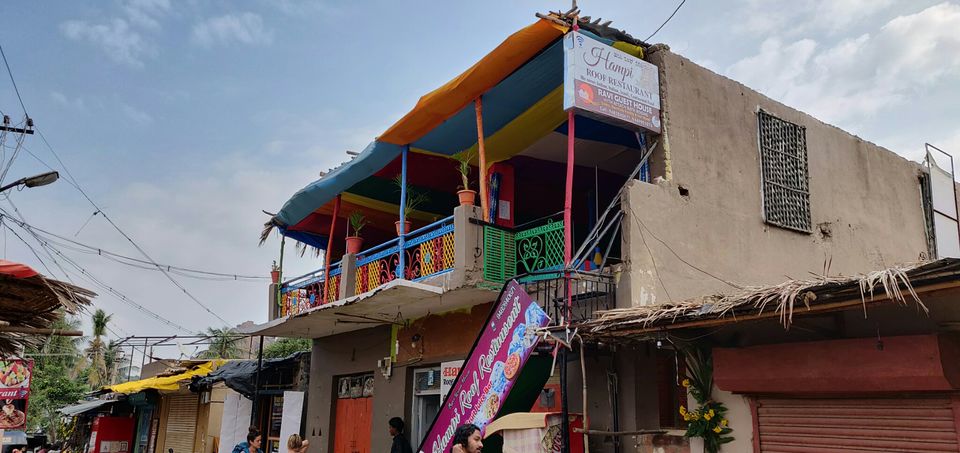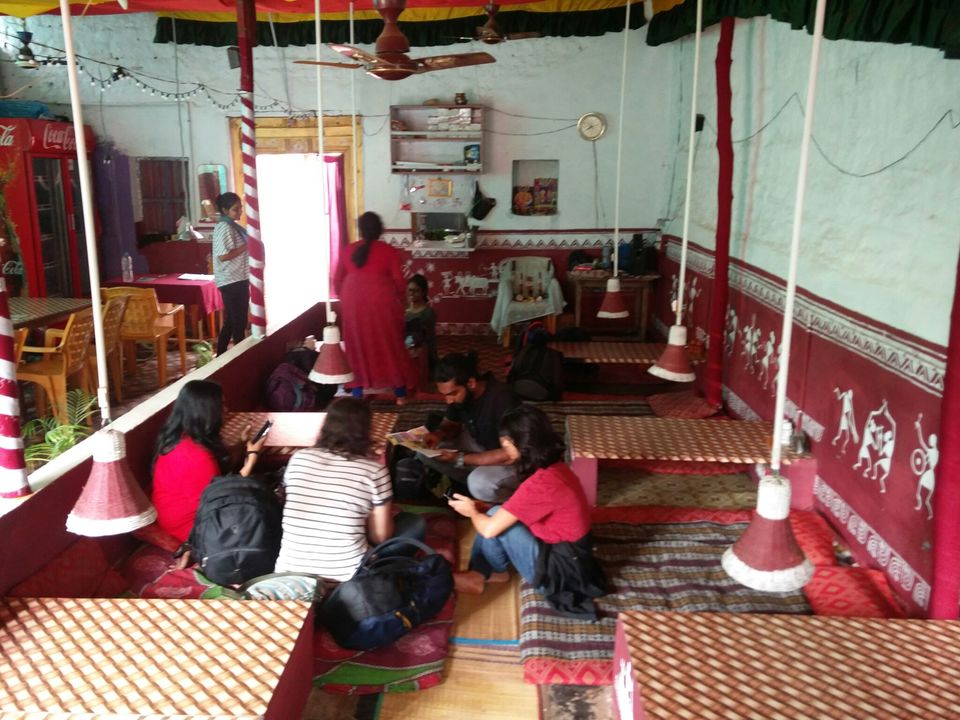 We started off with Sri Virupaksha Temple which was the closest to our hotel. Due to some reasons which weren't clear to us, the temple was temporarily shut during our visit, so, we just stuck around the temple, looking at the architecture and wondering how beautifully it was built. Also, learnt about its history from the guides who were
explaining the ruins to the other tourists.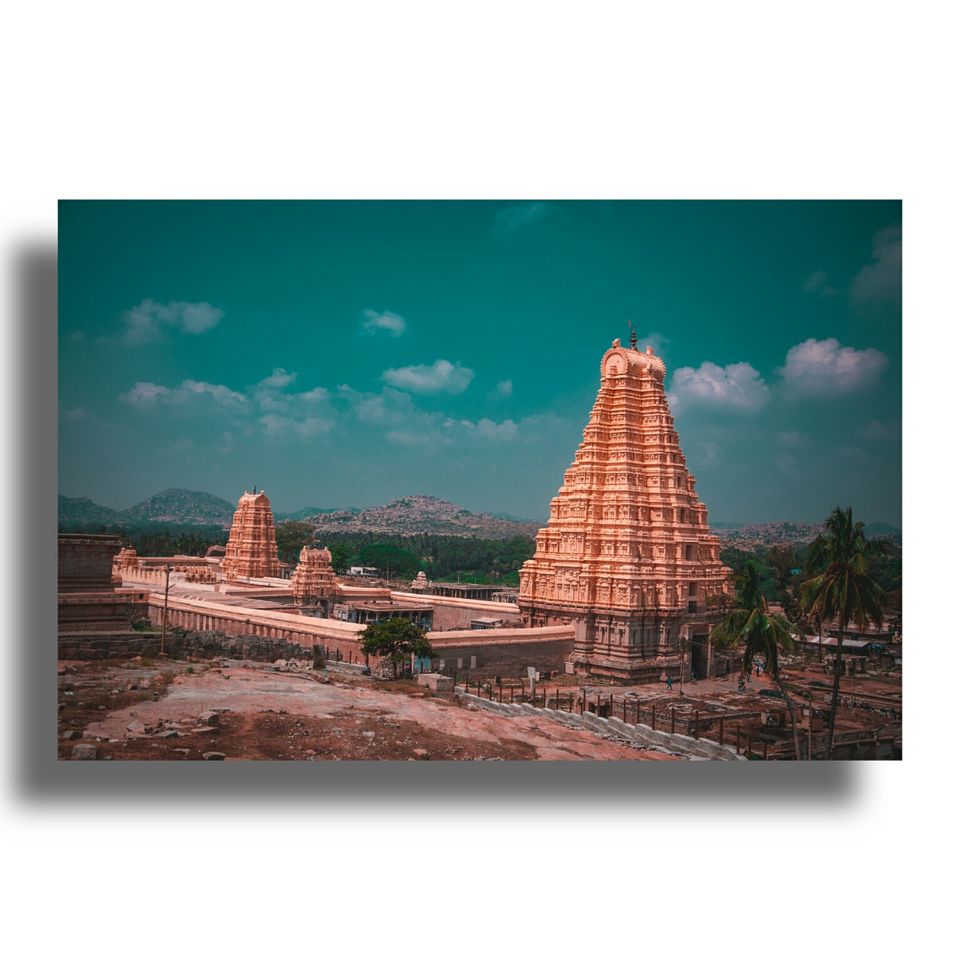 After wandering around the temple for a while, we headed to explore the Hemakuta Hill which stands beside the temple. By the time we had some fun in clicking pictures
and pulling each other's legs, the Sun was right over us. With a dab bit of soda refreshments we continued our journey. We covered a lot of minor places along the way before we arrived at Vijaya Vittala Temple.
From the Hemakuta Hill, this temple is about 4km if you wish to travel by foot. There are a lot of local vendors who provide cycles for rent on hourly basis. Since it was a long weekend, all the cycles were sold out and we had no choice except to walk all the way, under the hot sun.
Note: It is always better to carry some refreshments with you as most of the city is just vast stretch of empty land or rocky mountain. You can only find petty shops near major tourist spots like these temples and not in between.
After a lot of huffing and puffing, we finally reached the famous Vijaya Vittala Temple of the Vijaynagara kingdom; famous for its stone chariot and the pillars that produced musical sound when hit in a certain style.
The architecture that has gone into building such a great empire is immense and if you're a visitor for the first time then hiring a guide is a must or you'd be missing out on so many minute details of the sculptures and representations of these monuments. You can hire a local guide certified by UNESCO and ask them to show around the entire hampi for about INR 1000-1500 depending on the season.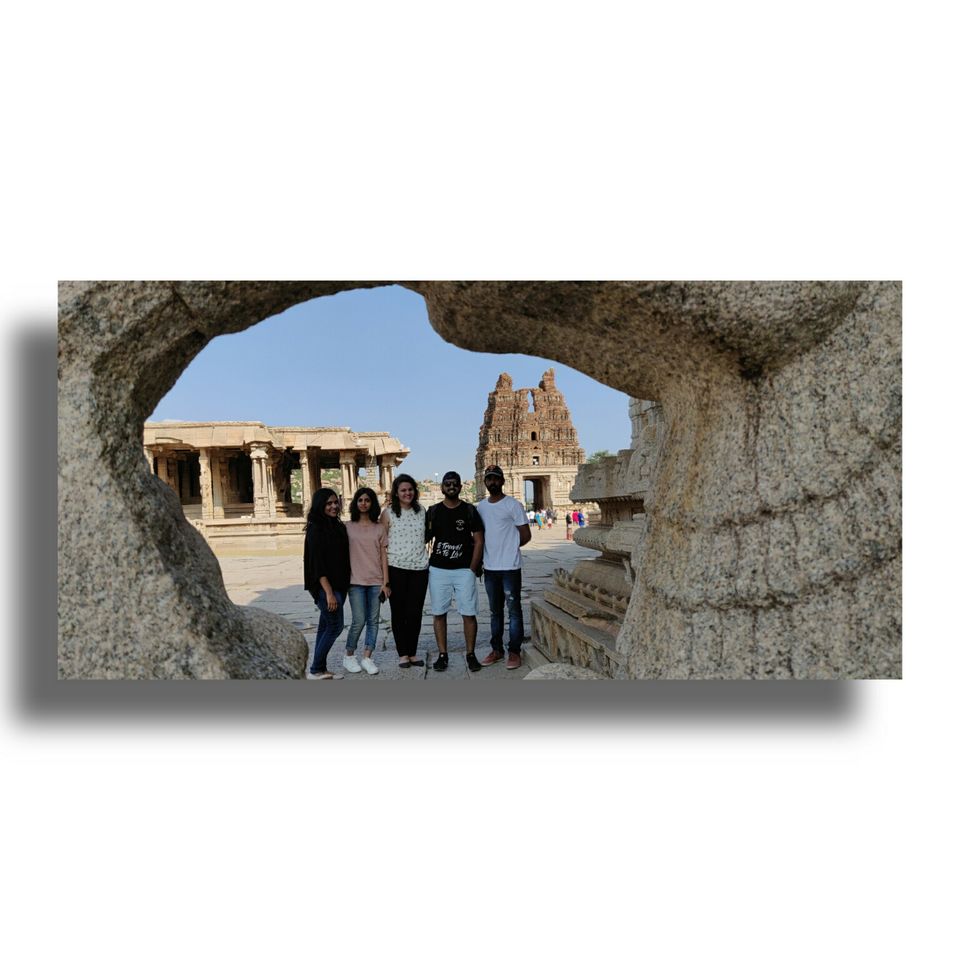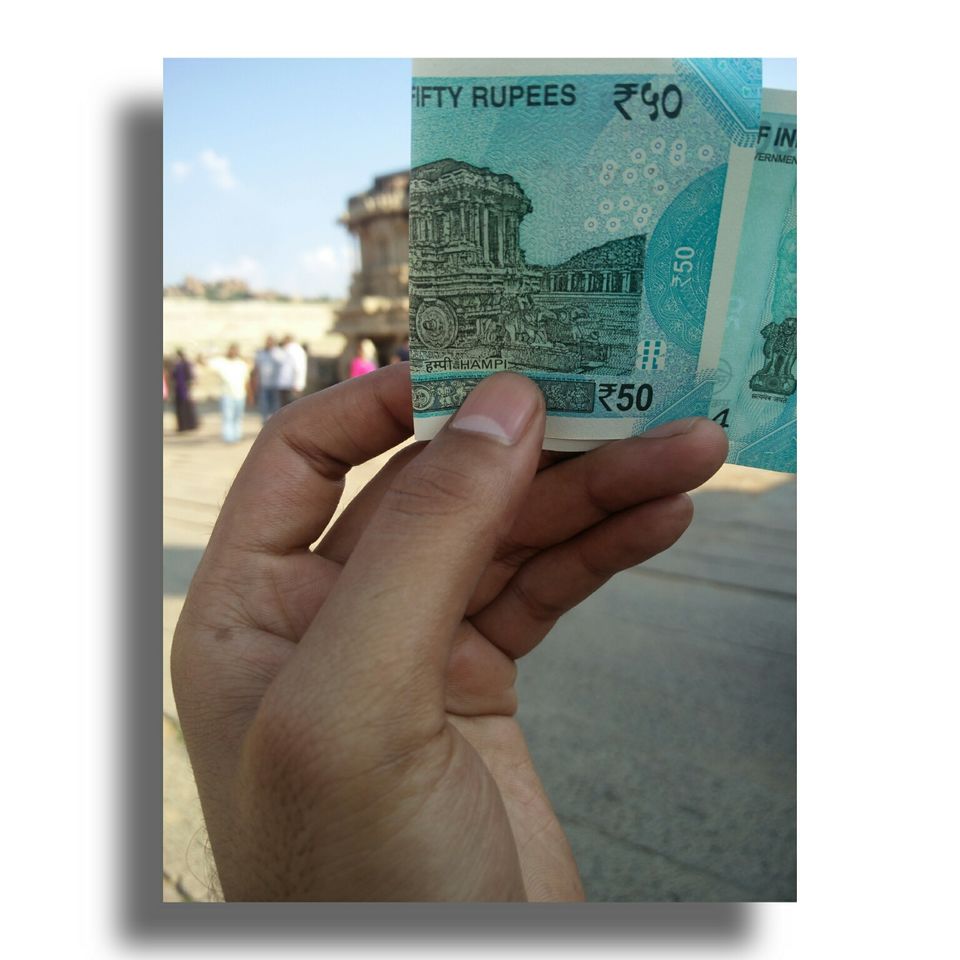 It was already half past 2 in the noon and most of us were hungry by then. We went in search for restaurants to treat our stomach a bit. Note that there are not many restaurants around the city either; so we'd to settle to some local delight. A small dabha in the middle of nowhere run by an old couple saved the day for us!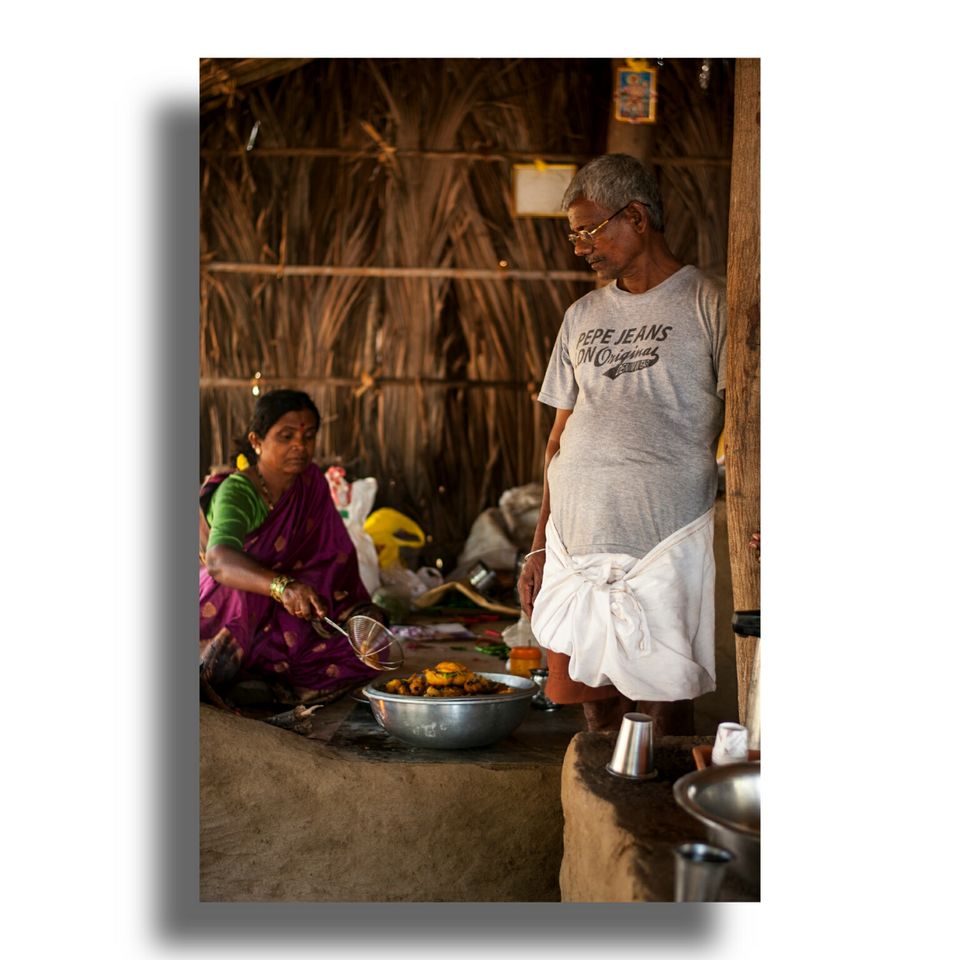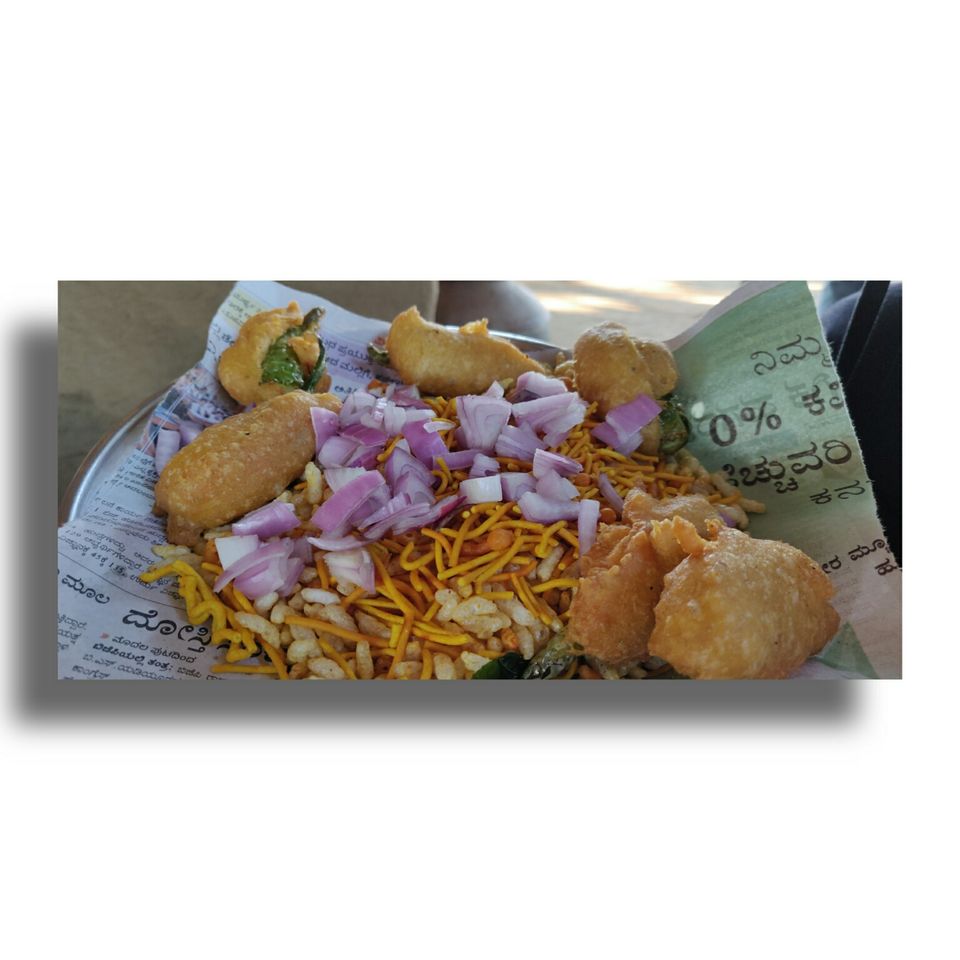 After a cup of chai and a bit of a local snack, our energy levels were back up and we resumed.
We had a few glimpse of Sugreeva cave, varaha temple, krishna temple and the different markets during the rule of King Krishnadevaraya. Our guide took us through a jungle route to the lotus mahal during which we even got to see some sort of black magic in practice. It was a bit spooky and interesting too as it was the first time all of us got to witness something like that.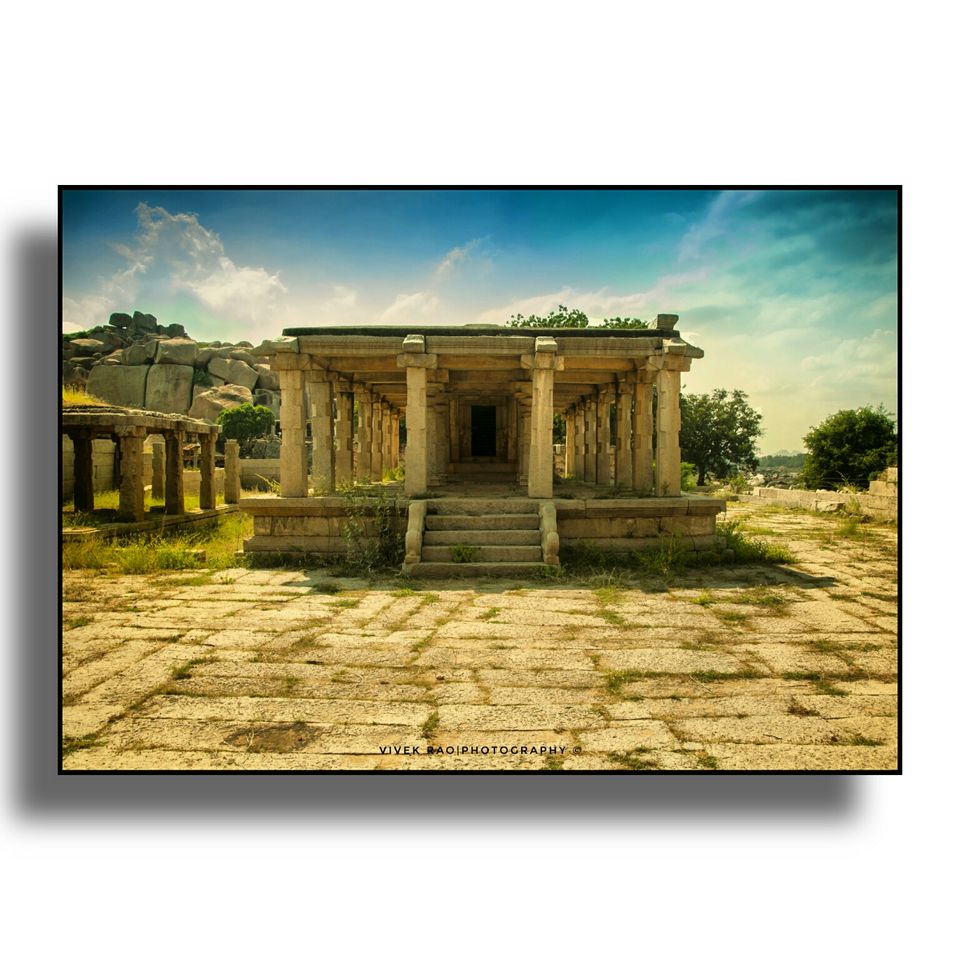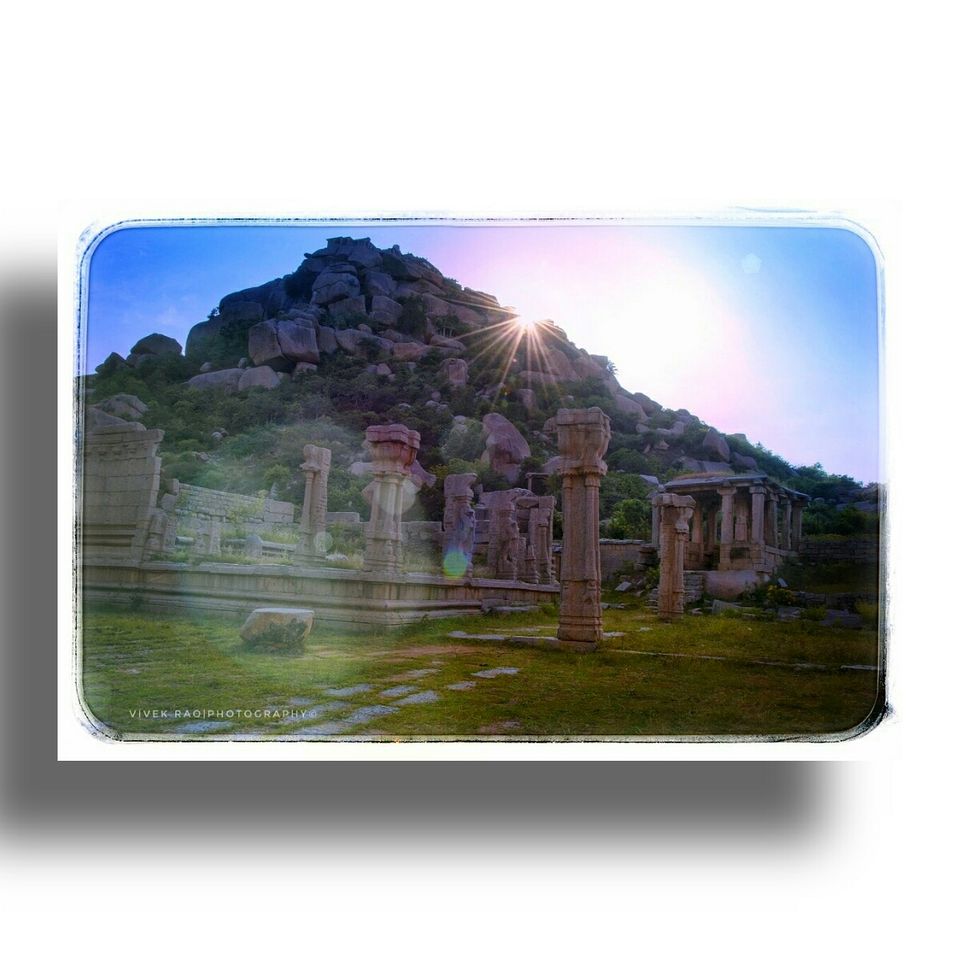 Lotus Mahal- an architectural wonder! This was built by King Krishnadevaraya for his queens. The queens often used to relax in this palace while the kings went out for hunting or to fight the battles.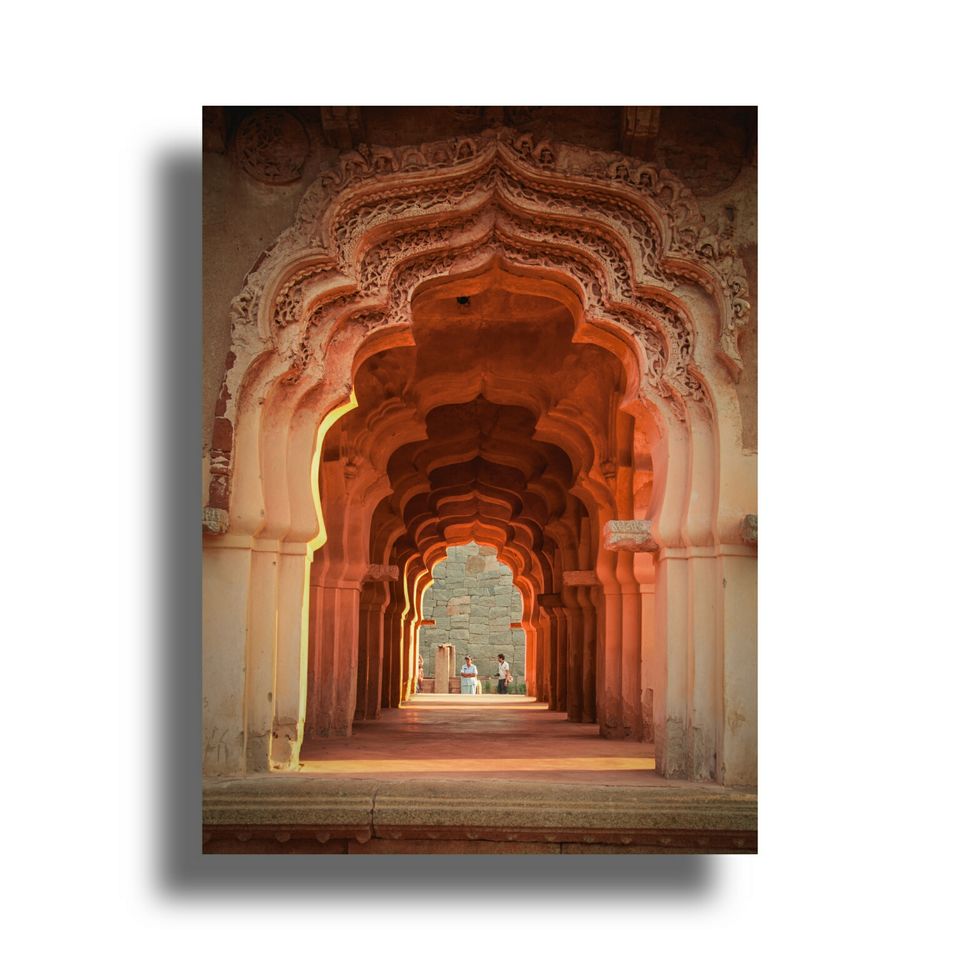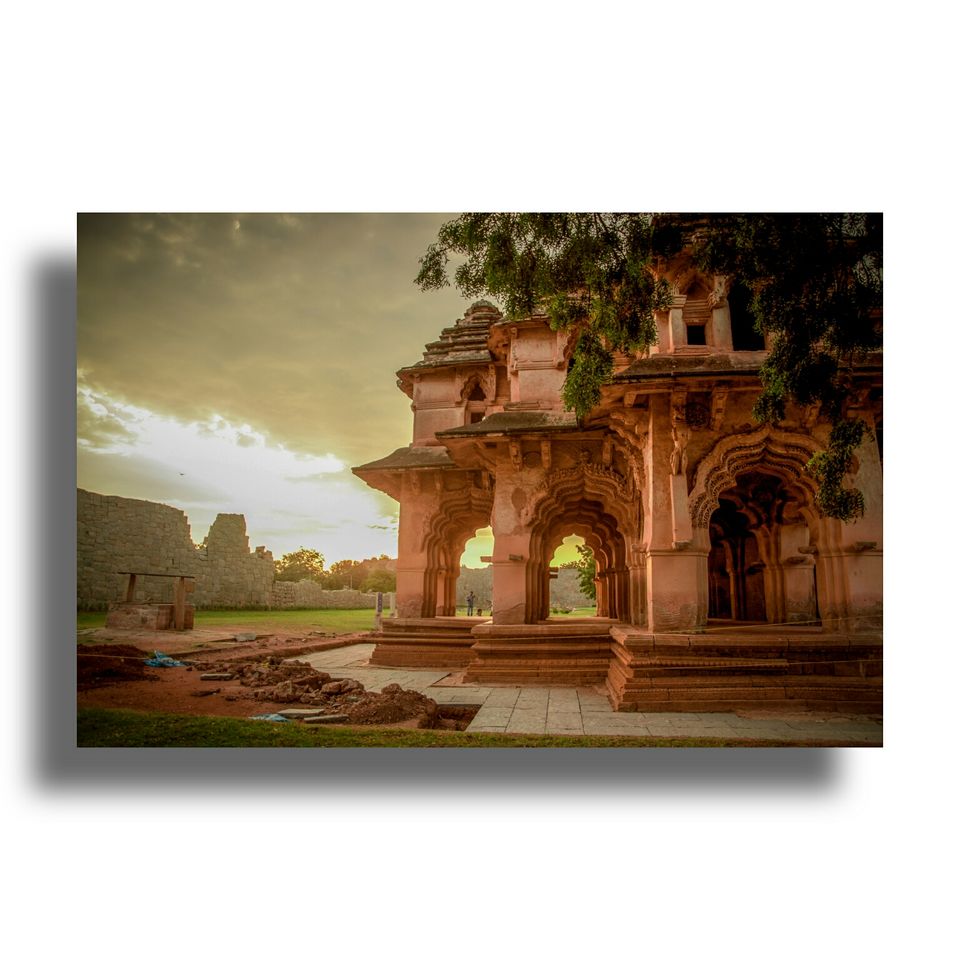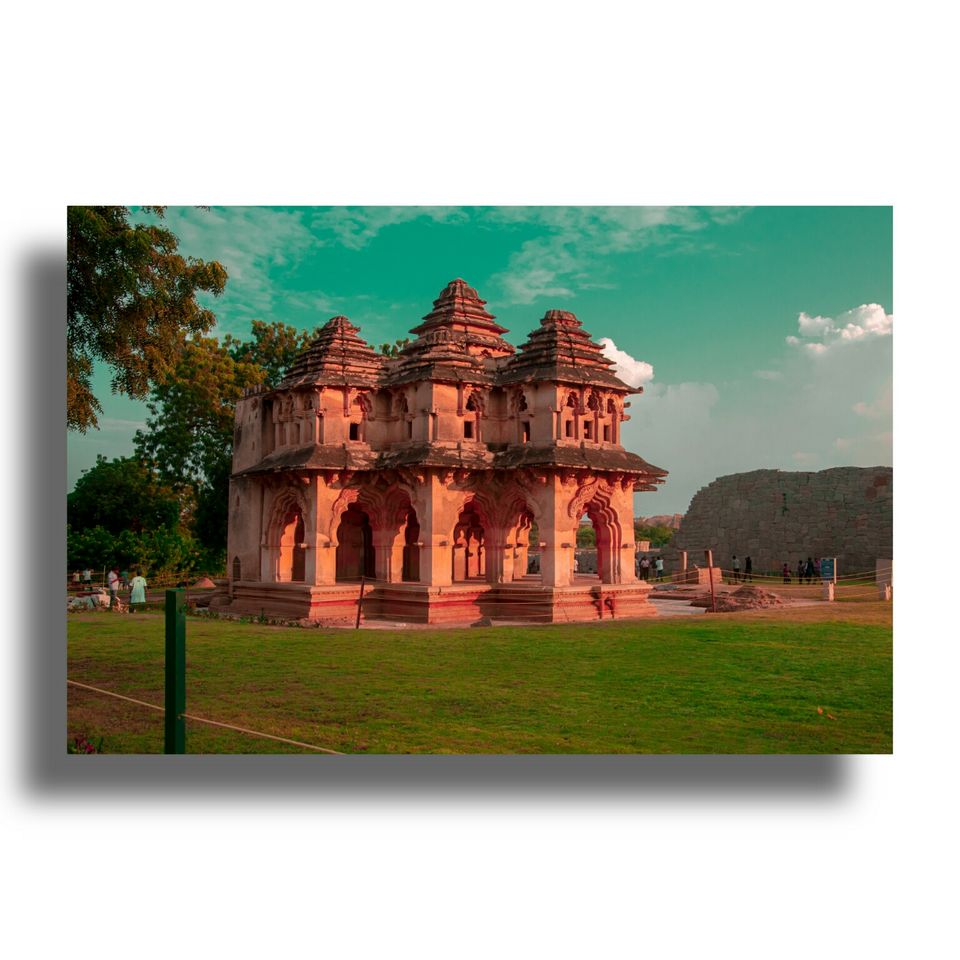 From here we went to the elephant's stable, darbar and the kalamantapa.
The sunsets in hampi are truly magnificent and are definitely not something to be missed!
Hemakuta Hill is one of the perfect spots to enjoy a beautiful sunset.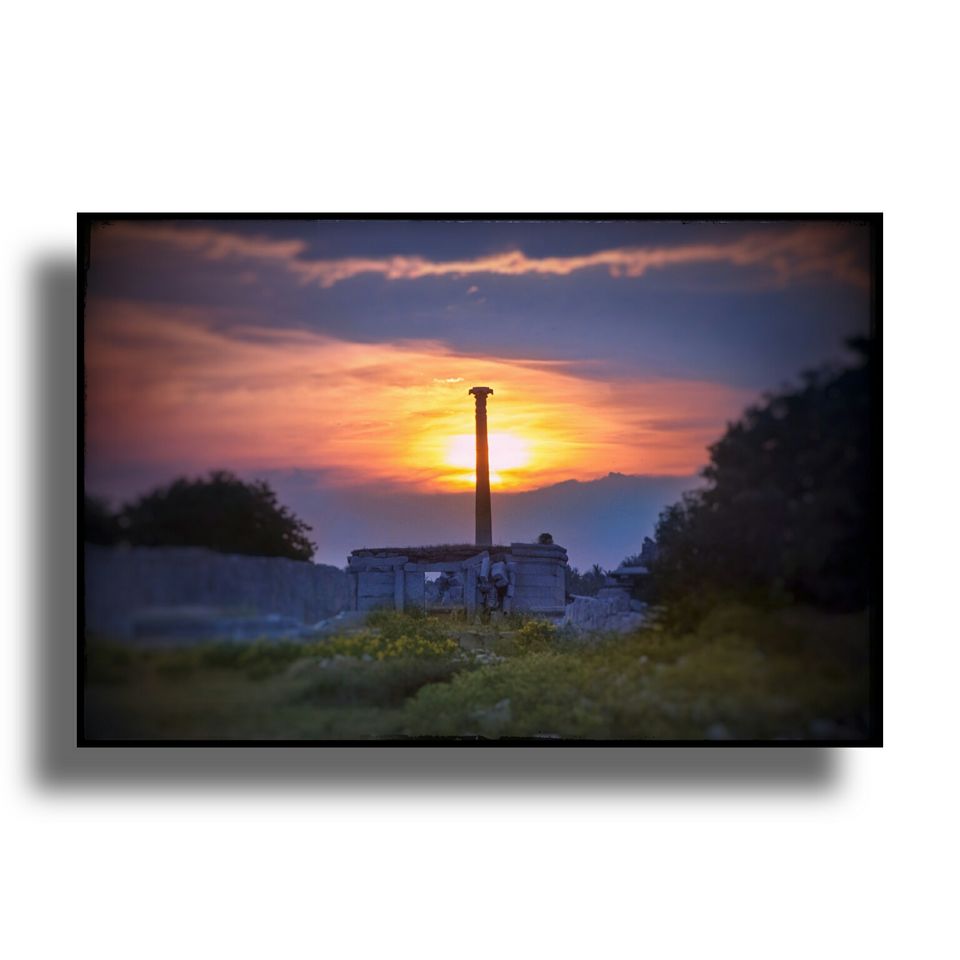 Dusk was falling rapidly as we covered the famous Pushkarini Kalyani, and the underground shiva temple in a bit of a hurry.
Hampi offers a totally different experience after the sun retires. We came back to our rooms and relaxed for a bit and then went café hopping around the city! One can find absolutely trippy cafés anywhere and can be a stoner's delight! After treating ourselves with the best pizzas, spent a bit of our time shopping on the streets of hampi. After long and intense bargaining with the shopkeeper and buying some artifacts to take back as a souvenir before we crashed for the night.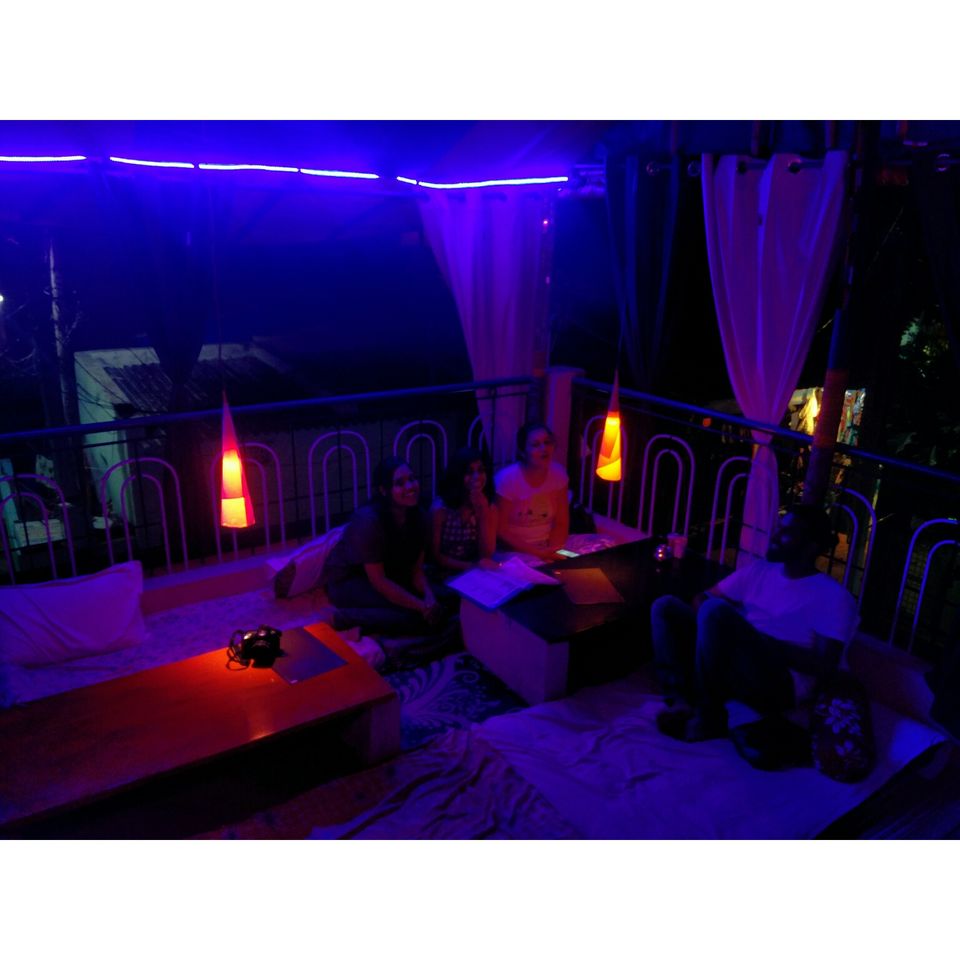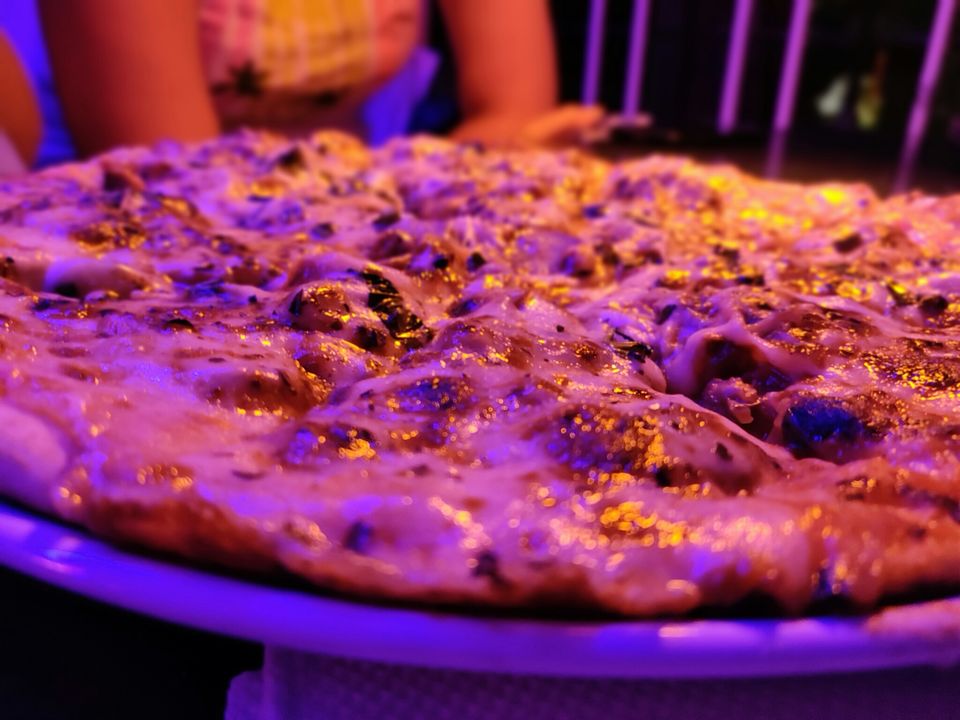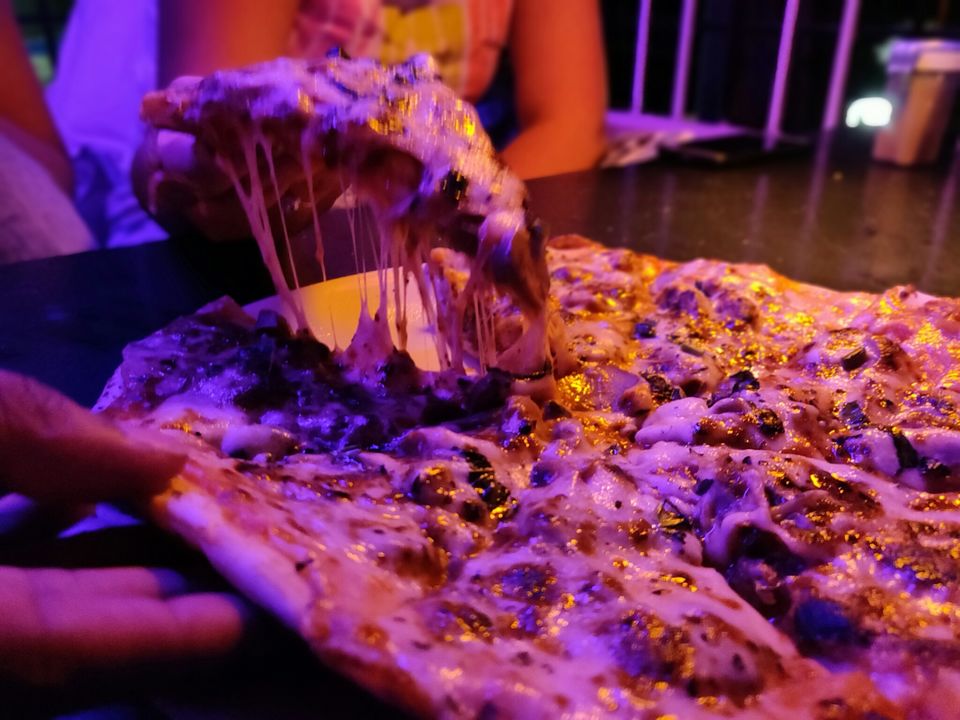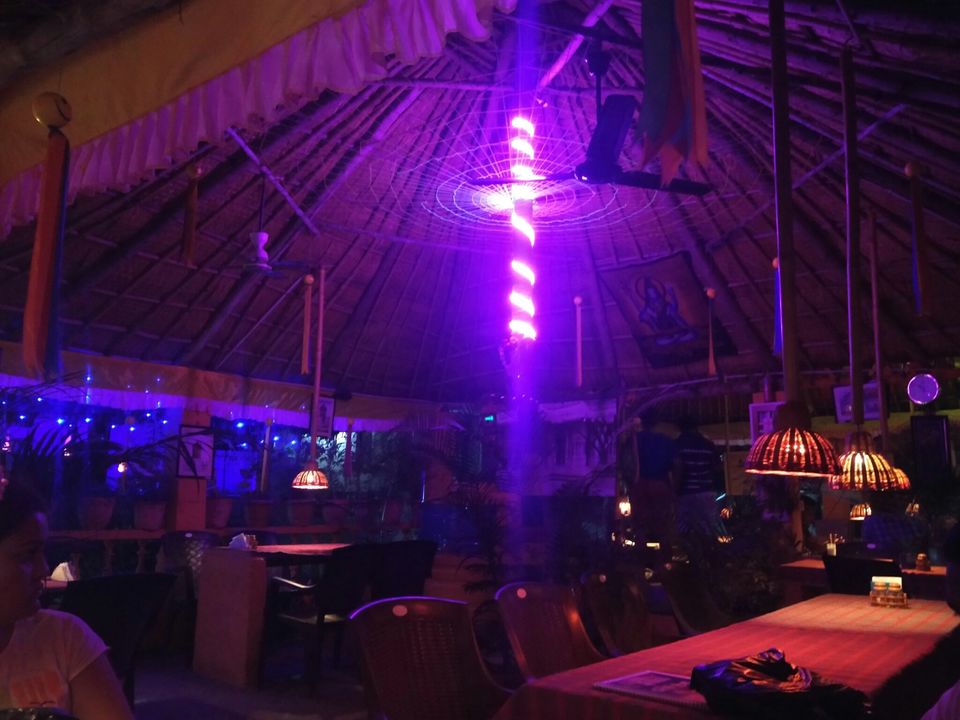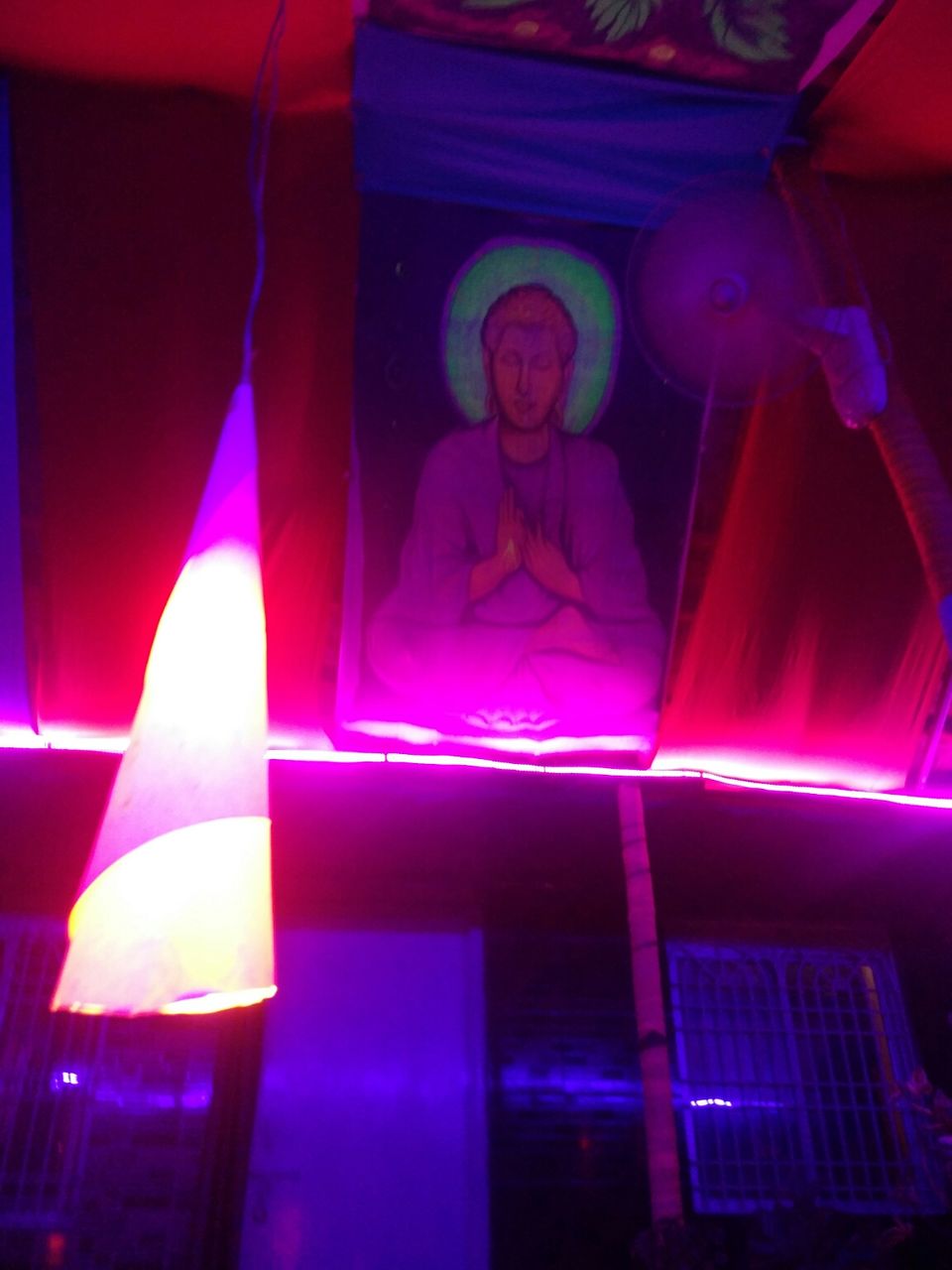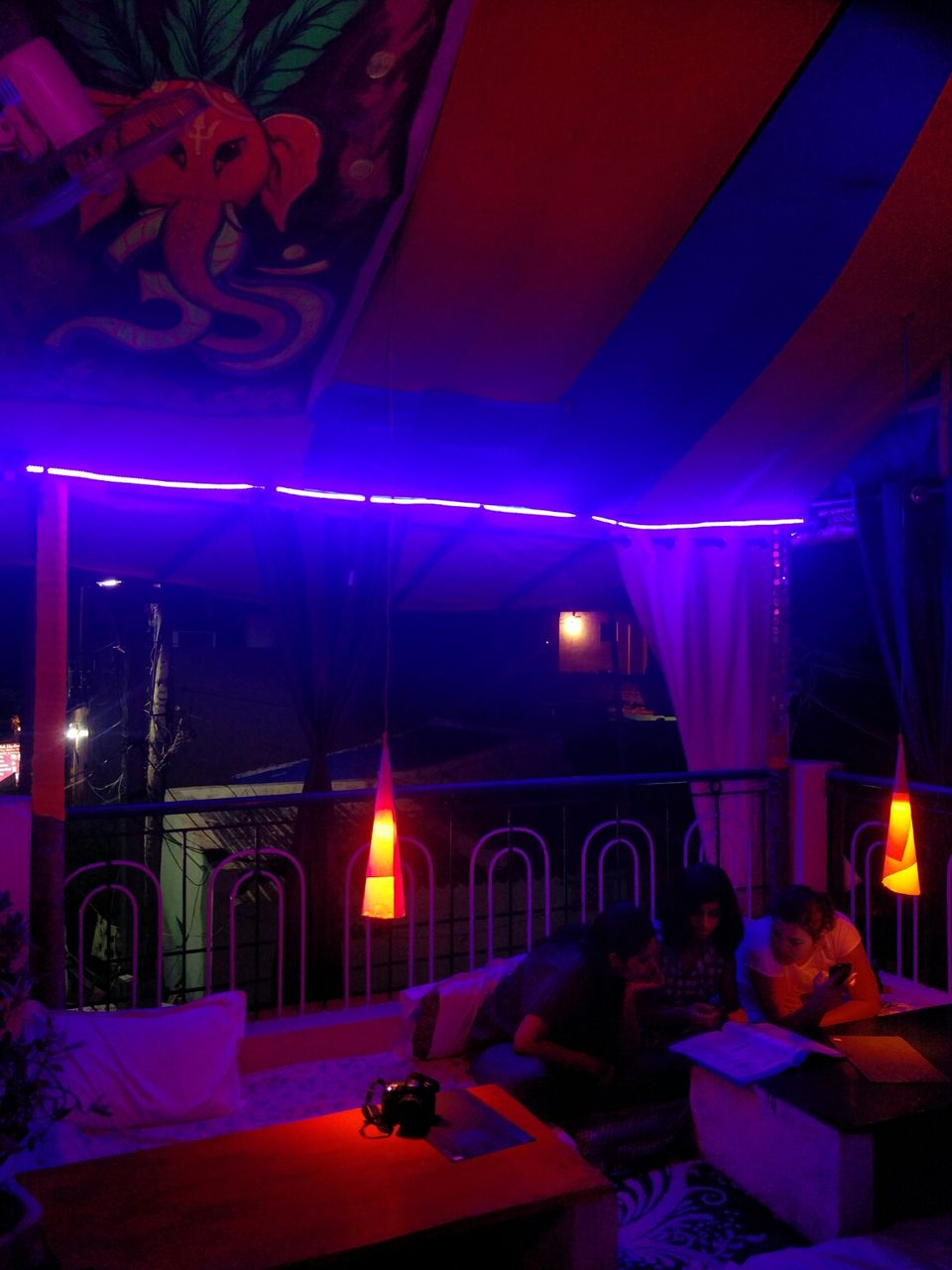 Started off our second day by 6am and went on to explore a perfect spot for the sunrise. We soon found a spot and sat down eagerly waiting for the sun to rise. It was an absolute eyegasm to see the sun emerge from behind a near by hill and getting up early was worth it!!
We vacated our rooms after breakfast and took a ferry to hippie island. One can take a ferry ride to hippie island for 50rs max. There are a lot of vendors who rent out mopeds and bikes for about 200-400rs per day depending on the season and they type of vehicle you choose to rent.
As much as hampi is about the ruins and the tourist spots it is also about exploring and finding new places to chill. Hampi is no fun if you just visit the mainstream places and get back. Like how they say "if you go only to the mainstream places, you experience the same stuff as everyone else does. " There are a lot of isolated rocky hills where some sort of jam music session go on, and it's always fun to attend one. One can even find some adventure junkies along side the river banks, jumping off the cliffs and rock climbing. If you're an adventure enthusiast you know where to go! So, I highly recommend you to rent a bike and start exploring hampi. It's one of the safest cities to be in and you need not to worry even a least bit about anything.
Since we hadn't booked any accommodation, looking for a place to stay was the first thing we did after hiring vehicles, but all our efforts went in vain as almost all the cafés and resorts were booked for the weekend. Having lost almost all the hopes, we continued on our mopeds to explore more and wishing to find a place to stay along our way.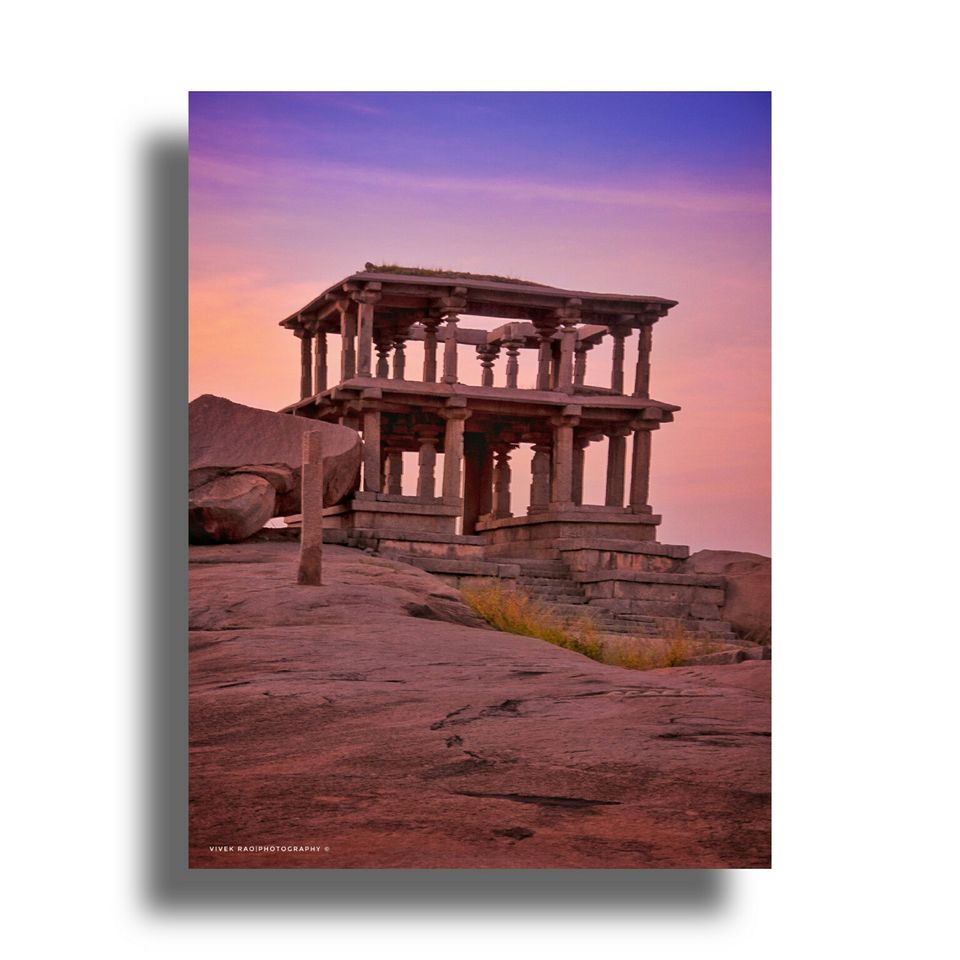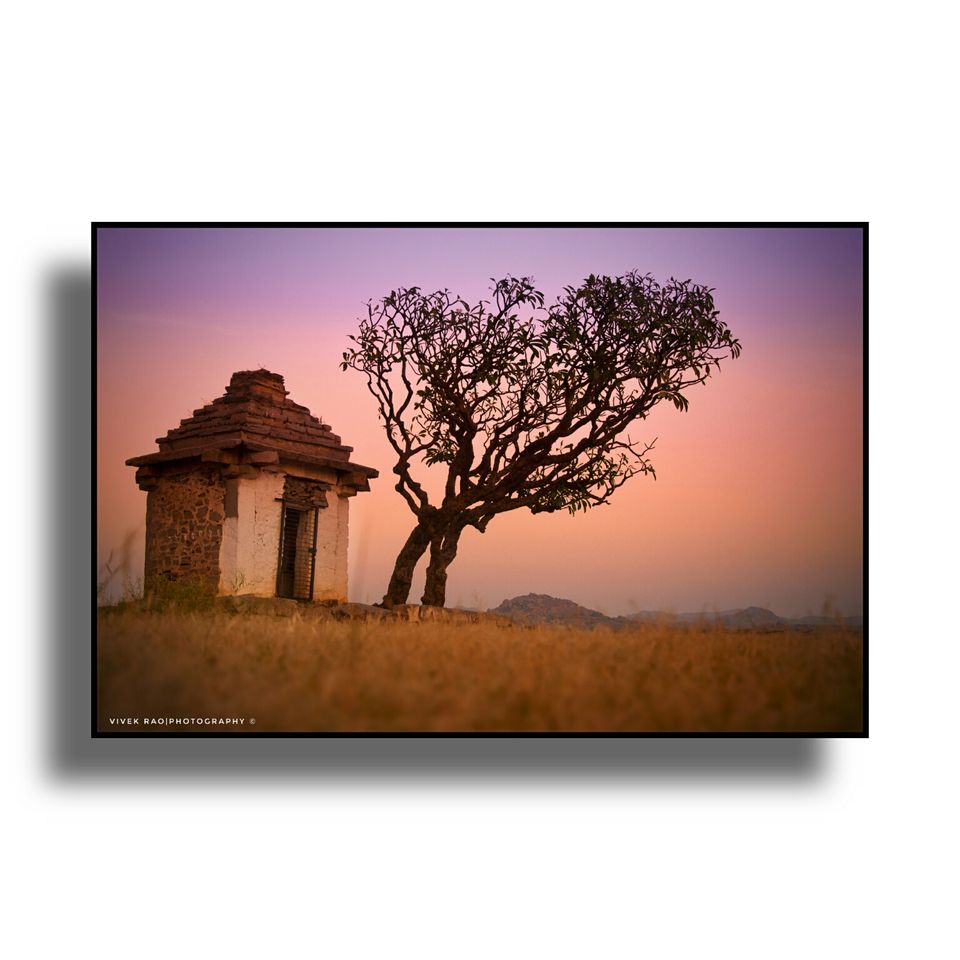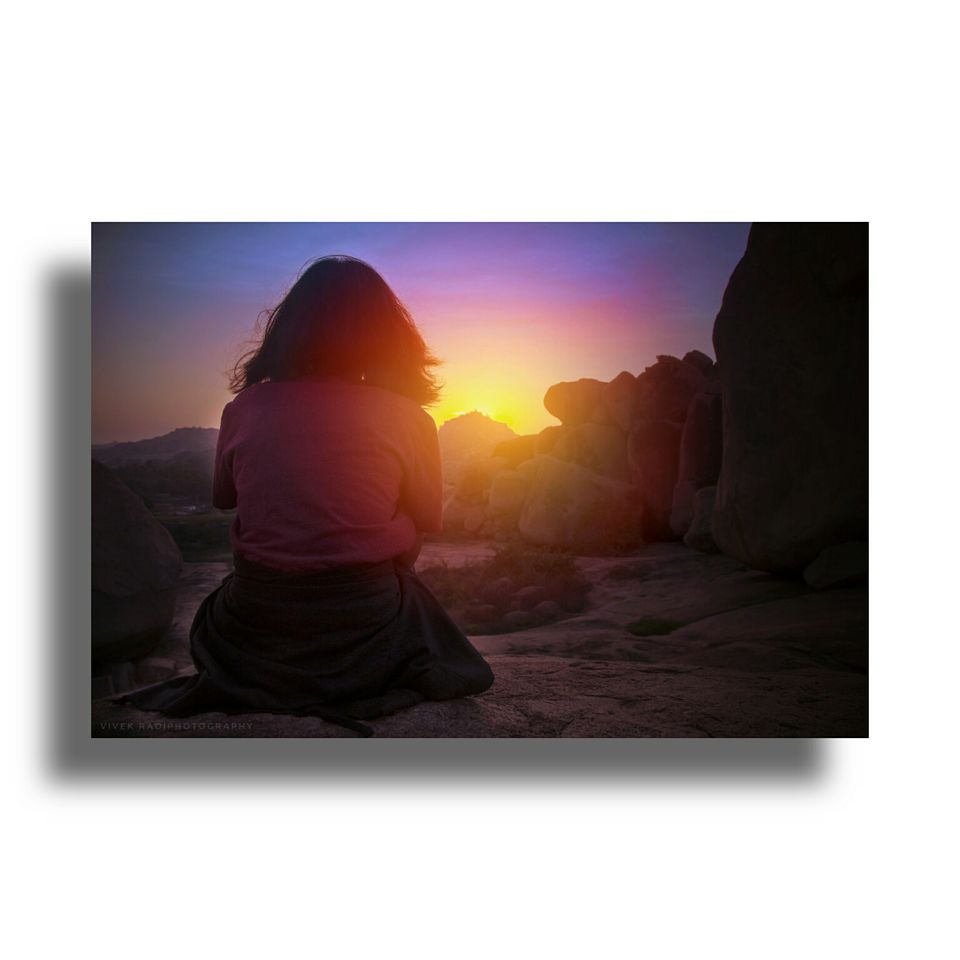 After riding along the paddy fields for quite a while, we arrived at our last hope - jungle tree resort. Hoping for it to have vacant rooms, we approached the reception to enquire. The rooms were booked here too. But the owner offered to make some sort of arrangements at their café in case we didn't find any accommodation by nightfall.
With beer and pizza in our hands, we sat down at their café, wondering what to do.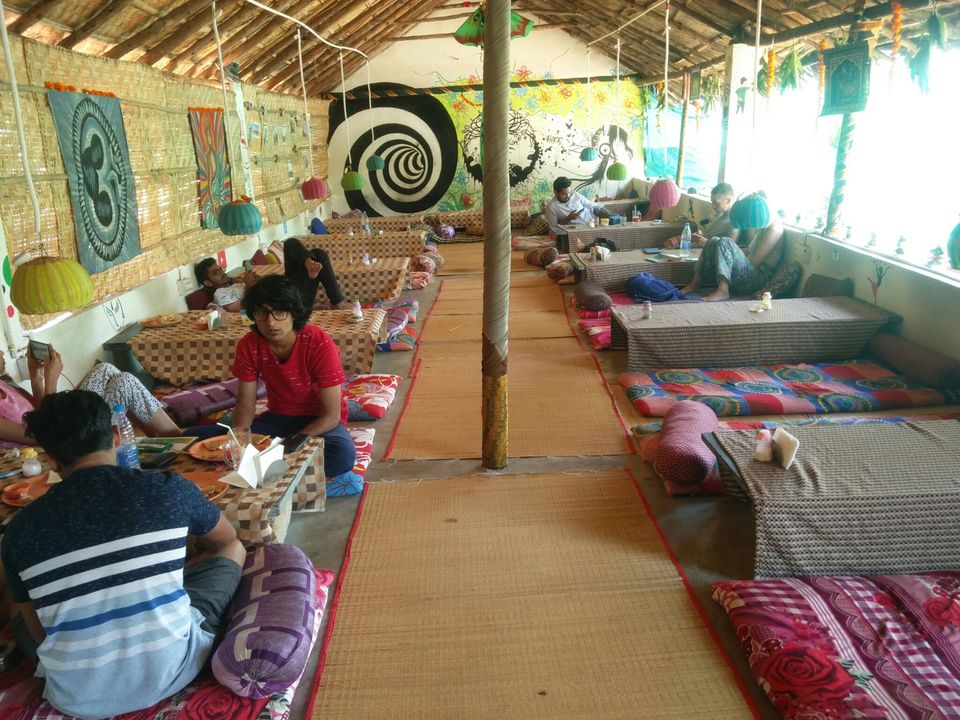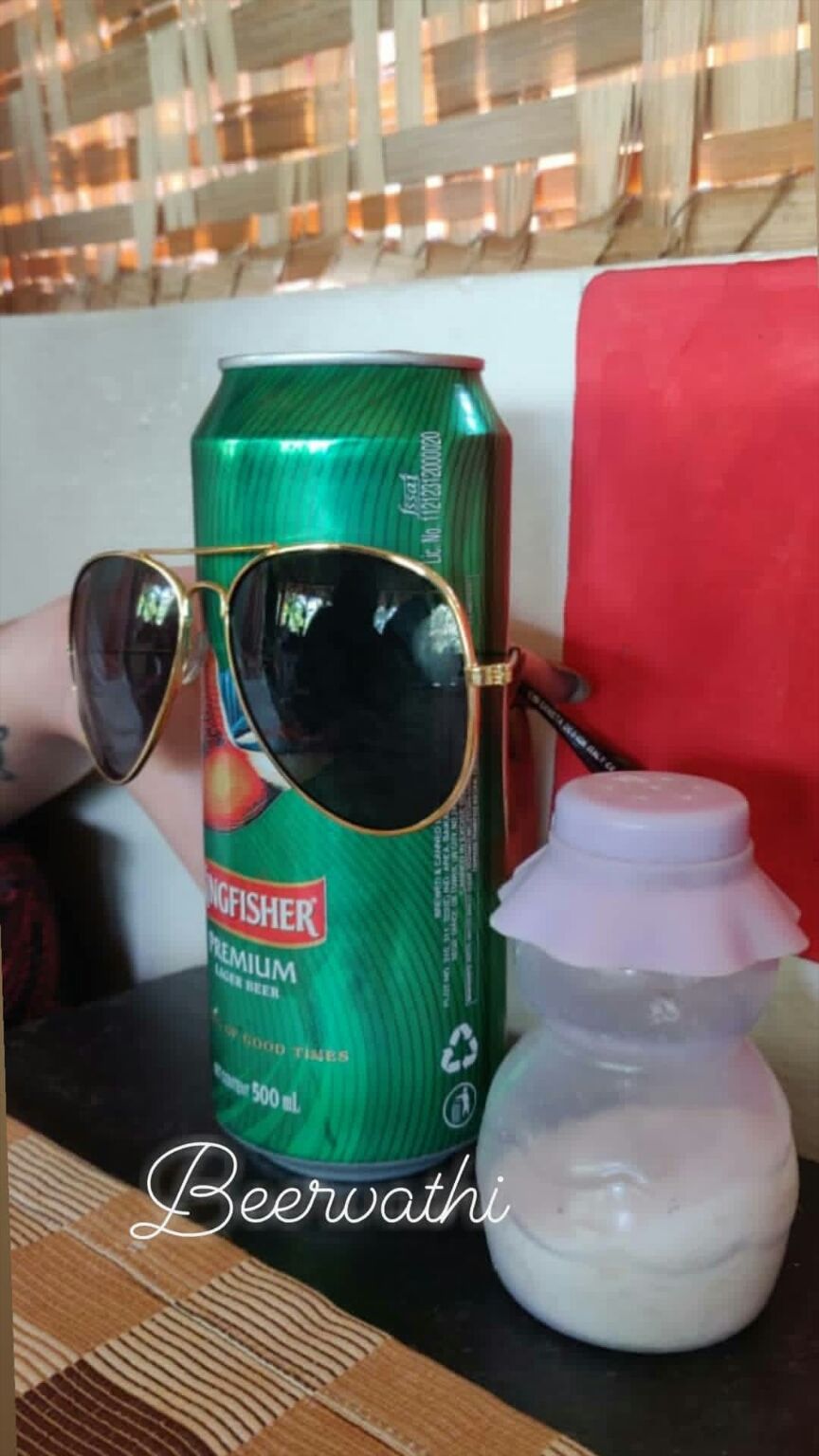 While we were wondering about where to stay for the day, this gentleman by name Gavi Siddu approached us and offered us to stay at his place. He said he had an extra single room where we could stay that night. His kind offer felt like the sunlight on a cold winter morning. Without much delay we went with him to check out the room and to our surprise, the room was trippy and amazing. So without any second thought, we decided to stay with him and thanked him for his help.
Hampi is full of extremely friendly people, so if you don't find a place to stay, you can always approach the villagers to help you accommodate for the night. It is always fun to stay at a localite's place compared to hotels or resorts, and you even get to know about their lifestyle.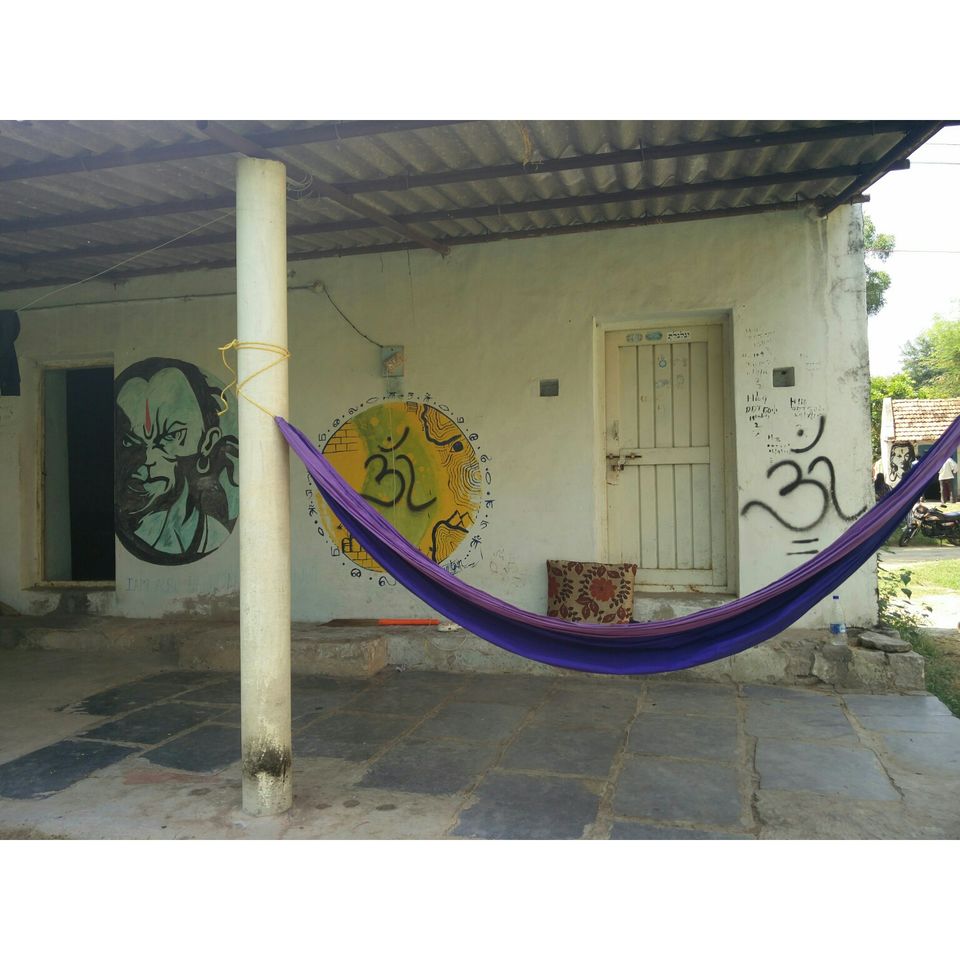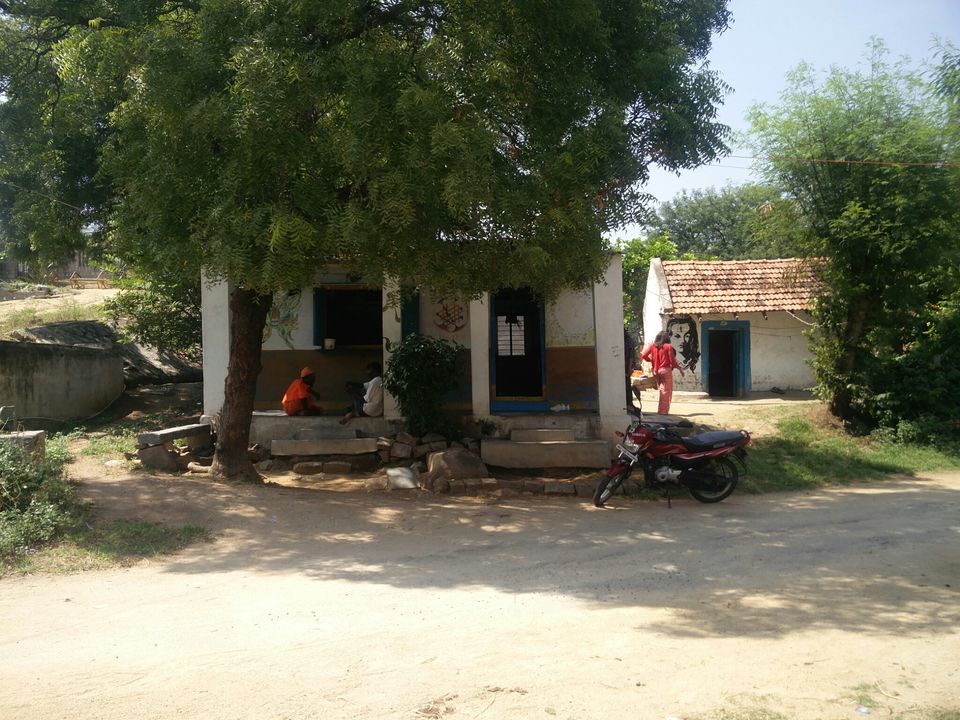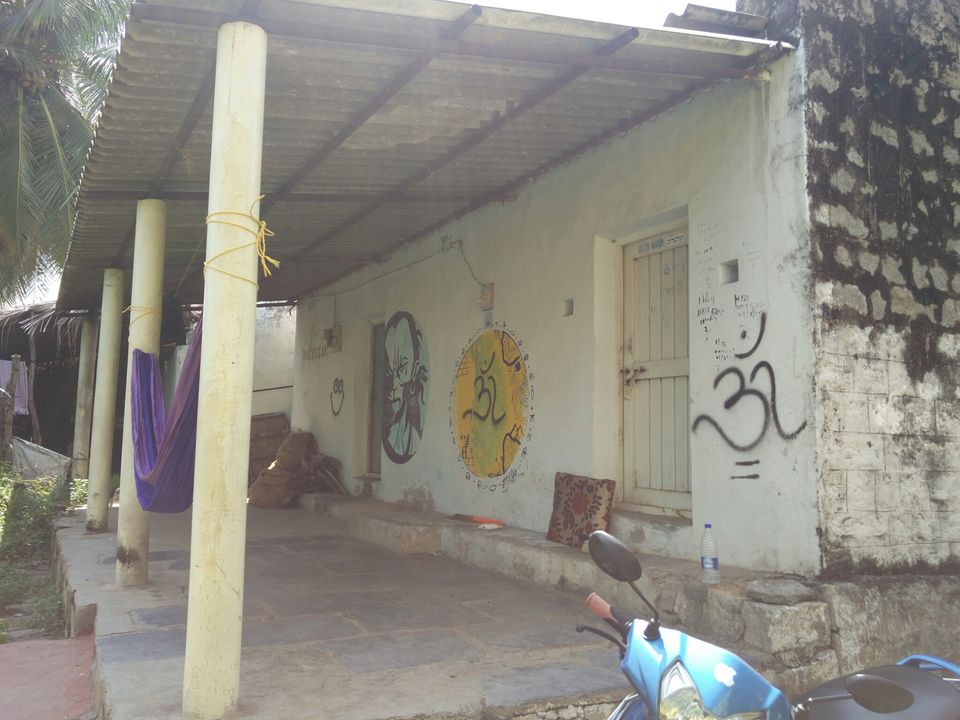 Since it was during dasara, the kids in the neighborhood had a day off. They were curious to see a bunch of travellers at their place and they eventually started playing with us. We had some amazing time playing with the kids and asking about the daily lives of the people there before we left to the Sanpur Lake.
When we got back, one of the Babas who stayed close by was smoking pot, and we asked if we could get some too. For our surprise, baba shared his marijuana. None of us had ever thought we'd be sitting and smoking chillum with a baba and talking about life.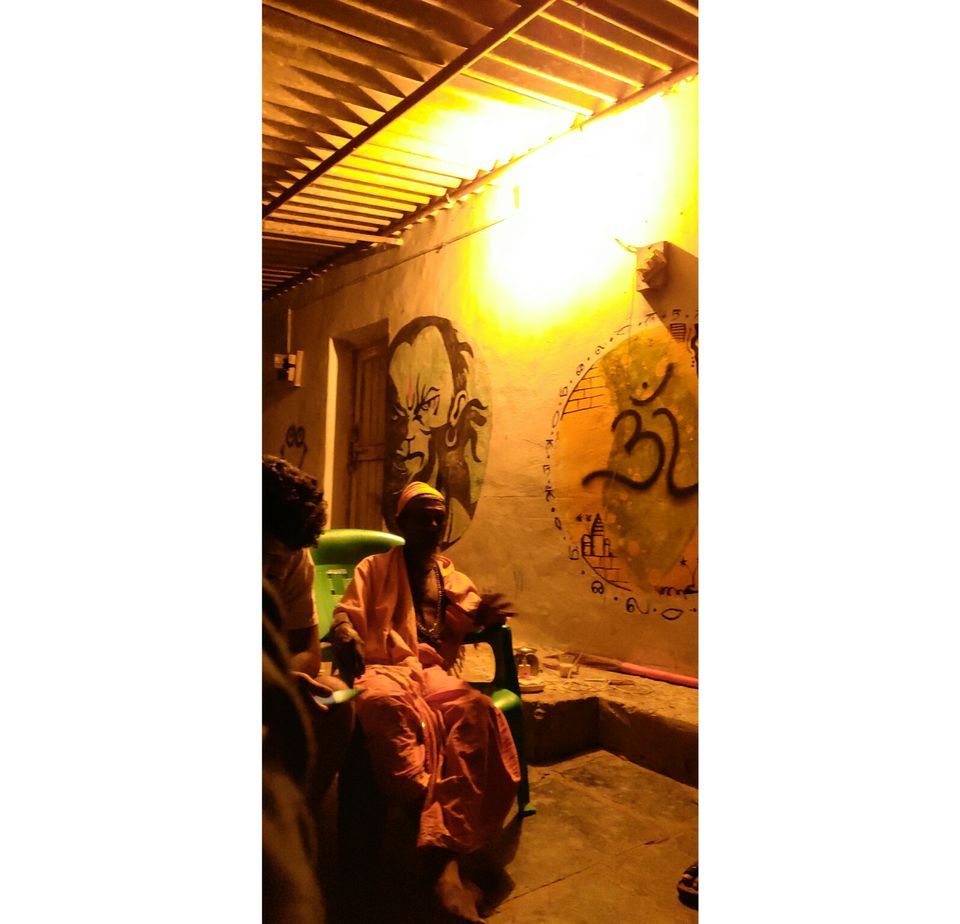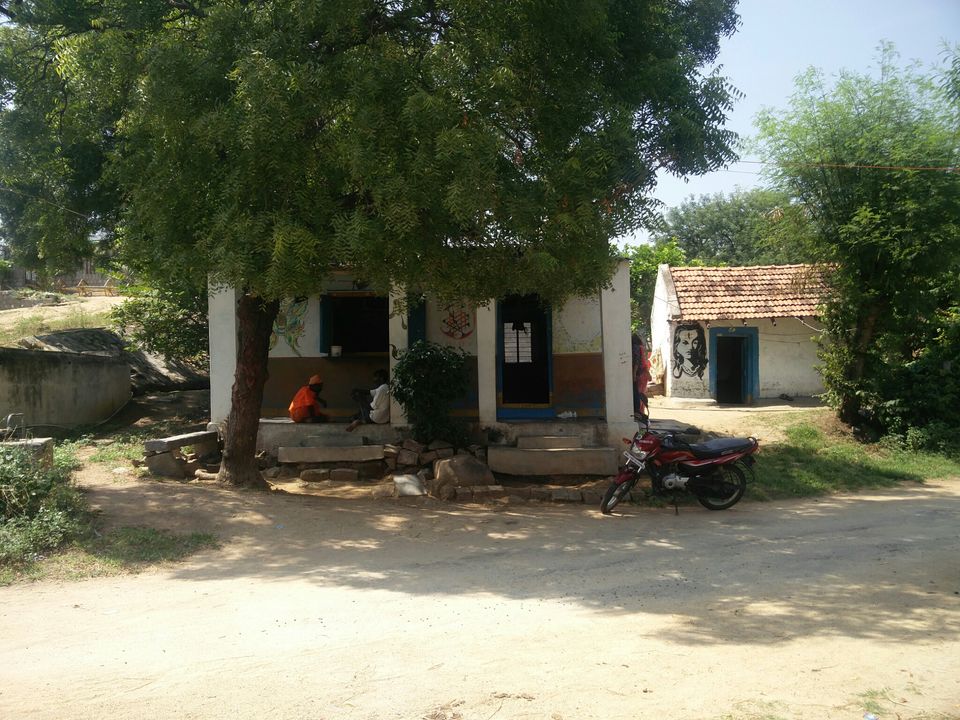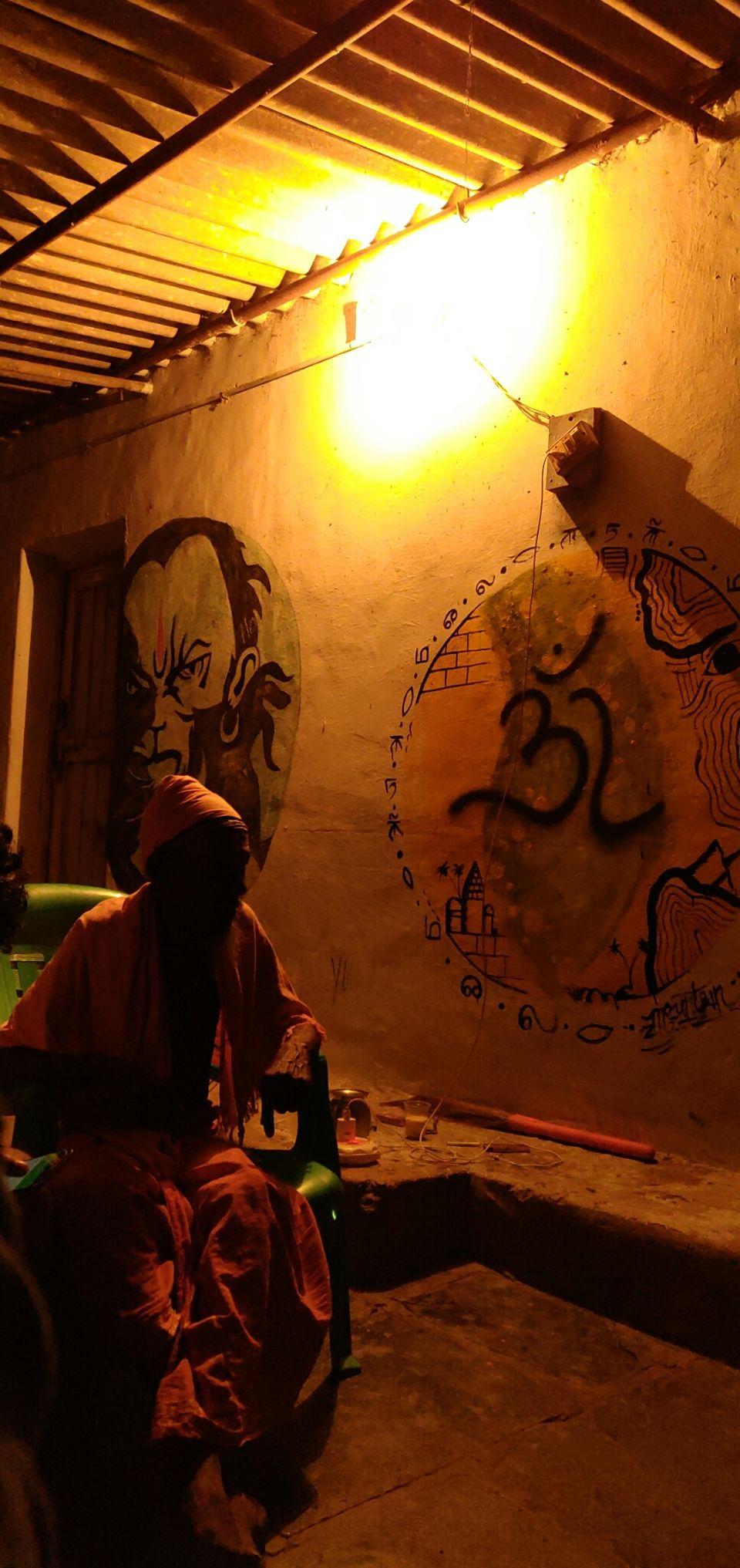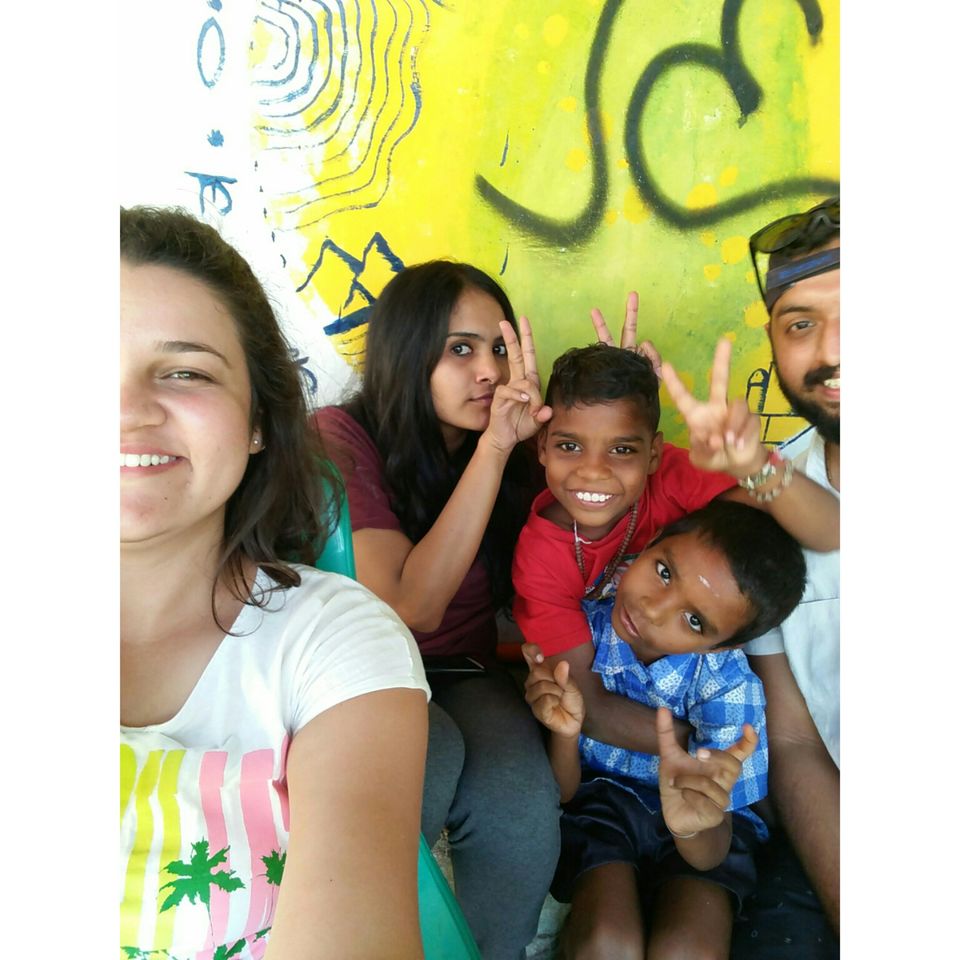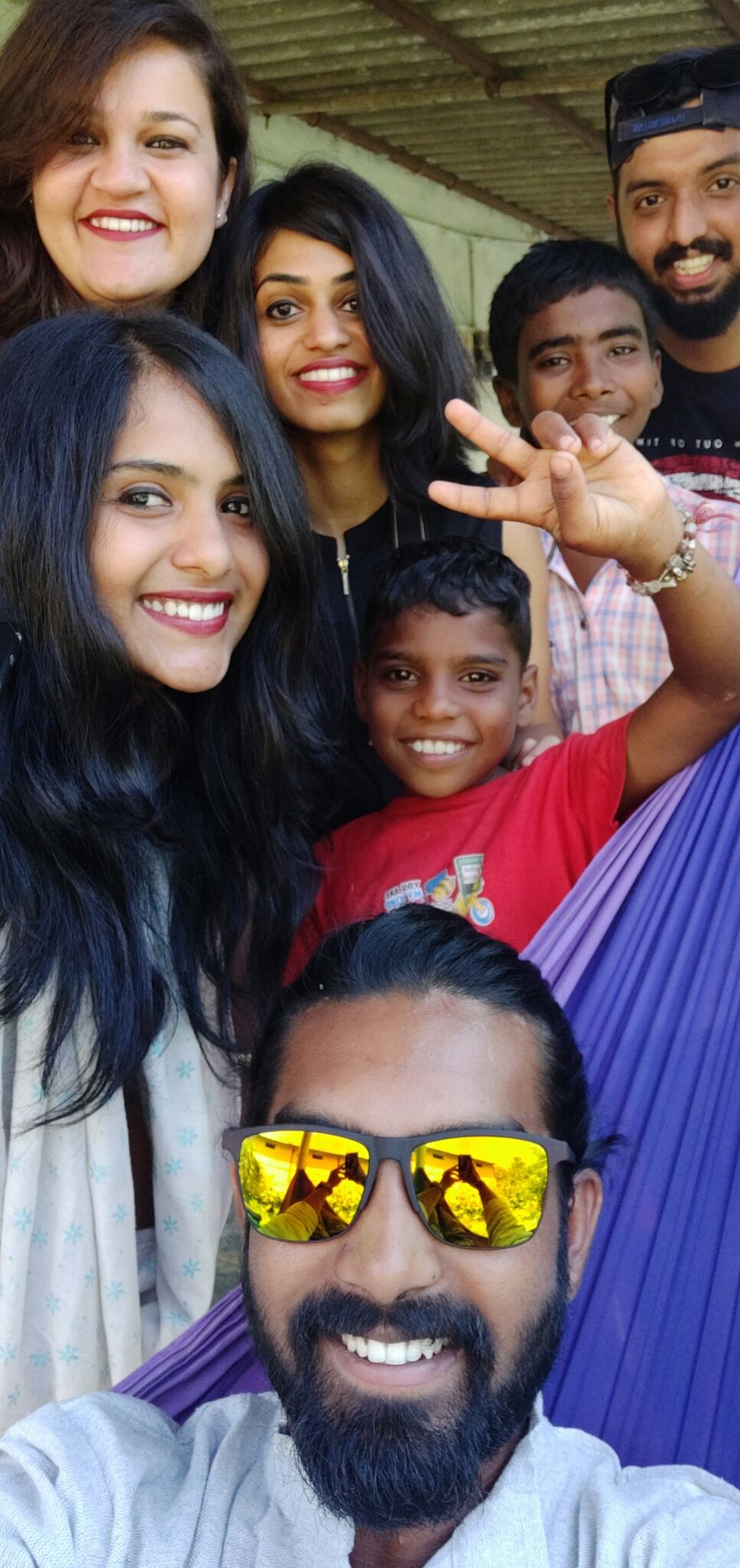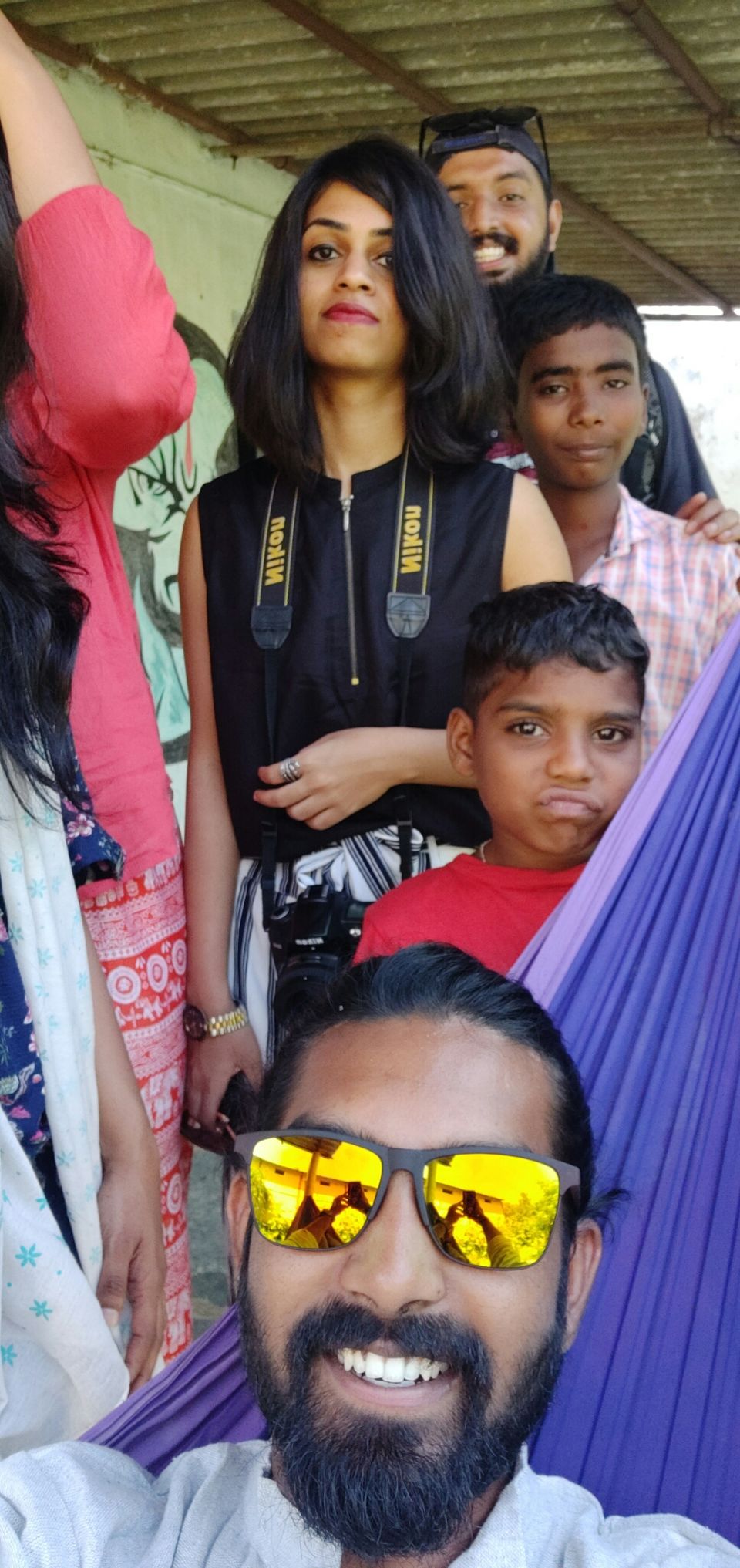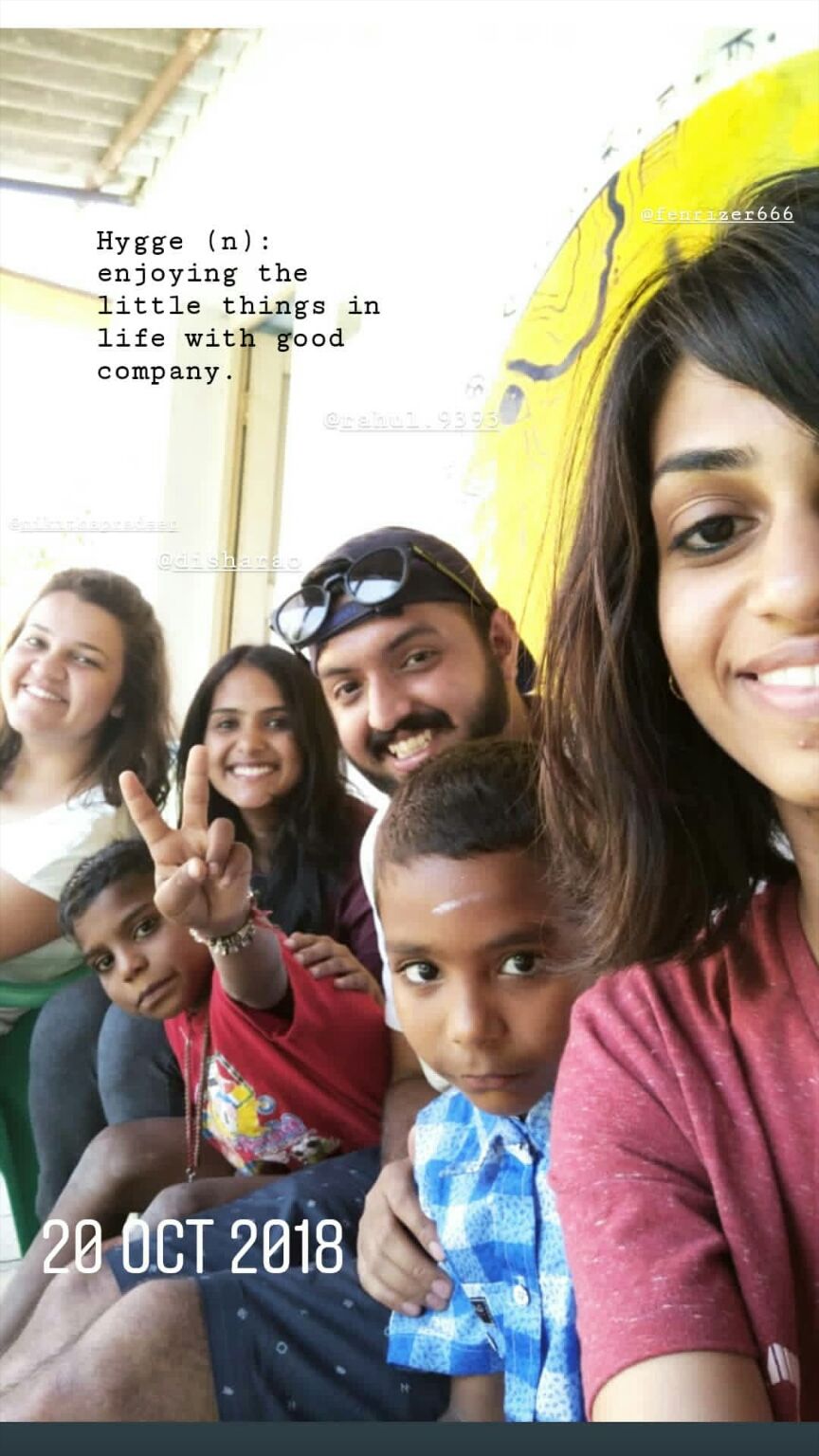 So we spent the evening with this Baba talking about his experiences until nightfall when we went in search of some beer to chill out for the night. We Got our booze and went back to the jungle tree café to chill for a while.
By around 12am the café closed and the owner of the cafe offered us to join with them for a camp fire. We were asked to follow their jeep as the location was a bit far from the café. When we arrived at the location it was surreal! There was a Flat rocky land along the bank of Sanpur Lake and a camp fire under the starry sky. Eventually there was a good crowd and people started to play music and sing. Before we knew, we were all dancing, having fun and sharing our stories with strangers and listening to theirs. The entire crowd boozed together and smoked up for a long while before some of us lied down on the rocks stargazing until 4am. Staring into the universe and having high conversations is one of the moments I shall never forget! :'D
We came back to Gavi's place and retired for the night.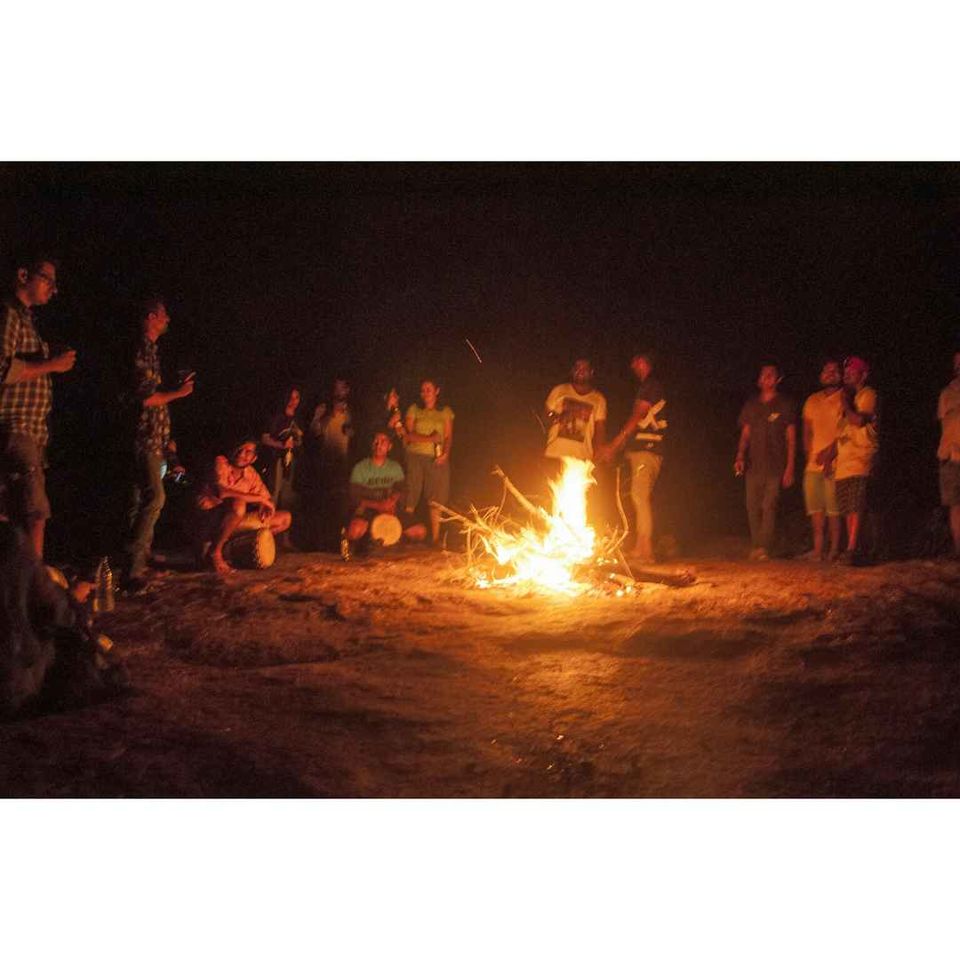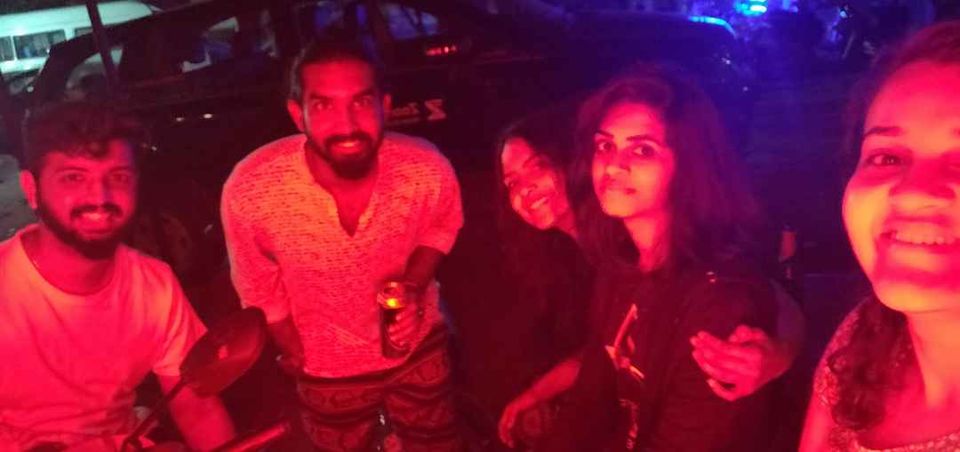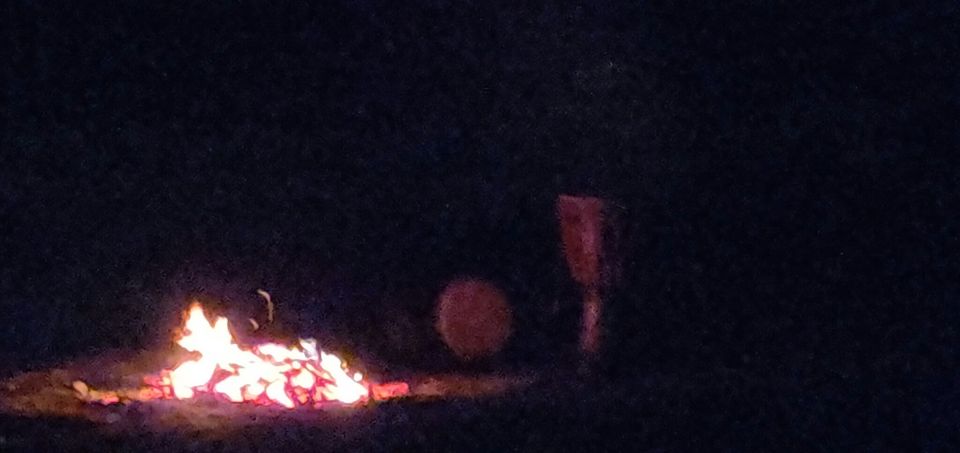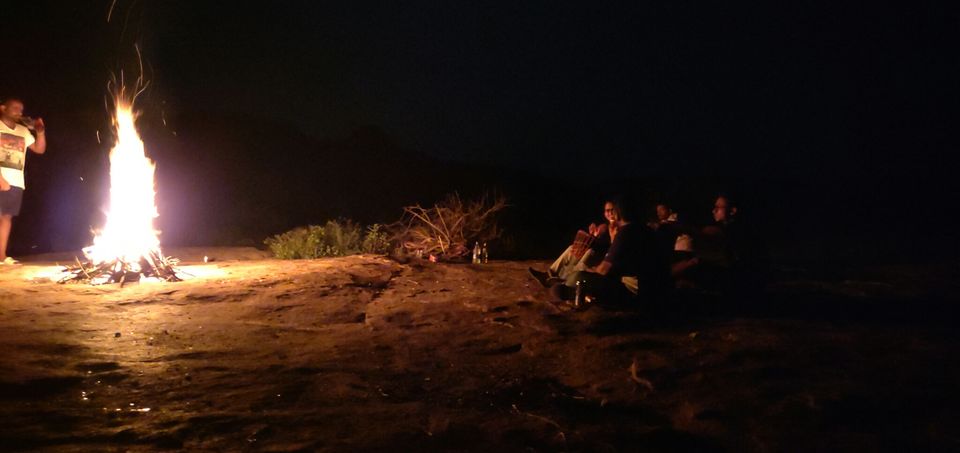 Started the day pretty late by around 10. Our lovely host Gavi had breakfast prepared by then. So, we started off our day with delicious dosa prepared by Gavi's mom. He offered to take us around for the third day and so we left our place with Gavi as our guide. Our guide took us to Navabrindavan followed by a place called Chintamani. After having paid visit to both the places, we explored nearby rocky hills and a couple of caves around, And after a bit of selfies and photo sessions for instagram, we headed back.
It was already noon by the time we got back, and like mentioned before, there are not many restaurants in hampi, so we took a pit stop at a road side cart, treated our belly a bit and continued.
Most of the roads in hampi are country side roads along paddy fields. One can't resist his or her urge to click pics in these fields. So we took a stop and asked our friend Gavi to click our pics while we posed in the fields. The path to walk all the way till center is very narrow and one has to really balance his way all the way. Switching places once you're in the middle is a bad idea. :D We learnt this the hard way. Few of us fell in the muddy fields trying to switch places for a better pic, ruining our dress and shoes, we had the best laughs of our life.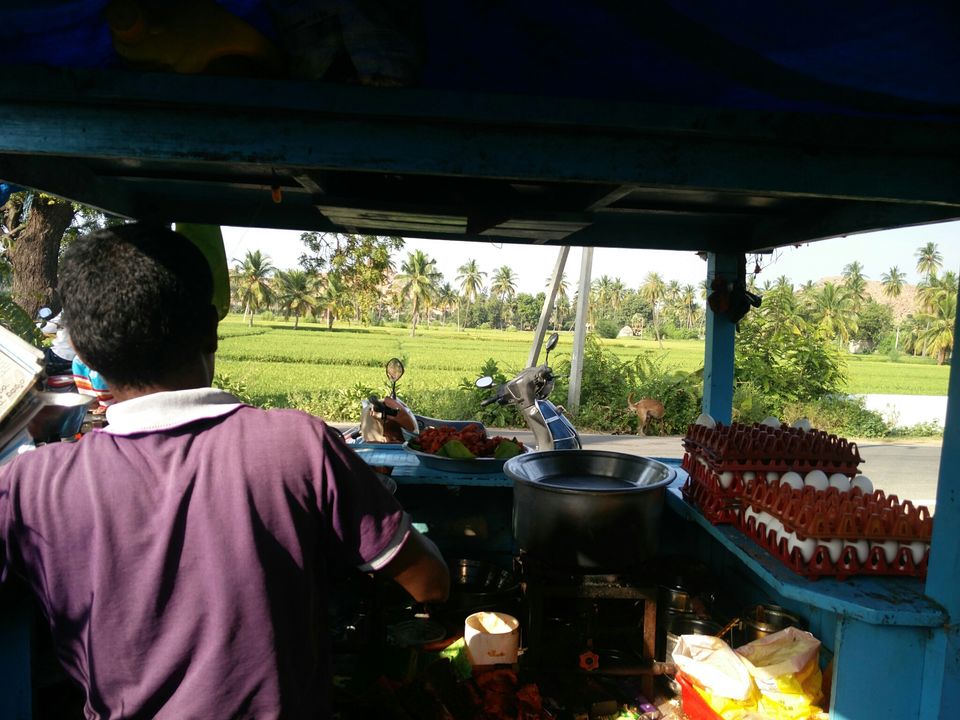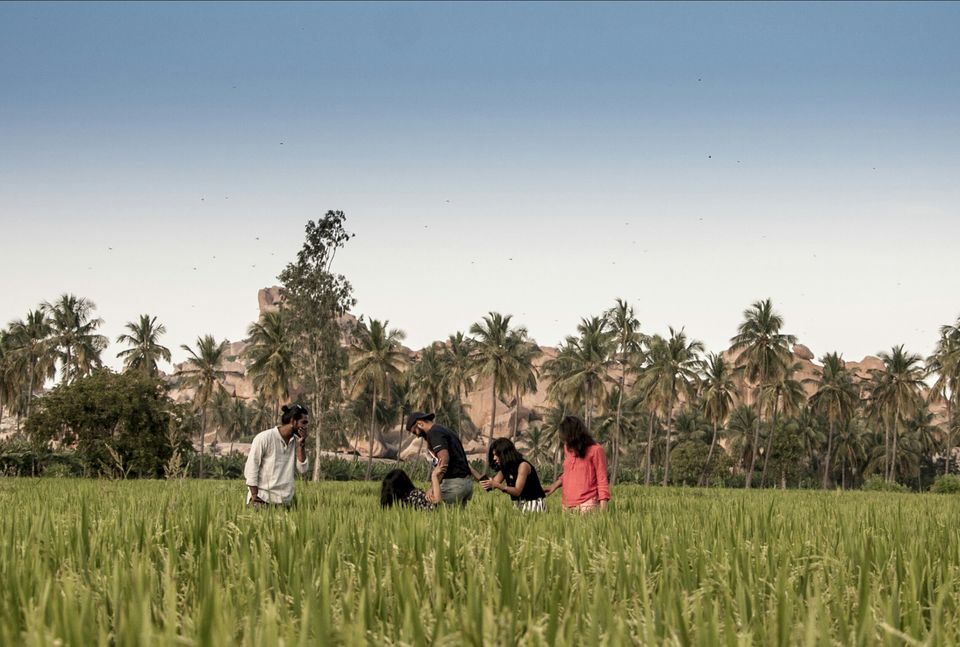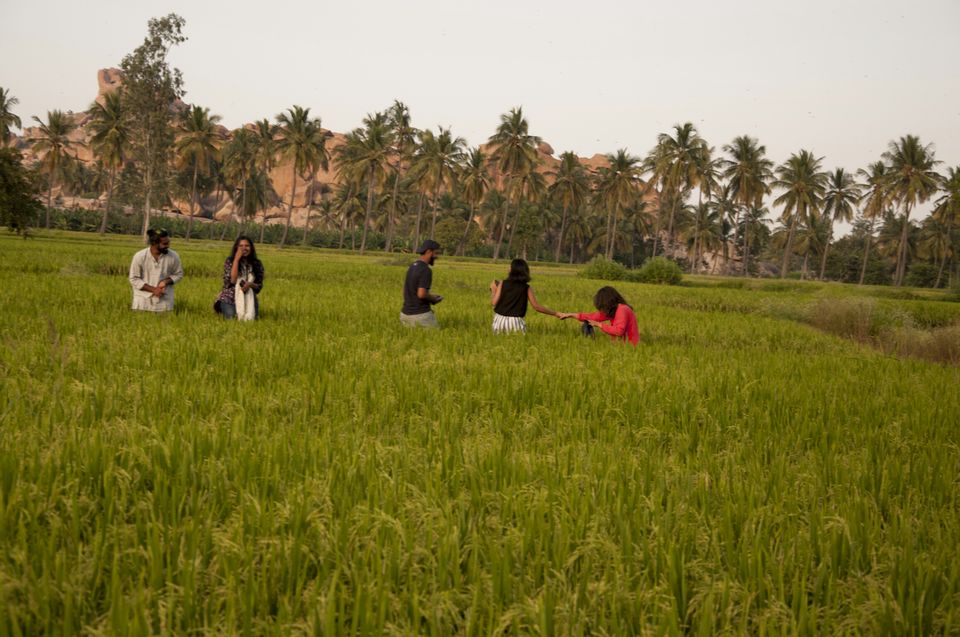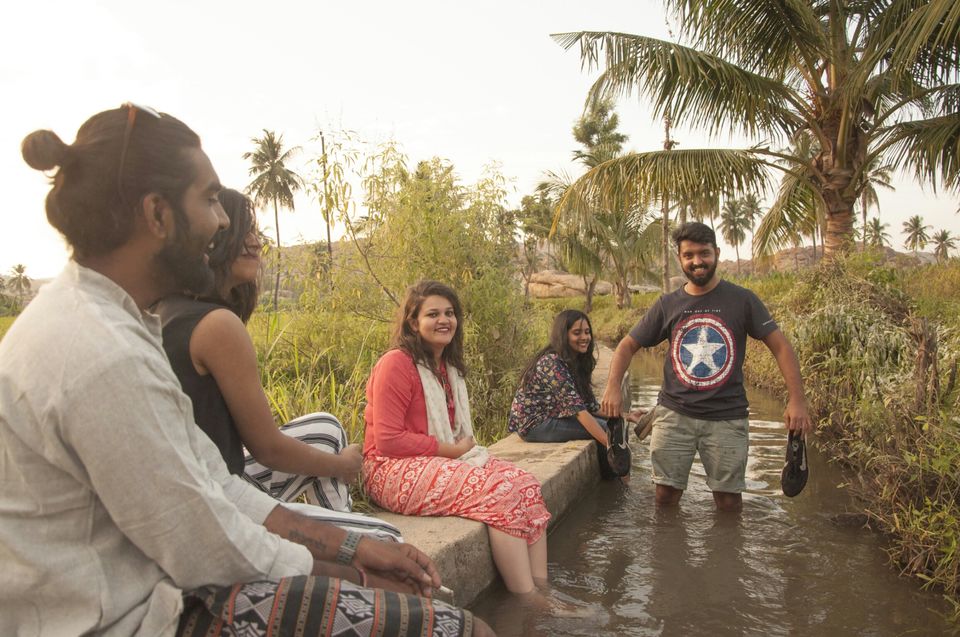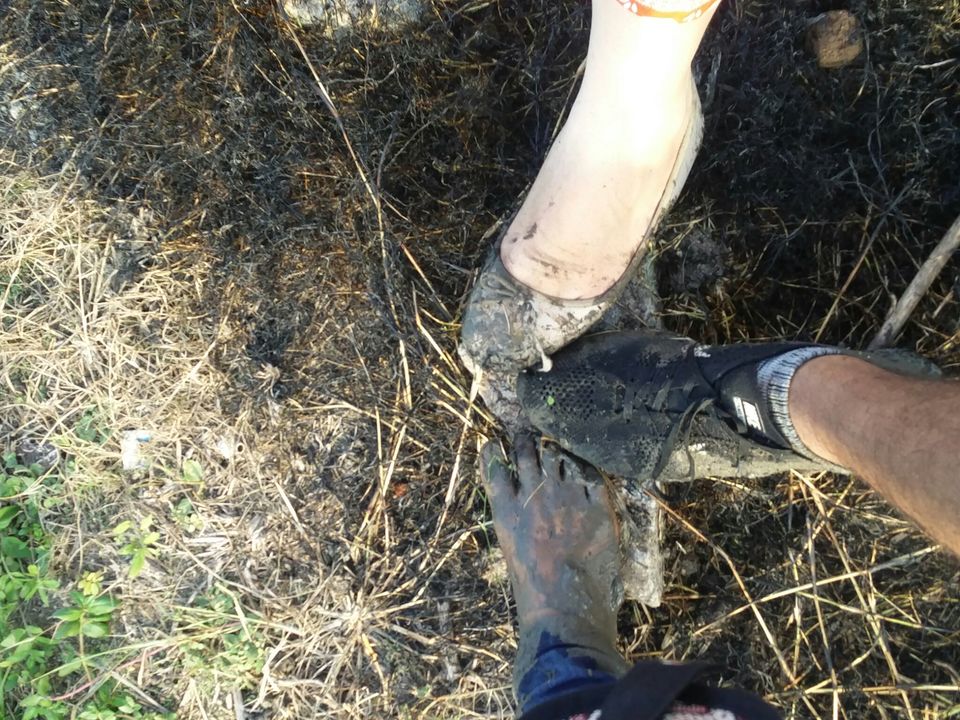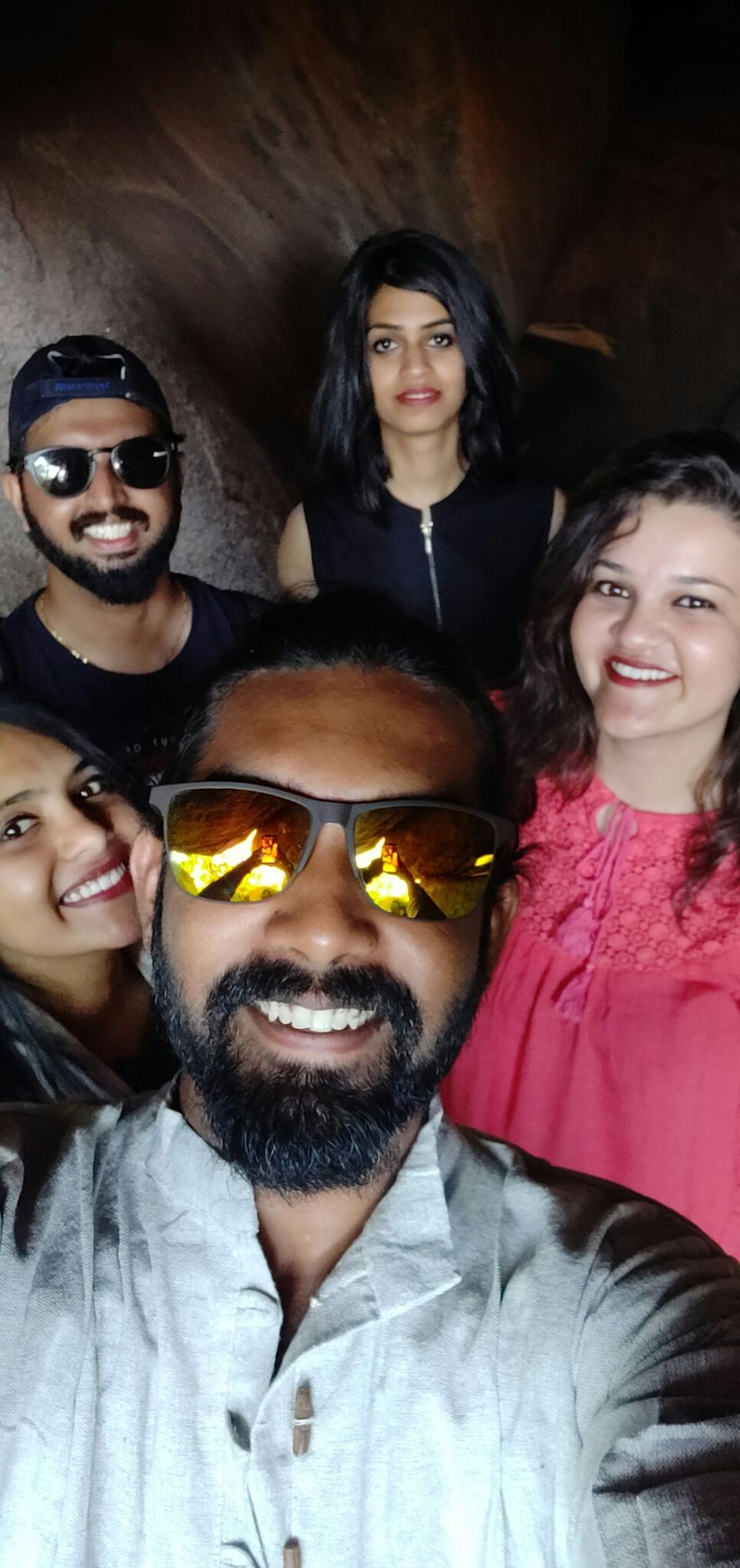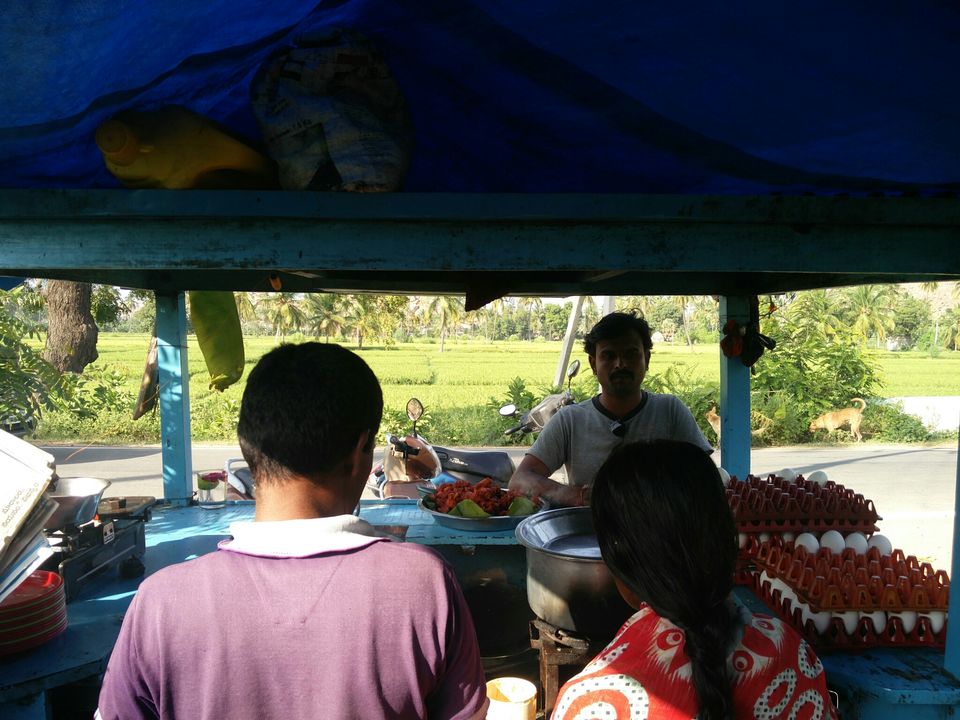 After cleaning our dress and shoes in a nearby water channel, we went on to see Anegundi Palace and clicked some pics again to fancy our Instagram!
After all the photo sessions were over, we went on exploring for the perfect spot to enjoy the sunset for one last time before we left the city we'd fallen in love with. After riding along the paddy fields for about an hour, not knowing where we were headed, we got on top of a near by hill to enjoy the most blissful sunset we'd ever seen!!
After enjoying the most beautiful sunset, we headed back to return the vehicles we'd rented. After returning the vehicles we still had some time to catch the bus so we decided to do some shopping and chill in one of the café for one last time. The cafés in hippie island are so laid back that it makes you lose track of time. Some cafés even have mini gigs going on every evening. And, before we knew we were running really late and had to catch our bus in half an hour. The rickshaw service in hampi is almost nil after the sunset. One has to really keep that in mind if you're visiting for the first time. We left the cafe in a hurry and booked a cab to drop us to the bus stop. By the time we went to Gavi's place and took our luggage, the bus had already left and the bus driver refused to wait!! We thought we missed our bus when Gavi came in to our rescue again. He managed to convince the bus driver to wait mid way and we had to chase to catch it!
All of us were connected to this city so much that, deep down we all wished to miss our bus and stay a day longer in hampi. It was a bitter sweet moment; enjoying the cold breeze alongside the paddy fields for one last time; enjoying the colours of hampi for one last time; enjoying the smell of hampi soil for one last time; not wanting to go back to our regular lives again, we had to leave having no other choice. We sat in our bus waving bye to Gavi and hampi. We were still on hampi soil, we could still feel the hampi breeze but we'd had already started to miss it. Saying bye to hampi was the toughest for all of us!
HAMPI STOLE A PIECE OF MY HEART!!