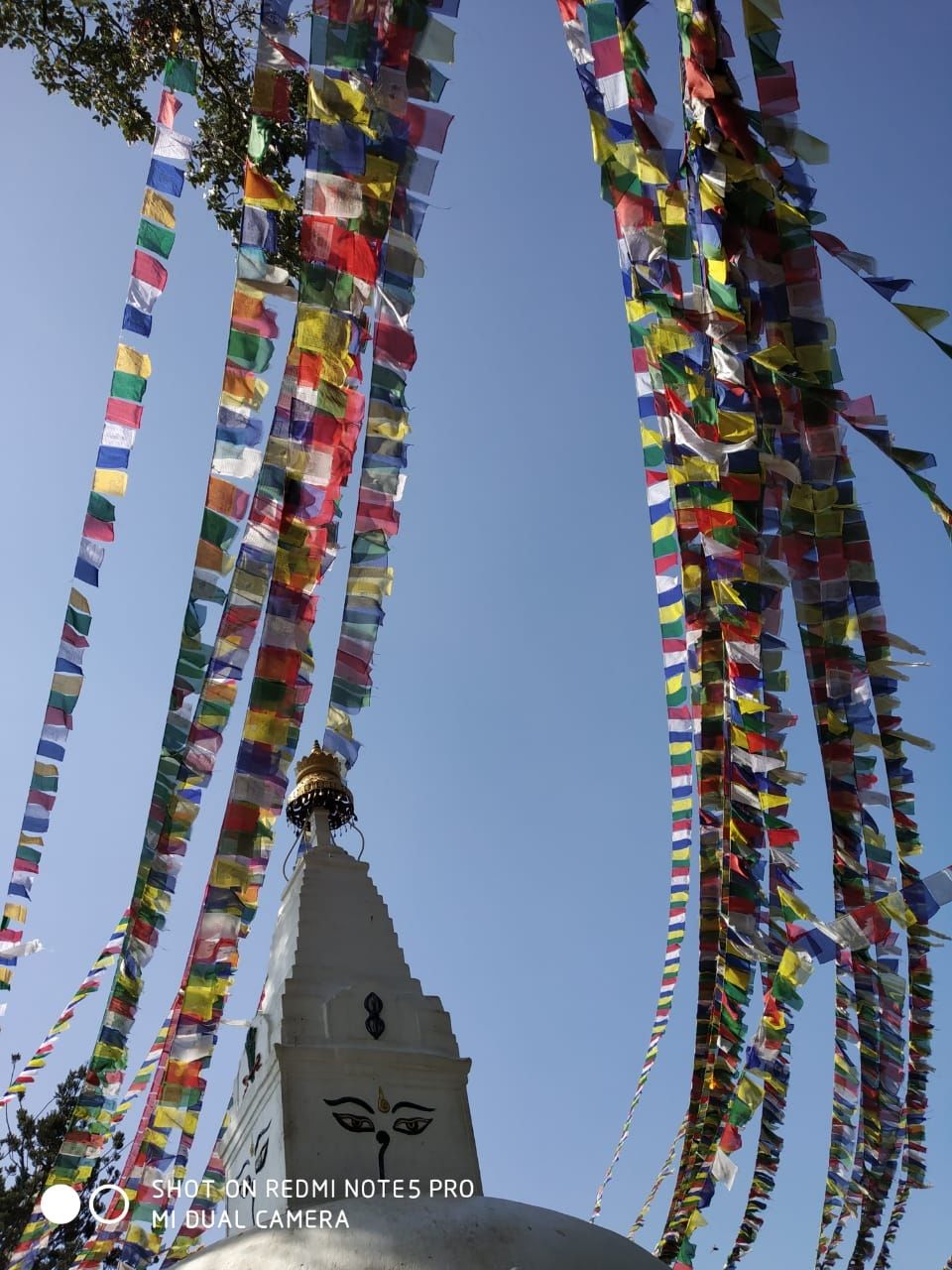 A month to go before I get hitched where I was craving for that last trip with friends before I start a new beginning of my life.
It was October and the Durga Puja in India is about to start, where my uncle has planned for a trip to Nepal with my Brother. So I thought may be they want some Uncle Nephew time and not to disturb them. But one fine occasion at relative's meet my uncle has invited me too to join them, so thought for a while and greed thinking why not be a last family trip ditching the girls bachelorote trip.
So the season of Durga Puja has arrived where in Assam we get almost a week off from work to celebrate the festival for bengalis. So it's a good chance to make a long trip where our trip was for 5 days including the journey time.
How to get there?
1st Day, Me and my brother boarded a train together from new Bongaigaon till Siliguri which took us 4hours to reach the meeting point with uncle at Siliguri where my uncle boarded Rajdhani train from Kokrajhar and reached in just 2hours earlier than us whereas uncle's destination was further from us till the meeting point and regretted ourselves not booking the tickets in the fastest train.
Anyways, we all together met at Siliguri by 3pm and quickly hired a cab near the station till Kakarvita- India Nepal border which took us 1 hour to reach the border which costed us nearly Rs 500 to 900/- don't remember the exact price.
After reaching the border we encountered some Local travel agency at the border which spoke with us in fluent Assamese which is the local language of Assam as we are traveling from the same and impressed my Uncle where he managed to convince my Uncle to book their Nepal Tour Package.
India and Nepal has a friendly relationship so VISA is not required to cross the border only a Voter ID would do.
Travellers love the freedom and exploring of their own without any limitations. As it was the family trip I agreed to go with the Tour Package and enjoy the remaining days at Nepal as Tourists.
How much did we spend?
The tour package agency charged us 7K each for 4days 3 nights and adviced us to exchange our Currency notes as only 5k Indian cash is allowed to carry. If anyone carries more than 5k Indian Rupee will be jailed or fined double the amount they are carrying.
By the time travel agency where making all the process and making ready our Nepal sim we took a quick escape to nearby Hotel and had our dinner by 4.30pm which was very late though.
The travel agency exchanged our Currency and promised to exchange the return amount too into Indian Currency without charging any exchange charge amount.
I was being skeptical to go with the local travel tour agency but decided to experience it once so went with the family flow without remodeling our trip.
All the process was done by 6pm till we waited our night mini traveller vehicle till 8pm where inbetween we were kept engaged by our talkative travel agency with his stories.
At Kathmandu:
Day 2, Early morning we arrived Kathmandu and was picked up by the other end guide who transferred us to the Red Panda Hotel. The amount we paid to the agency did not justify the hotel as the Hotel rates in Nepal are cheaper and you get good hotels within your small budget.
Chucking out the hotel thing, here the local guide of Kathmandu arrived and invited us to get inside the car. The guide was humble and interesting who tried to give us the every little insights of the Kathmandu and kept us contented with his friendly service.
First itinerary of our day, we visited Pasupati Nath Temple. Driver parked the car and asked us to walk of our own a little further. The temple was crowed with tourists and devotees where some has come to see the architecture of the temple and few to seek the blessings. We were here to experience the place and seek the blessings of Lord Pasupati Nath from the hall of Temple avoiding the crowd to get in queue to get inside to see the idol of the lord. We prayed from outside and did some fire burning round and round ceremony in the hall of the temple where we have to light a fire and make a round of the circle inbetween.
The pigeons in the entrance of the temple were mesmerising where the temple is dedicated to Lord Shiva, a blissful destination for Hindu devotees.
Secondly, our guide took us to Boudhanath Stupa, a Buddhist Pilgrimage destination. It was giant and awesome Monestary with Big prayer wheels and flags which were being flown at the height with sketch of God's eyes at the top as if the lord is watching the whole Kathmandu. After exploring the Stupa, we loittered around the Monestary which is surrounded by shops and cafes, a good place for chill out.
Third itinerary of our day, guide said is the Monkey Temple and asurred us that we will like this place as it is situated at the top of hillocks surrounded by picturesque view of Kathmandu City. As it was already noon we decided to have our lunch then head to our next destination where it took a lot of time to find a good place to eat as most of the shops were closed due to Durga puja. Here in Nepal they too celebrate this festival and the commercial things remains closed and they believe in giving their time to families rather than being workaholic. So, I suggest you not to plan your vacation on this festival.
Kathmandu tour is full of holy destinations, so we decided this Monkey Temple to be the last destination of our 1st day trip. As the name suggest we thought to be the Hindu Temple as believers of Hindu worship Monkey as Lord Hanuman, but it was a picturesque Buddhists Monestary a top the hill inbetween the serene nature.
By early evening we reached hotel and bided bye to our guide until next day. After taking rest for few hours, me and by brother stepped out of the hotel leaving our uncle behind to take rest. We explored onfoot through the dilapidated towns and the shop. We found that the city was outdated and dusty with old buldings and the people inside it which has its own charm and beauty.
At Pokhara:
Day 3, so the old travel agent of the Nepal border came to pick us up for the next destination to Pokhara.
The city was closed due to festival as the guide claimed, so taking time to transfer us to next destination where he was managing with other tourists in the same vehicle to send us along with them. Damn! We woke up by 6am to save our time only to start our vehicle by 10am.
We were clubed for the journey in the vehicle with college students who were on excursion with their teachers and a guide. We learnt that they hailed from the same state we belong from but different districts whereas the name of their college was Morigaon college situated in Morigaon district. After a long drive of 6hours amidst the hillocks of Nepal and chit chats of the students, their Antakrisiri in between and the stories of the local driver who kept us engaged through out the journey. Slowly the streets and landscapes where changing with beautiful hostels and cafes realising that we reached Pokhara and it was 3.30pm and were left by our tour agent to explore the evening of our own.
We were supposed to be picked up by our respective tour package s guide but the driver was good enough to drop us to our different stays. After we reached hotels we all quickly out freshen up to explore the beautiful town encircle with mesmerising lakes, cafes and shop. The few lake of Pokhara was just a few kilometer walk from our hotel so we explored on foot the another paradise on Nepal. It was October and was raining there we halted bin between the places to avoid the heavy rain and show that it is a favorite tourist spot for the travellers from all over the globe. I could see few travellers walking even its raining getting wet and few cycling over the town and the phisique of travellers let me to assume that they must be the trekker who were warming up for the trekking to Annapurna Base Camp. As the heavily rain stopped and changed to drizzling we headed futher towards the lake and witnessed the beauty of lake surrounded by hills where we loittered for sometime around the lake.
Decided to explore Phewa lake by a boat ride which landed us to the Varashi temple situated in a small island inbetween the lake encircled by lush green hills. The temple is dedicated to Goddess Durga Maa and attracts many devotees to seek the blessings.
After the seeking blessings form the temple we came back to the lake side where we explored the beautiful decorated cafes, did some shopping for the loved ones back at home and halted at one of the restaurants to call it our day.
Day 4, As per the itinerary of the day, our were picked up by a private car for sightseeing the within the city which inculuded a museum which was closed on that day, a temple at the height which gave us a picturesque view of Pokhara, then a cave and view of Sethi River, finally in the end a glance of Phewa lake again. We completed the local sightseeing within 4hours and the time to bid auide to travellers paradise with a memories of new place and experiences.
Day 5, we reached the Nepal India border by 7am after a arduous bus ride of 15hours. Very tired and exhausted we headed back to our unrecognized tour agent for the exchange of money which he denied after which we had to exchanged at the nearby money exchanger.
Quick Guide:
1. If you are traveling from India, No need of visa only a voter ID would do.
2. Best way to explore Nepal is of your own without any tour agents. And never book any unknown tour agents which you meet in border.
3. It's value for money as the value of Nepal Currency is lesser than Indian Rupees which will give you a change to visit another destination on earth and visit this place of Mount Everest.
4. If you are not a Temple lover then you can spend only a day a Kathmandu to have a glimpse of the capital and head to Pokhara early morning vehicles which is a place to satiate your adventure wanderlust which offers Riverrafting, Paragliding, camping and trekking and many other activities.
5. Donot travel during Durga Puja holidays as per Indian holiday calender as it's the festival season in Nepal too which they belive to take a break from work and spend time with families so everything remains closed.
6. Visiting Nepal will bring you close to their people, culture and food a new experience in total.
Happy Nepal! Happy near in India! Happy Travelling!