Calicut is a port town and home to some of the tasty delights that one can find in Kerala. The cuisines which reflect a blend of Arabian, Chinese, Gujarati and local dishes are signs that it once attracted travellers and traders from all around the world, being a hotspot of trade during the medieval period.
Neither the serenity of the Calicut beaches nor its rich history didn't fascinate me as much as the culinary specialities that I have read and heard about. A food trip to Calicut was there in my mind for the past few months but was not able to undertake the same due to many reasons. Finally planned my journey on the 10th of Feb 2017. Due to lack of time, I planned to visit only those joints which has gained a significant public opinion and thanks to Tastyspots, I had no issues in jotting down some beforehand.
I decided to try out the KSRTC (Kerala State RTC) Scania Garuda Maharaja series and booked a window seat. The premium class service of KSRTC stands out in the way the service is being offered. The staffs are well behaved and caters to all customer concerns. The journey was fine to an extend but the comfort level was not like what I have experienced from the Volvo service. The bus was on traction mode for most of the time and I assume that the driver was not that much experienced.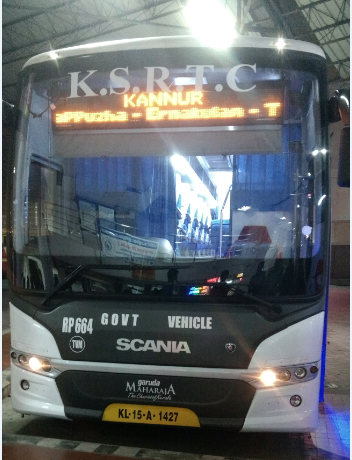 Reached Calicut half an hour late by 05:45 AM and after a tea set out to look for the dormitory where I can get freshened up since my room booked through MMT allows check in only at 12:00 PM. Finally after roaming around the great Mananchira Square, reached the dormitory, thanks to Google maps, I got cheated this time also. After a short nap, it was time to set out to my first destination.
Destination 1-Pillai's Snacks for breakfast\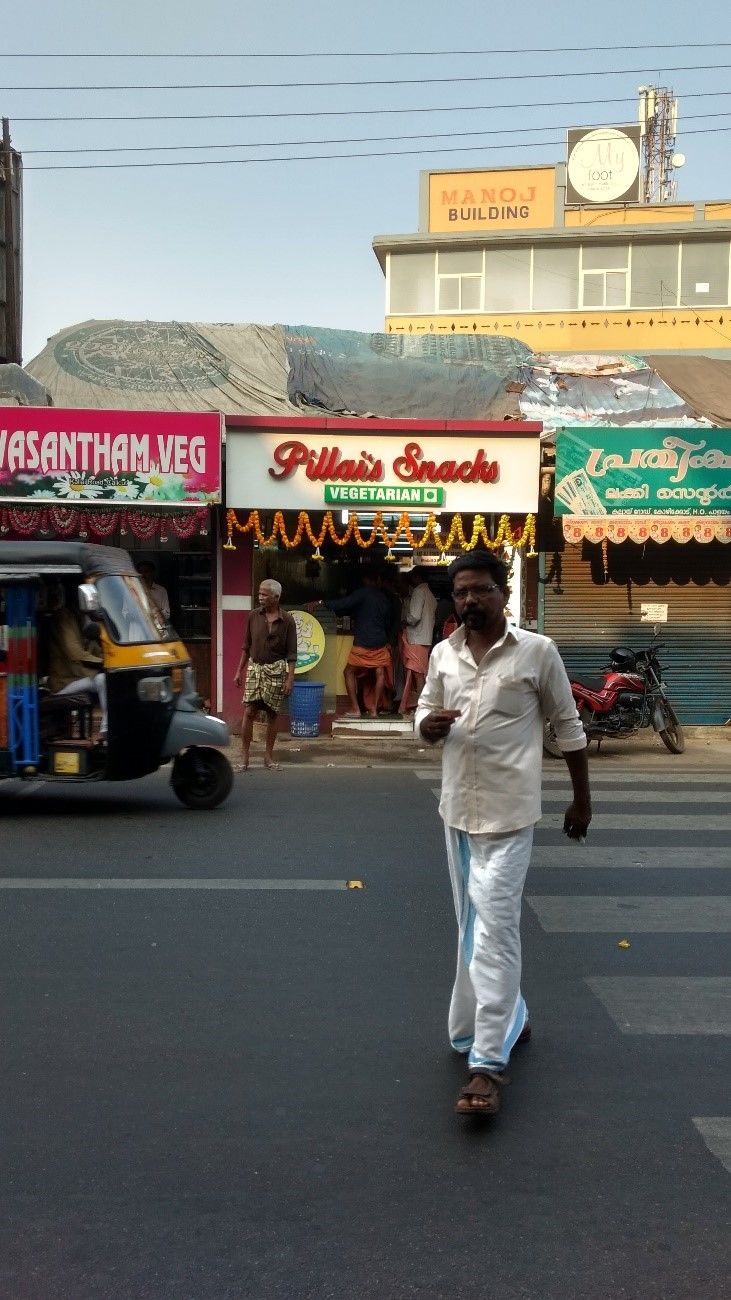 Pillai's snacks is located right at the corner of the road which turns to the railway station. I have heard of the tattu dosa, their most sought after dish and didn't have to think twice before ordering the same. Four tattu dosas along with red chili and mint chutney, a strong tea and a hot vada were in front of me in no time. Believe me, the taste was distinctive, luscious and a perfect delight to my tongue. Ordered couple of dosas more and badly wanted to try their masala dosa but managed to spare a little space in my stomach considering the remaining cuisines that were in line for me ahead of the day. At the time of paying the bill, had a short chat with the owner and he said a lot of customers are coming from Ernakulam and Trivandrum. The rate was reasonable.
Since I need to spend 3 more hours before I can check in, I thought of going to SM Street (Sweet Meat Street, popularly known as Mithayitherivu), my second destination.
Destination 2- Sankaran Bakery, Mittayitherivu
Sweet Meat Street or Mitayitherivvu is only walking distance from Pillai's snacks. Search for Sankaran Bakery and the Google maps will direct you straight to the place. The old Sankaran Bakery is closed now and a new one with the same name has started just opposite to the old one which is run by the second generation of the family, as per my understanding. Anyone who have tasted halwa from Sankaran bakery earlier will be able to clearly distinguish its unique taste. It's one of the best bakery that you can purchase Halwa from, if you are at Calicut. Make sure that you are purchasing small quantities from different varieties available and not a single one. Don't expect much discount from them but no issues, you won't regret as you are not compromising on the taste.
Completed my shopping at SM Street and it was only 10:00 AM. Still 2 hrs remaining for check in. Anyway decided to go to the hotel and ask for early check in. Took an auto and reached Metro Tourist Home by around 10:15 AM and they allowed early check in free of cost. About the hotel, it's centrally located and got renovated recently. Rooms are small but clean and service was good. The hotel has got no restaurant on its own but nothing to worry about, some good restaurants are nearby. Decided to take some rest before going to my third destination. In order to beat the queue for which the restaurant is renowned for along with the food they serve, I turned up at sharp 12:00 PM in front of Hotel Paragon.
Destination 3- Hotel Paragon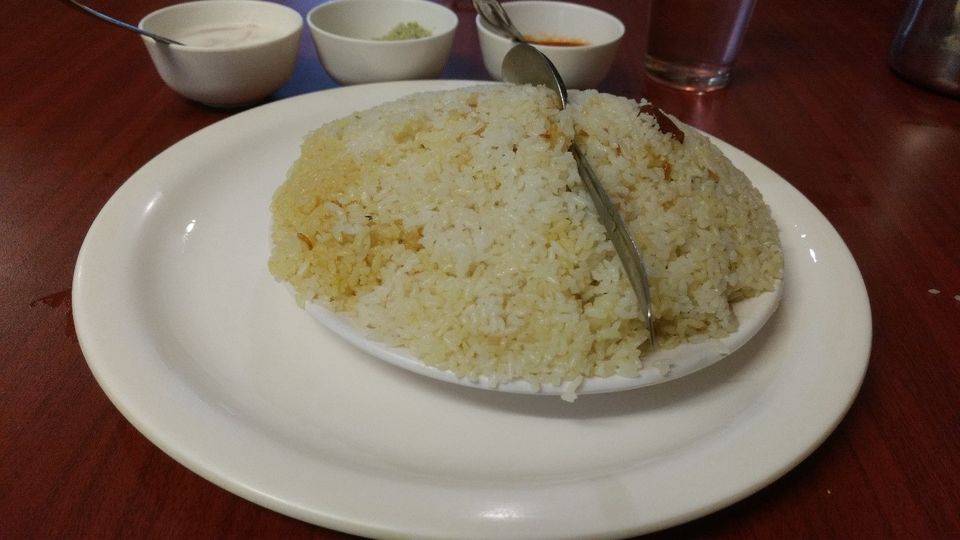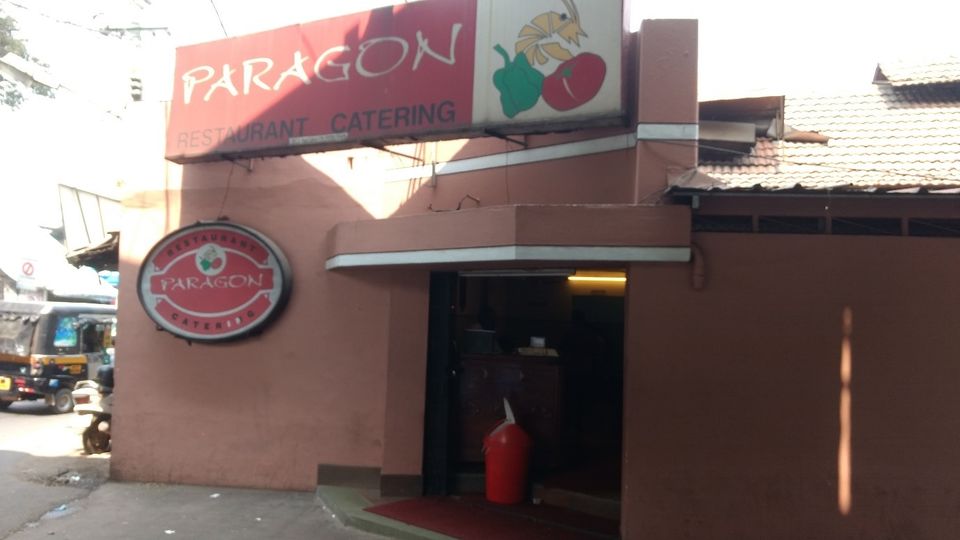 Reached Hotel Paragon by 12:00 PM sharp and although I had a number of options available in front of me, I opted for Chicken Biriyani. As I waited patiently for the food to arrive, I was a bit tensed as my expectation regarding the Chicken Biriyani at Paragon was high and had a doubt whether it will stay up to my expectation as Hotel Paragon was one of the prime factor that incited me to travel this far. What I have learnt is that expectations always kills the treat. If you are a foodie, don't keep any expectation, just go in as if you are completely unaware of the comments mentioned in the reviews that you have read.
Finally my Biryani arrived along with dates pickle and salad. The rice is small grained and thin. Started slowly and I could feel the taste difference of the Malabari biriyani and I enjoyed the same as it was evident from the pace at which I was taking in the food. Nicely cooked chicken was very soft and when mixed with rice gave an awesome combination of taste. If the experience I had at Pillai's snacks was real food delight, the one I had here was pure ecstasy. So finally the reviews were correctly tagged and my expectation didn't spoil the treat. One plate of chicken biriyani will cost you INR 140 which is a nominal rate.
After Paragon, my next destination was Milk Sarbath Kada which is located opposite to Paragon and very easy to spot as one can see a crowd in front of the shop. Somehow I managed to get to the front and grab a glass of Milk Sarbath. Its good especially in the scorching heat but having tasted the milk sarbath from Buhari, this one was just ok. Maybe the difference is that it's completely mixed with hand but Buhari on the other hand uses a mixer for a perfect blend.
My next destination was Alibhais tattukada which is near to Calicut beach.
Destination 4- Alibhais Tattukada
Calicut beach is nearby the place where I stayed and decided to walk so that I can explore some roadside eateries and shops. After walking for around half an hour, reached Calicut beach at around 5 PM. Before going to Alibhais tatukada, decided to try out some local items which were available at the beach. To start with I decided to go for sweet ice sarbath which is good but I doubt whether the taste has deviated from the one which I had 9 years back while at college. To add on, this was prepared by a North Indian and not a local vendor. Anyways I didn't hesitate to check out the salty one which didn't taste good though.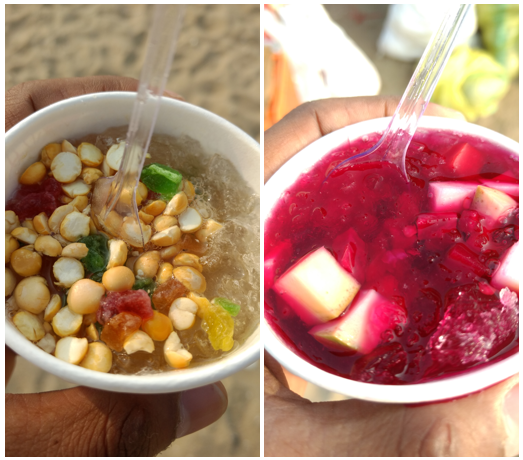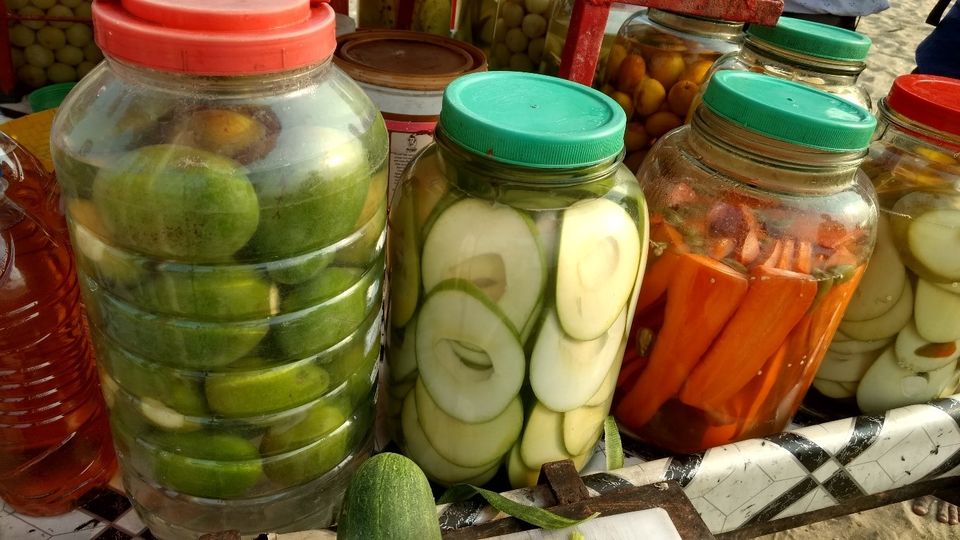 Regarding the beach, it was nice, I am not including the details as this was purely a food trip, but the environment was fresh, free and romantic. The below image better illustrate the mood.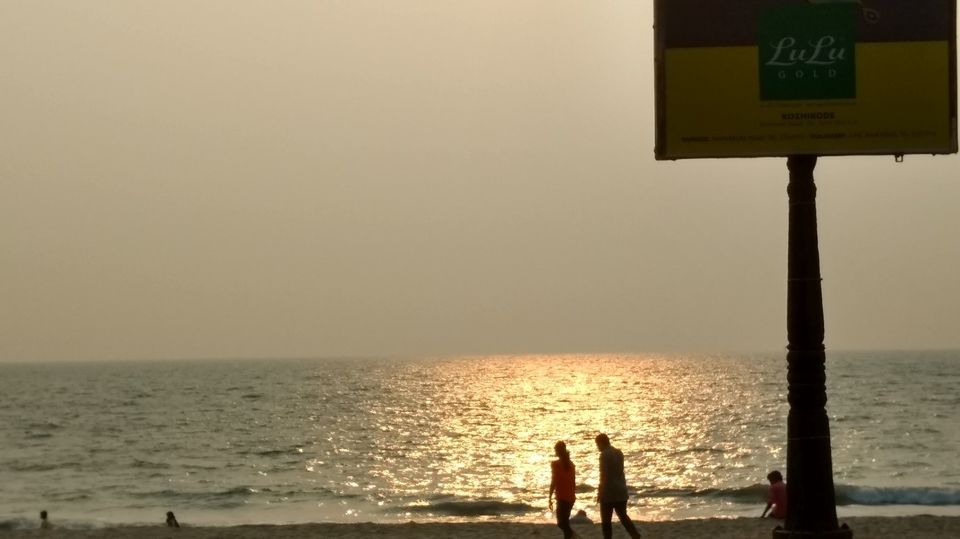 One of the most sought after destination, Alibhais tattukada turned out to be a big disappointment as the shop was closed for renovation. I was specifically looking forward to check out their "Kadukka Nirachathu". So yet another food trip pending but Calicut is full of choice as far as a foodie is concerned. My second option was to reach the private bus stand, opposite to which one can find a series of tatukadas. I have heard about the egg peas being served there and decided to try the same. Based on the order, precooked peas and masala will be mixed with scrambled egg. The recipe is simple and straight forward but you won't get that unique taste if you try the same at home (in fact I have tried and failed miserably). Don't miss the tattu dosas and omelette, it's worth the money and tastes great.
So the day finally came to an end and the coming day I was not having much options as I need to leave early. So decided to have breakfast at Dakshin- The Veg, after which I need to board the train back home. The next morning went to Dakshin which is only walking distance from my room. Regarding the food, its ok, you won't get much options. I ordered Masala dosai with vada which was again just ok. The vada that I ordered was really nice, hot and crispy. Badly wanted to explore further and try out some more restaurants but due to lack of time and personal commitments, I was forced to bid adieu to the port town.
I should specifically mention the auto drivers who helped me a lot with suggestions regarding various food outlets that needs to be tried when you are at Calicut. Calicut is the only place where I have seen auto drivers charging less than what's shown in meter when they don't have change with them. They won't charge you a penny extra from what's shown in the meter. Overall the trip was awesome, enjoyed a lot and Calicut treated me well. I should also mention the Tastyspots app from which I was able to sort out some destinations and plan the trip accordingly.
https://thegadabout86.blogspot.com/2017/05/shilpa-nagaram-city-of-sculptures.html