Apart from the backwaters and all the scenic mountains, Kerala has got quite a few spectacular waterfalls that are a must-visit if you want to experience the natural beauty of the place in its entirety. One of those is the Keralamkudu waterfalls which abides full of life and beauty in the quiet of the Malppuram district's Western ghats.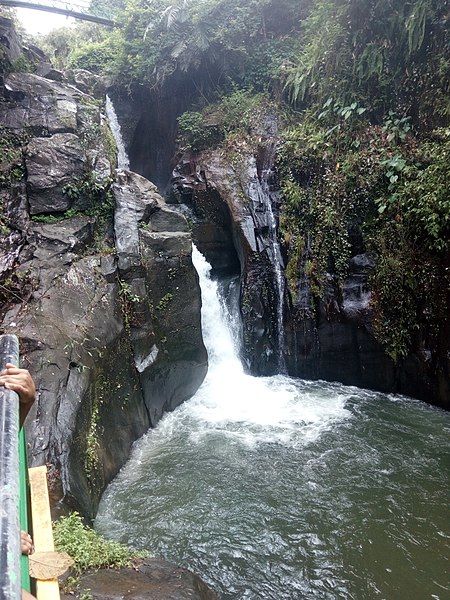 Water falls off a height of 150 feet into a wide natural pool and makes for a breathtaking sight as it does. There are a whole lot of plants and shrubs around these falls on the mountains that add to the scenic view. Rumor has it that the waters of this fall have got medicinal properties as well and are known to have a calming effect on those who bathe here. On the whole it all makes for a great experience whether you're here to enjoy the view or to bathe in the pool, one that you'll never forget.
How to get to the Keralamkundu waterfalls
The Keralamkundu falls can be reached by a very small trek that leads here in just 20 minutes if you walk and just a little over 7 minutes if you get here on a two-wheeler or a car from the village (also called Keralamkundu). This place is well-maintained by the local government and there is an entrance ticket and a path laid out for tourists to reach here.
There are a few things you should be careful about however, if you are planning to spend some time in the waters. One of them is that the mountains here are slightly slippery and you should be careful about that. Sometimes the water in the pool takes the form of small whirlpools which can pull you towards the deeper areas of the pool. So make sure that you have people around you that can swim (if you can't swim) before you get into the pool.
Things to do around here
This village is in Malappuram district which has got plenty of other attractions along with the Keralamkundu falls. Some of these include scenic natural treasures such as the Koombanmala, Kodimala waterfalls, Swapnakkundu waterfalls.
Nearby is also the British Bungalow, a really old villa that people often visit. There also happens to be an old mango tree nearby that is said to be the world's largest mango tree because of its size.
Cuisine on offer
The Mappila cuisine which is native to this region of Kerala is also fund around this place. The biriyanis (made of meat), pathiri (bread made of rice), mussels, ghee rice and erachi puttu are some of the local delicacies that you might want to try out in any of the restaurants here and in nearby towns.
When to go
Since the summers and the monsoons are both not ideal for trekking your way into these waterfalls, the best time to go here would probably be from November to March. Depending on your ability to cope with the heat, you can also pay a visit in the month of April.
Getting there
By air : The Calicut (Kozhikode) airport which is about 2 hours away from Keralamkundu is the closest airport to this place. You can take a cab from the airport to one of the towns near to this village.
By train : Melattur is the closest railways station to Keralamkundu. There are a number of trains that connect to Melattur from some of the major towns and cities around. You can then reach the destination by booking a cab or taking a local bus.
By road : Keralamkundu is also connected by road to many of the major towns and cities around it and although the roads that lead up to here might not be in great condition, they are decent.
Getting around :
The only means to getting around in Keralamkundu and the towns nearby (where you will probably be staying) is by your own vehicle or by booking a cab in one of these towns. Once you reach the village, you can also reach the waterfalls through a small trek.
Where to stay :
Keralamkundu is a village with not too many good places to stay in, so staying in nearby towns such as Manjeri and Nilambur is ideal. Places like Park Residency in Nilambur and Rydges Inn or Woodbine heritage in Manjeri .
Have you been to the Keralamkundu waterfalls or any of the beautiful places around it? Let us know of your experiences here.
Why should English readers have all the fun? Tripoto is now available in Hindi.
Frequent searches leading to this page:-
Kerala Budget Family Tour Packages, Kerala Holiday Vacation Packages Price, 3 days honeymoon packages in Kerala, Places to visit in Kerala for 4 days, things to do in Kerala