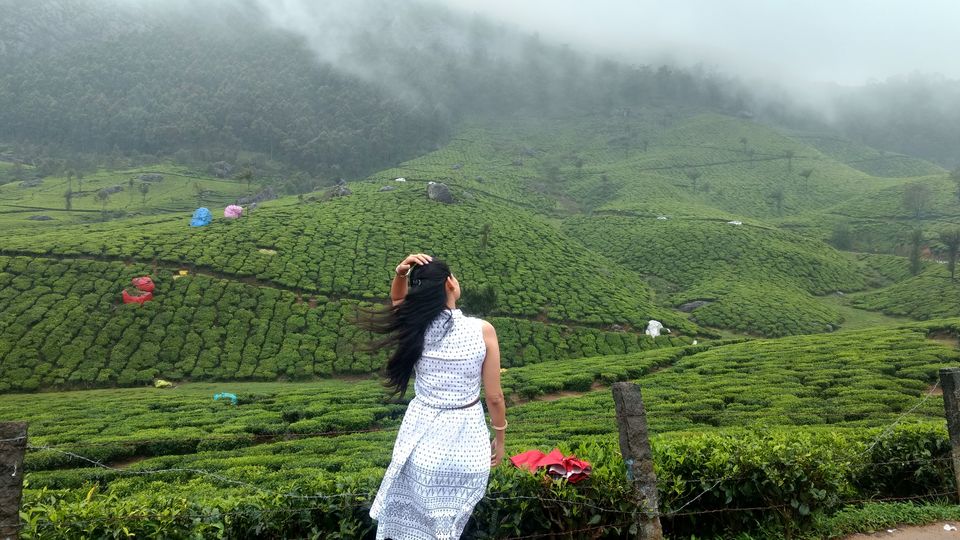 I was always fascinated by Kerala tourism's advertisement showing those vast and rich tea estates and houseboats in backwaters. Kerala was always on my list. The question was when..?
In June 2017, i was having a discussion with a friend of mine about our recent trips. The discussion ends with the plan of making another trip in August. We thought of going to North East first. But a few people advised against the same as it was better to avoid mountains in Monsoon. So we finally chose Kerala. We had just five days at our disposal, so we decided to visit North Kerala as we both were keen to see Tea Estates.
We started digging information. We had first thought of planning everything on our own but later on decided to take some professional help. We had limited time in hand and we were to move a lot - so we got in touch with MMT guys. We handpicked some hotels and asked them to make a package for us. It was all done and we made part payment. What happened next was not at all anticipated.
That MMT executive who was taking care of our plan cheated us. He sent us some link and asked us to make payment, which was more than what was finalised. As we had already made half of the payment, we were in the trap. We tried to talk some sense with him but he started arguing with us. Finally, we wrote an email to CEO of MMT complaining him about entire episode. Within 24 hrs we got a call back from the same executive. He apologised and offered us cash vouchers for the same amount of money that he had tried to extort from us.
Once everything was sorted, I was excited for this trip. I was visiting Kerala in Monsoon, so i had packed according. My umbrella came really handy for me as there was intermittent rain during out stay there. It was a five days trip in the month of August. I am writing down day-wise itinerary here.
Day 1 - Kochi Airport, Athirapally waterfalls, Check In Grand Plaza Munnar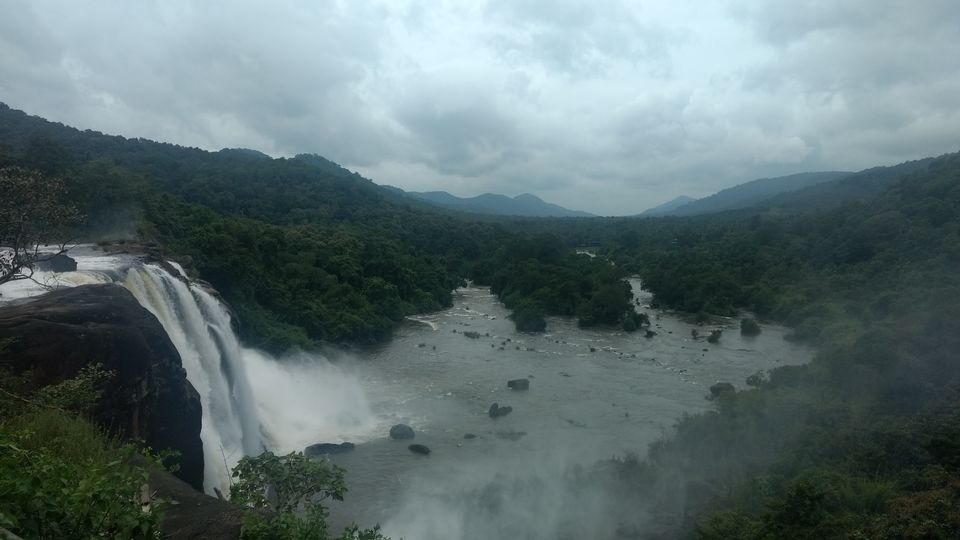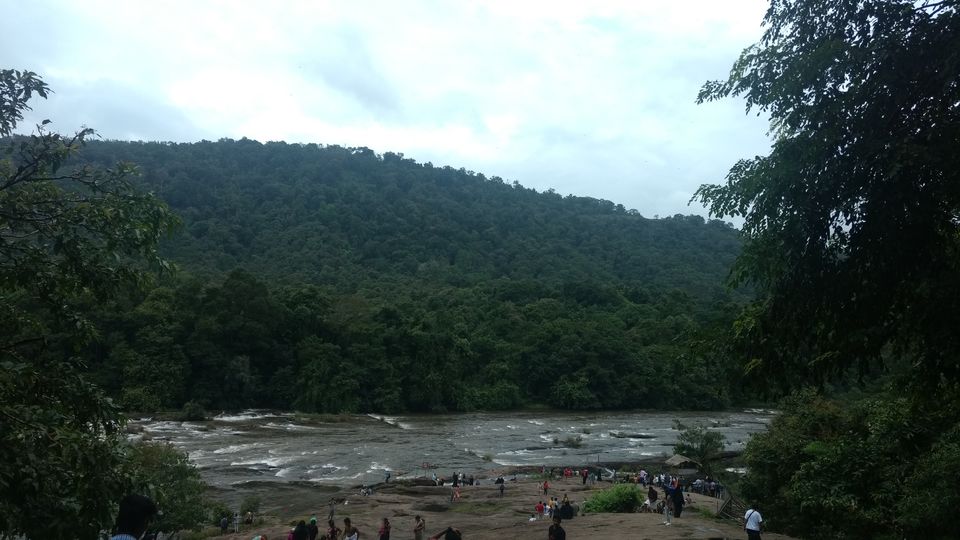 On day 1, we had an early morning flight from Delhi to Kochi. We reached Kochi around 11 am. MMT executive was there at the airport with a sign board of our name. He introduced us with our driver who was going to be us during our trip. He was a very nice fellow. We had an option to go to Munnar from the airport. But I wanted to visit Athirapally Waterfall. I had read a lot about it. I discussed the same with my friend and she instantly agreed. We talked driver. He charged us some money for it, as it was not on the route to Munnar. Athirapally waterfall is around 4o Km from Kochi Airport. On our way, we refreshed ourselves with coconut water. Finally we reached there. It was little humid there. There was tickets for the visit to falls. We bought tickets and started walking towards waterfalls. One has to walk through the dense green area for 10 min to reach the waterfall. There was no problem in walking there as the road was good. Waterfall was beautiful and mesmerising. I have not seen massive flow of water falling down from such a height. It was beautiful. People were taking dip in the river. After spending around two hours there we started for out hotel in Munnar. Grand Plaza Hotel. Hotel was nice and decent, nothing fancy about it. Staff was warm and welcoming. They welcomed us with some green tea. We reached late in the evening, so we had dinner and slept.
Day 2 - Munnar Rose Garden, Mattupetty Dam, Munnar Tea Estates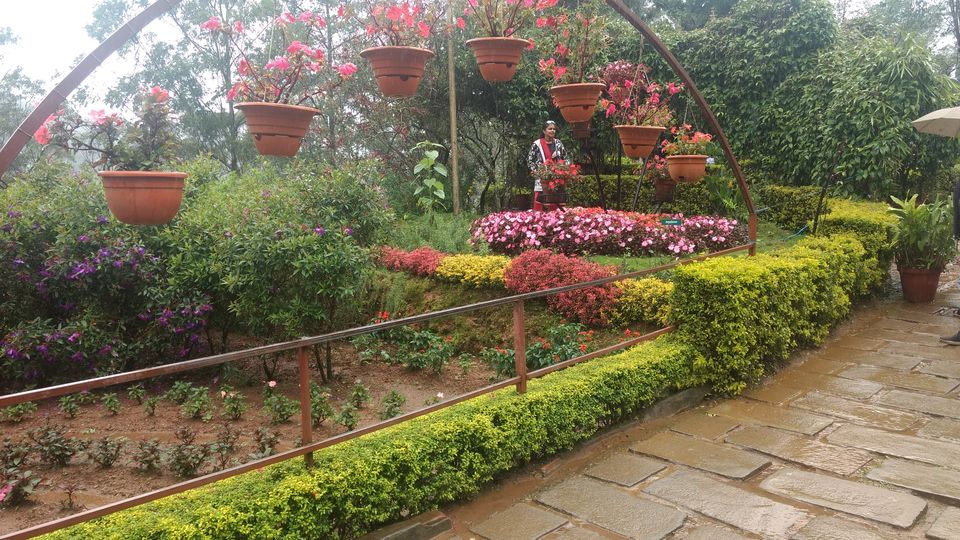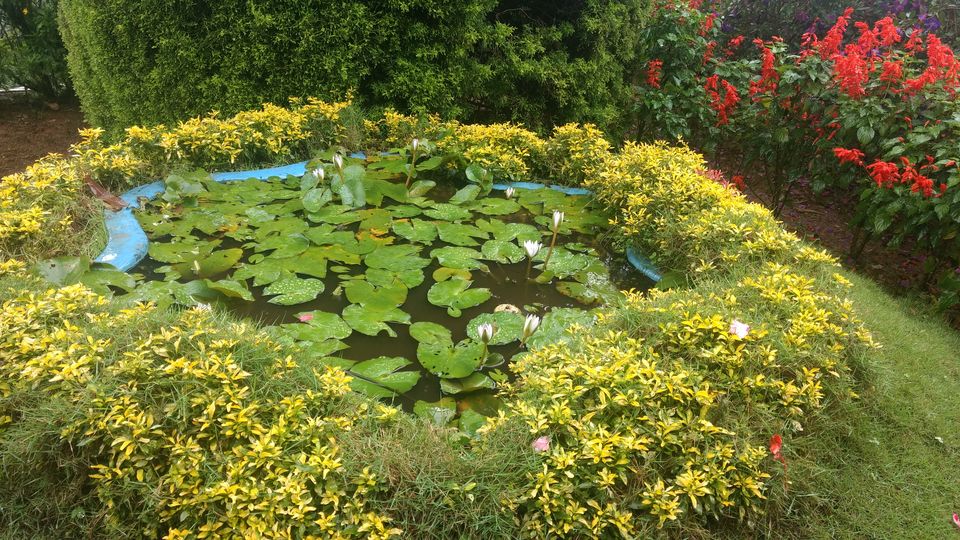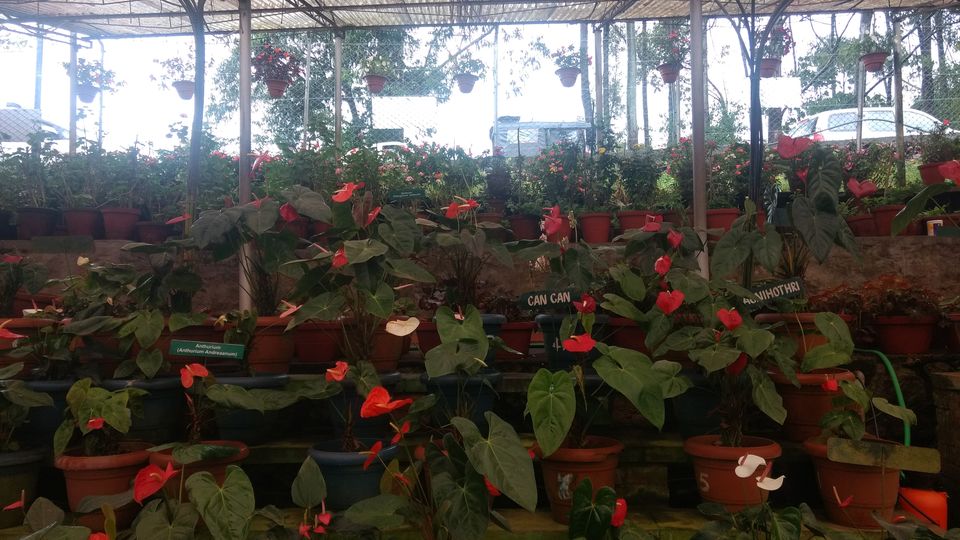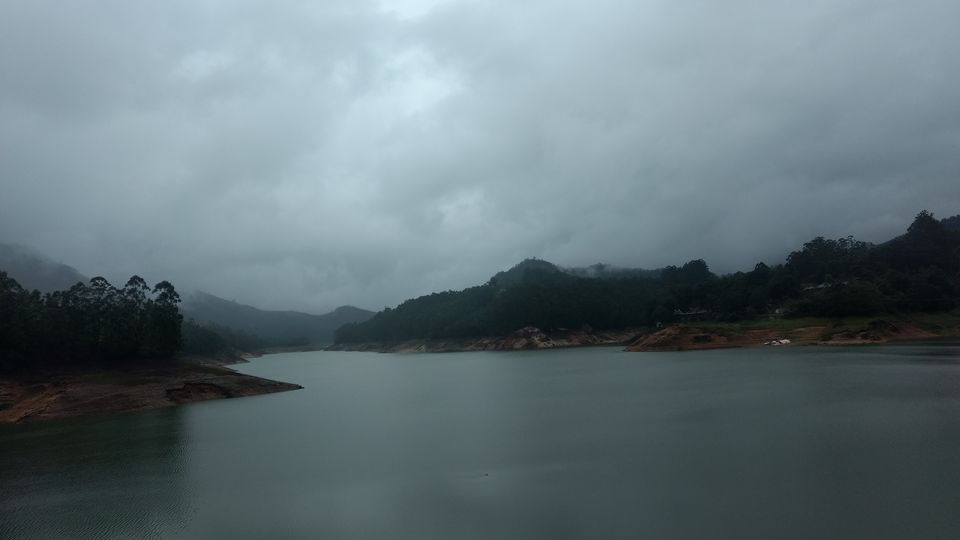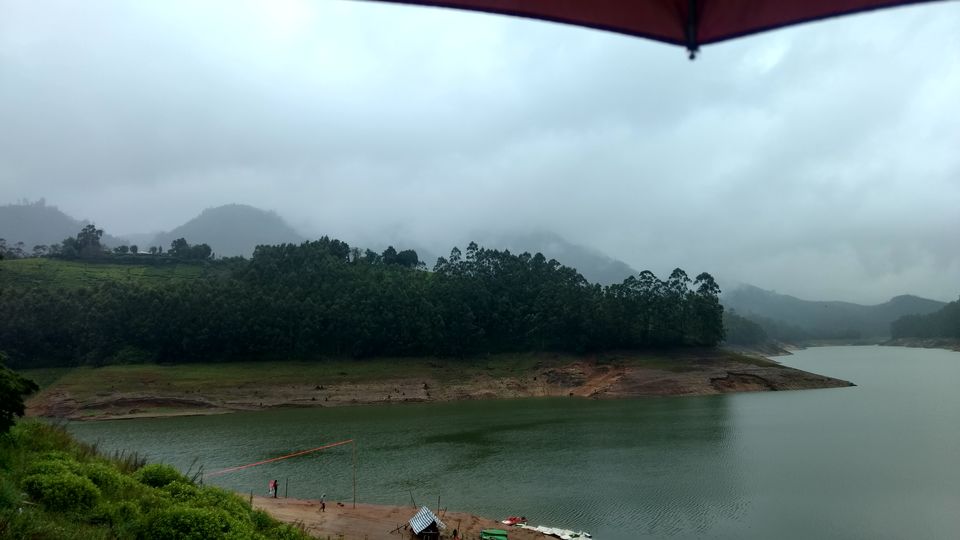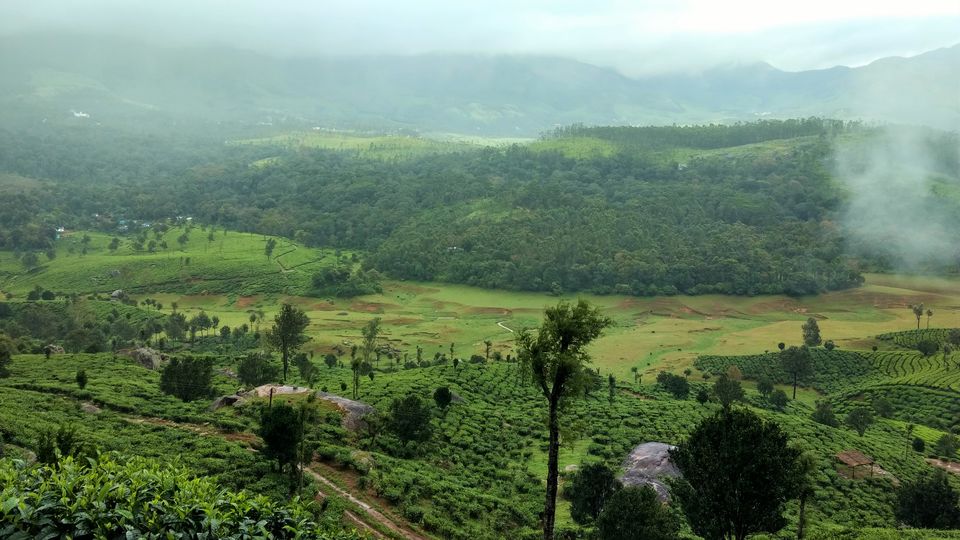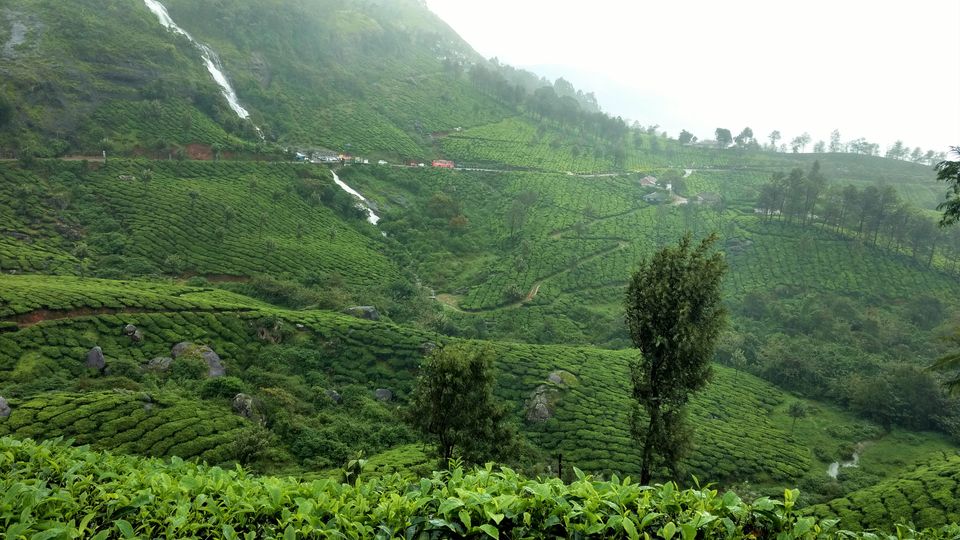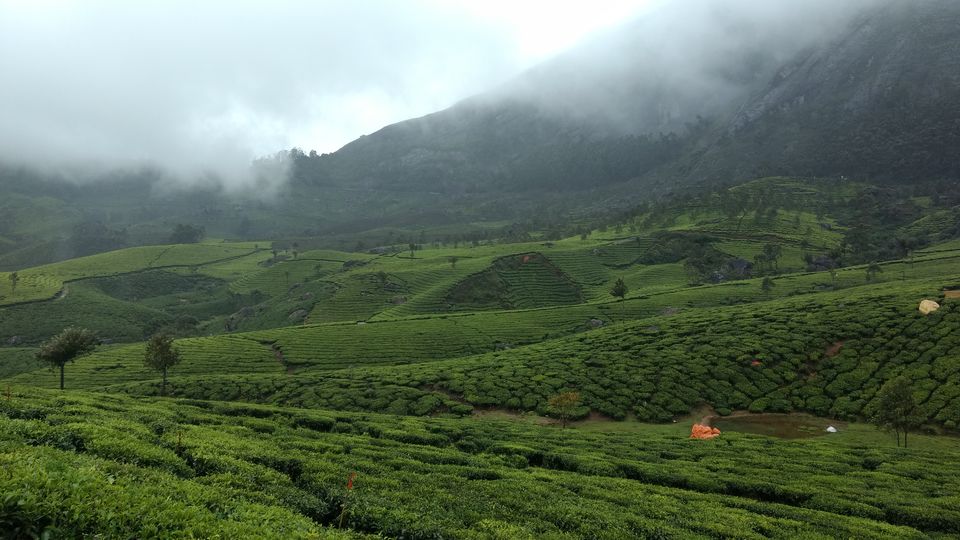 On 2nd day, after breakfast, we went to see Munnar. Our driver Manish was ready on time. We first went to Rose Garden in Munnar. There were many flowers except Rose. It was a small place, but well kept. After that we went to Mattupetty Dam. We clicked few pictures there and indulge in shopping in the market near it. Then we went to see Tea estates. Those tea gardens were really very beautiful and picturesque. Pictures posted above will definitely entice you to visit there once. We clicked so many pics and thoroughly enjoyed the view. Were were at some height and we could see clouds flowing down the mountain. It was amazing and so relieving to be in the lap of nature. After that went for lunch in the local market near our hotel. In the evening our driver took us the Kannan Devan Tea Musemum. There was a ticket and we got see history of tea plantation in India, which i don't remember now :-( After that we came to our Hotel, had dinner there and slept.
Day 3 - Periyar Spice Garden, Kalaripayattu Martial Art Form, Check In Cardamom County Thekkady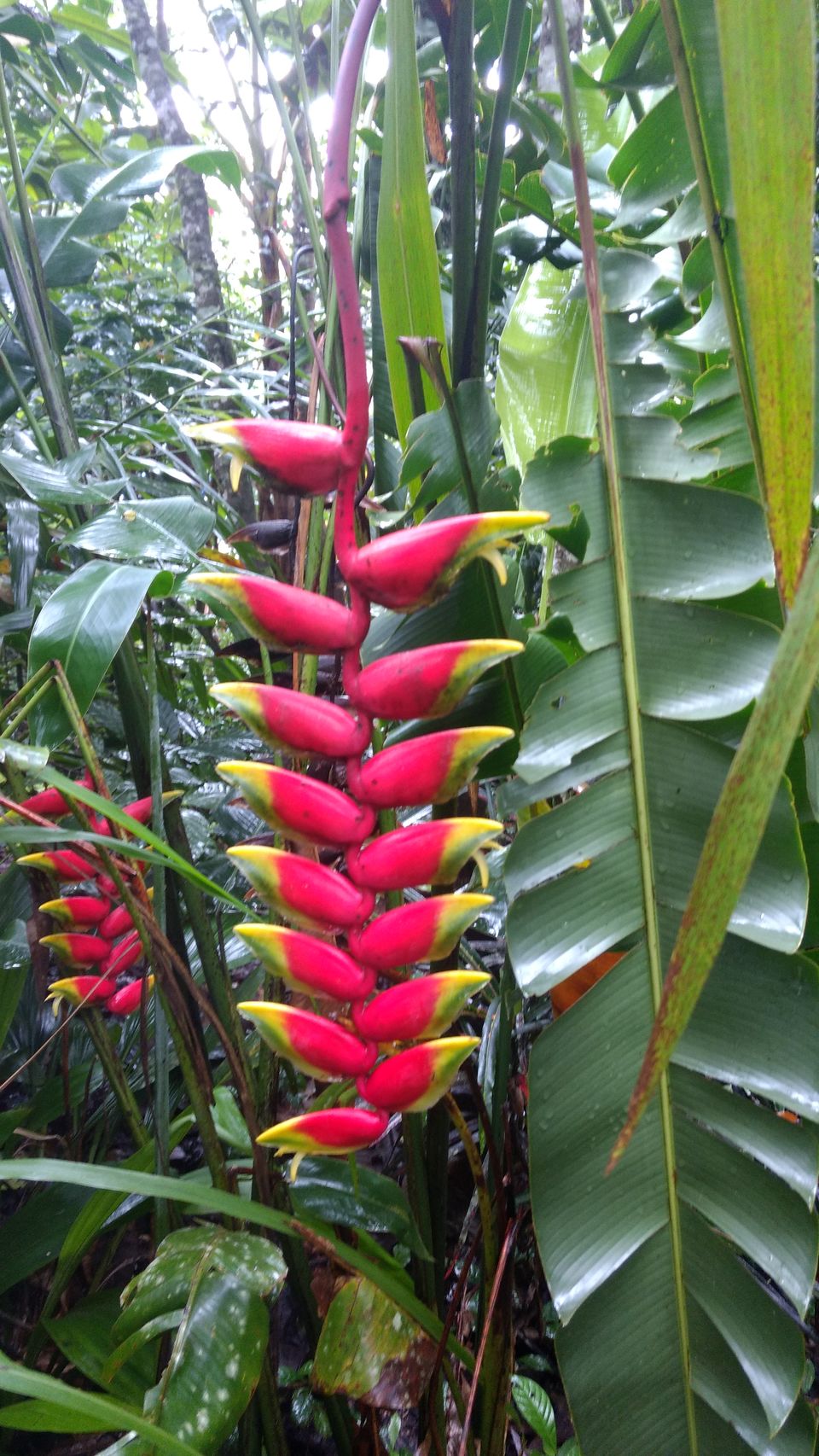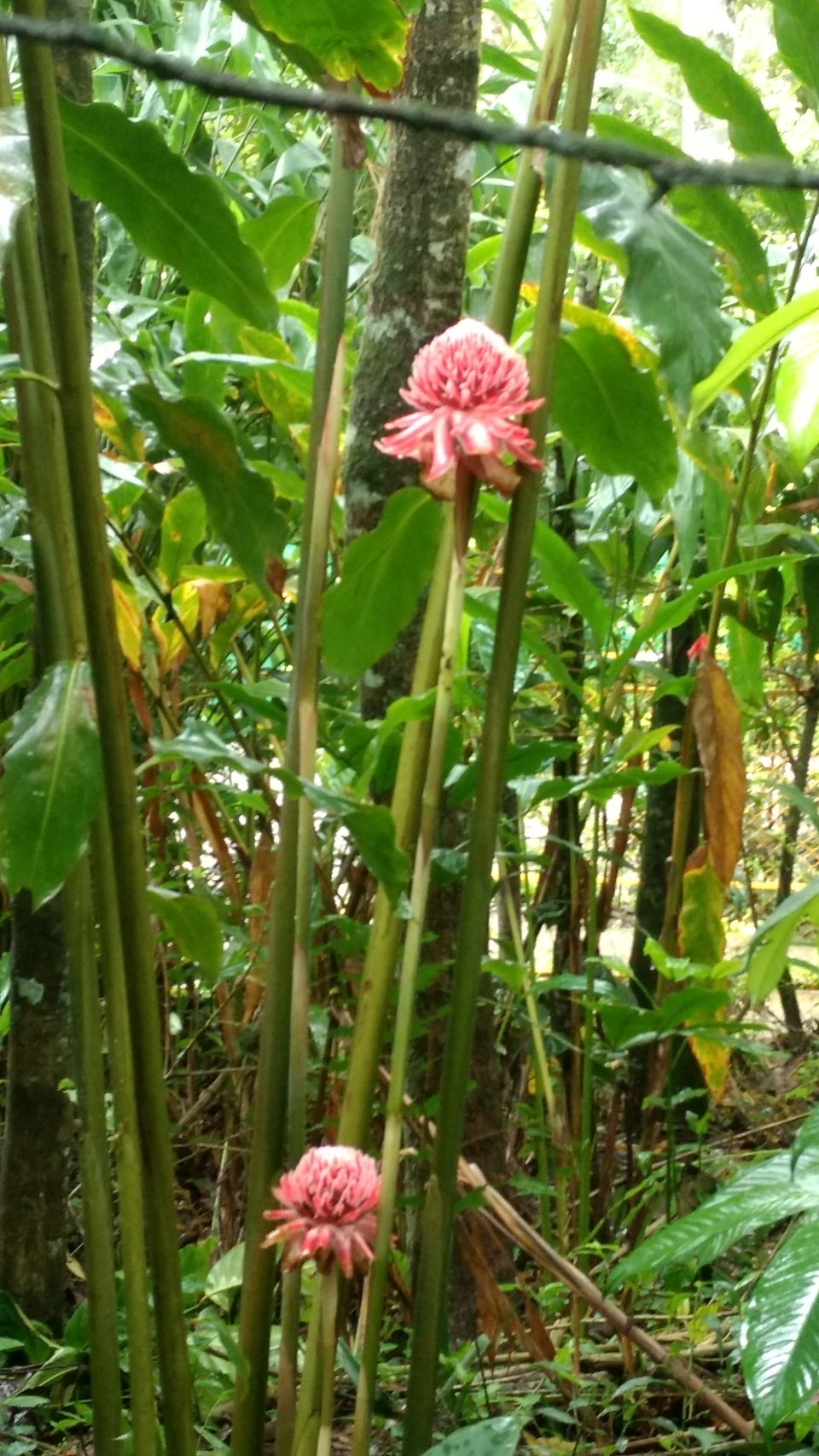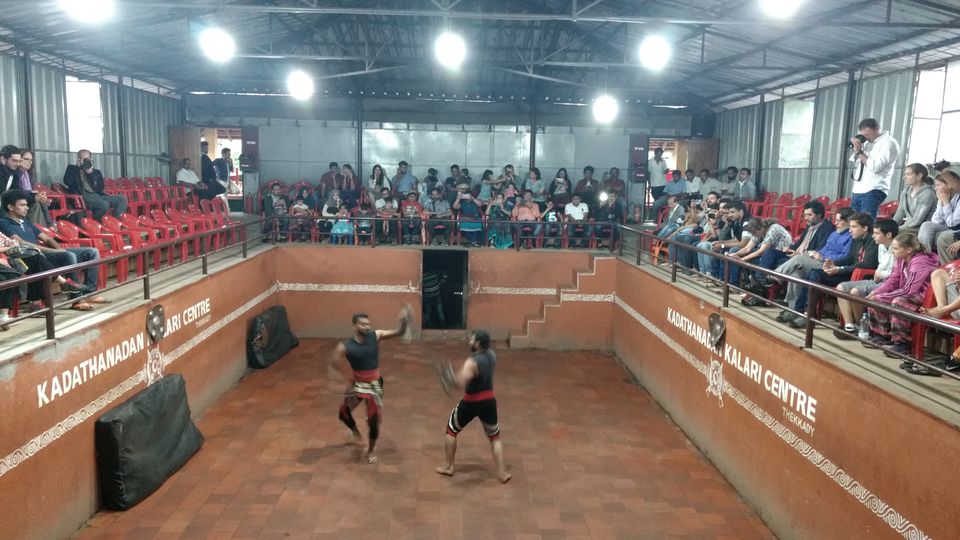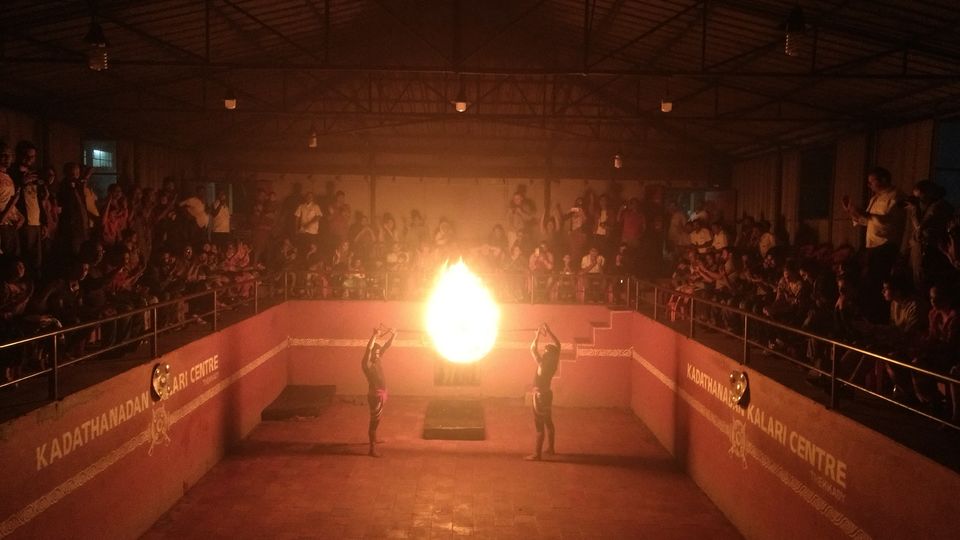 On our 3rd Day, we started for Thekkady from Munnar. On the way, we stopped to visit Periyar Spice Garden. There was a ticket for it. We saw plants and trees of various spices. We took a guided tour of the garden. Our guided informed us about different varieties and uses of various spices. There were a shop also to buy organic spices. We shopped for some of these. We had lunch somewhere near Spice Garden. Later we checked in out Hotel, Cardamom County Thekkady. It was very beautiful with lots of greenery. In the evening we went to see Kalaripayattu martial Art performance at Mudra Cultural Centre. That place was very near to our hotel. We enjoyed that martial art show very much. Fire sequences were the highlight of the show. Classical dance performance show tickets were also available, but gave it a miss.
Day 4 - Periyar National Park. Periyar Boat Ride. Kerala Backwaters, Check in Marari Beach Resort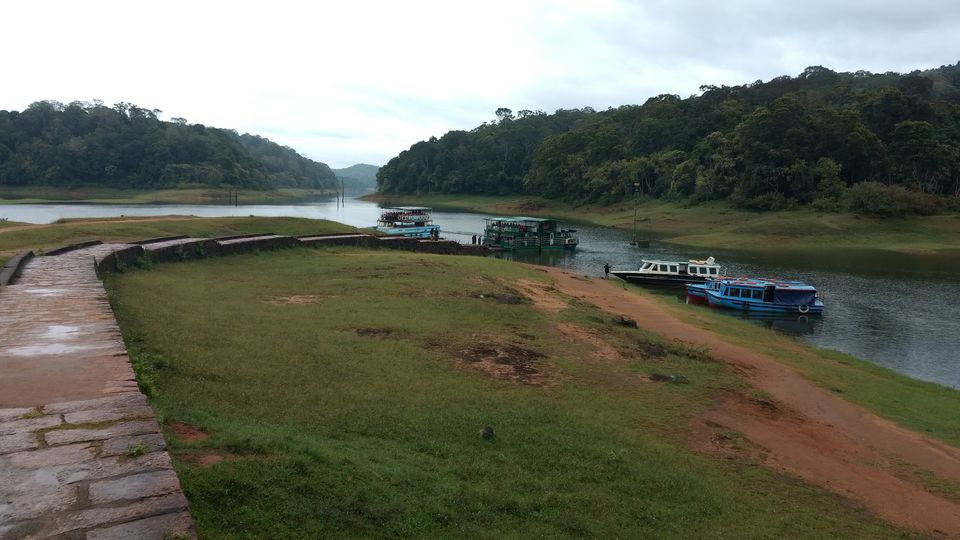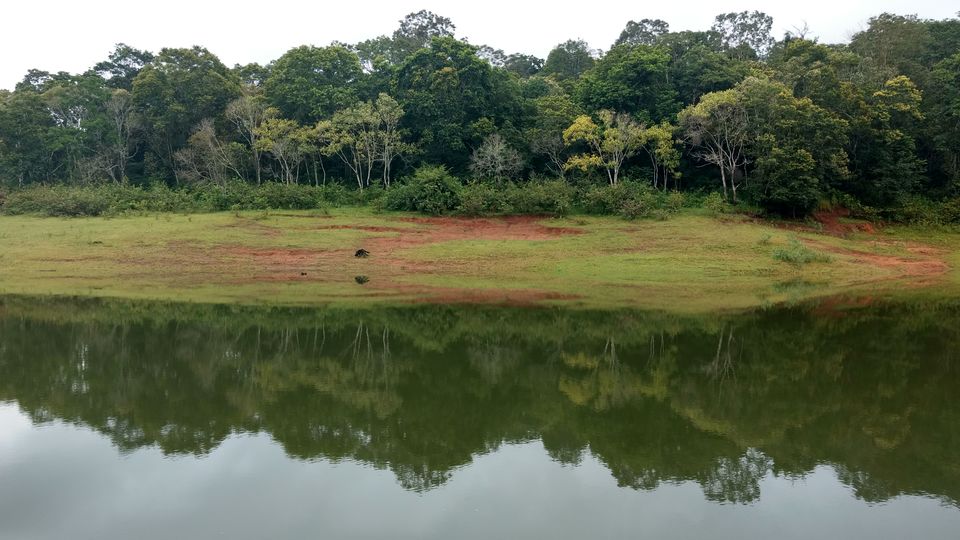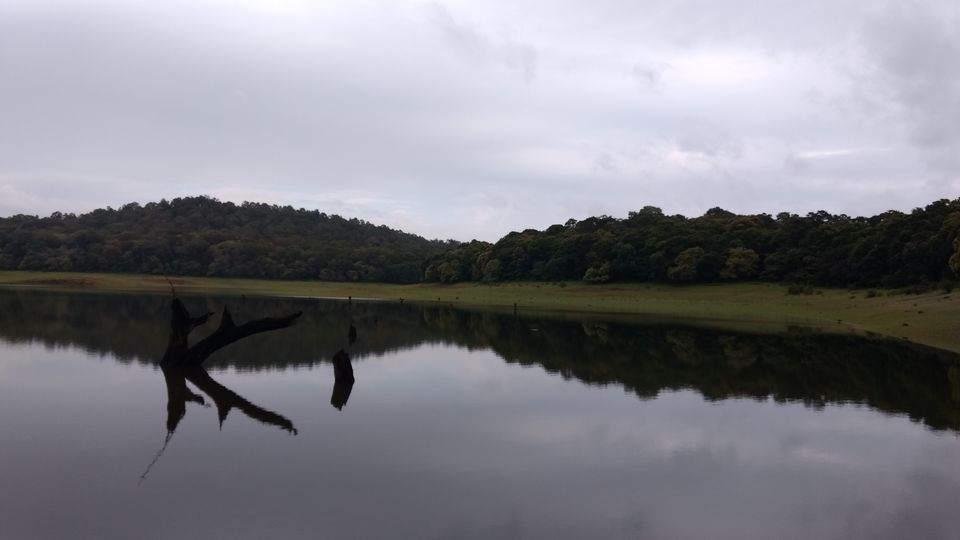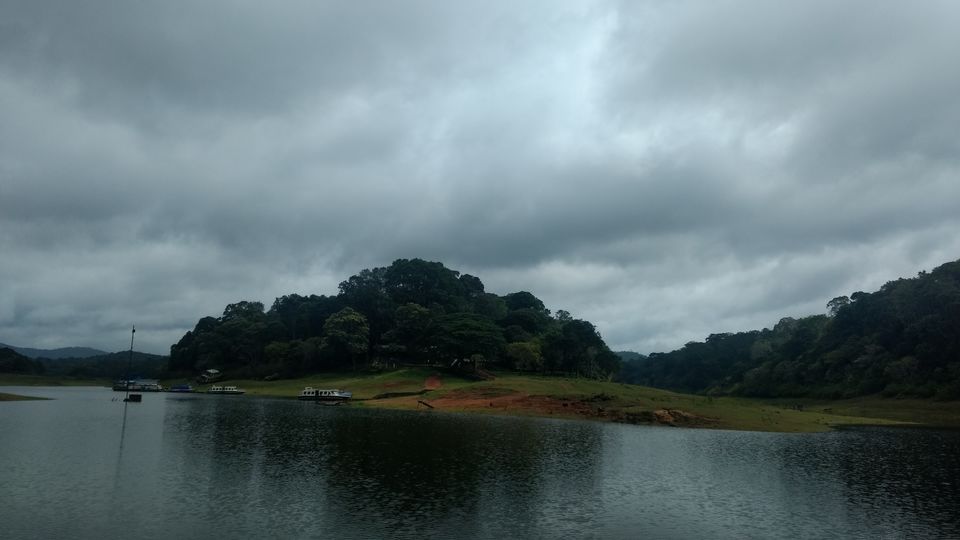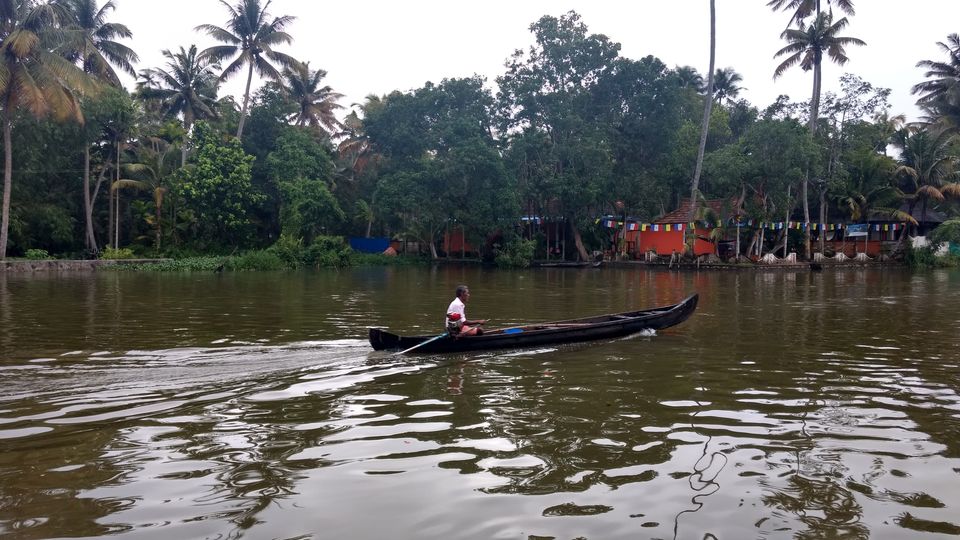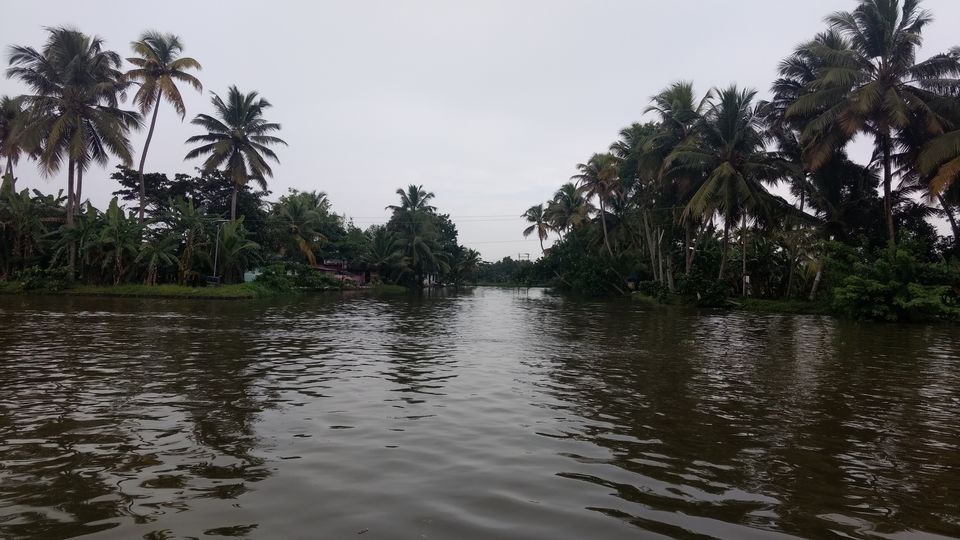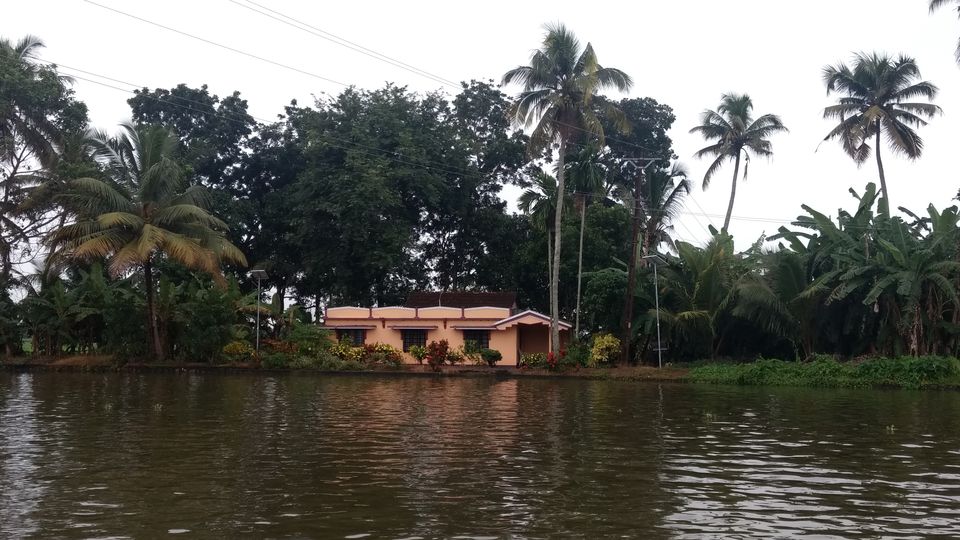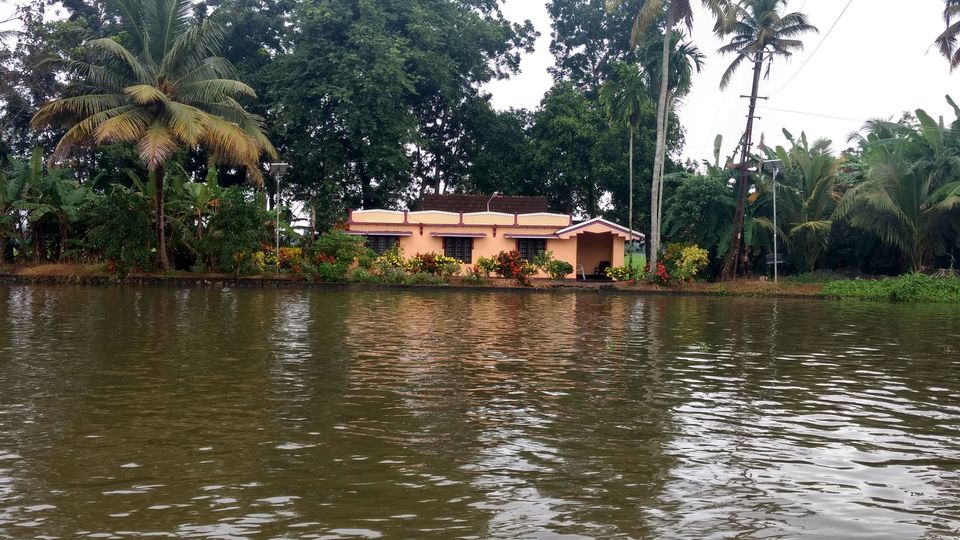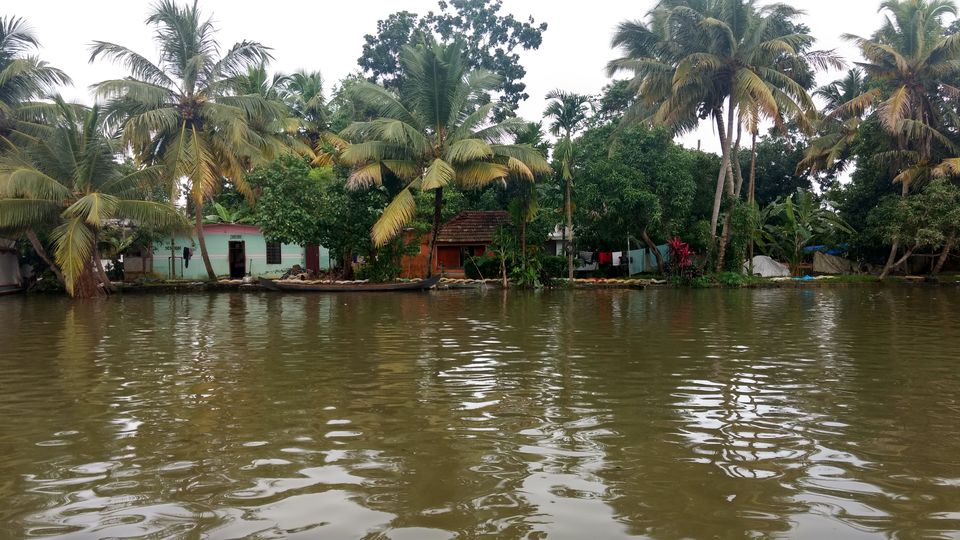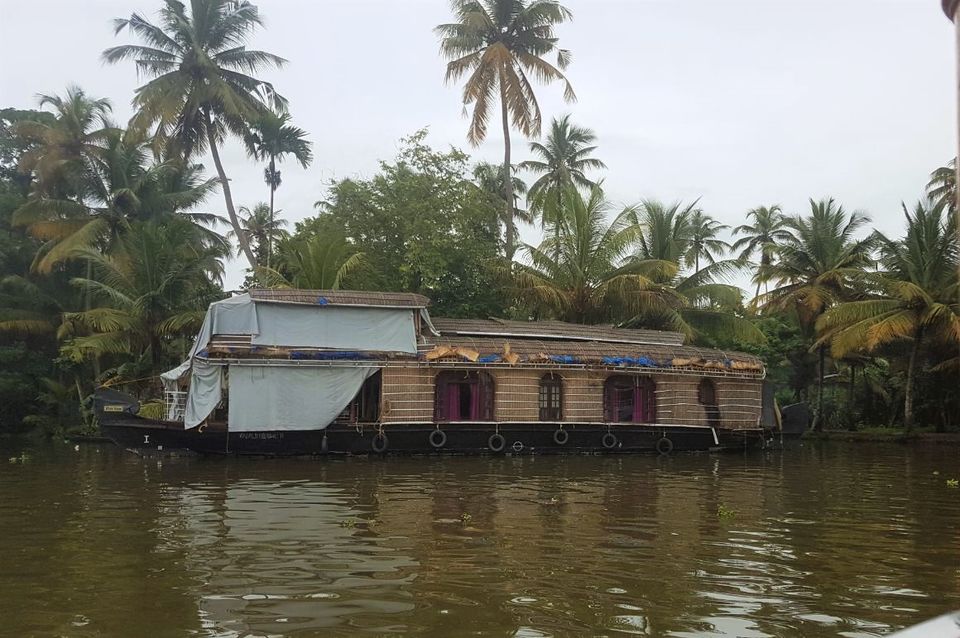 On the 4th Day, we woke up early morning and got ready for a boat safari in Periyar National Park. We went early morning thinking that we would be able to see some animals, who might come on river bank to have water. Our driver took us to a point from where, National Park's bus took us inside the jungle. Bus dropped us at a point, from there we boarded a boat. There were other people also on the boat. It was a big boat with around 50 people on board. Its a two hour boat ride and it is organised by kerala Tourism. As the boat moved, we kept looking on both the sides in the hope to see herd of animals. But all we could see were some wild boards and birds. There were many dead tree trunks that were sticking out of water. Surroundings were beautiful, though we were little disappointed to not see any big cat.
After Boat Safari, we came back to hotel, finished our breakfast and checked out. We started for Kerala Backwaters. Then we reached at a point, i am forgetting the name of the place. From there we hired an entire boat and took a ride in backwaters. People generally come to kerala and to stay in Boat-houses, but we both had decided to not do so as the sound of engine is really annoying and fuel smell is also quite unpleasant. Our boat passed through the backwaters, we could see people dwelling on the both sides of water. I personally found it little overrated. However, not bad for a one time experience.
After our ride in Backwaters, we started for our Hotel Marari Beach Resort. It was a luxury property and we both were really very excited to stay here. It was right on the Marari Beach. But we could barely spend anytime there. We reached resort around 6 in the evening. We went for a stroll in the property. We had buffet dinner in the restaurant of resort. Ambience of the place was amazing. There were many foreigners there, just a few Indians. A group of artist was playing instrument music. It was a wonderful night.
Day 5 - Marari Beach, Check Out.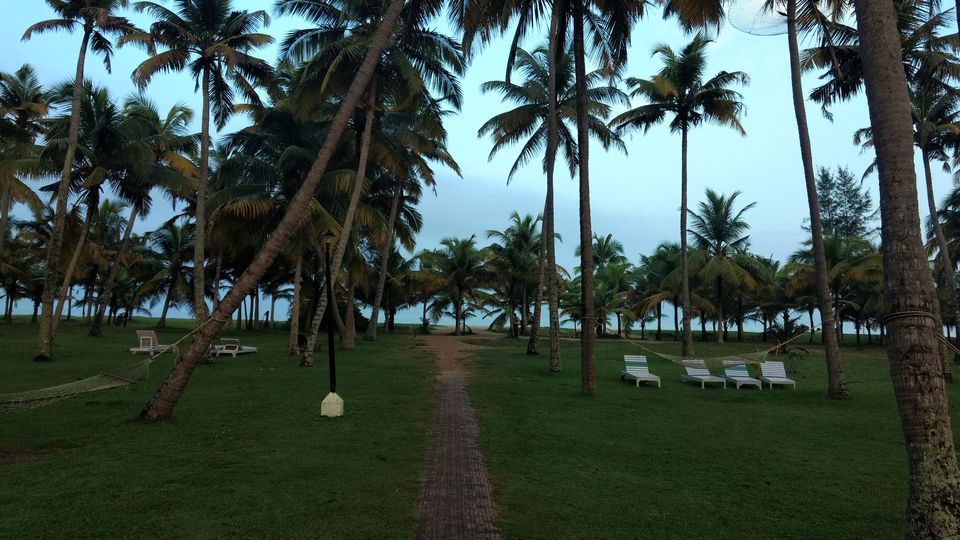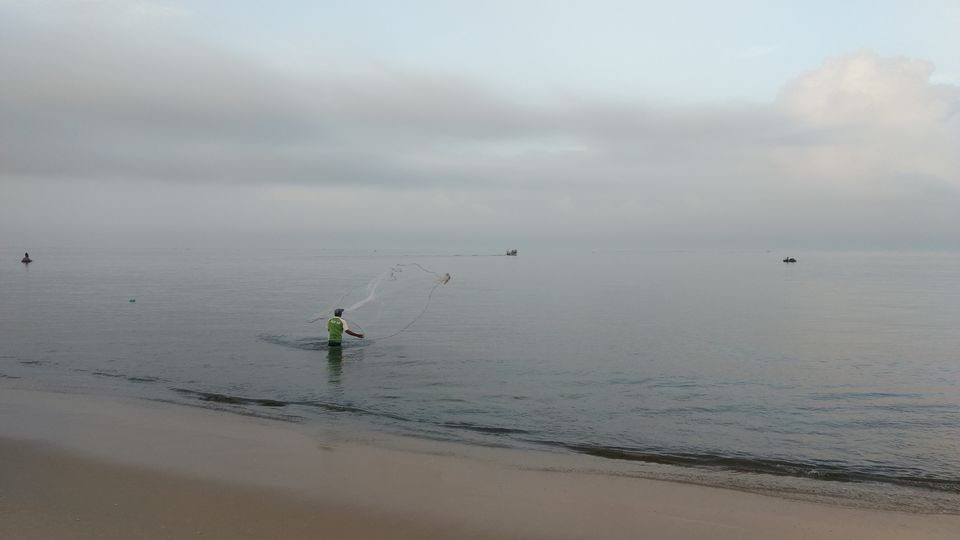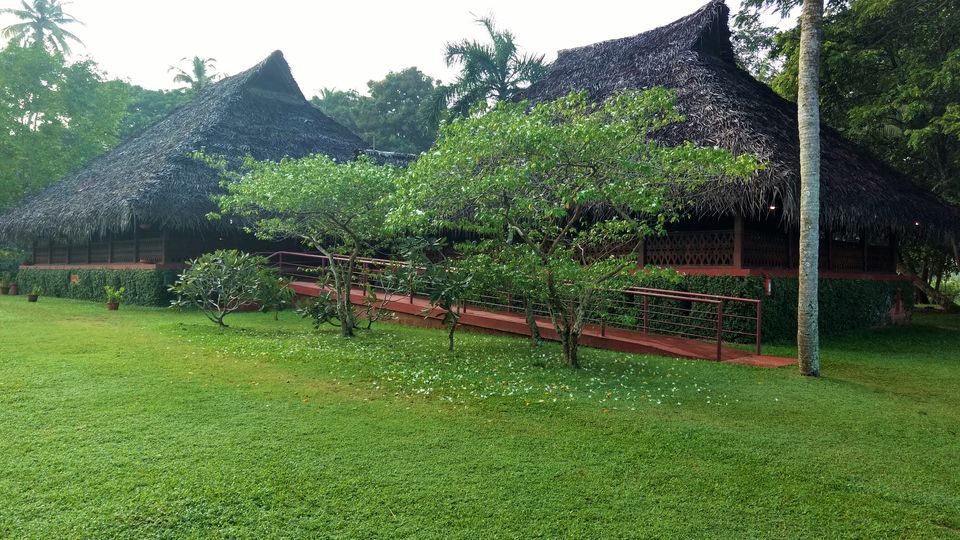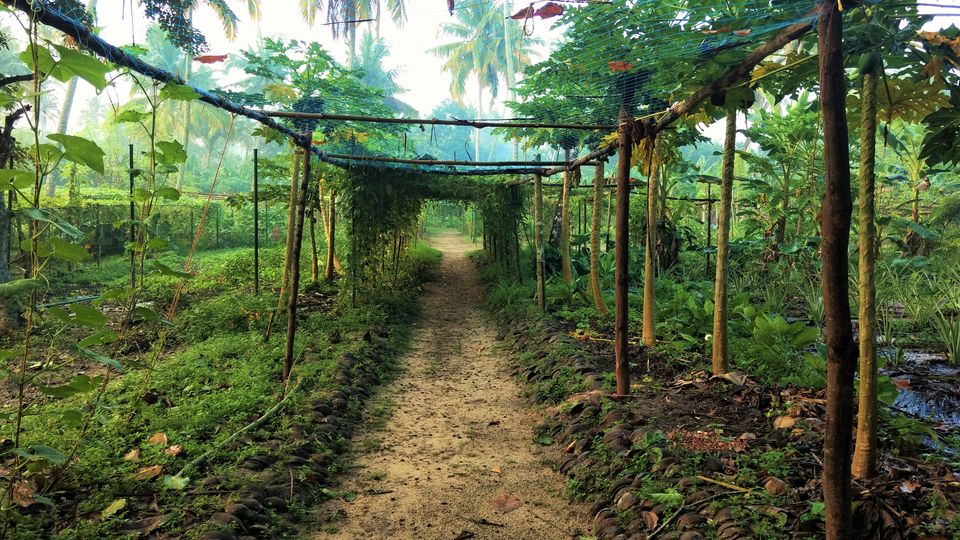 On the fifth and last day, we woke up early morning in the hope to see sun rise. But it was cloudy, so we couldnt see sun rise. However we got to see fishermen doing jobs. We enjoyed our walk on the beach and in the property. Then we packed out bags and started fro Kochi Airport.