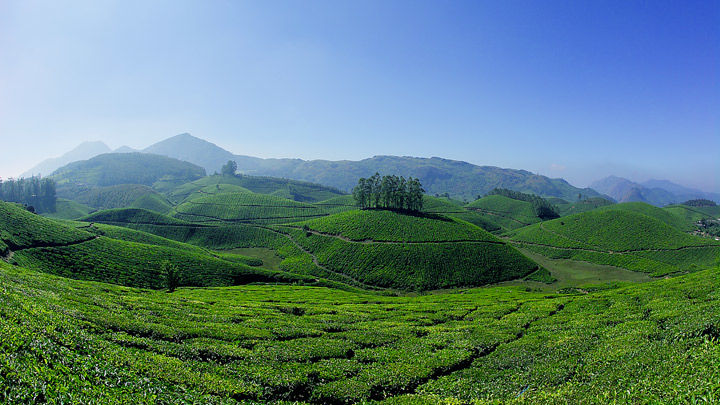 With the arrival of summer vacation, these questions arise in the minds of the elders along with the children who are now at the gate of the hill station !! There are so many cities in India that do not know where to go, while staying away from the scorching summer, you can spend a few days relaxing! Take the name of the hill station, then do not understand where to start !! The names of many places you have already known through this blog !! Due to being a house in the mountain, along with the hills is the house of Choli Daman. If Rama had lived in the Himalayan range of North India, then now the Western Ghats seem to be like having a pimple in Bangalore.
In this sequence, today a beautiful hill town of Munnar runs! Kerala, whose "God's own country" is topped by a very leisurely !! This small state does not understand what is not !! If there are sandy sea edges, then there is a house boat that runs in the back water under the shade of coconut trees !! Somewhere tomorrow, there are rivers flowing and beautiful lake, so there are pleasant areas like Munnar.
Munnar literally means the confluence of three rivers !! The nearest railway is the Ernakulam and Aluva railways from this wonderful hill town !! The distance from Munnar to Ernakulam is one hundred forty kilometers !! Cochin is the nearest airport here !! Thus it is well connected to India !! The entire town of Munnar is worth seeing only !! Going here, it seems that the place where you stand can become a tourist spot, but there are some of the main sights of every city, in the same way some of the names of these places are as follows:
Arivululam National Park- This National Park has expanded about a hundred kilometers in the Western Ghats. This garden is known mainly as the residence of Nilgiris Tahr in various biological resources. From here onwards, the Anamudi peak also has its philosophy. This place is also known primarily for the flower of Nilkarni, which, once in twelve years, is spreading its shadow, and at that time the mountain Neelima looks very attractive to her. If you have a mind to see, then what's the matter of 2018, when these palas are leaving their green velvet carpet, Blue Chulari is going to shed their heads, then make a program to go here immediately.
Matoketi Dam - Located thirteen kilometers from Munnar, this place is the main center of tourist attraction.
Echo Point-Matupetty is a point away from Dame Echo Point !! There is a charming lake here and here it is called Echo Point due to its own voice coming back and forth.
Tea Garden- If there are tea plantations in Munanar particles, then the place where they stand can be called T Garden. Here we can see the whole process of many tea factories and museums in which we break from tea leaves to tea.
It is very important to see Kathakkali dance and Kalipattu being here once for the natural beauty. The beauty of this beauty can be understood only by the fact that it used to be the favorite hill station of the British in South India and that is why they made it their work place in South India.
Look at where greenery is there.
A lake flowing away between the mountains and the clouds covered with clouds!
Kalaripattu
When the Munnar season remains pleasant throughout the year, but there is abundance of rain or when it is rainy, there is no faith and when it changes with the rain, when the climate change, take it in your lap. Can not Therefore, while coming here, it is necessary to bring a couple pair of hot clothes with you and some such clothes and footwear should also be brought which should have to walk in the rainy season, which should not face much trouble.
How to go - Munnar's nearest airport is Cochin and local bus and taxi are available from the spiral mountains of Munnar.
If you have to go by train then Ernakulam is the nearest railway station here, which is connected to all major cities of south India.
If there is a desire to drive, then the roads of Munnar are considered as one of India's Must Go Road Trip by being Kodaikanal from Bangalore.
What to buy- Tea, spices and cashews are found here in abundance.
Visitors can be seen here by the surrounding local taxi, bus and auto.