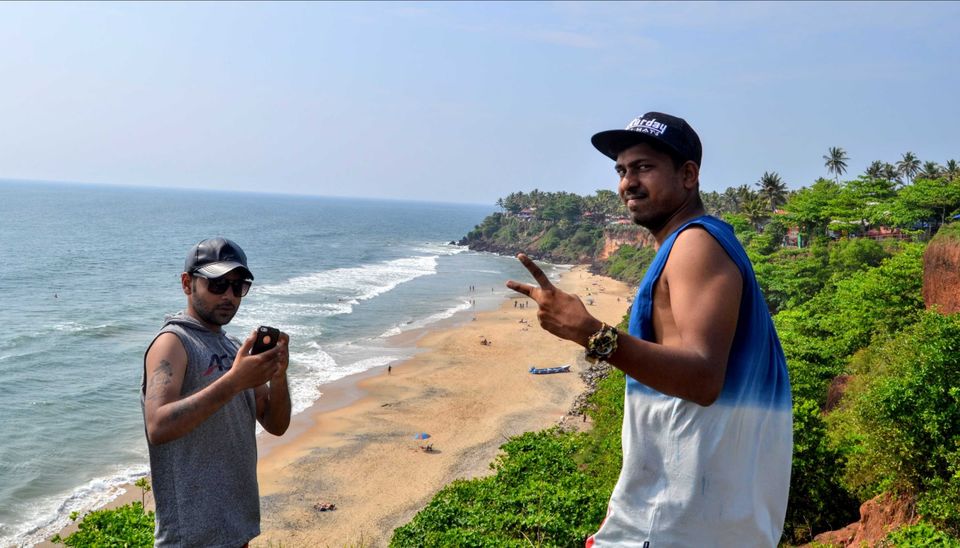 Me & my two brothers from another Mother's are attending one of our friend weddings in "God own country"  i.e Kerala. We three of us always love to spend  time in beach so we decided to stay 4 more days & expore beautiful Kerala beaches, as we all know Kerala has most beautiful, isolate & cleanest beaches in country. At the time it was suprised for three of us, that some how manage to get 4 more days form our busy work life, it all worked out like God has plan for us.
   After some research did in Google we decided to go Varkala cliff that was around 150 km away from Thivimthipuren where we attending our friend wedding. After a wedding, we took train from Thivimthipuren to Varkala which was 4 to 5 hours journey. We reached at Varkala station 5.00 am from their we took auto which was easily available and reached Varkal cliff in half an hour.  Once started to walk  to- wards cliff all of us were shocked & amaze at same time, beach was mesmerizing and just one minute away from our hotel room were we are staying. One can reach beach from hotel in he's closed eyes,
  Varkala cliff have lots to offer one can site in cafe's and relax or try many water sport activity like surfing, paraselling, kayaking & many more. Ther are lots of good cafe which can offer very good food and music special the sea food in which one can choice your own fish, for me it was one of kind experience as.
  Suprised to see 90 present of Turiest is foreigner's. they always find best place to visit India before we do,
Few were Indian but mostly newly married  couple come for Thier honeymoon. 
   We were there for 4 days so we decided to rent a bike from our hotel owner as cheap as Rs 300 per day,  To explore near by palces. Ther are lots of places one can visit like lighthouse beach, Kolam beach & poovar beach ...etc. 
  As our trip was unplanned we did lots of thing which was unexpected specially surfing & kayaking its was life time experience for all of three. All of above people in Kerala are most helping people  one can always rely on there guidens, we had lots help to find derection & places.
  Like all good thing in life even this vacation has to end, but with hole lots of memories to hold on till our next Vacation...!!!