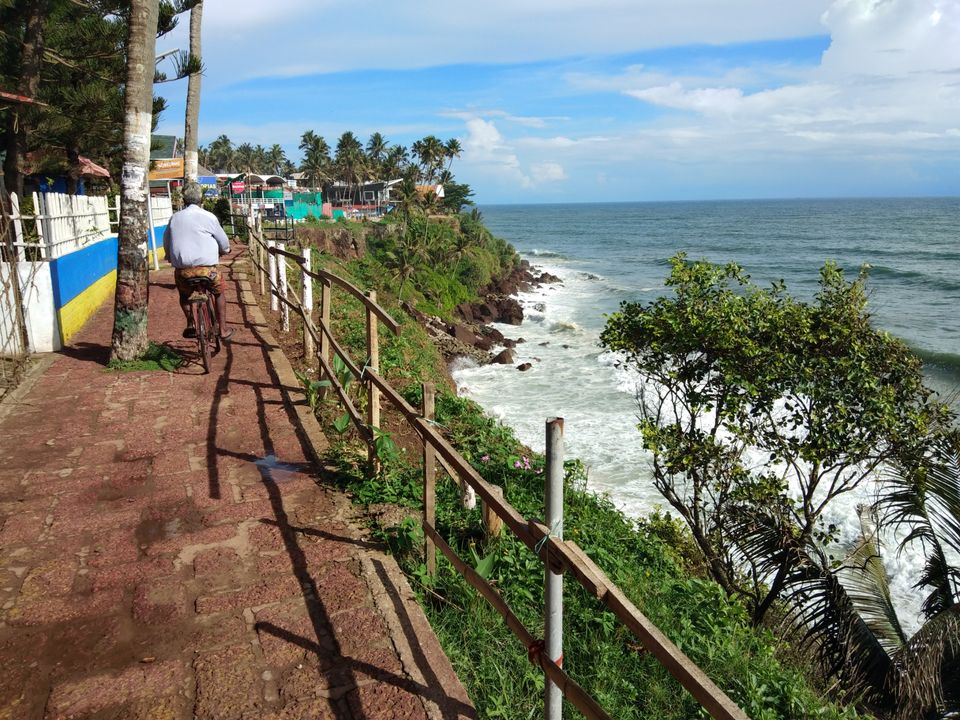 We a group of six guys started off as a Road trip in a Xylo. We started off from Coimbatore and took the palghat-thrissur-kochi-kollam route . We started off at 12AM to avoid traffic. Had a leisure drive with occasional stops for tea.
We reached kollam at around 7AM and stopped for a view of the beach. It was a neat clean black sand beach.
Then we drove a little bit and reached Varkala by 9AM. We settled for breakfast at a local mess. Kerala style parotta, beef and egg gravy, dosa, chappati was on the menu. We then checked into Krishnatheeram Ayurvedic resort. This resort is the best in varkala. We got it for 1k per person per day. The rooms and service was on par with taj. Its a family resort. They do provide Ayurvedic treatment and massage but we didn't go in for that. The resort is located right at the varkala cliff. You can get sea view room .
Then we had our pool time to ward off the travel lag. The pool had direct view of the Varkala beach which is a surreal experience. We were served Fuljar soda which is one of a kind soda you get in Kerala. Then we had some time at the beach and went for lunch. We had our lunch at Chimney restaurant which served authentic Kerala food. You get varieties of fishes here like Molly, Neymeen, Karimeen, Kanava Fish which is a must try.
Then we took a stroll by the clip. It is filled with shops and cafes. The view of the sea there is like no other. You can never experience it anywhere in India. You can experience beautiful sunsets here. Kind of romantic.
Then we got back to our room ,hit the pool for sometime and ordered dinner at the restaurant itself. The service is good and the food is tasty too. I highly recommend this resort.
There are few other Temples, aquariums and other places in Varkala,but we were tied up to the view of beach and didn't want to leave. It was a one day trip for us and we checked out the next day morning.
That's all about varkala,but there is one hidden Jem near Varkala which is about 45 min drive. It's called Jatayu Earth Centre.
Jatayu Earth Centre :
It's a recreational park build on top of a small hill. It's a recent initiative by Kerala govt and it's like none other in India .It reminds me of latest Jurassic Park movie. Highly automated , lots of technologies used and very very secure like a airport. Maintained soo clean. Hats off to Kerla Govt for that. At the peak, there is a sculpture of a Eagle which houses a 12D theatre. You can hike the hill for 70rs or take cable car ride for 450rs. Good place for family outing. See the pics to believe for yourself! We spent a half day here.