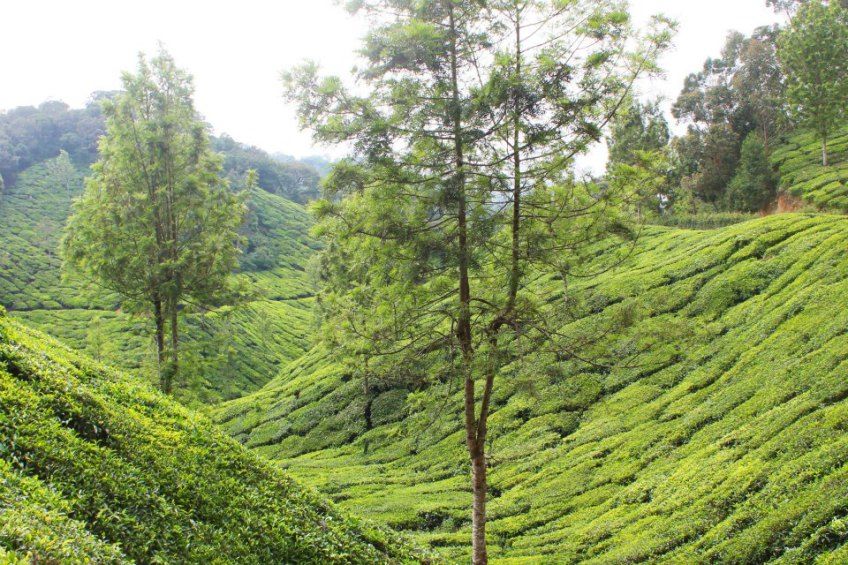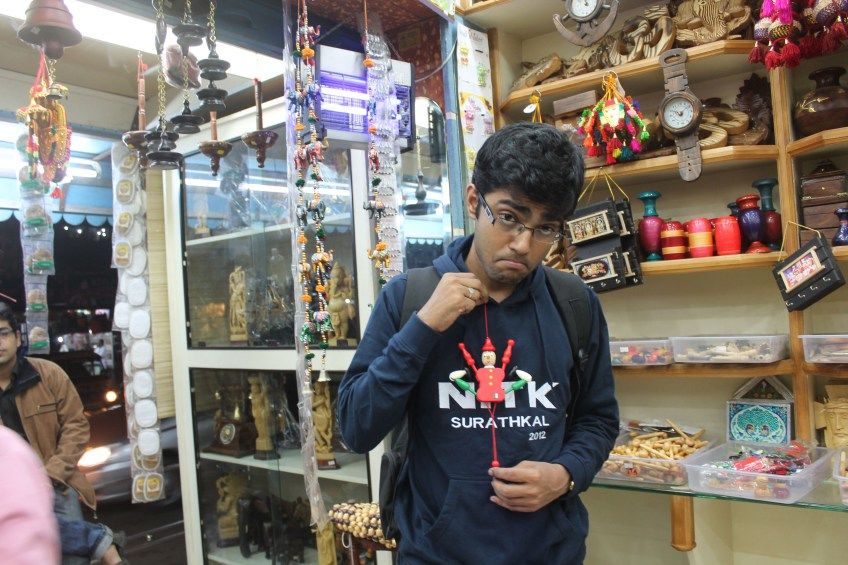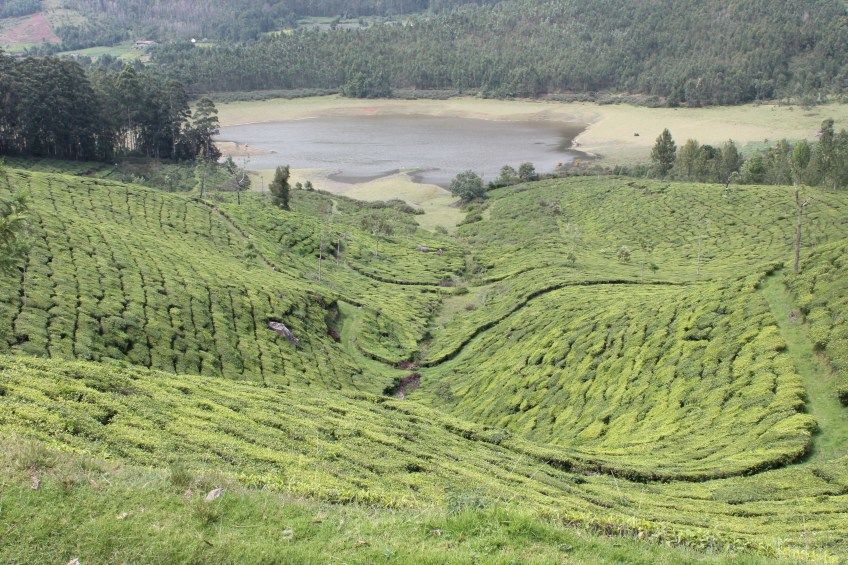 The mid terms were over! Perfect time to run away. But where to? On popular demand we chose the tea covered hills of Munnar. Though I'd been there before, I was looking forward to it again.
We, a group of 21, started at 6:15am in two identical TATA Wingers. The Winger is a brilliant piece of work by TATA. With superb power and control, the drivers were flirting around 120 with ease. We stopped for breakfast at one Dhari restaurant at Kanjirakutty. The only reason why this place is worth mention is because it served rabbit roast! (I guess it is pretty common in these parts)
And so we reached Munnar on time as expected. Nah! As always, there were a number of hiccups (or the need for the some) and the usual P-breaks and it was around 4 by the time we reached Munnar. There were a couple of beautiful waterfalls on the way. One thing about Munnar is that you need to enjoy the journey as much as the destination itself (because there's not much of a destination).
You come across a number of funny things on the road. One such instance was a board outside a restaurant saying "Halal Veg Chicken". Now what is that supposed to mean?! Probably the biggest meat consumer of the country considers "Halal chicken" to be veg!
Who doesn't like to pose? Ok. Forget it, bad question (as soon as I asked it, I remembered 7 people who didn't like to pose ). Anyway, these tea gardens allure all posers to come embrace them and get captured in a digital myriad of megapixels. Ha! Now it feels good! Every piece of writing seems incomplete without some complex sets of phrases. Wait a second! That doesn't mean I'm done!
After a long drive and a bit of running around for accommodation (The zero in 10km didn't have any value ), it was getting dark. So we decided to explore the town of Munnar. While one Winger went ahead to check for accommodation, the other stayed back. So we decided to go down window shopping. I put down one more entry to my list of first-time-I've-done: Jewelry shopping . (OK, OK! Enough smiling you IIMK folk!). We also did some chocolate shopping. Munnar has these cool home-made chocolates. The sad part is that every hill station has it these days and it's no more a novelty. The same goes for hand-made soap and other such stuff. In fact even the little stores carrying handicrafts are the same throughout the country. Talk about standardisation of tourist spots!
We then visited a nearby church and offered candles. The silence in churches is striking and takes some getting used to (after the usual running around all the time in life, in general). You could actually hear your thoughts resounding in your head! One thing I like about churches is that you ask Jesus and the saints to pray to the Lord for you. Not the usual "God please give me this, God please give me that!" Do your work dutifully and pray to the Lord to look over you. Simple. As always, I thanked the Lord for everything that He'd ever given me.
The power cut made life easier for us in terms of deciding what to do next. We went around the market. Like some fakirs, we went around the fruit bazaar buying single pieces of passion fruit, custard apple and bananas. After some more chocolate shopping, we decided to have dinner. One intelligent chap had huge boards outside his diner shouting "Gujarati Thali, Rajasthani Thali, Punjabi Thali" and what not. It was no wonder that all the Northie tourists flocked there after getting fed up of the "Mallu food". So that's exactly where we went for dinner. The thali was taking forever to come. So Amal and I decided to take a stroll. The blanket shop which he wanted to visit was closed. On the way back, we saw a small thattukada (small corner shop serving food) and the smell wafting from it reeled us in. We joined the drivers and workers who had flocked there for their dinner and had hot appam and chicken fry. With our stomachs half-full and minds fully-satisfied, we returned in time for the thali. No surprises there. It was hopeless (you seriously expect to get proper north Indian thali in Munnar? Hmph!). In the end, people made a Ganga, Yamuna, Saraswati out of all the stuff in the thali and gulped it in!
Sleep walking is something that really intrigued me. I mean, how can a person actually walk in his sleep? I found out in person that night when we went out for a walk. I do not recall even a moment of it. I'm not kidding – I've got photos to prove it! So tired I was that I nearly missed out on Manoj's birthday (what a lucky guy to have a birthday trip to Munnar!) and completely missed out on the ghost stories that followed. The worst part was that I missed out on the blankets too and nearly froze to death. Good thing that didn't happen or they'd have a new story in their collection!
Cool! So, that was day 1. We were really looking forward to day 2 as we didn't really do much on day 1. After a breakfast of idli, idli and idli, we went to the tea museum to see how tea transforms from the leaves we saw all around to the black powder in our cups. Sadly it was closed and we hoped our luck would change. The next stop was the lake for speed boating. The first time I went on a speed was at this very lake three years back. It was really amazing and I was raring to have another go. The only difference was that this time I had a camera! There was one more thing. But I got to know that a little bit later. After completing more than half the lap quite uneventfully, the boatman asked for my camera and said he'd take a group pic. Wow! Great guy, he actually offered to click a pic of us! And then came the best part! With the DSLR cam in one hand, he started rocking the boat. And it really rocked! I was more worried about my cam than falling overboard! It was an amazing scene. The daredevil boatman with the steering in one hand and cam in the other with the boat at the weirdest angle you can imagine. We then had a photoshoot near the lake, an overdose of tea and coconut water and chilli pakodas.
Wonder of wonders, the Echo point actually echoed this time. I guess the trees (which cause the echo) are well prepared at this time of the year. We then proceeded to the Top Station. This was the only place I hadn't gone to last time. We stopped on the way for some tea-garden photography. You really need to do this if you go to Munnar!
Top Station was one of the most amazing hill station moments I've ever had! The place was covered with clouds and you couldn't see a few feet ahead of you! In fact you could actually feel the moisture of the clouds. Standing at the edge, the sight was just amazing. Tea gardens all around, at steep angles along the hill, the clouds climbing along the hills at great speed and the small droplets of water accumulating on your face from them. The only less-amazing parts were the leeches which managed to cling on to quite a few of us.
We moved on to our last point – a dam whose name I forgot to note down yet again!! Tcha! I was amazed to see the same lady(from last time) sitting at a corner selling passion fruits. They were just as delicious as the last time. The exotic flavour is just amazing. Some maggi, bread-omelette and photography followed and then we were on our way back.
Munnar Again was even more fun than Munnar the first time!