Mies Van Der Rohe famously said "God is in the details". And I think he is right. Neither I am a religious person. But I like to see monuments and ruins. Tells me a lot about the place, our culture and the history. And then the trip to Angkor Wat happened.
Let me clear up few things. The first is Angkor Wat. A UNESCO World Heritage site, it's the biggest temple monument in the world and mostly the only reason why people visit Siem Reap or in that case Cambodia in the first place. Also it is not one single temple (I will talk about other temples in a separate post). Angkor archaeological park is like a temple city in a way with many temple complexes scattered all over, the main one being of them being Angkor Wat.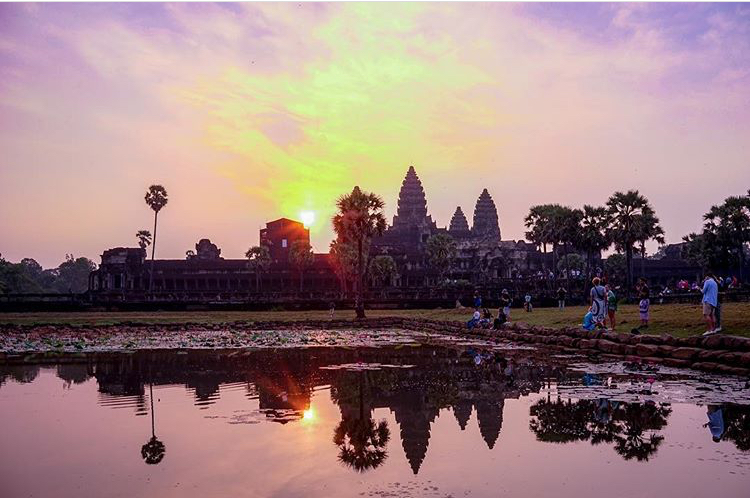 Now since that is clear, let's start with Angkor Wat. Termed as "The jewel of the Angkor complex", this is said to be the largest Hindu temple complex in the world. With its five intricately-carved spires, it's an impressive sight, especially at sunrise (also the most crowded). Hundreds of other tourists shared the same idea of visiting Angkor Wat at sunrise. Even at that unearthly hour, the place was already swarming with people!
This huge structure is surrounded on all sides by a moat. Quite an impressive feat to achieve back in those days for sure. The temple was constructed in the early 12th century as a Hindu monument, before being converted to one of Buddhism in the late 13th century. The temple is known to be an earthly representation of Mt. Meru which is considered to be the Mt. Olympus of Hindus and abode of gods. The whole temple complex is enormous and a stunning blend of spirituality and symmetry. It is also known for the carvings of apsaras, the massive galleries with bas reliefs portraying scenes from Mahabharat, Ramayana etc.
I suggest do read a bit before going to the temples as there isn't much information around the temples to explain. Else you will have to use the guides (charges around 10$). I met a lady who was watching the bass reliefs of The battle of Ramayana and was confused. She saw some carvings of horses and Elephants wondering what is their symbolism in Cambodian culture. After giving her a background of the various bas reliefs stories and how these temples talk about Vishnu and his avatars from Hindu culture, things made a lot of sense to her. So as I said, read up!
Undoubtedly the temple is massive, but coming from a country like India, I was a bit underwhelmed especially with the wall carvings etc. After seeing the temples of Khajuraho and other smaller Indian temples, these wall carvings are nowhere intricate and near to the standards I have seen. Not taking anything away from these magnificent monument but then if you are going to see some beautiful wall carvings and intricacies then you might get disappointed. Go for the magnanimity of the whole structure and the thought behind it.
To see Sunrise or not?
This has been the biggest question on my mind and I am sure is on a lot of travelers mind. It's about as cliché as visiting the Eiffel Tower. And Let be honest a lot of us are cynical about following the crowd or do mainstream stuff. The place is popular for a reason and it is totally worth being amongst the crowd and seeing that spectacular sunrise. It is worth it.
Quick Tips
Buy the Temple pass an evening in advance and you can get to see sunset the day before the actual day starts Reach the temple very early morning and ask your hotel to pack you breakfast. You will need it Watch the sunrise and then go explore the other temples. Leave Angkor Wat temple for afternoon/late afternoon time when the crowd is less A one day pass will cost $37 USD while 3 days is USD 62. You won't need more time than that Be prepared to walk a lot This is a temple site so make sure to dress modest.
Done smartly this can be the cheapest trip you can have. I spent 200 USD including food & drinks, stay, internal travel, temple pass everything. There are a lot of budget options to stay and eat around.
Hire a tuk-tuk for a day. It won't cost you more than 20$ and your driver will take you to the various temples and wait for you. Talk to him and he can tell you where the locals eat saving some money and get some authentic food.
The other major decision you need to make is taking the big loop or the small loop.
Small Loop = Angkor Wat, Bayon Temple ( with the faces!), Ta Prohm ( Tomb Raider Temple!) + 4 other temples
Big Loop = Angkor Wat, Bayon Temple ( with the faces!), Ta Prohm ( Tomb Raider Temple!) + 10 other temples.
So pick and chose which ones you want to do, wake up the tomb raider in you and get away. Angkor Wat is the centerpiece of any visit to the temples of Angkor and should be visited once in lifetime.