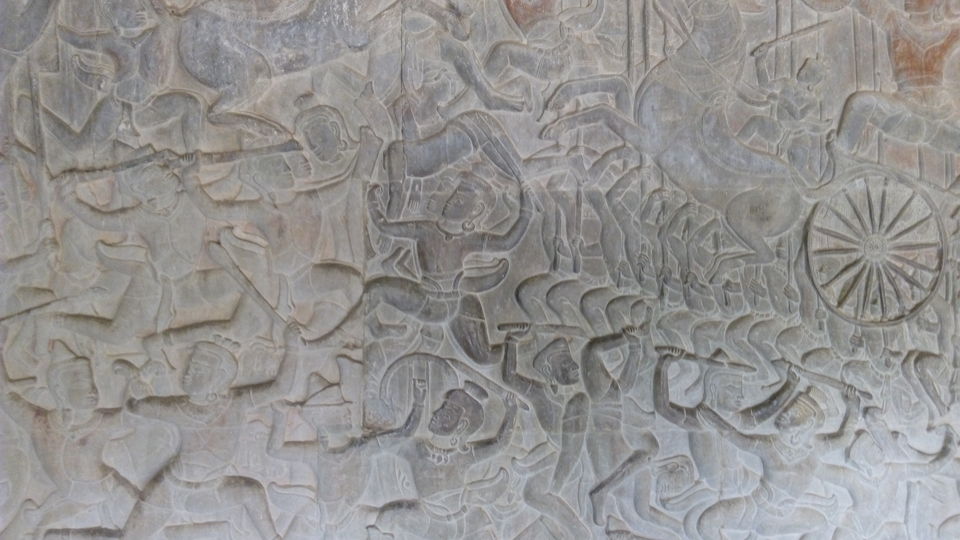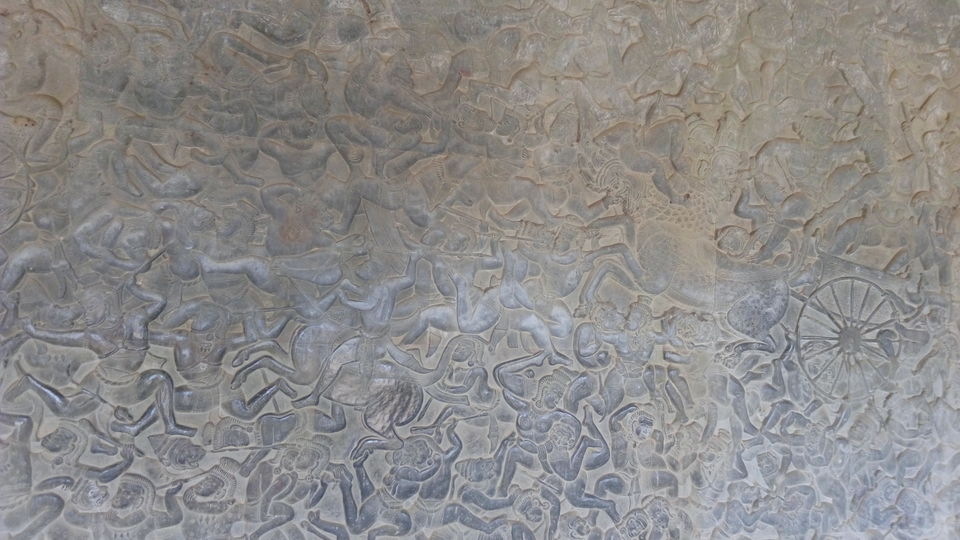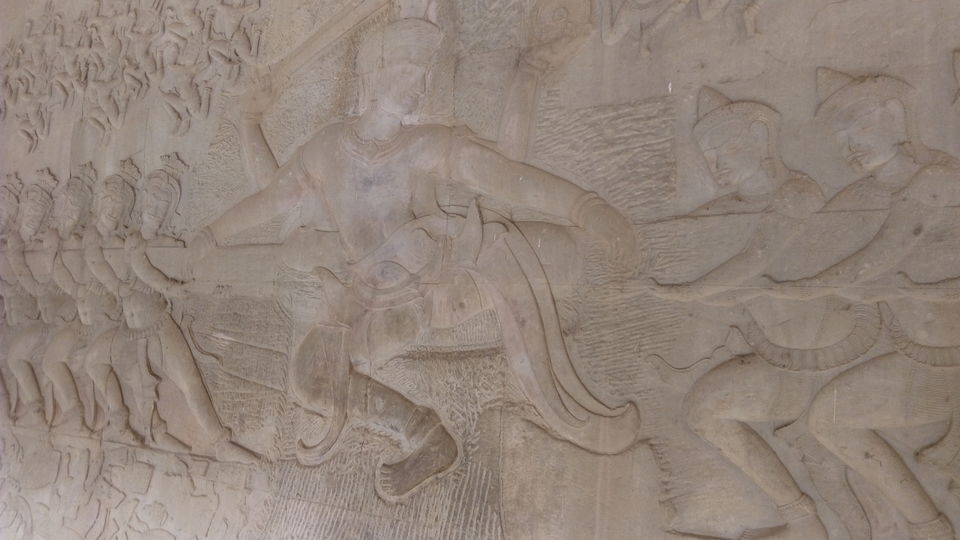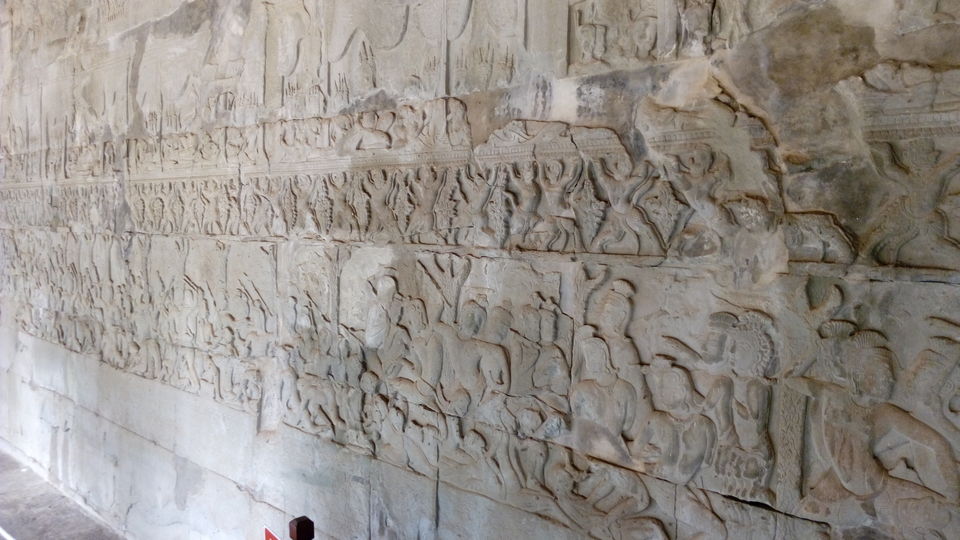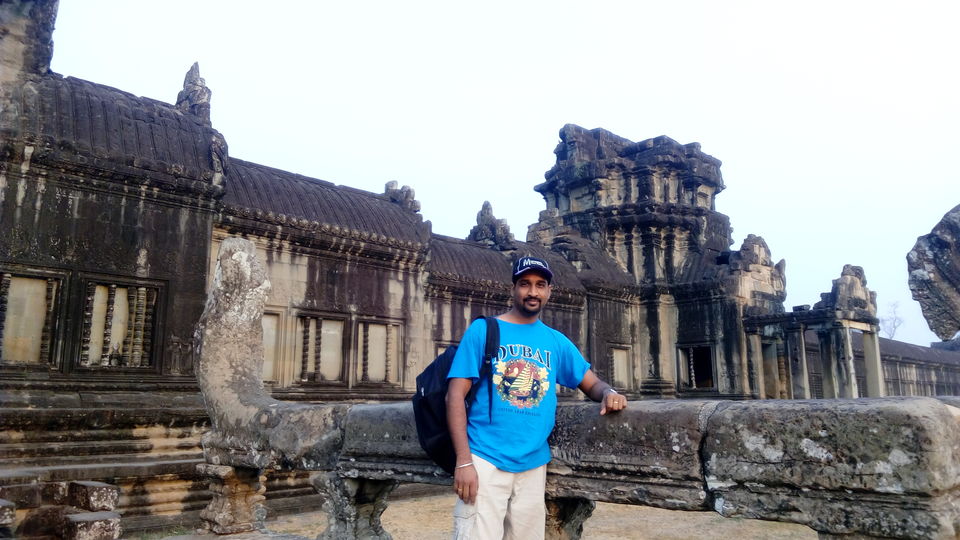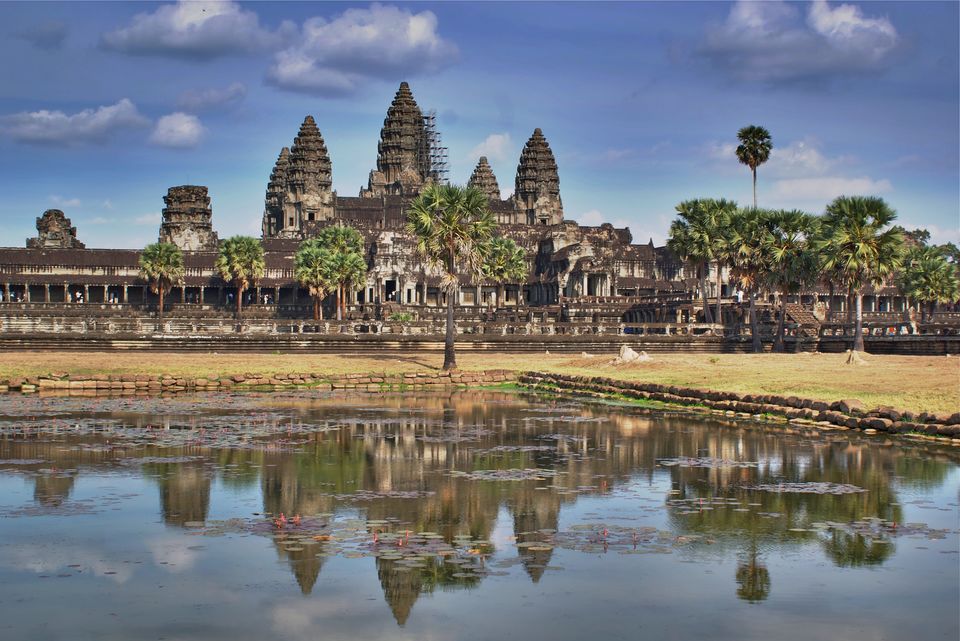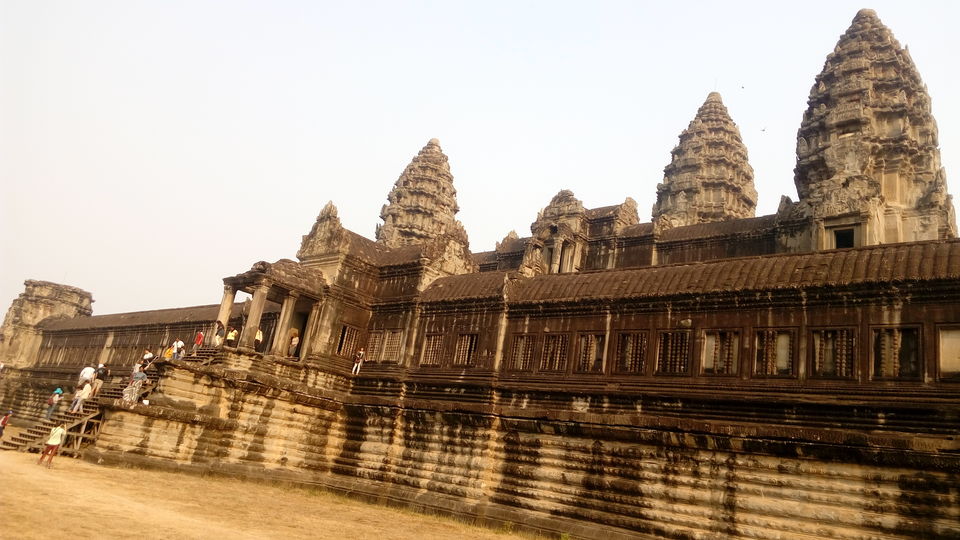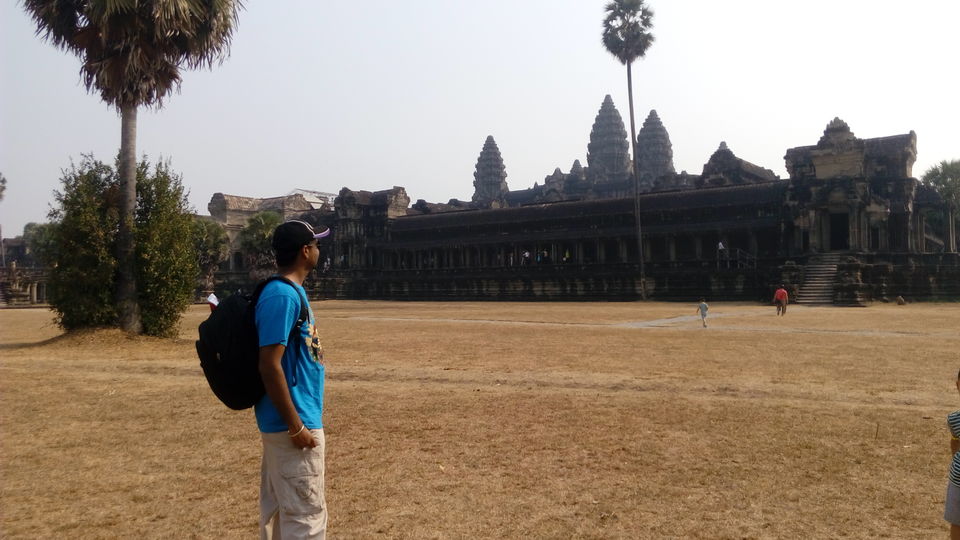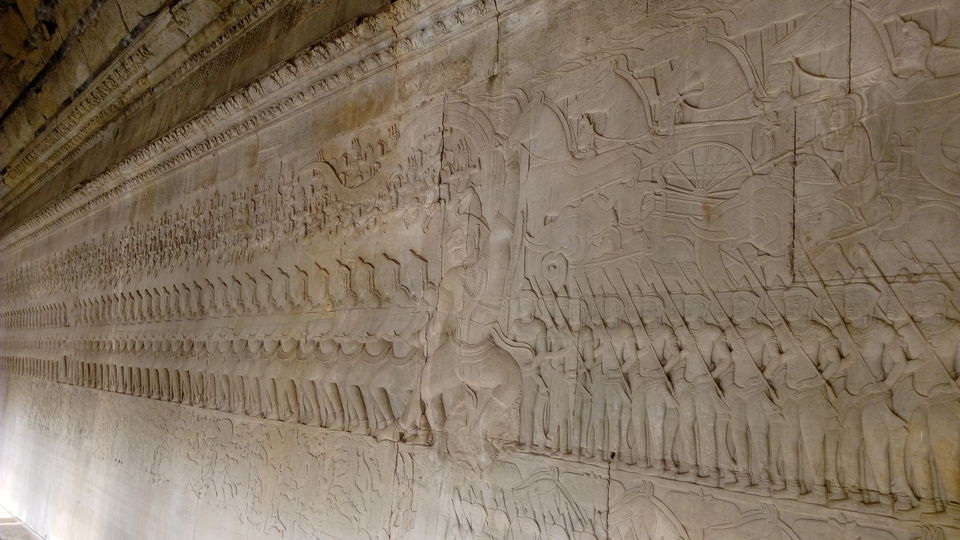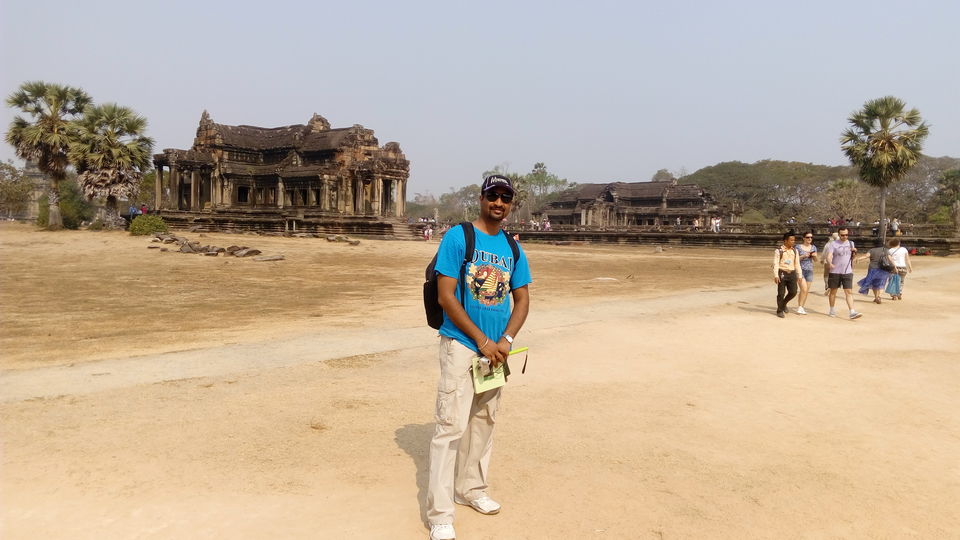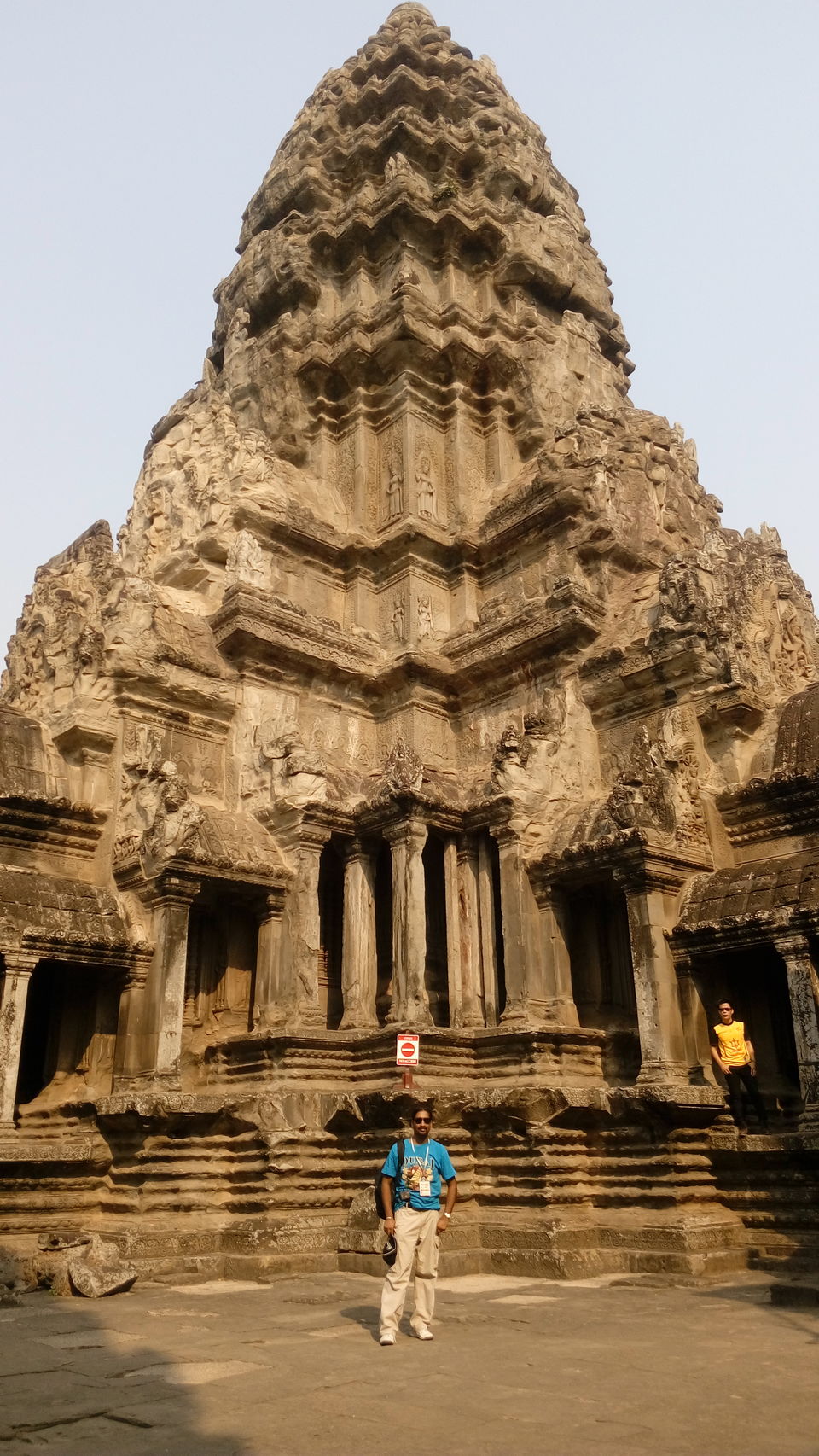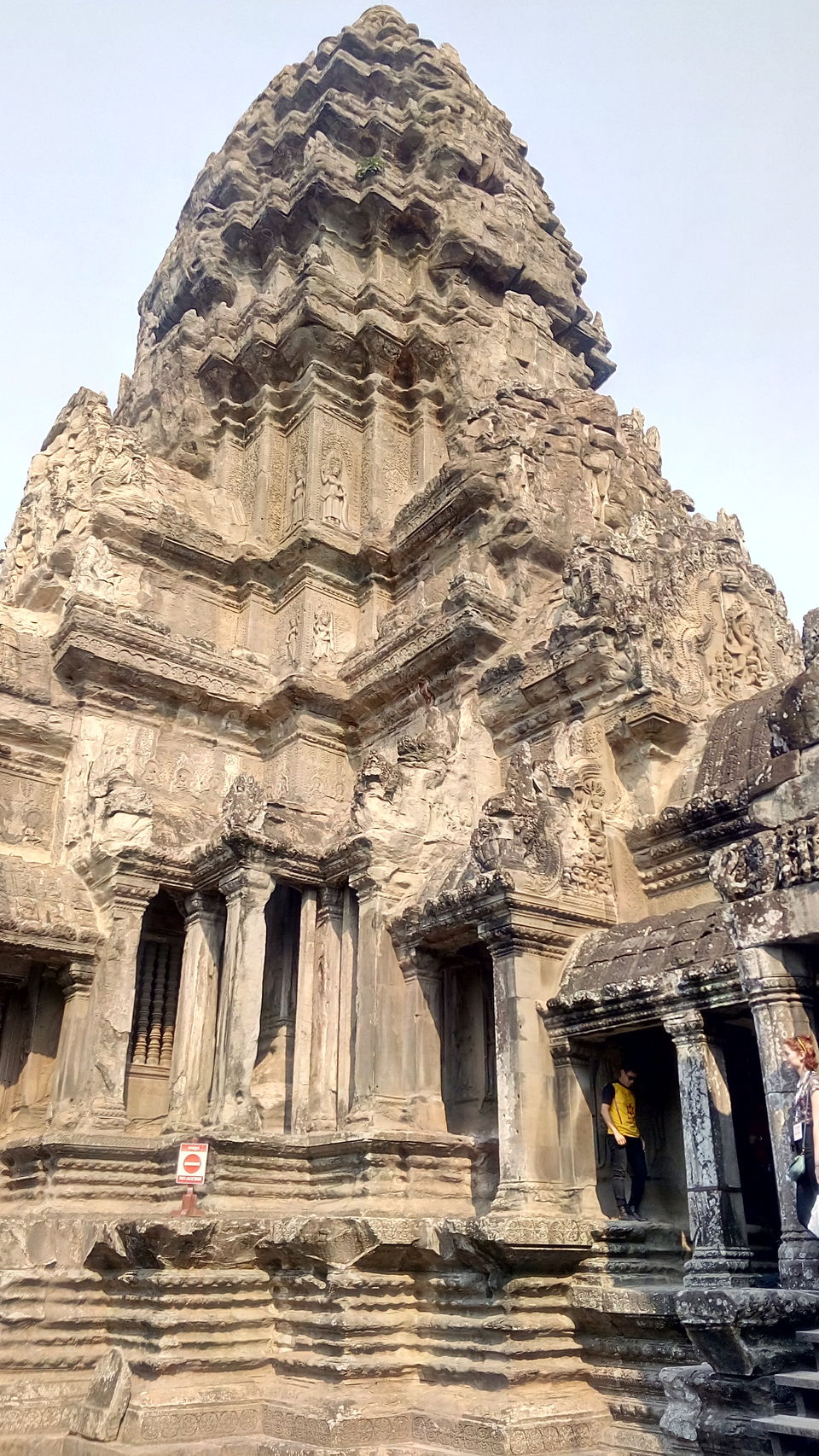 My Journey to Kingdom of Wonder-Cambodia-Angor Wat the Giant-
Largest Hindu Temple in the World.
Angkor means City…Wat means Temple
Its been a dream destination for me since I came to know about the giant Hindu temple that is built on earth in Siem Reap,Cambodia. And hence this year I ventured to explore Cambodia to witness the masterpiece of Khmer Architecture .I drafted my detailed itinerary for my trip and sites & temples to visit well in advance and took up my maiden trip to the Kingdom of Wonder -Cambodia.
Originally built as a Hindu temple dedicated to the god Vishnu in 12th century by King Suryavarman II in honor of Hindu God Vishnu the Preserver, it was converted into a Buddhist temple in the 14th century, and statues of Buddha were added to its already rich artwork.
When I had my first glimpse of Angkor Wat ,I was awe stuck and spell bound seeing the magnificent construction the Khmer Kings have done.The sunrise backdrop view of Angkor Wat is amazing and its really a treat to our eyes .I couldn't imagine the massive scale of its construction with engineering skills and knowledge of Khmer King Suryavarman II, wondering how it is possible to raise such a huge structure on earth surrounded by 200 meters wide moat surrounding 6 Km.The Temple was built in classic Khmer Style of architecture. To reach the Angkor Wat West side Main entrance I crossed the moat by walking on the causeway or Naga bridge .
As I ascended the Gallery of Bas-reliefs, surrounding the first level of Angkor Wat, contains 1,200 square meters of intricate sandstone carvings the representation in stone of the Battle of Kurukshetra, Krishnas Battle, Heaven and Hell, Gods & Demon galleries, Churning of Milk and representations of duel between Bhima and Duryodhana. The central Sanctum tower is surrounded by four tower depicting Holy mythical Mountain in Himalayas ,symbolizing 5 towers of Mount Meru .
I took a three day pass for $40USD to cover the Angkor archaeological site. Most of the temples in the Angkor Site except Angkor Wat are in ruined conditions and the structures have collapsed and giant tress and roots have grown all over it and nature has taken its own course.
In my 4 days of stay in Siem Reap, I covered almost most of the prominent historical temples of the Khmer Empire in the Angkor Archaeological site. Angkor archaeological site is massive comprising more than 600 temples Angkor Thom ,Ta Phrom, Bakaeng, Bayon,Bantea Srey,Bantea Samre, Ta Phrom ,East Mebon , Preah Khan and a lot more.
My maiden trip to Cambodia gave me and unforgettable experience to witness the greatest civilization that existed on our earth and to feel the wonders of the Cambodian Kingdom and its rich deep rooted culture and heritage.
Cambodia -Angkor Wat Travel Plan and Guide .
How to reach: from India:
Airasia operates daily two flights to Siem Reap from Kuala Lumpur KLIA2 Airport-Low cost Terminal Airlines.
Flight fare Kuala Lumpur to Siem Peap : 66 USD$ varies with season
Cambodian Visa On Arrival : 30USD$ , can be easily obtained at Siem Reap International Airport, A passport photograph is required and applications are available in immigration counter and the process takes 15 mis to 2 hrs depending on the tourist rush.
Airport to City By taxi 7 Kms: 7USD$
Airport to City By Tuk Tuk : 4 USD$ Kms
Some Hotels will provide free airport Pick up for their guests, we have to make a research on the hotels with such facilities before booking Hotels Accommodation .
Accommodation : Double room with Fan : 9 USD$/night ,
Double room with AC : 14 USD$/night , AC Dorms: 6USD$.
Language: Khmer -Cambodian Language is spoken by locals, but very few understand English. But in Shops, Markets, Restaurants, Tuk Tuk Drivers can understand and speak some what ok English
Travelling around the city in Tuk tuk cost : 1 ~ 3 USD .
Bike rentals : 5 USD ~7 USD/Day.
Bicycle Rental : 1 ~2 USD/Day
Cost Of Food : Breakfast ,Lunch, Dinner 1.5USD~5 USD Budget.
Hiring Tuk Tuk for a Day to Angkor Site : 15~20 USD , for long trip add 10 USD.
Water bottle: 2.5 Litr = 1USD.
Best Season to visit : November to February , but the season extend throught the year.
Foods to taste: Almost non-veg everywhere, fish , beef, pork , chicken , duck , shrimps, lobsters, rickets , snails, lizards, grasshoppers, crocodile , kangaroo, insects, bug markets, khmer food , cambodian traditional foods.Rice and fish is the staple food in Cambodia.Some Indian restaurants are available in Suvitha Road in Siem reap Town, Roti Indian Curry price 5~7 $USD.
Alcohol is cheap everywhere in Siem reap , and Hence westerners and foreigners flock the bars and pubs.
Khmer Traditional Aromatic Medicinal Spas and Massage and Fish massage centres are sread over the town.
Currency : Riel KHR- Khmer Riel , although Riel is the nations currency , USD is widely used everywhere , 1 USD= 400KHR , even ATM dispose only USD everywhere.
Its better to convert USD in our country itself as the exchange rates s worst in the Currency exchange centers, and we dont get changes anywhere in Cambodia. Indian currency is accepted nowhere in Cambodia, so before you depart, it is advisable to have sufficient USD in our hand to avoid unnecessary loss in Exchange rates and also for ATM withdrawal charged 5USD$.
Warning & Caution :
There are touts and pick pockets around , so ve to be careful with our things like cameras , phones and valuable, and dealing price with Tuk Tuk drivers should be cautious, and they ll escalate price and ve to bargain before getting in the Tuk Tuk. Never agree upon the price they offer for souvenirs, dress, paintings, in markets, have a control over money in bargaining with them, but dont be harsh.
Have to be careful while walking in roads and in streets, people ther dont have any traffic rules and they drive rashly on roads the traffic in Siem Reap town is fuzzy , as driving rule is KEEP RIGHT, we ll be puzzled when we see all vehicle driving in different ways as they follow their own rules on road.
Shopping: Painting , art works , antiques , Khmer Silks, bamboo handicrafts, clothes , khmer silks, wooden carvings etc in Siem Reap Night Market
Pub Street Centre of attraction with variety of intercontinental dishes and sea foods and street foods , western bars with live music bands and traditional apsara dance performance they are open till 2:00AM late.
Some of attractions in Siem reap Town:
Angkor National Museum : 12 USD$ entrance
Wat Bo-oldest Bhuddist Monastry
Wat Phrea Phrom rath
Royal Gardens
Tonel Sap River Cruise,
Tonel Sap Floating Villages & Markets
Khmer Siem Reap Silk Farm
Angkor Wat Tour Circuit Plan:
Angkor Archaelogical Park Entrance Ticket :
Angkor Archaelogical Park Opening Hours : 5:30AM to 5:30 PM All Days.
1-Day Pass : 20USD$
3-Day Pass : $40USD for visits within a week,
7-Day Pass : $60USD for visits within a month
My Angkor wat Archaelogical Site Tour Itenerary :
Day One -Short Circuit order of Visit :Round Distance: 19 Km
1. Angkor Wat
2. Bahkeng
3. Angkor Thom Gate
4. Giant Bayon Temple
5. Phimeanakas
6. Baphuon
7. Terrace of Leper Kings
8. Terrace of Elephants
9. Royal Palace Grounds
10. Banteay Kedi
11. Chau Say Tevoda
12. Ta Kaeo
13. Ta Phrom
Day 2 Big Tour order of Visit: Round distance: 39 Km
1. Preah Khan
2. Prasat Prei
3. Neak Pean
4. Ta Som