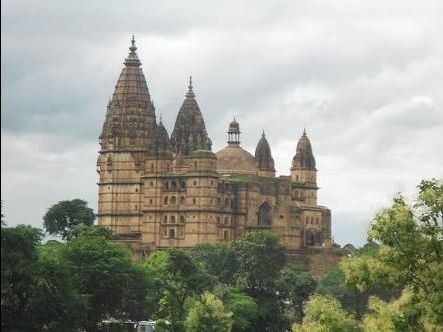 Chaturbhuj Temple is located to the south of Khajuraho, and is commonly known as Jatarika Temple after the name of the village where it is situated. It is dedicated to Lord Vishnu, who is also known as Chaturbhuj or "one with four arms". It is believed to be built by the king of Orchha, Raja Madhukar Shah, between 1558 and 1573.
Exploring this magnificent edifice is a journey in itself. Even a distant glance of the Chaturbhuj Temple would astonish you with its grandeur, and up close, its fenced boundary walls radiate a mysterious charm. Climbing up the stairs to enter this seven-storeyed temple would not be so comfortable though, but is worth it. The walls of the temple are masterfully carved with various sculptures of deities. Beautiful arched balconies, airy courtyards and the pointed shikharas of the temple deserve appreciation.
This gigantic temple has a rustic appeal and rests on a chabutara (raised platform). You can also get a glimpse of European cathedral style of architecture in the Chaturbhuj Temple. There is a distinguished, 2.7 metres tall idol of Lord Vishnu, which is a crucial aspect of this temple. Besides this, there is an entrance porch, sanctum and mandap. The main deity room of the temple is open for all, except for some particular hours of the day.
You can also hire a local guide to help you explore the interiors of the Chaturbhuj Temple. Quick tip: Keep a torch handy and do not miss the mesmerizing view of the Orchha city from the roof of this temple!