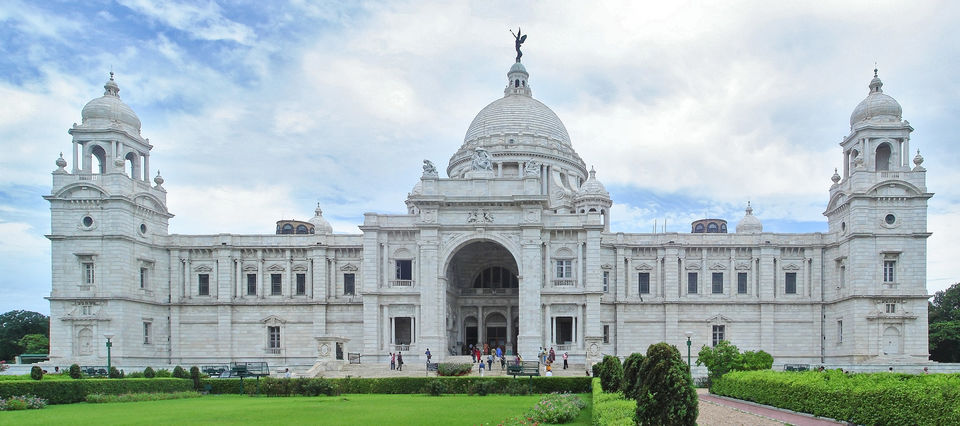 Getting bored by the monotonous routine of life, I and my family decided to go for a holiday trip to Kolkata. The ideal time to visit Kolkata is the winter season (November- February), so we went during December. We stayed at Rabindra Guest house in Sarat Bose Road, a decent one with good ambience, good food and amazing hospitality. Our train was 14 hours late; we missed one whole day. So we had to plan our entire journey within a span of six days.
On first day in Kolkata, early morning at around 4 AM we went to Kalighat temple, 10 minutes walking distance from our guest house. AT 4 in the morning there was already a long queue outside the temple, so I will highly recommend going there as early as possible. However, the management of the temple is really weak, roads are unclean and everything has become commercial; even the priests won't allow you to properly pay your homage to the goddess. The best and probably the appealing thing about Kolkata is the tea sold at roadside vendors in a Kulhad, two sips from it at an early morning is the best thing one can have after struggling through the long queue and with the priests.
Next we hired a taxi to travel through the 'City of Joy' (the good thing about Kolkata taxis is that they will always go by meter, but strange thing is that you will have to give double the money charged at the meter). Kolkata has less of main roads and more of alleys, so no matter wherever you will go; you will have to pass from Victoria Memorial, and Maidan (Grounds).
Anyways, first we reached Victoria Memorial located at Queen's Way near Jawaharlal Nehru Road. The site is not only soothing for the eyes because of its beautiful architecture, allegorical sculptures and lush green garden, but also an ideal place for knowledge cravers. It has 25 different museums showcasing portraits and lives of royal and national leaders, arms and armory and visual history of Kolkata. It also has a collection of rare and antiquarian books including works of William Shakespeare, Wajid Ali Shah, Khayyam's Rubaiyat, Akbarnama, and many more. Conversely, outside of Victoria is dirty and stinking, but I would suggest take a Victoria ride to view the surroundings of the area. Kolkata has a lot of places to satiate the hunger of knowledge cravers, the next being the Indian Museum- the largest and oldest museum of India. It has everything starting from Archaeology, Zoology, Botany, Art, Anthropology, Geology and what not. One must have at least 2- 3 hours to properly observe it. However, the place has no maintenance. Most significantly, visitors are not allowed to take anything inside the museum not even a small handbag. So remember not to carry anything with you while visiting this museum.
For lunch we stopped at Bhojohori Manna, a restaurant where one can savor the actual taste of Bengali cuisine. A proper lunch for six people in Delhi, at any 5 star restaurants will cost a magnanimous amount. But here the amount was just 2700/-; well it is not at this restaurant only; everything in Kolkata is dead cheap. The day ended with visit to Science City, the largest science center in India. Just like Indian Museum one must have a lot of time in hand to see it. The place probably has answers to all queries of science; it is a paradise for science lovers.
The second day was dedicated to shopping. Like I said before, everything in Kolkata is low priced. You can have a proper breakfast even with 20/-. Famous marketplaces are College Street and Goriahat. In Goriahat one must give a try to mouth watering biryanis. Hyderabadi biryanis are no doubt world famous, but biryani of Goriahat has the potential to be a food connoisseur's treat. In Kolkata, one should also enjoy travelling in a tram, but yes before that makes sure you have 25 or 50 paisa inside your pockets because that is the ticket rate of a tram. Well the sound of trams can sometimes be hammering, but it is a unique experience.
Third, fourth and fifth days were dedicated to visit to relatives home. On the way we witnessed the real beauty of Kolkata, yes and that is the villages. What can be more serene and ethereal than the smell of herbs and flowers, than the sounds of ducks quacking inside the pond and birds cooing from the trees, than the cool breeze coming from the paddy fields, than the sight of white kash phul (Kans grass) in the night! Love for culture is actually can be seen here in the villagers. They may not even have been to schools or colleges, but were beautifully singing songs of Rabindranath Tagore while doing their daily chores. It gives a complete view of an entire civilization and explains why Veteran filmmaker Satyajit Ray chose Bengal villages as his shooting location!
On the sixth day we visited Dakshineswar, Belur Math and Adyapith. These were a little far from our guest house, so it took around two hours to reach there. Dakshineswar is a renowned temple of Goddess Kali, and gives a breathtaking view of the Holy Ganges. Adyapith, another temple of Goddess Kali and connected to Dakshineswar, has rather strict timings. The temple door will open in the evening at around 6 or 7 and after the puja it will automatically close.
The Ganges separates Dakshineswar and Belur Math. One can take 15- 20 minutes road journey to reach Belur Math. But I would highly recommend using either a boat or a steamer. It will take around 2 hours via water, but the fun behind this cannot be described in words until unless you yourself feel it. Belur Math is the main monastery of Ramakrishna mission.
Some of the places were missed keeping in mind the tight schedule, but a single trip is certainly not enough to understand a place which has multifarious colors, like Kolkata. Overall it was a fun journey and Kolkata left all of us feeling enchanted, enthralled, enraptured, and bewitched with its scenic beauty and lovely warmth.