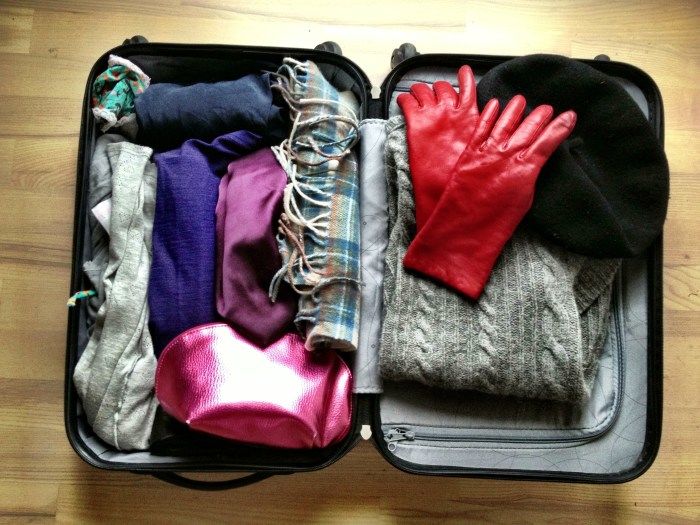 After the first three exams I got my first correct answer today and now simply am just too excited to head back home, ergo this post being the last one before I head for Kolkata. Going through the tickets one more time, I realized that my flight as it turns out is a no baggage one. As the year comes to its dusk, the wintry days are about to dawn upon and our obvious answer to that will be layers. But when you are one with wheels under your shoes, packing light is something you don't have an option against. As one heads to new places during this winter, preparedness is a must because despite what the little box on the newspaper says, weather is unpredictable. To be honest, I envy those days when my mom would stuff every woolen item from her arsenal inside the coziest bag ever, while I would tag along with my laptop.
Full disclosure I still have no clue when I pack for any of my trips, and most of the time it doesn't seem to matter. However imagine yourself inside a car heading up to the top of the hill and it seems to get chillier with every passing hour. Instead of hugging yourself to keep your body temperature from dropping, you might just follow some basic rules for packing during this winter.
The first basic rule of packing during any season, is resisting the favorites from the closet. Wearing your darling sweater might pop your skin, but also can inflate your bag and put you in the hate list of public buses. Instead of packing stuffy clothes to fight the dropping mercury, wear layers. Dressing up in multiple clothing articles has its own risk of a fashion disaster. There is nothing worse than a guy wearing a T-shirt on top of another. The easier option is packing a skin (inner), which cuts the cold effectively and covers the least possible space. You can wear almost anything on top a skin.
Another easy way to keep your entire body warm is a hat, which might had left the fashion shelves a long back but can keep you cozy. Hats are carry-ons, so there is no question of over packing and who knows, you might pull them off! While buying a hat, take care of certain aspects like the hat being big enough to cover your ears and the neck if possible. Try to avoid anything with flaps or fur balls, which might extra mass to your duffle bag.
Covering centimeter squares in your bag, an absolute weightless clothing is your glove. Instead of refuging you palms inside your pockets, wear one and always be on the move. Gloves come in a variety of choices these day but there are certain cutoffs you might take care of. Buy a water resistible one, because a wet glove will get you sick in no time. Gloves with grips are preferable, although most leather ones will provide you what you need. Try to avoid straps, for obvious reasons and make sure they go with your outfit.
The best trick to ditch the shivers are leg warmers, which you may have the misconception of being gender specific. Although guys might just look ridiculous in a pair of tight slacks hugging their thighs, one can always wear trousers on top of that. These are very efficient in absolutely keep off the cold and save you from fatigue during your trip.
Packing light, is an efficient way of accommodating the heavy articles like shoes and electronics and also gives you the very desirable sleek getup.
Travel smart.
Travel safe.

Happy Winter!