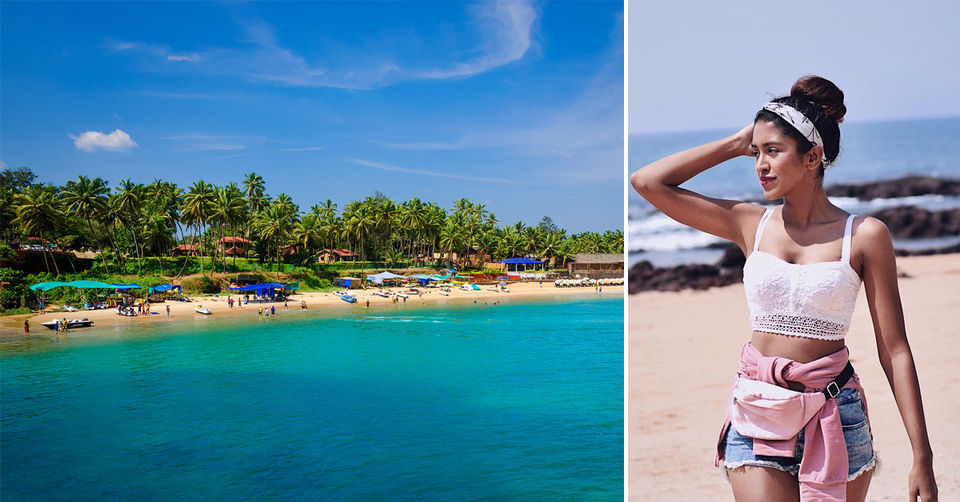 Whether you're the kind of person who likes splashing around in the sea or sitting on the beach along with a beer and a book, you will agree that beach days are indeed the best days. And you know what makes them even better? The perfect outfit. And by "perfect" I mean something that will make you feel comfortable, confident and ready for a picture at the drop of a hat without looking overdressed.
Now, this can be a tall order. So I decided to get my research hat on and look into the depths of Instagram to scour for some of the most fashionable beach outfit ideas that also fit your travel requirements. So if you're headed for a coastal vacation or plan on spending the winter months relaxing in a tropical vacation, consider this post your official guide on what to wear.
1. Crop top with maxi skirt
This is my go-to during a beach vacation. It's easy-breezy and stylish at the same time. And if you're walking around, it allows for free movement. Bold prints are a plus and instantly up your fashion quotient without being too in-your-face.
Pair this with your favourite hat, a gorgeous pair of sunnies and some dainty jewellery.
2. Halter neck body suit with high-waist shorts
It doesn't get easier than this. Whether you're looking to go for a swim or walk around the beach-side market, this easy-peasy outfit will have you ready for anything you want to do on the beach. Just add a pair of tinted glasses and flip-flops to add a little more pizzaz and keep a cloth bag handy to carry your essentials.
3. Crop top with shorts and fanny pack
If you're the kind of girl who'd rather wear a bikini instead of a one-piece swimsuit, this outfit is perfect for you. And it offers a lot of scope for experimentation – you can choose from hundreds of styles of crop tops and shorts to mix and match and create your own style. Add a headband to keep baby hairs at bay and the fanny pack to carry your essentials.
4. Floral maxi dress with a straw hat
I love wearing maxis to beaches. They're stylish, breezy, and help prevent tanning. A floral print works really well with the whole vacay vibe. Add a straw hat to protect your face from the sun and use single-strap flats to tie the whole look together.
5. Bodysuit layered with denim shirt and crochet shorts
Who said you can't layer your beach outfits? If done right, it not only looks stylish but can also be used to create multiple looks by adding/subtracting an item of clothing.
In this look, you can just take off the shorts and shirt for a great swimsuit look and replace the shorts with a skirt to go from a day-to-night look.
6. Coordinated shorts/skirt and crop top set
Coord sets are so big in the fashion world right now and they make for such amazing beach outfits. They are chic and sassy at the same time. If you pair this with flip-flops/flats and a cloth bag, it works great as a day look and if you just replace it with heels and let your hair down, it works as a great night look too.
7. White romper with gladiators
White is such an ideal colour to wear to the beach. It is summery, serene and is just the perfect vacation colour, if you know what I mean. And rompers are just such an easy outfit to put together. You don't have to worry about coordinating or figuring out what goes with what. Just add in a simple pair of sandals and you're instantly looking chic.
8. Off-shoulder crop top with haram pants and flip flops
If you're not in the mood to get out of your pyjamas but would still like to look good, this outfit makes a lot of sense. A sexy crop top paired with pyjamas gives a sense of effortless chic. And it will also make for some pretty cool photos.
9. Indo-western dress with silver jewellery
Who says you can't wear Indian to the beach? Fusion dresses with block print will not only look good but also make you stand out from the rest of the crowd. Add a silver necklace and a cute pair of flats to complete the look.
10. Shirt dress with ankle-strap flats and straw bag
The it-girl outfit! You can never go wrong with a shirt dress. Pick one in a bright colour and pair it with neutral accessories. Wear it to the beach, nightclub or even dinner and you're bound to look dressed for the occasion.
Frequent Searches Leading To This Page:-