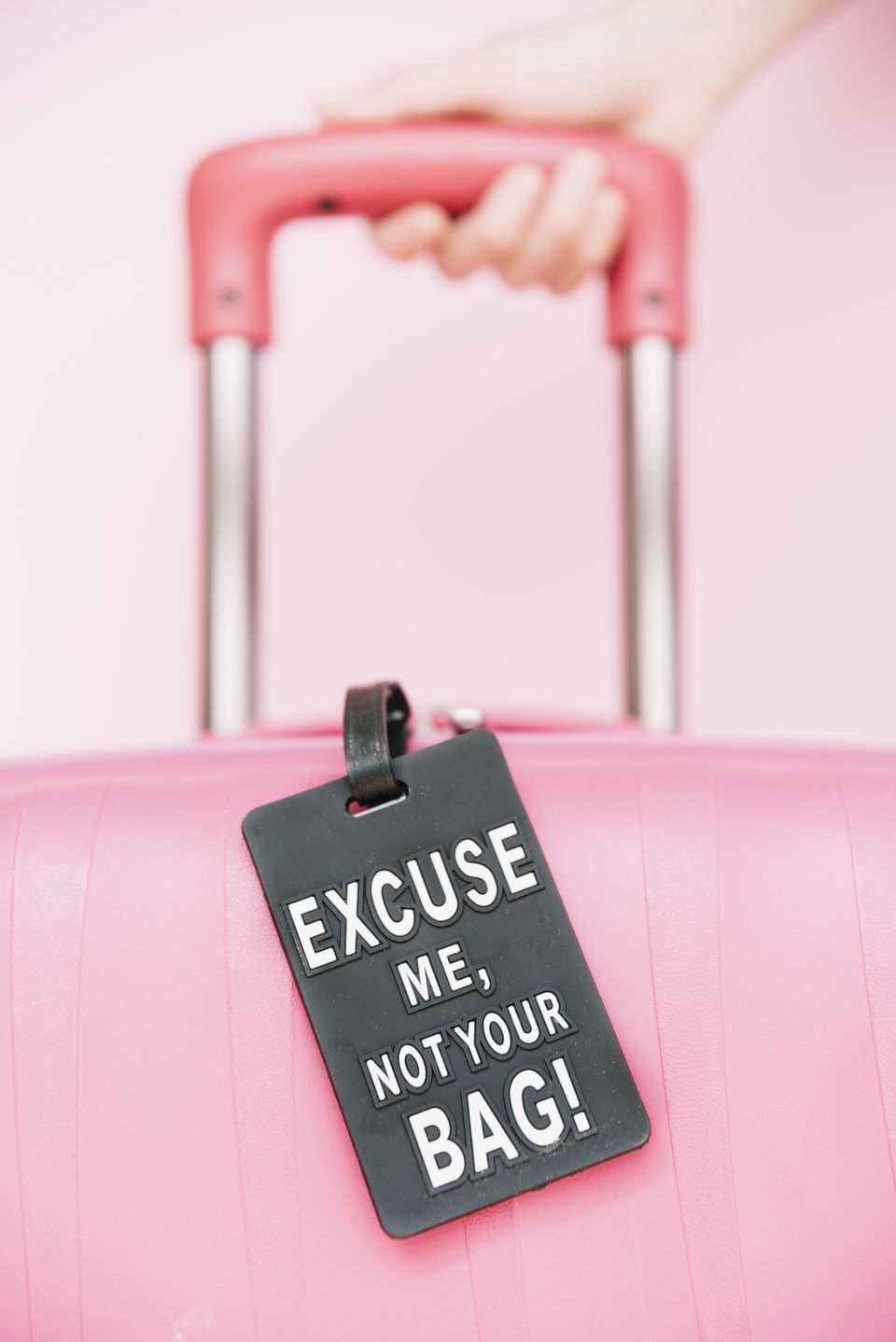 Packing bag is the most complex task of traveling according to me. After extensively traveling for years, I learned that the most essential thing to consider while packing is to pick the right and necessary clothes and essentials.
Packing can be done considering the weather or destination.
The first step even before packing is to know which season you are planning to visit your desired destination. It is essential to travel with the right amount of clothes and essentials you will need to go. Basis of my experience, I came up with a chart which I follow while traveling different seasons.
Summer: If you are planning a destination where the sun is bright high up in the sky, make sure to take along light clothes as it will be hot and humid. You can carry dresses, tank tops, shorts, gowns, minis, etc. which are light in weight compared to jeans or jackets.
Avoid taking 2-3 jeans or jackets, because being summer you are sure going to need light short dresses to keep yourself fresh from the heat.
Monsoon: Travelling in rains is a troublesome act, sightseeing places wearing a poncho or umbrella can ruin your trip. But there are places which are best discovered during monsoon, so what do you pack at that time? During monsoon travel, you will have to invent space for boots and waterproof scandals in your suitcase as it is more important than clothes.
During monsoon, the climate tends to get cold, so you are bound to take jeans and jackets, but make sure to carry ankle length jeans or 3/4th pants which suit up with your boots, and you can comfortably walk around the city. Make sure to take an extra 1-2 pants or tops as during rains, you might end up getting drenched, and an extra pair is no harm.
Winter: The cold weather can be fun, playing with snow and sipping on to the hot chocolate sounds just fun. It is my favorite season to travel. But winter destinations means heavy luggage and more clothes for packing.
Here is what I do to ensure lightweight during winter packing. Always make sure to pack two jeans along with few tops for any winter destination, because the most important piece is your winter wear.
Most people tend to take more clothes and one winter jacket to wear along the entire trip which will end up giving you album memories of the same clothes. Instead, take 2-3 winter jackets along with 1-2 jeans as all your pictures are going to showcase your jacket compared to what you have worn inside. Winter essentials: Jackets, TrenchCoat, Muffler, Hoodie, Gloves, Scarf, winter socks, etc.
Destination Specific: If your destination is specific like island hopping or backpacking you will have to limit your clothes, you are sure going to need more swimwear & inners compared to regular clothes, and if you are backpacking, you will again carry light clothes and a boot which you will be wearing rather than carrying.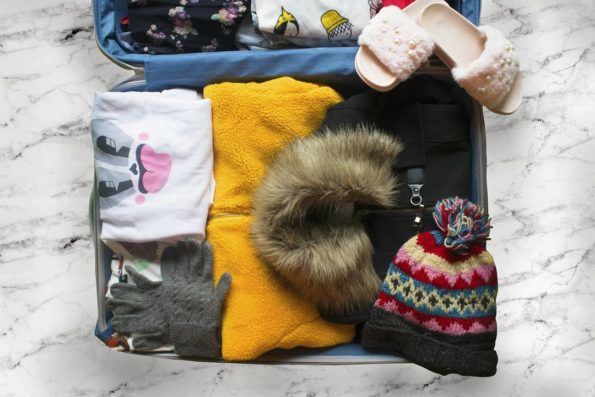 Here are some techniques to pack like a pro:
Roll, Don't Fold: The best space saving technique is to roll your clothes, rather than to fold them.

Pack It Up Military-Style: Rolling your t-shirts military-style makes them space efficient and wrinkle-free.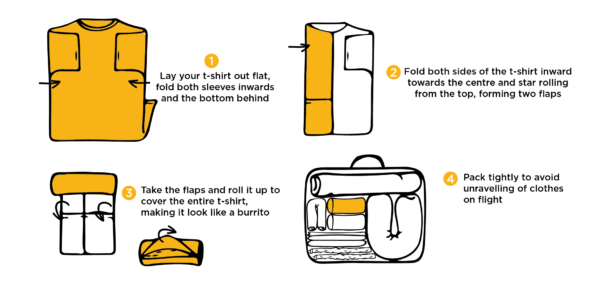 Maximize Your Space with the Clown-Car Style: This method of packing is efficient and fits a ton of stuff into a small suitcase.

Pack It Up with the Filing Method: In this method, the suitcase is thought of like a filing cabinet with the clothes being the files that are being stacked up.
Compress to Make Some Space: While packing bulky clothes, compression bags are handy as they free up a lot of room for other items.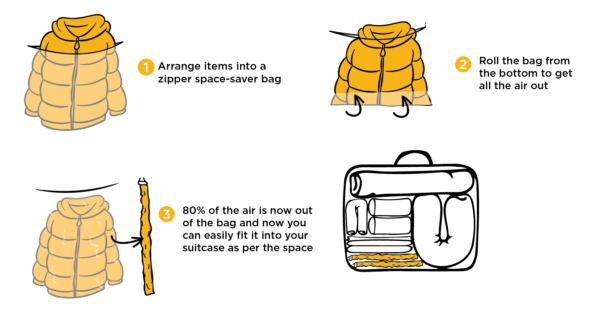 There are many things which we feel are necessary to pack and end up dragging heavy suitcases at the Airport. At times we get excited about our trip and tend to go overboard with the extra clothes, trust me if you are short of clothes you can surely buy at the travel destination rather than lifting from your home.
Keep it light and simple, do not complicate the suitcase with unnecessary items: 1- Bath Towel
Hotels always provide this, so unless you are backpacking and staying in tents do not pack these. Even for backpacking trip get a small towel to wipe your face or hands.
2- Liquid Items
Avoid taking your bath gel, facewash or shampoo, etc. because you will end up spilling it all over your suitcase. It mostly happens at the Airport as they do not handle your bags with care. You will surely get small sachets of bath essentials from the hotel, or you can buy such sachets of essentials to avoid such mishaps.
3- Access clothes
Limit your clothes basis the days you have planned your trip for, this way you won't end up carrying excess garments.
4- Sandals or Heels:
When you are traveling you do not need your fancy heels to carry along in your suitcase, you are here to explore and discover new places walking in your heels are not comfortable
I hope this blog helps you pack your suitcase right for your next travel destinations. Feel free to comment or share more tips & techniques which can be added here.