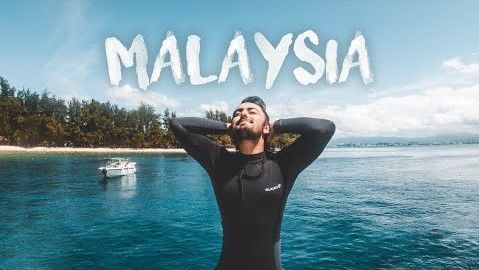 So it all starts when I get a call from Tripoto Community and they invited me to explore the Sabah state of Malaysia!
So a week later I took a flight from Delhi to Kota Kinabalu, via Kuala Lumpur. Kota Kinabalu is the capital city of the Sabah state of Malaysia. After landing we checked in Sutera Harbour Resort.
Sabah state of Malaysia is also a part of the Borneo Island and hence they have the Borneo culture here. To explore this culture we headed to the Mari Mari Cultural Village!
Here we were greeted by some amazing guides and they told us about the 5 tribes in the Borneo culture. Like we have religions in India, here in Sabah, people have tribes they belong to.
These 5 tribes were Rungus, Kadazan, Bajau, Lundayeh and the most dangerous head hunter tribe called Murut.
This village is in the outskirts of the Kota Kinabalu city, situated in the middle of a forest, preserving the ancient tribal culture of Borneo. The guides here give you an amazing experience of the local culture by giving you information, tasting sessions of different types of rice wine, honey and food. They also let you get a special tattoo as done in ancient times and let you experience different tasks like jumping on a bamboo trampoline and using ancient hunting weapons! So cool!!
P.S. My favourite part was the rice wine. I got a little drunk...
Later that evening we explored the night market of the Kota Kinabalu city and had our dinner there!
Next morning we took another flight from Kota Kinabalu to Sandakan! Sandakan is a city in the Malaysian state of Sabah, on the northeast coast of Borneo, 45 minute flight from Kota Kinabalu. This city is famous for the Sepilok Orangutan Rehabilitation Centre.
After like a 30 minute drive from Sandakan Airport, we reached the Sepilok Orangutan Rehabilitation Centre. So basically this is a Centre in the middle of a forest where the people save and adopt orphan baby orangutans and teach them how to walk, swing and help them grow and develop so that they can survive the wild. They have everything from a open training center for the orangutans as well as a medical clinic. Tourists can buy a ticket here and explore the centre. There are narrow bridges in the middle of the forrest, if you are lucky you will spot the wild orangutans that were once rehabilitated from this centre and now lived in the wild but came to eat food at feeding time. We were lucky so we saw many orangutans!!
Next we went to the Sabah Tea Plantation/Garden. This is where the temperatures started to drop down a little. Here they grow the local organic Sabah Tea which tasted really good! They also had a restaurant which served us good quality local food! Vegetarians have to be prepared before visiting Sabah, they might not find many options other that Noodles and Salad.
Then we headed to Kinabalu Park which is Malaysia's first World Heritage Site. Also the Centre of Plant Diversity for South East Asia, the Park boasts more than 5,000 vascular plant species. Here we stayed at Sutera Sanctury Lodges which was like a dream house! It's beauty cannot be expressed in words!! It was perfect to make people jealous on Instagram!
Next day we headed to the Kiulu White water rafting centre where we did rafting. To cross the entire route, it took us 1 hour. The flow of water wasn't very adventurous but good for families that don't want a rough ride!
At the finishing point we were provided with shower and changing rooms to freshen up and then we were presented with a local style buffet.
So we then checked into Sutera Harbour resort and next day took a fast boat, from the harbour in the resort itself, to the nearby Islands!
This is one of the best resort in Sabah. They have everything you can think of. From a 3 km stretch of private beach to sunrise trekking, it is all there. They also got a huge golf course, 499 rooms, different types of restaurants (Including an amazing Indian one), cafes and much more!
On our last evening, we visited the Kota Kinabalu waterfront where we had our lunch by the waterfront and then went to this night club called B.E.D where we danced our a** off!!
Next morning we took a flight back to India! All our flights were Malindo Air.
It was an amazing experience exploring the Sabah state of Malaysia and I would highly recommend this to families as well as backpackers! You'll find everything from climbing the Mount Kinabalu to snorkeling underwater with fishes here!
Don't forget to watch my Youtube vlog of this trip to get a in depth idea of the experience!
In Gaya Island we did snorkeling. The instructors were very professional. They provided us with all equipment and life jackets to people who didn't know how to swim. We saw beautiful marine life here, including nemos!!
After snorkeling, we did a quick parasailing session and stopped at Manukan Island for an amazing lunch! We chilled at the island for a while and then returned back to check-in to our next resort!