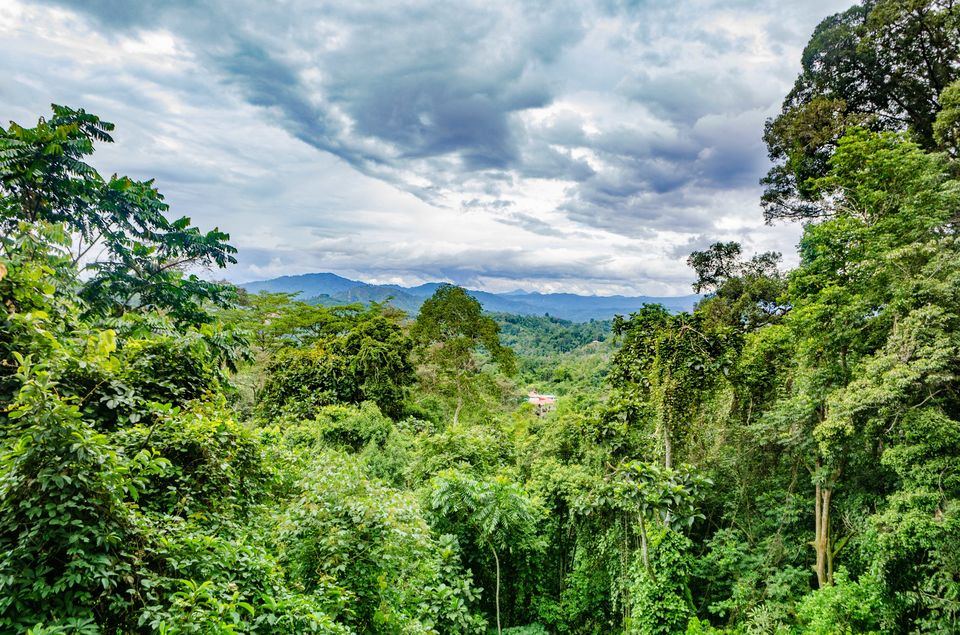 Borneo is an island from a time gone by. It has enticed explorers and nature lovers from around the globe for centuries. Straddling the equator, Borneo is the world's third largest island and is divided among Malaysia, Brunei and Indonesia.
In spite of having opened up to travelers over the last few years, Borneo remains a road less traveled. Borneo boasts of the world's oldest rain forests, exotic wildlife sanctuaries and exquisite hikes that have no equal. Just the sheer abundance and diversity of flora and fauna are enough for you to make a trip to Borneo but the island has even more to offer! With vibrant markets, rich temples and delectable cuisine, Borneo makes for the perfect destination for every money-grubbing backpacker. Though there are plenty of places to explore in the Malaysian Borneo, I will focus mainly on the four regions I visited - Kota Kinabalu, Kinabalu National Park, Sandakan and Kinabatangan.
Located at the west end of Borneo, this Malaysian city is a growing tourist destination due to its proximity to tropical islands, lush rain forests and Mount Kinabalu.
If you're a beach bum, you're going to love Kota Kinabalu. There are four islands off the coast of Kota Kinabalu that are easily accessible with a 20 minute boat ride. Head to the Jesselton Ferry Terminal to buy ferry tickets and to rent snorkeling gear. A few of the islands also have hidden hiking trails in case you get bored of basking on the beach.
Entry: INR 900
Every backpacker must stroll through the lively night market in Kota Kinabalu. This market offers a unique insight into Borneo's vibrant culture and people. You will also find reasonably priced clothes and local crafts at the night market. This market is also famous for its fresh seafood and fruits.
Kinabalu National Park is Malaysia's first World Heritage Site. Also the Centre of Plant Diversity for South East Asia, the Park boasts of more than 5,000 species of flora and 90 species of lowland mammals. The main attraction at the Park is the gigantic Mount Kinabalu, the highest mountain in South East Asia standing at 4095 mt.
Adventure junkies make their way to the national park solely with the intention of climbing this mountain. However, as they soon find out, the cost is often prohibitive (INR15000-25000). Having said that, a trip to this majestic nature reserve is still worth it considering there is a multitude of natural and man-made attractions at the Kinabalu Park. There are several cheap (INR 75-100 one way) buses from Kota Kinabalu that take about two hours to get to the National Park.
Canopy Walking
Canopy Walking is not for the faint hearted. The walkway at Kinabalu is over 175 Meters long and 43 Meters in height, which is higher than an eight floor building. While this activity gives you an Adrenalin rush, it is also a wonderful opportunity to observe birds and animals since 75% of rain forest animals spend their time on forest canopy.
Entry: Canopy Walkway INR 500. Additional INR 80 per camera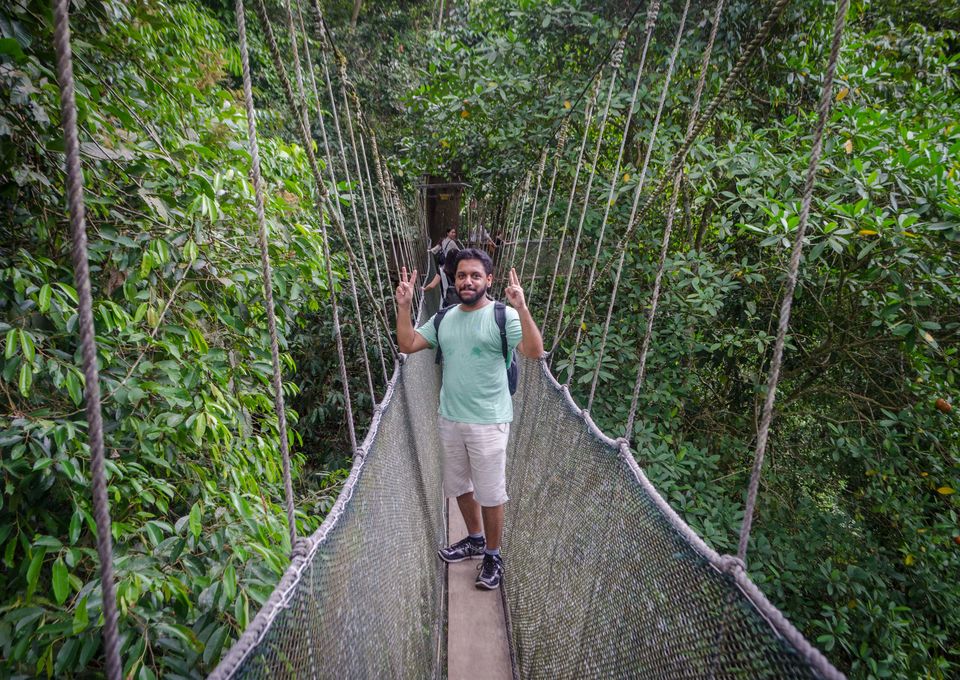 Botanical Garden
The botanical garden within the national park is hidden gem and is only 1.4 hectares in size. The nursery hosts some of the most rare species of orchids and pitcher plants found exclusively in Borneo and South East Asia. The garden has a 700 Meter trail that you can explore by yourself. However, I would advise you to join the 1-hour guided tour (at 9am, 12pm and 3pm daily) conducted by the staff at the garden. They will provide you with deep insight and knowledge that you will miss out on otherwise.
Entry:- INR 80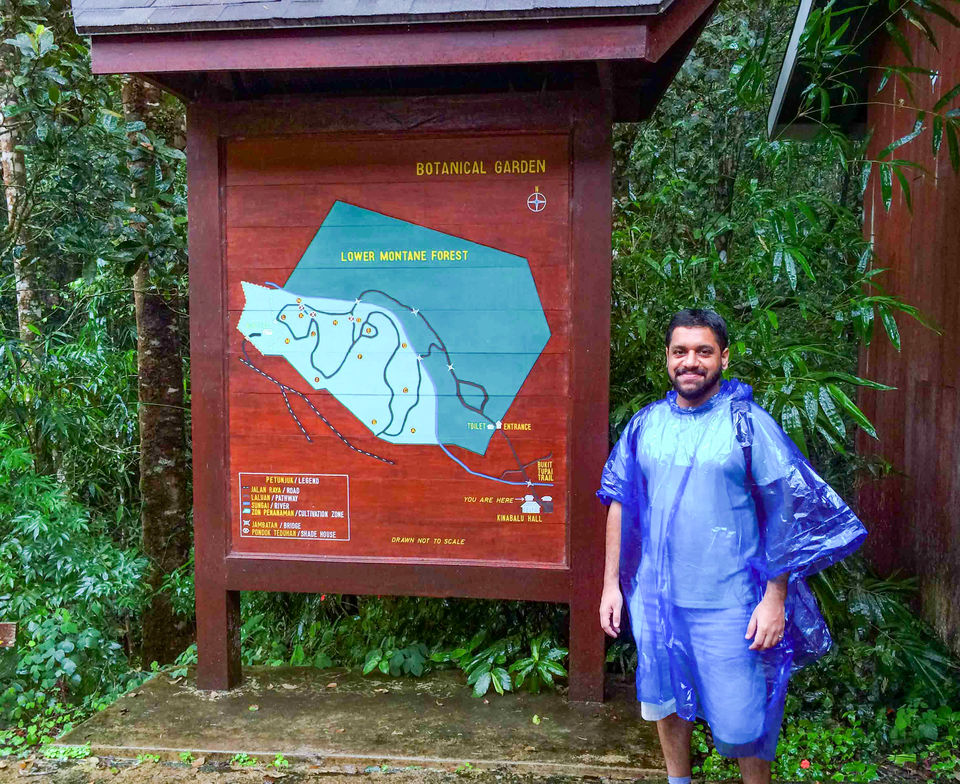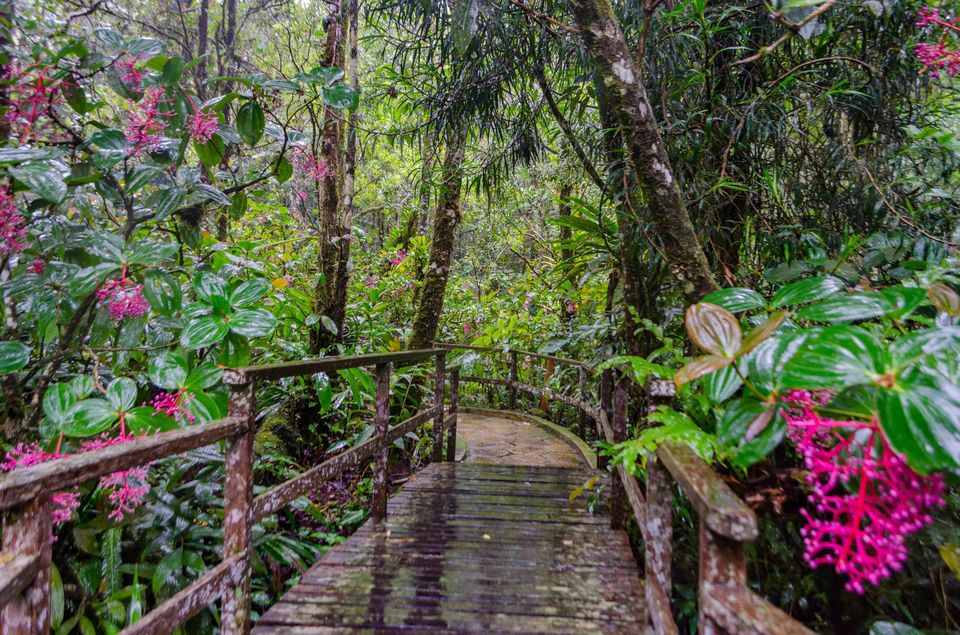 Desa Dairy Farm
Desa Farm is located along the Kundasang Kauluan Road. With light green grasslands and grey skies, it is easy to see why this place is called the New Zealand of Malaysia. Here, you can check out the cow farm, the calf pen, the restaurant and the souvenir shops. Do not forget to get some ice cream!
Entry: INR 30
Raflessia Farm Tour
For those of you who have not heard of this flower before, Raflessia is the world's largest flower and is often over 100 Centimeters in diameter, and up to 10 Kilogram in weight. These flowers look and smell like rotting flesh, hence its local name, that translate to "corpse flower". The foul odor attracts insects and flies, that help transport pollen. These flowers are endemic to a bunch of islands in South East Asia and Borneo happens to be one of them. Do not miss this rare sight!
Entry: INR 500
If you want to explore Sandakan, Puu Jih Syh Buddhist Temple is a place you don't want to miss. Overlooking the port city of Sandakan, the temple is located on a hilltop and offers a breathtaking view of Sandakan Bay. Puu Jih Shih is an extravagant and a classic temple at the same time. You will see giant statues of Buddha as well as dragons covered in gold. The temple is just 4 Km from downtown and you can get there by bus (INR 15-30) which will drop you at the foothill or by cab that will take you directly to the temple but costs between INR 150-250.
While in Sandakan, a visit to the Orangutan Sanctuary in Sepilok is an absolute must. Situated just 25 Km from downtown Sandakan, you will find frequent buses for INR 150-300(one way). At the Orangutan Rehabilitation Center, you will get to witness these majestic primates up close and also learn about their behavior and about threats to their habitat. Right across from the Orangutan Sanctuary is the Sun Bear Sanctuary that hosts a similar experience for Sun Bears.
Entry for each of the sanctuaries is INR 500.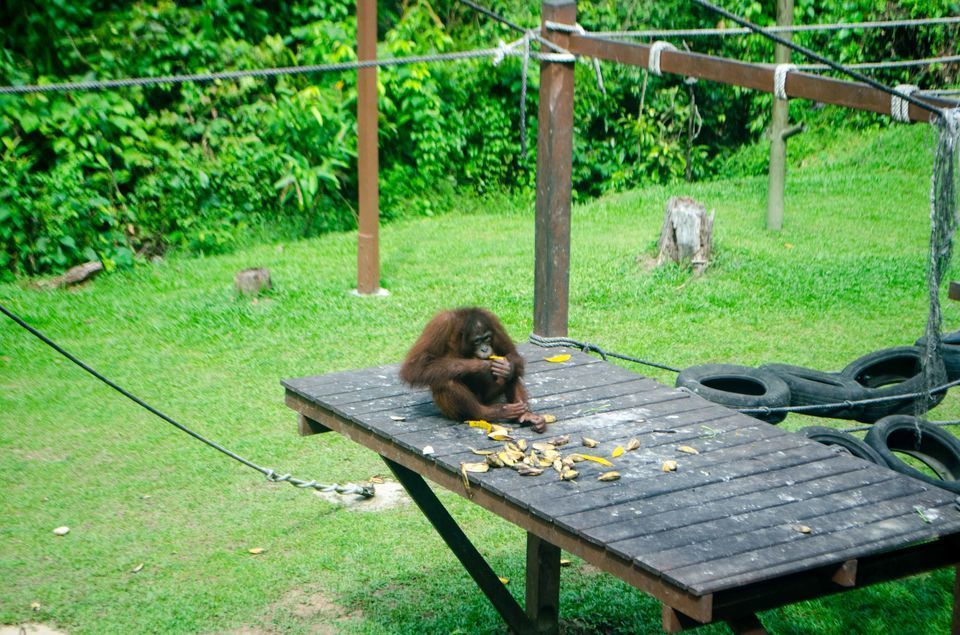 Losing yourself in the wilderness of Borneo's northern forests is an experience straight out of an adventurer's dream. The Rainforest Discovery Center is a patch of Borneo's finest forest that is used to raise public awareness of conservation as well as sustainable use of forest resources. While at the RDC, you can take a stroll through the forest or walk along the 147- meter long canopy walkway and enjoy spectacular views of the beautiful foliage and birds from 28 meters above ground. The RDC also has a beautiful lake within the forest. Unwinding by its side was one of my favorite experiences in Borneo.
Entry: INR 150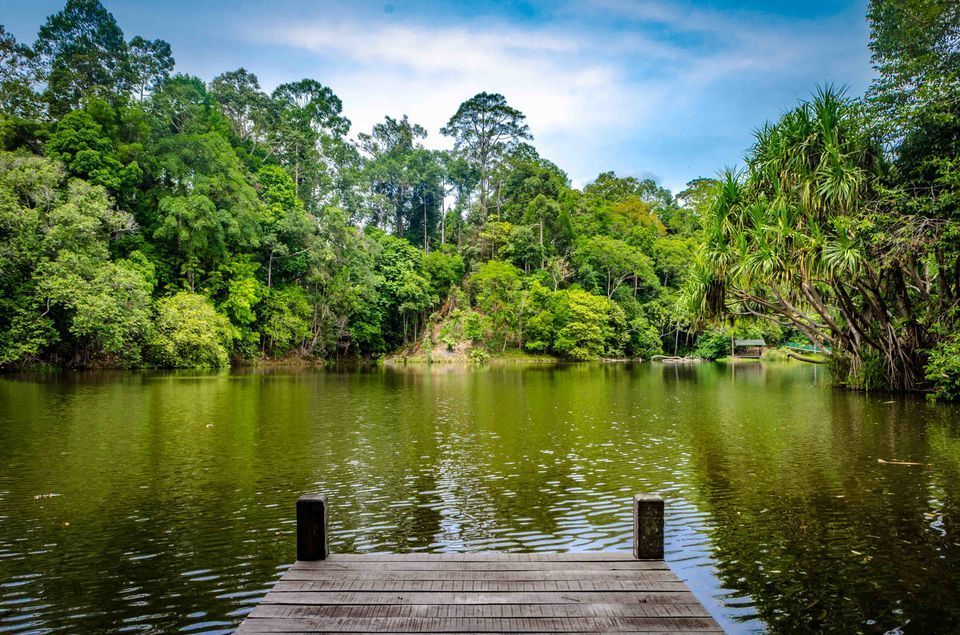 Kinabatangan River Cruise
Borneo's exotic wildlife is world famous and Kinabatangan is one of the best places to spot orangutans, proboscis monkeys, clouded leopards, sun bears and pygmy elephants in the wild. I booked a two-day tour with Sukau Bilit Rainforest Lodge that included a couple of river cruises, a guided hike to the Ox Bow Lake and a night hike along with meals and stay. The river cruise on the Kinabatangan river is conducted at dusk and dawn and is guaranteed to keep wildlife fans on their toes.
Package Price: INR 5000 if booked in advance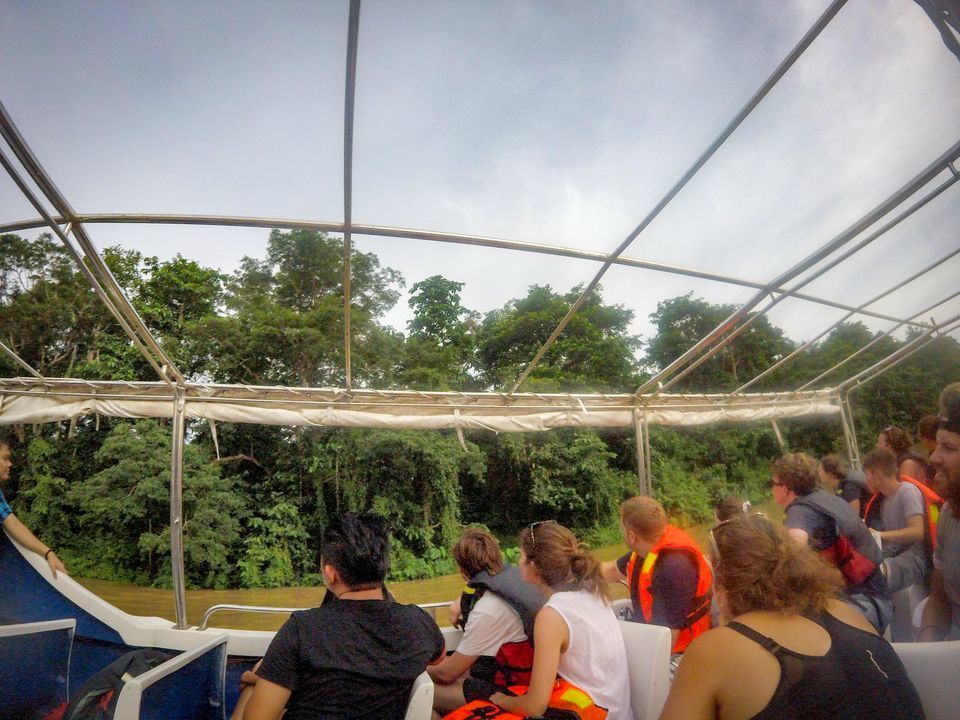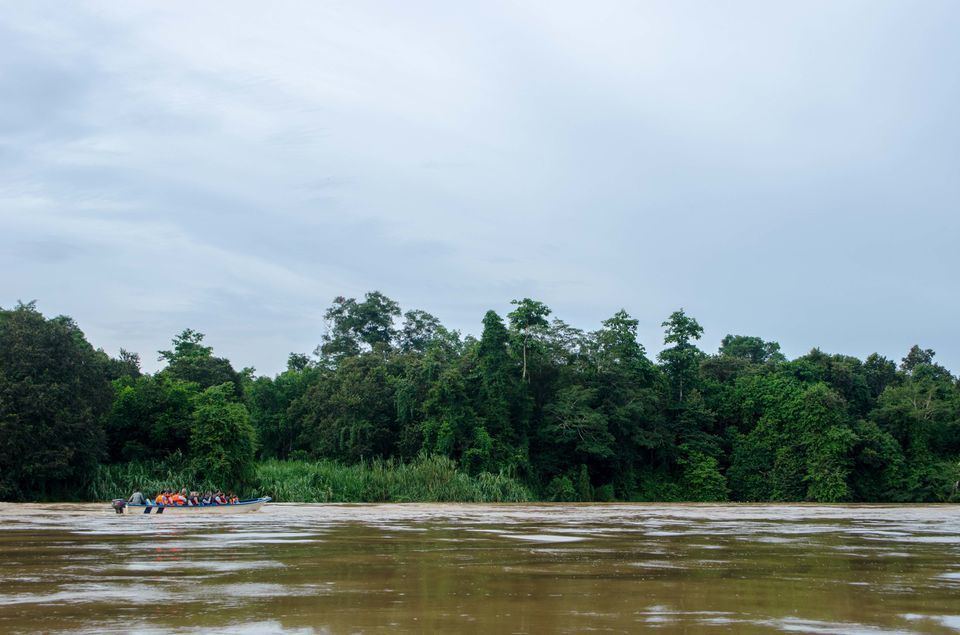 Ox Bow Lake Hike
A unique feature of the Kinabatangan River is its unusual oxbow lakes. These are crescent shaped lakes that formed due to erosion over thousands of years. I was eager to check out one such lake and set out for an hour-long hike from the lodge. I must warn you – this hike is not for everyone! You'll be sweating bullets and swimming across ravines while being surrounded by bugs and snakes of all kinds. Having said that, there is something raw about experiencing the jungle by hiking it. And once you make it to the lake, you will realize that it was well worth it. I spent hours dunking my feet in the river and unintentionally ended up getting a fish spa in the wild!
Where to eat
If you're a fan of flavours and fresh ingredients, you'll find a lot to savour in Borneo. The region is famous for its cuisine, that is just as yummy on the streets as it is at premium restaurants. What I love about dining in Borneo is that you can find restaurants that serve Chinese and Indian food exactly as it is served in Shanghai or Chennai, as well restaurants that serve fare that has been adapted to suit local tastes.
One of my favorite places to dine in Sandakan was a Malay restaurant called Habeeb Curry House. In Kota Kinabalu, the Night Market has some seriously cheap eats, ranging from noodles to Laksa and chicken skewers. You will be surprised by how far a few Ringgits will take you here! It is also a heaven for seafood lovers. Fish, prawns, calamari, crabs, lobsters - you name it, they've got it! Average price for a meal for one at a basic restaurant is INR 250.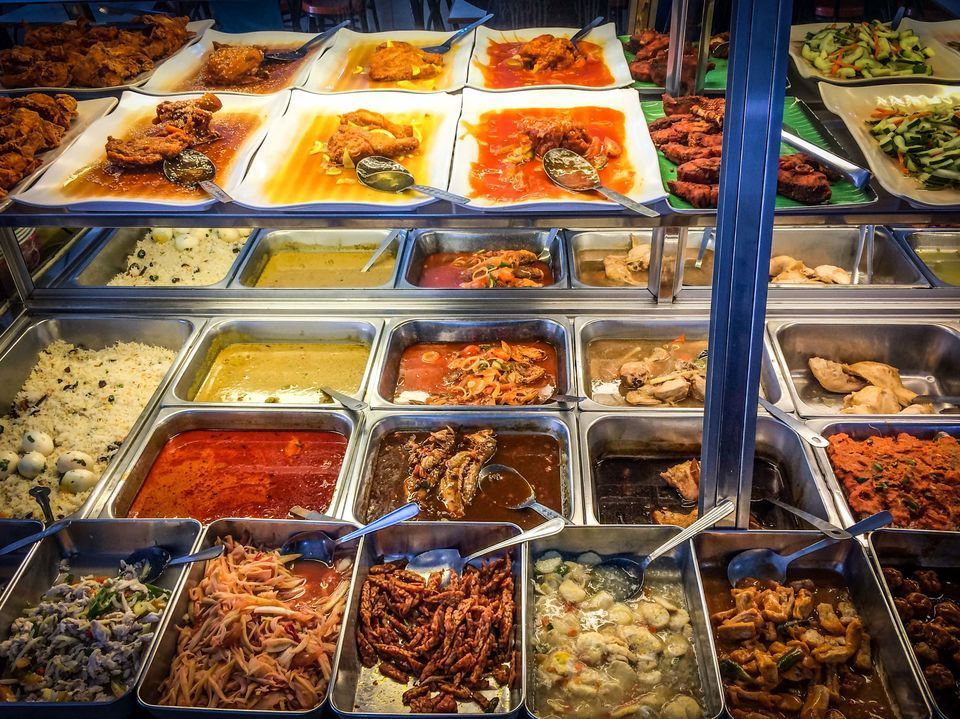 Best Time to Visit
Borneo is tropical, and you should expect high humidity and rain at any time of the year. Having said that, the best time to travel to Borneo is between March and October. December and January are usually the wettest months and this makes it impossible to sight animals in the wild. You must carry light cotton clothes, a raincoat, insect repellent and tones of sunscreen.
Getting there and around
The easiest route to get to Malaysian Borneo is to fly to Kuala Lumpur and to then take a connecting flight to Kota Kinabalu or Sandakan depending on your plans. The cost of the flights is also included for this itinerary. Air Asia offers affordable flights and they are usually in the range of INR 15000-25000 if booked ahead of time.
All the top spots in Borneo are well connected by road. Frequent buses connect Kota Kinabalu with Sandakan and prices are in range of INR 400-600 one way. You may even choose to fly from Kota Kinabalu to Sandakan. Air Asia has amazing prices (as low as INR 1200) for this route but you must book well in advance. Within Kota Kinabalu and Sandakan, you can easily get around on buses or on foot. Cabs can be expensive and it is advisable to haggle at all times!
Indian nationals need to apply for a 15 day tourist visa that costs about INR 2800. However, if you are entering Malaysia from Thailand, Singapore or Indonesia, you may be eligible for Visa on Arrival. My immigration experience was smooth, and I was not asked any questions.
Where to Stay
Borneo is big on backpacking and finding budget accommodation is never an issue. In Kota Kinabalu and Sandakan, you can find hostel dorms for as little as INR 500 a night. Sharing a dorm also gives you an excellent opportunity to meet people from all over the world and to make travel plans together. My favorite hostels were Akinabalu Youth Hostel at Kota Kinabalu, Harbourside Hostel at Sandakan and Sukau Bilit Rainforest Lodge at Kinabatangan.
A traveler at heart, I have been to 22 countries on 6 continents. My favorite experiences are plunging in to sub-zero Antarctic waters, renovating a Buddhist monastery in Sri Lanka and hiking Borneon jungles. I am also an engineer, a sustainability believer and a polar explorer. Follow my misadventures on www.passportuncontrol.com and Instagram @geeknextdoor