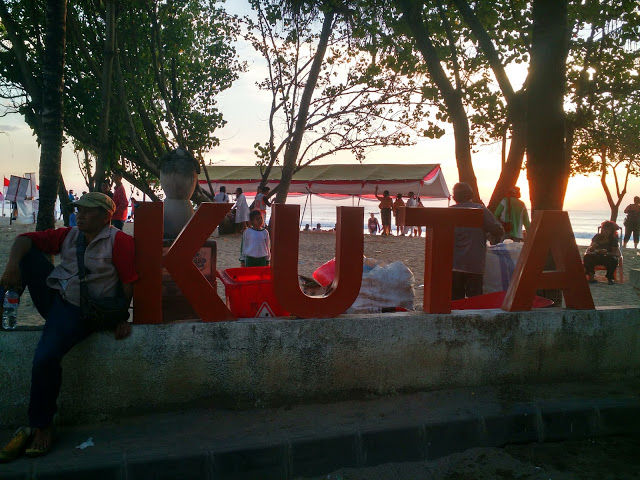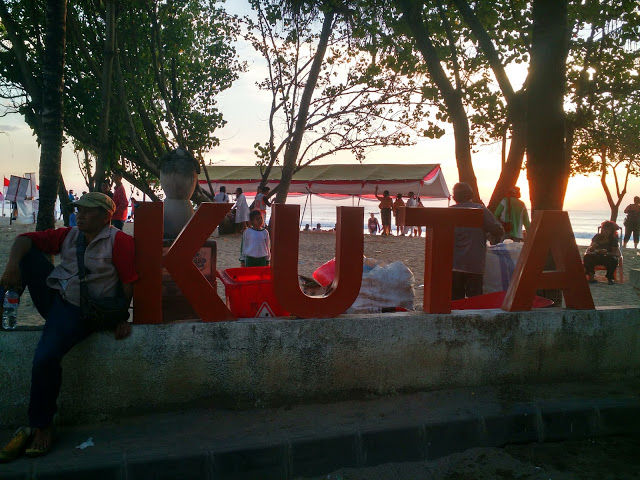 Paradise Island Bali is a superb amalgam of tradition and modern that encompasses happening beaches, beautiful nature, temples, great food and rich cultural heritage. You would find a variety of everything from one stretch of Bali to the other. While Northern Bali is a quiet and less touristy place, South Bali on the other hand is quite happening and lively. Among all the places of South Bali province, Kuta is the most popular and well known destination, which pops up in your Google search when you start to research about Bali. Those visiting Bali or have visited already, here are the top five reasons Kuta gives you to visit.
1. For the most gorgeous sunset
Amid the crowd of sporty surfers, picnic lovers and lazy beach bums, you cannot miss the golden sun cooling off in the sea, painting the sky in vibrant hues. Watching sunset at Kuta beach is extremely relaxing and calming experience. The uncomplicated thing of nature might just make you feel spiritual, next to making you feel happy. For me this was one of the best places to watch the evening sky. Of course husband had a great time experimenting with his lenses. See his marvellous captures here.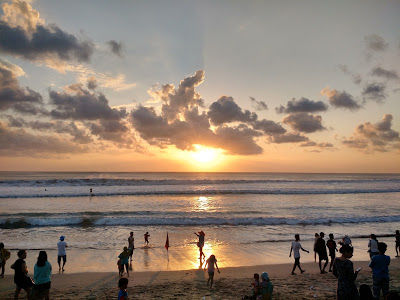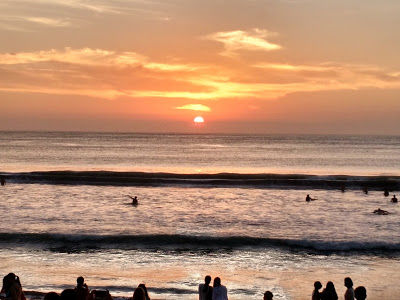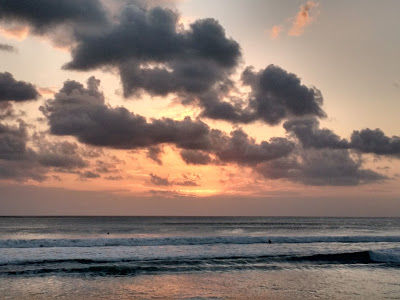 2. Release baby turtles
In order to save marine life, Bali Sea Turtle Society has initiated a noble cause. They conserve turtle eggs, let them hatch and release the baby turtles everyday. This activity happens on Kuta beach at 4pm daily wherein visitors participate for free and help release baby turtles in water. This was one of the best activities I participated in Bali. It not only feels good but also brings you close to nature. Read more about this activity in my blog post here.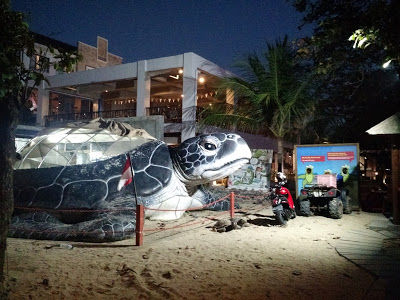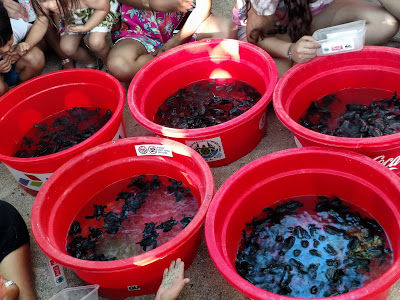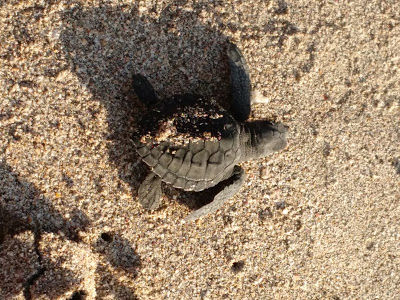 3. Happening nightlife
With the hottest restaurants, trendy clubs and super cool eating joints, Kuta is the hub of happening night life. Scrumptious food and drinks, music, and relaxed people in partying mood are the best things about Kuta. The hotels or clubs facing sea make the best location to sway with the beats. It is so mood lifting and stress busting. Even if you are a quiet non-party person, you would love the energy in the air.You might even witness public events like I saw the independence day show.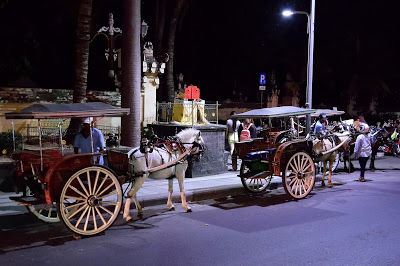 4. Vibrant Kuta Market
From lip smacking food and relaxing massage parlous to colorful shops selling pieces of art, Kuta market has it all. Buddha in different forms, carnival masks, gorgeous wall decors, cute fridge magnets, comfy summer clothes and lot of other things compel one to indulge in retail therapy. I was quite attracted to the accessories shop selling neck pieces and artificial jewelry. You can spend time gorging on local delicacies or ice creams in the lanes. The best part is the presence of Indian restaurants. There are MANY! Those who prefer Indian food or vegetarian options can go for Gateway of India, whose owner is Indian and has seen many Indian celebs visiting this place, including band of boys. Kuta Market is uptown, lively and reminds me of Delhi's Janpath minus the screaming vendors. Kuta vibes are too good to be missed.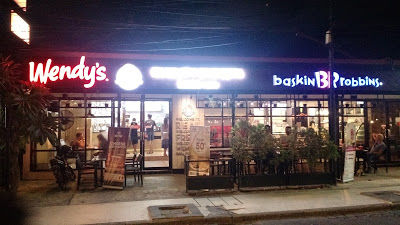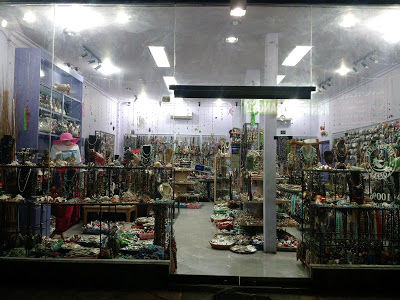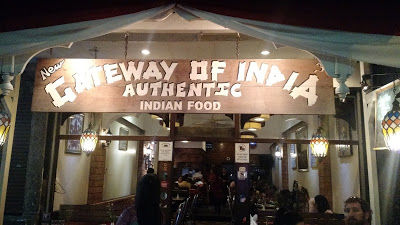 5. Do nothing and relax at the beach
Had a tiring day and don't feel like doing anything? Want to spend some me-time with a bottle of your favorite beer by the beach while you cool breeze kiss your face? Or simply want your feet to relax with a massage while sipping coconut water? Kuta is the place for you. During our 6 days of vacation in Bali, we frequented to Kuta beach almost every day besides walking through the crowded lanes of Kuta market and enjoying the activities. We felt a strong connection with the place.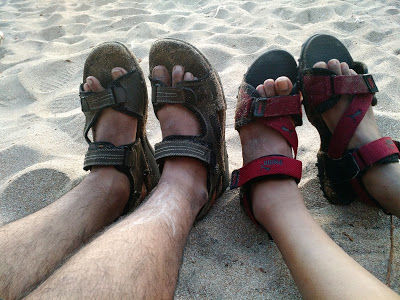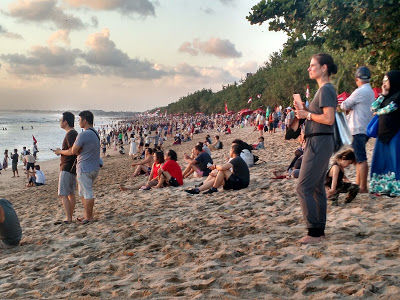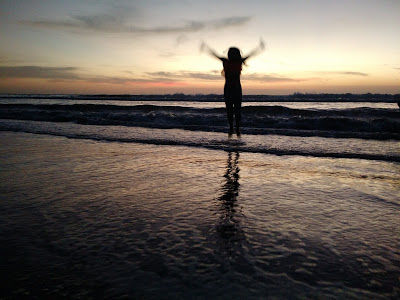 Voted as the most visited and top destination to travel, Bali wins your heart instantly.Every part of Bali has something new to show. Do let me know what has been your experience in Bali, especially Kuta.
P.S- This trip of mine happened in August 2017. The post made it to Indiblogger home page in the list of popular blog posts.