"I felt my lungs inflate with the rush of the scenery, air, mountains and trees, I thought, this is what it is to be alive, this is what it is to be happy."
Lush green mountains with countless waterfalls cascading down its facade that fed into the the river flowing in the valley below. A tiny paved mountain path that had breathtaking views of the mountains and the valley below. A sturdy mountain bridge with colourful prayer flags tied all around its edges fluttered happily as a waterfall sent an icy cold spray of water all around it.
Lachen in North Sikkim is all this and a lot more! Lachen literally meaning the Big Pass, is inhabited by the Lachenpas of the Bhutia community. Warm people with smiling faces will definitely etch a place in your heart once you visit this place.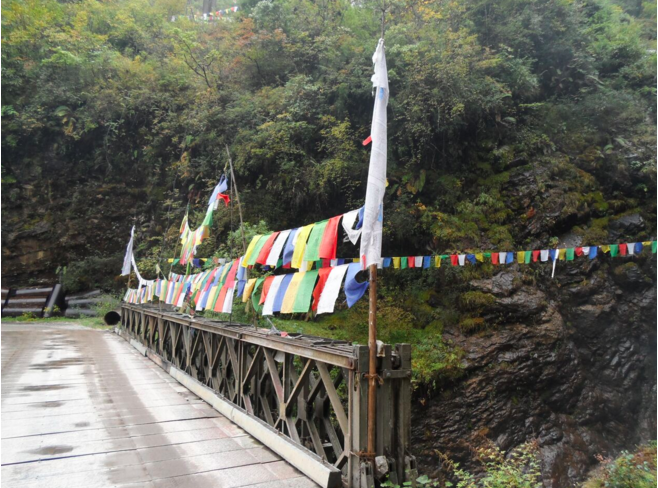 How to get there:
The closest airport is Bagdogra airport in West Bengal. From here, a six hour drive gets you to the capital of Sikkim Gangtok. After an overnight halt here, you can obtain your taxi and permits from Gangtok city and proceed onto Lachen in North Sikkim.
The drive will take you about six hours, with gorgeous sceneries and craggy roads heavily prone to landslides.
Things to see:
Lachen Monastery: The monastery is referred as the Launching Gompa and was originally built in 1806. This monastery has allegiance to the Nyingmapa sect of Mahayana Buddhism and has architecture with a lot of Tibetan influence.
The ever imposing and fierce Guru Rinpoche stood overpowering the main sanctum sanctorum and dainty and intricate statues of the other Boddhisattvas adorned this holy shrine.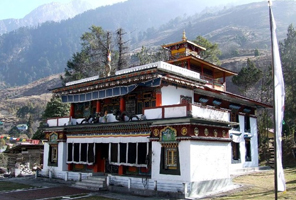 Ruins of ancient monasteries being restored: Damaged badly during an earthquake a few years ago, the intricate century old woodwork and plaster were in need of urgent repair. Luckily, for this shrine, they had NGO supporters working on its restoration.
Walk and enjoy the fresh mountain air and landscape: Snowcapped peaks and lush green mountains with waterfalls cascading down its slopes and numerous buddhist prayer flags make this place a picture perfect destination.
Pack a picnic lunch and stop by at any place on your trek into the wilderness to enjoy nature in all its glory.