Blue glacial lakes, alpine meadows, lush mountains, scenic drives and countless iridescent waterfalls... Sikkim is a paradise.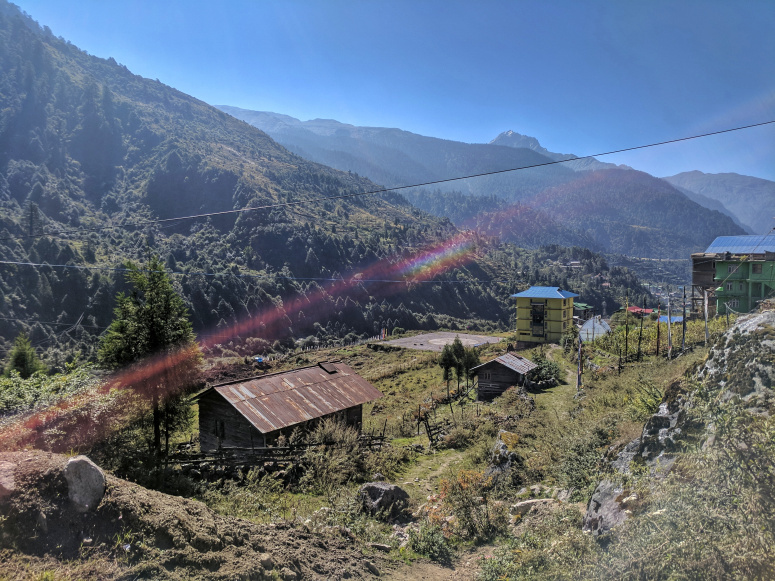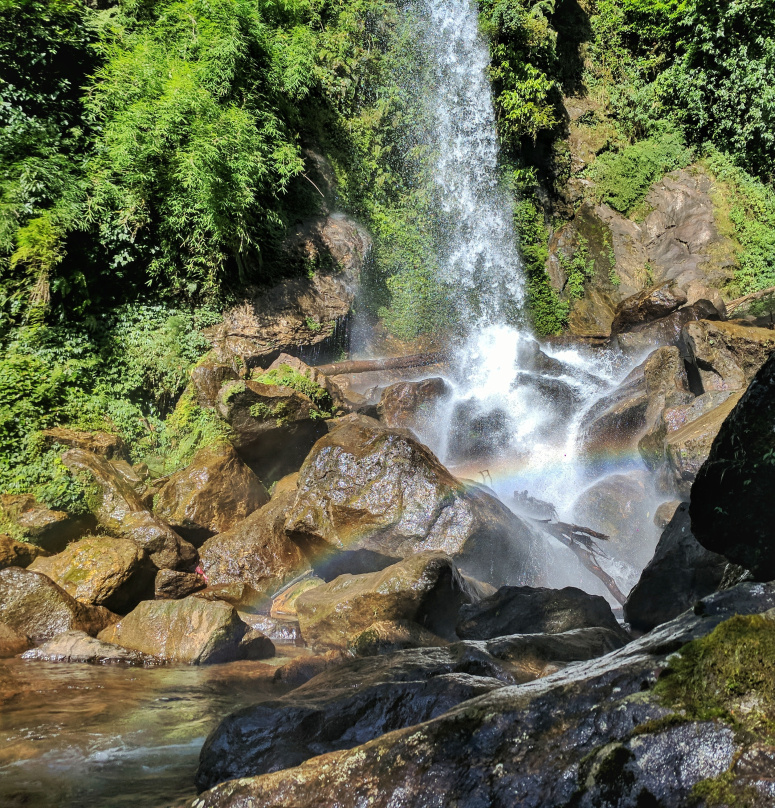 Sharing borders with China in the north, Nepal in the West and Bhutan in the east, Sikkim is nestled in the Northeast. I was lucky to visit twice in the past year and I'm already planning my third visit. The journey to North Sikkim is especially challenging given the lack of infrastructure in that part of the state, but it's definitely worth a visit.
North Sikkim:
Gurudongmar Lake
18000 ft altitude. Glacial Lake. One of the highest and most remote lakes in the world. Located at the Indo-China border. Only 15000 visitors per year. Gurudongmar Lake
This place challenges the visitor like no other. You need permits to get there, a local driver and patience. The oxygen levels are skimpy, its freezing cold and it's a rough drive. I remember our guide summoning us and giving serious instructions a day before our visit. "Have breakfast, leave at 4 sharp and any minute that you get a headache or breathing issue, turn right back around." He repeated himself twice until he was satisfied that he has made his point clear. We left at 4 am sharp. I had planned to sleep throughout the way but I just couldn't close my eyes when everything around me was so beautiful.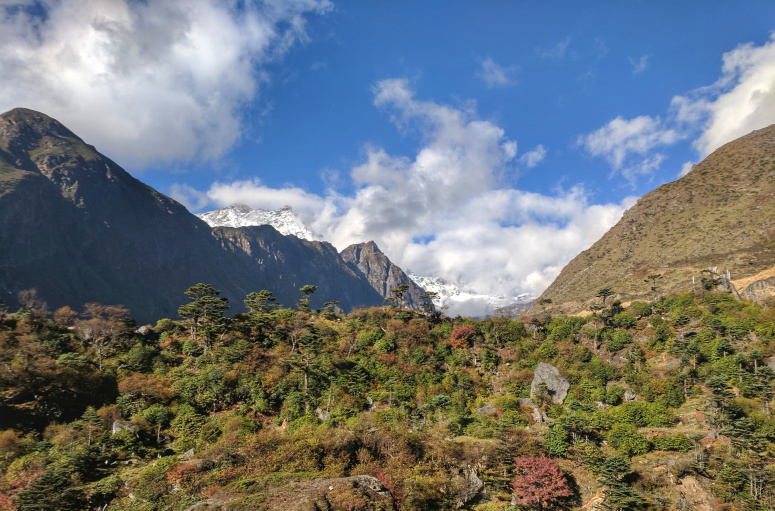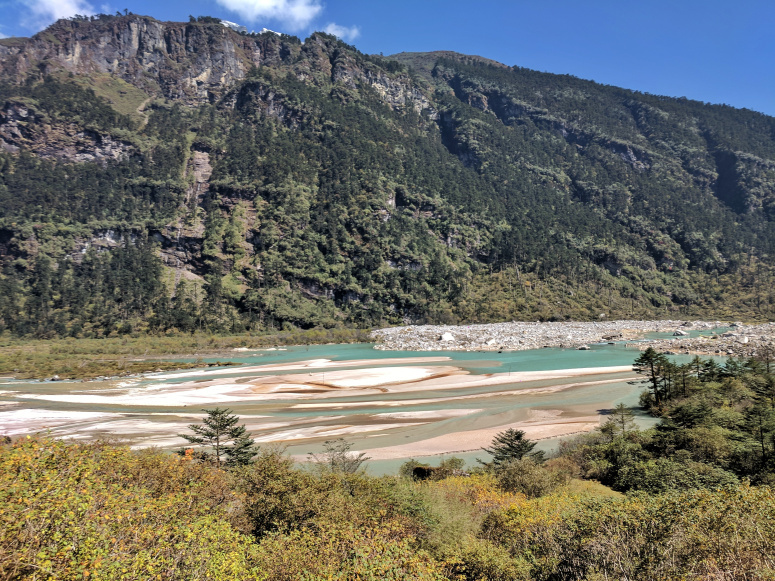 As we ascended, we could see the civilization disappearing, the trees changing colors and ice covered mountains sneaking up. There are a few huts on the way where we grabbed some tea, breakfast, and alcohol to keep warm. If you're lucky you can spot Yaks, blue sheep and other wildlife.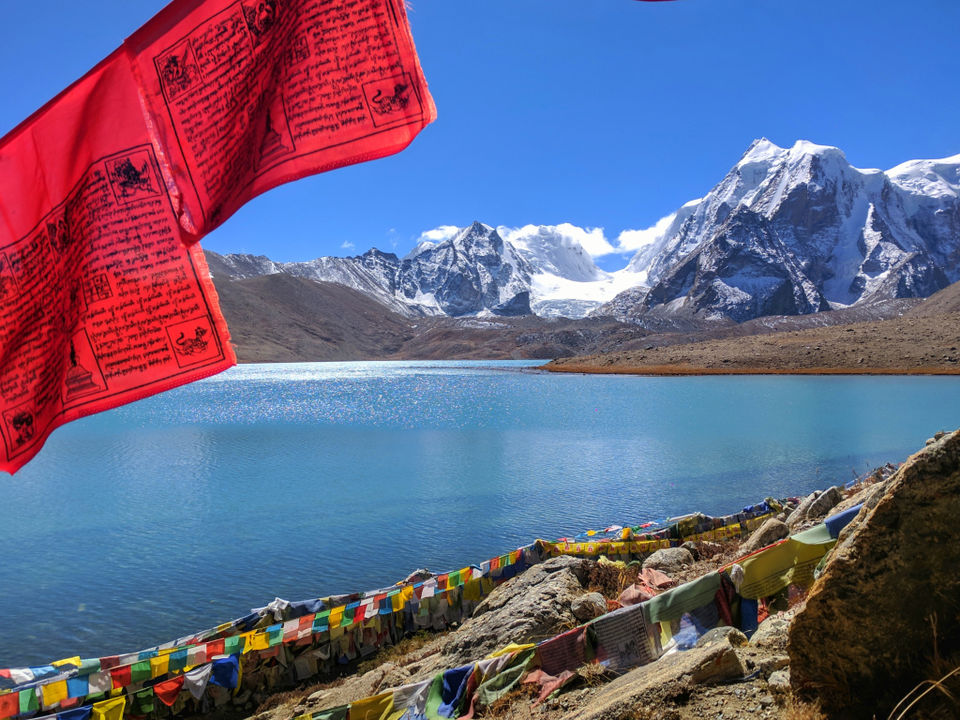 As you go higher, the trees disappear. There are only bare mountains, and there is no sign of life. Yet, I have never felt so alive. There is nothing but the sound of prayer flags fluttering to break the silence.
They say that; as the wind passes over the surface of the flags, the air is purified and sanctified by the mantras. Traditionally, they come in sets of five colors: blue, white, red, green and yellow. The five colors represent the five elements. Blue symbolizes the sky and space, white symbolizes the air and wind, red symbolizes fire, green symbolizes water, and yellow symbolizes earth.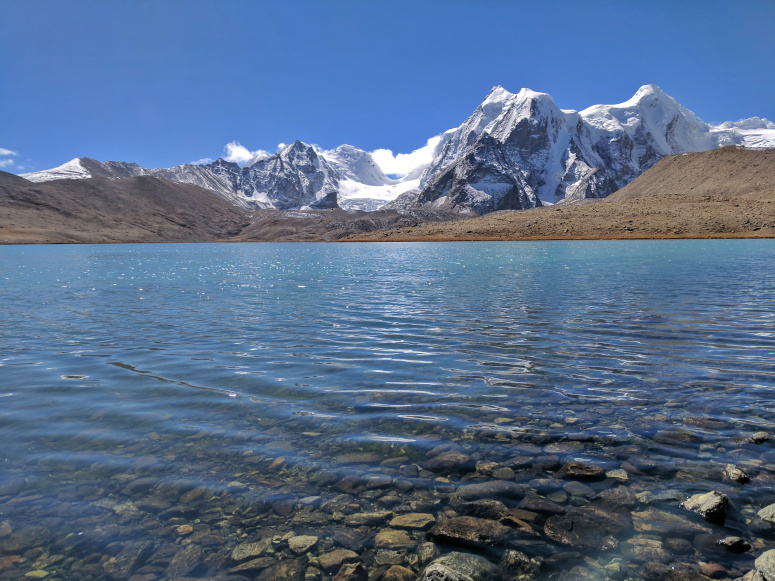 There are no words that will ever justify the beauty and purity of this lake. The water is as blue as the sky and the mountains covered with snow. There's a temple near the lake as it's considered to be sacred by both Buddhists and Hindus.
(Important: Be sure to take it easy on the lake. It's not advisable to spend more than an hour there,It's easy to get oxygen deprived and there are no doctors until the army camp.)
After returning from the lake, we found ourselves to be completely exhausted but we decided to head to Lachung the same day as planned. It was yet another picturesque journey of 3 hours.
Lachung- Zero Point- Yumthang Valley
Lachung is at a lower altitude so it's easier to get around compared to Lachen. Unlike Lachen, there are better options for accommodation and food too.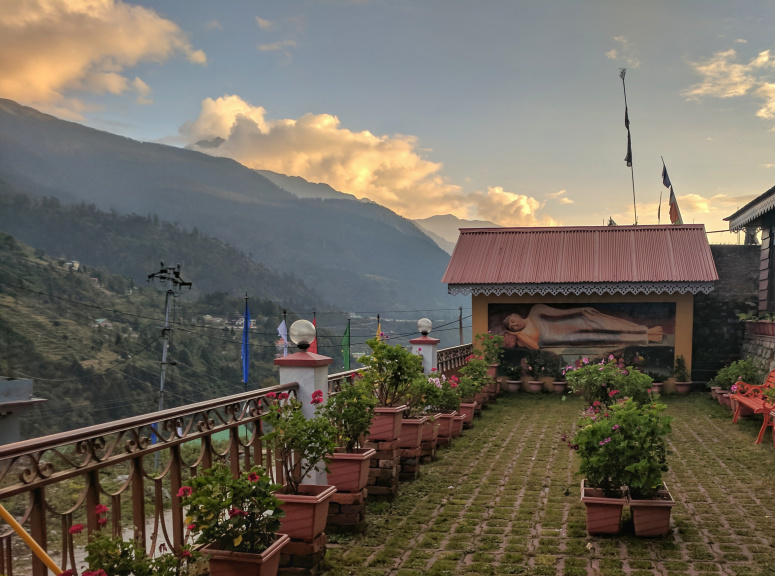 We headed to zero point ( also known as Yume Samdong) the next morning. Its the highest point near Lachung at an altitude of 15,000ft.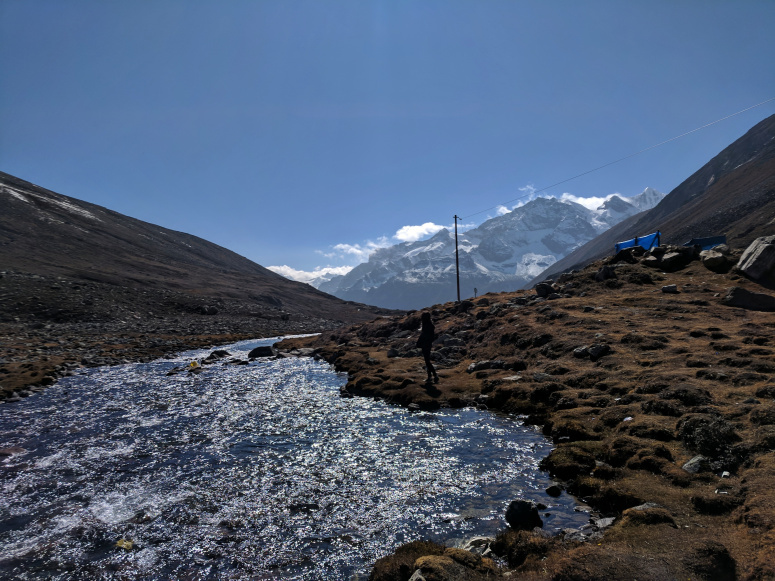 You can get a drink and chill beside a running glacier and dip your feet in the freezing water. There are 2 local ladies with a tiny stall serving some channa, popcorn, maggie and black rum. The unique thing about this point was that there were no other tourists.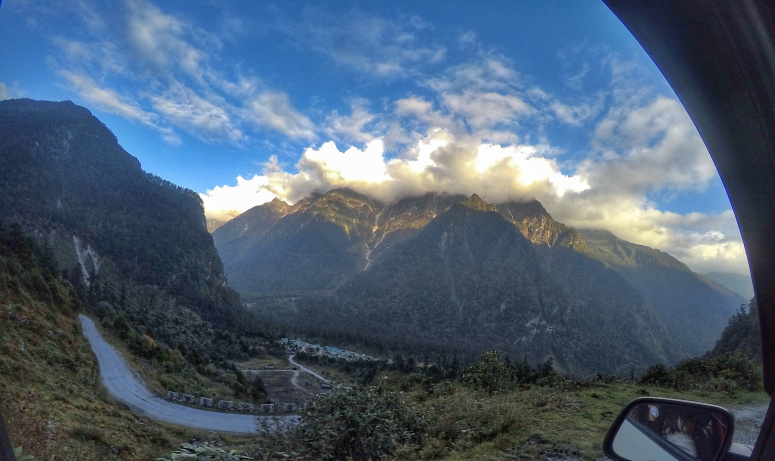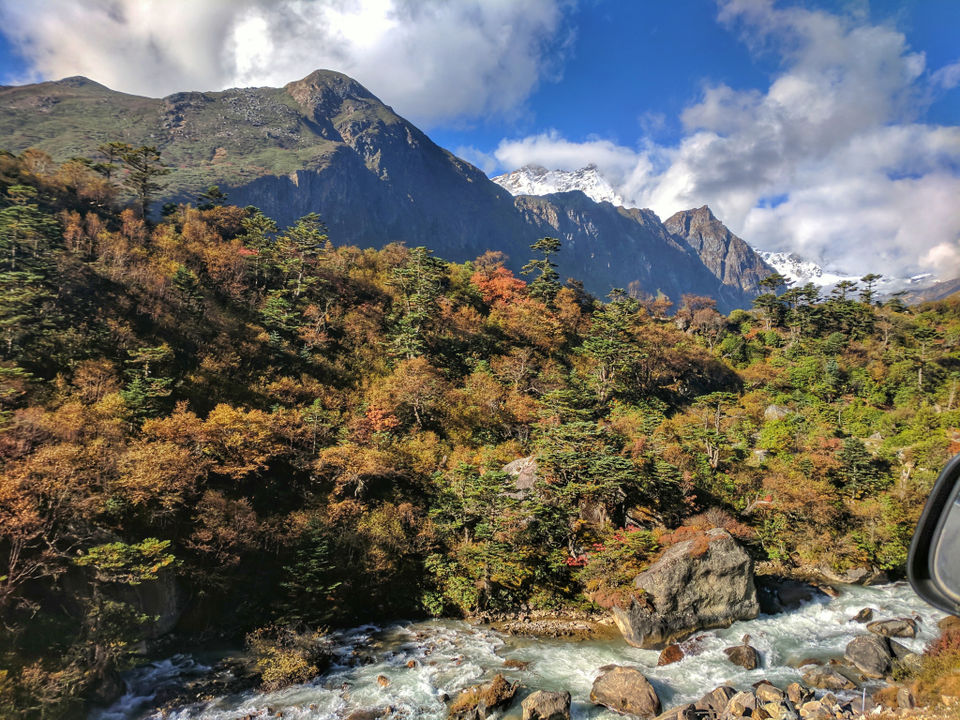 The journey back from zero point is like witnessing the seasons of the year in reverse over just a few hours. From the cold harsh winter in the highest peaks glimmering in the sun to the ginger trees of Autumn and finally the wildflowers of spring as you reach Yumthang Valley. Nothing beats a lush field, a gushing blue river, and white mountains all around. Almost too perfect to be real.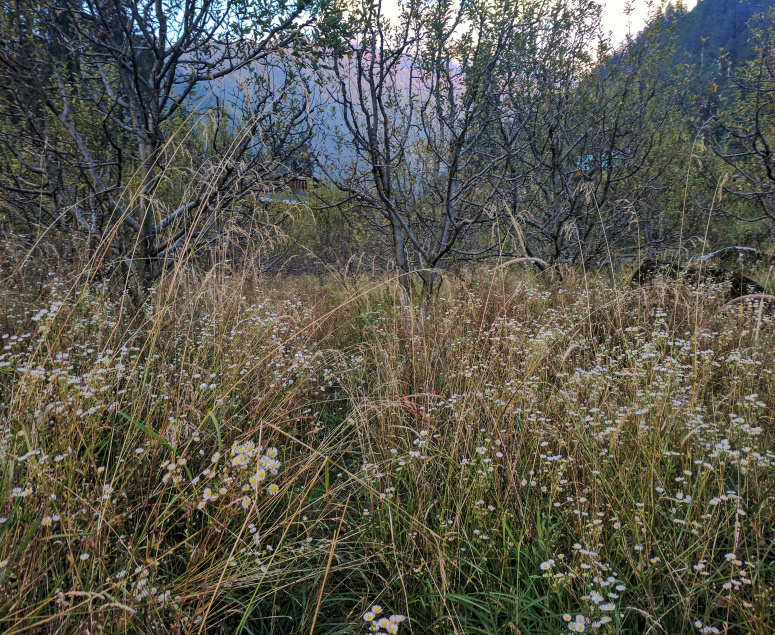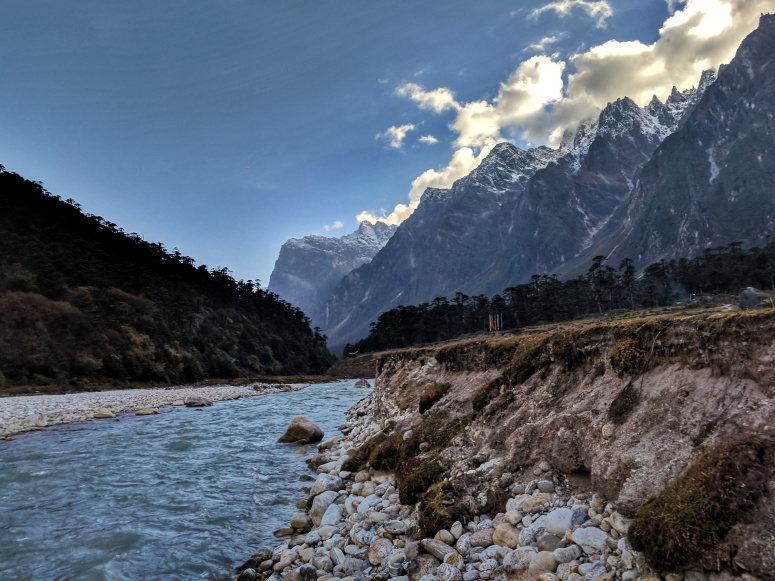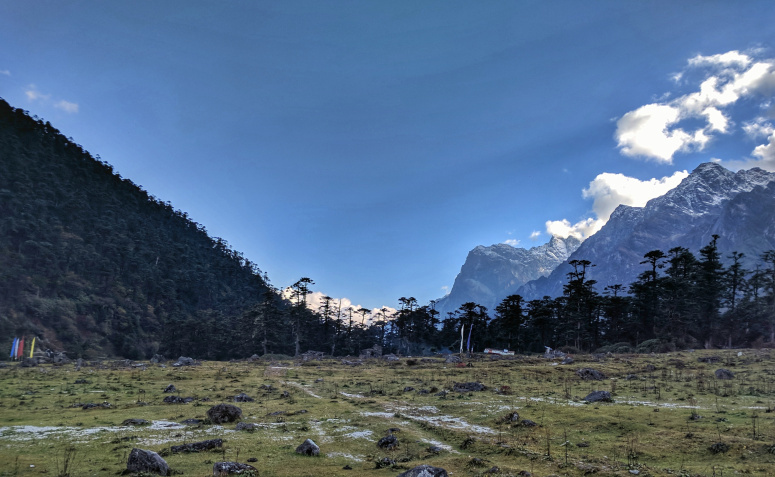 Visiting Sikkim makes every other place seem colorless and lifeless. It'll ruin you for every other mountain getaway you've had before.
There is so much Sikkim has to offer. A lifetime isn't enough.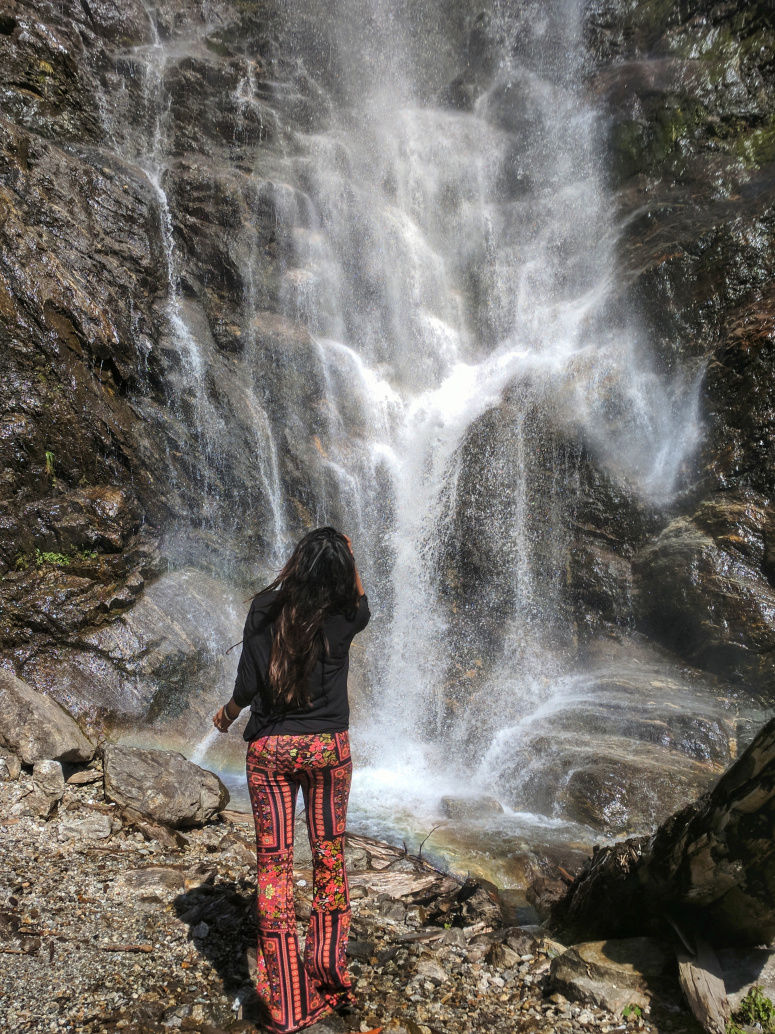 Budgeting for two for a 5 nights long trip:
Delhi-Pakyong airport-Gangtok-Lachen-Lachung
New Delhi - Sikkim 6,000-8,000 per person round trip
Airport to Gangtok Private taxi INR 1000
Gangtok 1 day taxi rental INR 2500
Gangtok 1 night stay INR 4,000-5,000 per night
North Sikkim Tour - INR 25,000
North Sikkim 3 nights stay- 12,000-15,000 per room
How to get there?
Pakyong airport has recently opened making it so much easier to reach Sikkim, reducing the distance from 182 km from Bhagdogra (which used to be the nearest airport) to just 35 km.
How to get around?
Driving yourself is not an option in Sikkim. The roads (or lack thereof) are dangerous and its best to hire a local driver familiar with the terrain and the routes.
The best way to go about is booking your transport through a reliable agency. They know all the routes, act as guides and make amazing travel companions.
Suraj - 7384881703 (Best travel agent I've come across)
If you're looking for a cheaper option, there are shared Sumos available that are cheaper and easily available. Drop by at any travel desk in Gangtok to get information on that.
I learned it the hard way that you always get accommodation near the market in Gangtok. Always! It's the only place where you can find decent food and anything else you need. (Natuk house is a great option)
You need to leave for your destination, wherever that might be no later than 7am and be back by 7pm. Hotels and market shut down at 9:30 and it's difficult to find anything open after 10.
This blog was originally published on Over Gin & Coffee.
Frequent Searches Leading To This Page:-
north sikkim tour package, place to visit in north sikkim, 2n3d north sikkim package , north and east sikkim tour plan, sikkim ,sikkim family tour packages