A tranquil treat lying in the lap of the Eastern Himalayas is the town of Mangan. Enchanted with sparkling streams and thick forests, it is the capital of North Sikkim, the largest district of the Sikkim state in terms of area. This quaint town remains an offbeat location to explore. It is well connected by a metal road to the capital city of Gangtok at a distance of approximately 67 km. Being the gateway to the North of the state, it opens its gates towards towns like Lachung, Chungthang and Lachen.
The magnificent Kanchenjunga range stands tall to this town, gracing it with a spectacular view. Known for its organic farming and vibrant monasteries, Magan makes an attractive spot for spirituality seekers. Colourful prayer flags court this town with the culture of Buddhism deeply rooted. If you're planning a trip to Sikkim, this soul-soothing town must be on your itinerary.
Best time to visit Magan
With a temperate climate, this city experiences a pleasant atmosphere throughout the year. The summer months clock temperatures between 10°C to 28°C and these months from March to June are the best months to visit Magan. In monsoon, the town experiences drizzling rains and the winter months see snowfall.
If you are a music lover then you can visit during The Mangan Music Festival which is held in December every year. It is a cultural celebration of folk arts, handicrafts and local cuisine. You can take delight in musical performances by local bands and bands from other parts of North East India.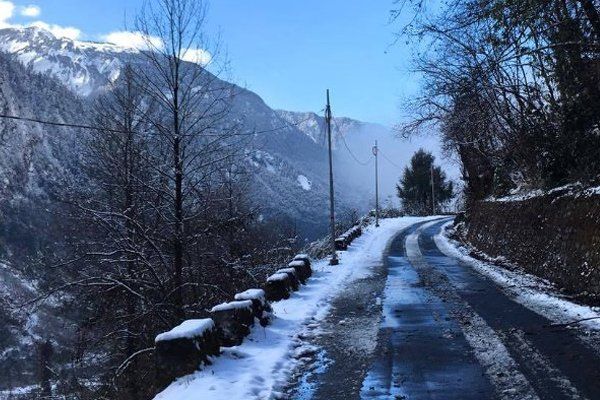 How to reach Magan
By Air-
The nearest airport is Bagdogra, situated in the city of Siliguri which is linked to Gangtok. You can take a private vehicle or taxi and reach Gangtok in about 4.5 to 5 hours. Further, then you can reach Magan via a local bus or jeep in around 2.5 to 3 hours.
By Railways-
The nearest railway stations to Magan are Siliguri and New Jalpaiguri from where you can take a taxi or private vehicle to Gangtok and then a jeep or bus to Magan.
By Roadways-
The nearest city is Gangtok which is well connected via roads to major cities. You can take a bus, jeep or taxi to this hill town.
Things to do in Magan
1. Monasteries - Some of the oldest monasteries are housed in and around Magan.
a. Labrang Gompa - A fusion of Tibetan and Indian Vihara architectural style, this monastery is the best to seek a peaceful surrounding while treating your eyes with exquisite murals and intricate statues.
b. Phodong Monastery - Being one of the oldest and sacred monasteries, this one is widely visited by Buddhist pilgrims. It was established by the ninth Karmapa and is home to around 260 monks. You can witness ancient murals here and discover their history.
c. Tholung Monastry - You cannot miss an excursion to this sacred monastery that lies amidst dense forest. You're sure to be enchanted by its collection of holy scripts and religious artefacts that belonged to some of the great lamas and patron saints of Sikkim.
2. Step into nature - The unparalleled tranquility of this town allows you to experience the soothing environment. The harmonious music of the flowing streams and the melodious chirps of colourful birds will surely cast a magical spell on anyone who sets out to explore hidden trails amidst the deep wilderness.
3. Adventurous Sports - Paragliding, rock climbing, mountain biking and forest camping are some of the exhilarating activities you can indulge in.
Where to stay?
Despite being a small town, Magan has been welcoming of tourists and hence you can find many well-equipped stay options here. You'll mostly find hotels with rooms that have top-notch facilities like Wi-Fi, room heaters/ geezers, restaurant and bar, parking, etc. Overall the town is perfect to take shelter in the arms of nature.
What to eat?
Sikkim is known for its mouth-watering cuisine that is an amalgamation of Tibetan, Sikkimese and Nepali dishes. You can experience the delicacies offered by this region by tasting some of its staple food items like potato curry/dum aloo, thukpa (noodle soup with vegetables and meat chunks), phagshapa (pork dish with radish and chillies) and dumpling/momos.
Must-visit places near Magan
While you're at Mangan you can also further visit some scenic towns and spots.
1. Singhik - A small settlement 4 kms away from Magan, provides a panoramic view of Mt. Siniolchu and Mt. Khangchendzonga. It also pleases your eyes with an elevated view of river Teesta and river Kanaka at the foot slopes.
2. Rong Lungten Lee - Around 8 kilometers away from the main town of Magan, this place lies at the intersection of two waterways, Kanaka and Teesta. Known for its peaceful ambience and the yearly Namsoong festival, Rong Lungten Lee is a beautiful location to witness the ancient rarities of the Lepcha clan.
Serene forests, snow-clad mountains and mesmerizing music make Magan the perfect destination to commence your journey towards exploring North East India.
Have you visited Magan? Think we missed anything? Tell us in the comments below!
Ready to travel for free post pandemic? Earn credits and redeem them on Tripoto's weekend getaways, hotel stays and vacation packages after the pandemic is over!