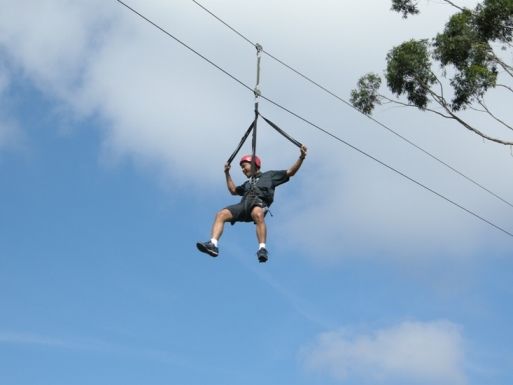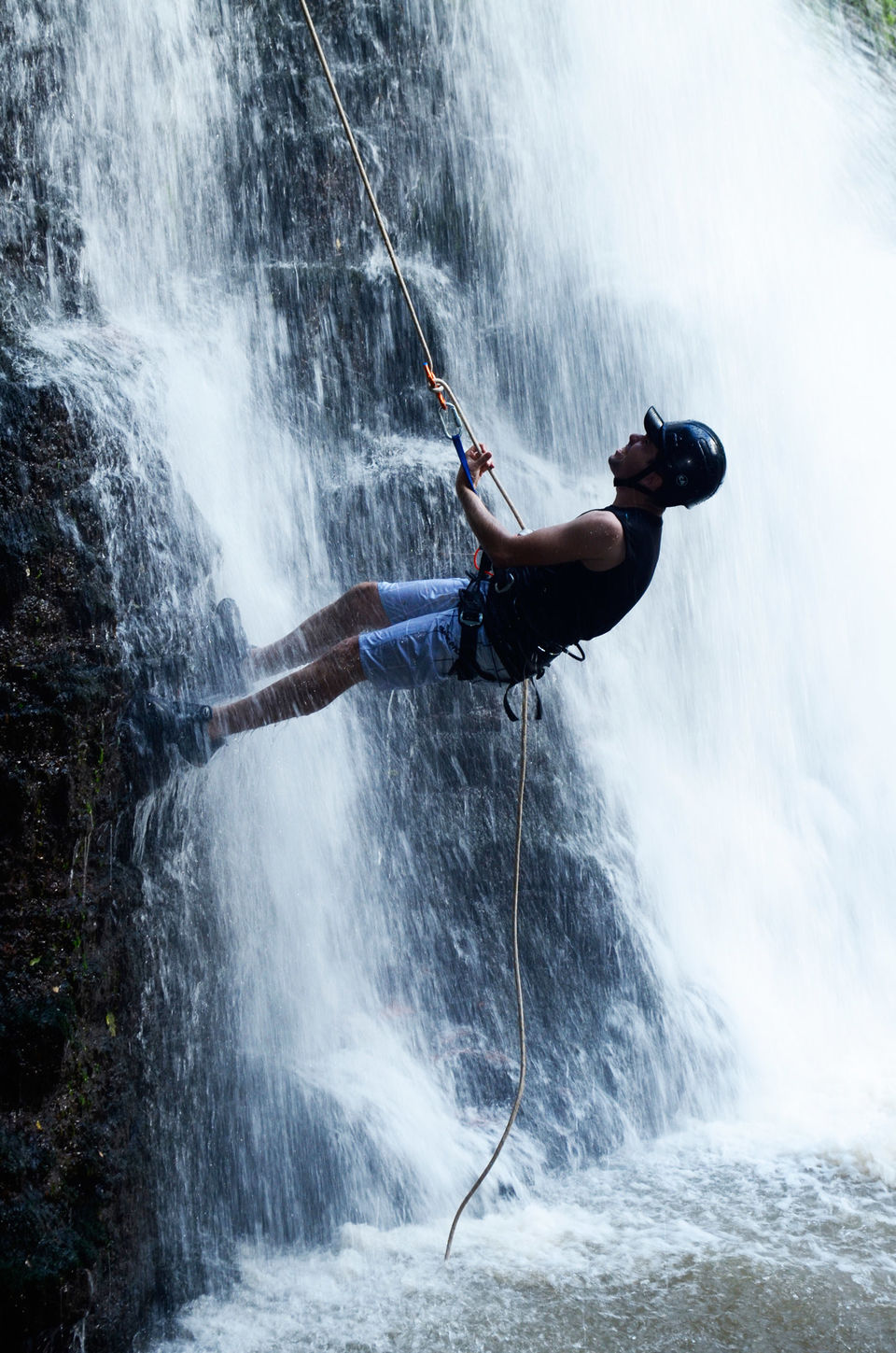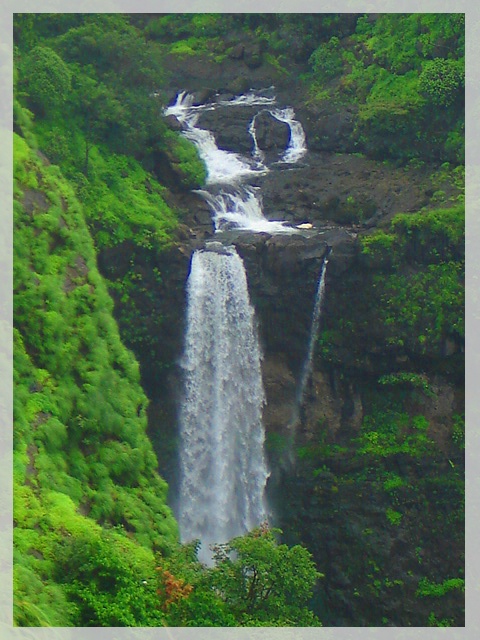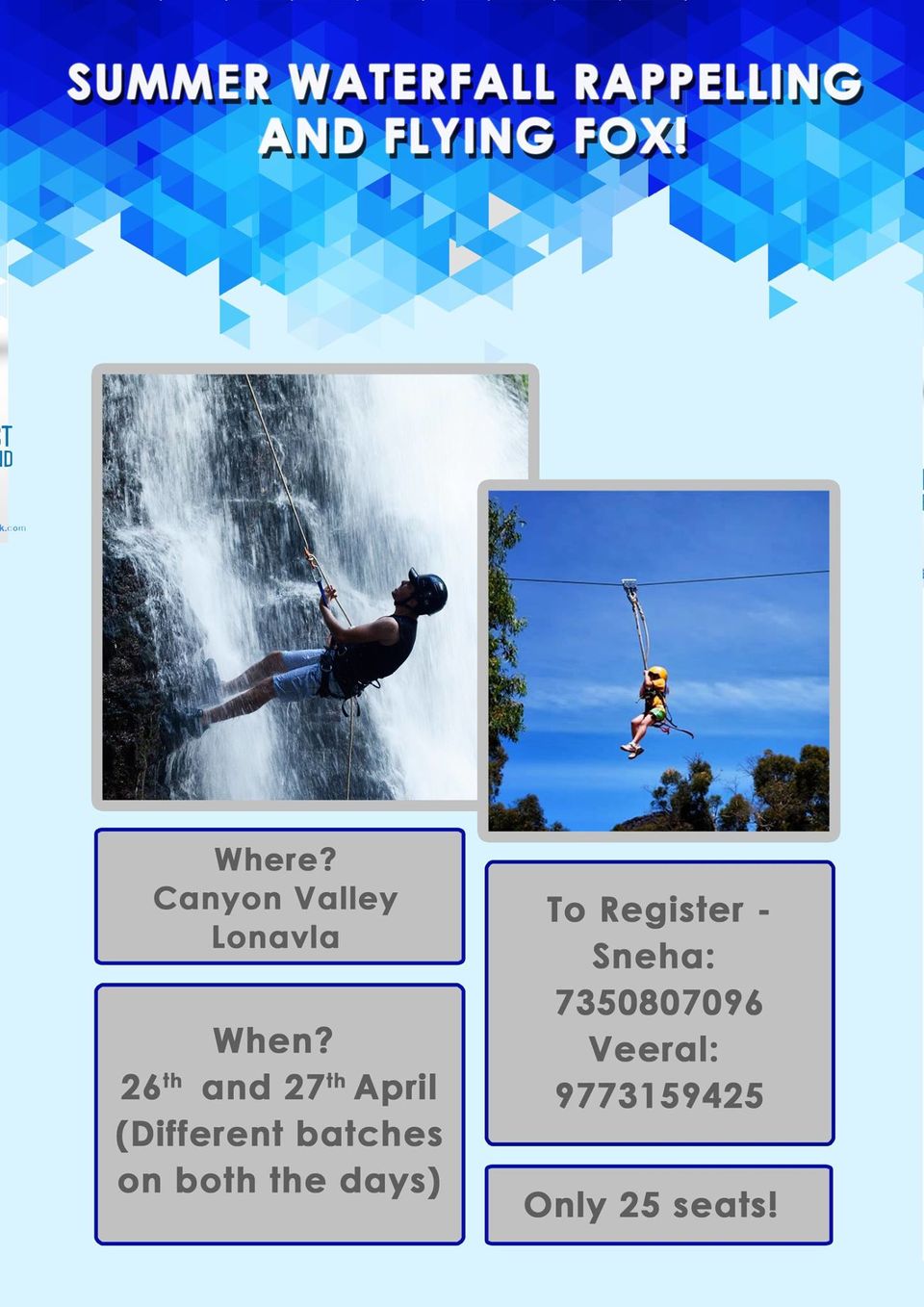 Mapping Journeys goes for Summer Waterfall Rappelling and Flying Fox at Canyon Valley!
What all would we do there?
1) Waterfall Rappelling
Rappelling is a controlled descend down a rock face using a rope. Waterfall Rappelling is an awesome version of the same, through a waterfall.
2) Flying Fox
Also known as Zip-line or Valley Crossing, Flying Fox is an aerial runway consisting of a suspended cable, designed to enable a user to travel from top to bottom of an incline.

Where?
Canyon Valley, Lonavala
Canyon Valley, known as Tiger Valley, has a fascinating waterfall located between Lonavala and Khandala. We will rappel through the 350 ft. waterfall and fly the 450 ft. Zip line.
What is the plan?
Meeting point: Lonavla Station 8:00 am
Mumbai Participants:
Indrayani Express Schedule
Mumbai CST – 5:40 am
Dadar – 5:53 am
Thane – 6:16 am
Kalyan – 6:37 am
Lonavla – 8:02 am

8:00 am – Meet at Lonavla
8:15 am – Breakfast
8:30 am – Move towards Valley
9:30 am – Reach waterfall
10:00 am – Rappelling starts
1:00 pm – Lunch Break
2:00 pm – Zipline starts
4:00 pm – Start ascending
7:00 pm – Reach the top (Khandala side)
8:00 pm – At Lonavla Station

Charges: Rs. 2350/-
Cost includes:
Travel from Lonavla station to site and back
Breakfast and Lunch
Event Charges (Waterfall Rappelling and Flying Fox)
Expertise and Equipment
(Direct transport is available from Mumbai at an additional cost of Rs. 650/-)
Cost excludes: Anything not mentioned above
For more details and to register, contact:
Shreyas – +91 9773159425
Sneha – +91 7350807096
Riya – +91 9930562943
Join us on this adventure we promise you wouldn't forget :D