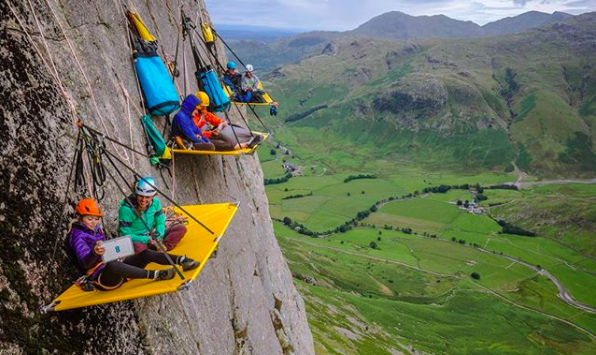 If there's one question that acts as the ultimate drive to every adventure enthusiast, it is 'What's next?'. No matter how many climbs, treks, hikes or descends you do, if you're an adventure lover, you know the constant dilemma of wanting to push the boundaries every single time. And the best part about it all is that none of it ever comes from an external source—it's a hunger that stems from within, a hunger for that one moment when everything stops, a hunger that never dies down.
If you're someone who believes in living on the edge, here's something that might just make your day! Less than 200km from Mumbai, you can now actually experience cliff hanging tents. Yes, as difficult as it is to believe, it's actually happening! You can now spend time in a tent, suspended mid-air, on a cliff, in the middle of nowhere and you won't even have to travel to a remote village in the Himalayas for it. Mumbai folks, what are you even waiting for?
What are cliff hanging tents?
Cliff hanging tents, also known as portaledges, are the latest sensation to hit the world of adventure tourism. The hanging tent system was originally designed for extreme rock climbers who undergo multi-day excursions, and it helped provide shelter for them. Portaledges have now started being identified as a leisure experience for those who live for the thrills and chills of life.
Portaledges in Sandhan Valley, much like others around the world are also completely safe, with a solid aluminium frame and a sturdy base. The tents are fastened to a large rock using professional ropes that can take weigh up to 600kg. To ensure full safety, you will be harnessed to a rope with carabiners at all times, even while you're spending time inside the tent.
Where can I get this kickass experience?
A destination which is an adventure junkie's dream come true, the campsite is located in Sandhan Valley, one of India's greatest canyons nestled right in the middle of the gorgeous Sahyadri mountain range. Formed over a period of thousands of years, the water carved valley is 200ft deep and about 2.5km long. A surreal amalgamation of interesting rock formations and lush green surroundings, Sandhan Valley can be best termed as India's very own Grand Canyon!
What does the experience include?
Almost all adventure planners in the region organise a similar experience, what they call the Sandhan Valley hanging tent trek—or as we call it, "the ultimate rush of adrenaline". The experience starts at Kasara railway station, a common meeting point for all adventure planners. From there, you will proceed to Samrad village in Ahmednagar, which is the base camp for the trek to the location.
Upon reaching the cliff, guides will hook you up to the safety equipment following which you can descend into your tent using a rope ladder. After spending a maximum of one hour in the tent, clicking pictures and marvelling at the serene landscape, you will be roped back up. Additionally, you can also do some rappelling or zip-line through the valley for an extra kick!
How to book this experience?
There are several adventure planners that organise the cliff hanging tent experience in Sandhan Valley. Here are some you can contact to book your spot!
1. Phoenix Expeditions
Fee: ₹3,500 per person
What this includes: To and fro transport from Kasara railway station to Sandhan Valley, all meals upon arrival, tents, technical gear, equipment and expert guides
For more details, contact Phoenix Expeditions on 07567235577 or visit their Facebook page.
2. Treks and Trails
Fee: ₹3,750 per head
What this includes: Transport from Kasara to Sandhan Valley and back, all meals, tents, technical gear, equipment and expert guide charges.
For more details, contact them on 08828004949 or visit their website.
3. Trek Mates India
Fee: ₹3,750 per person
Inclusions: To and fro transportation from Kasara to Sandhan Valley, breakfast, lunch, dinner, tent stay, technical gear and expert guide charges.
For details, call on 08422888006 or visit the official Facebook page.
When is the best time to do this?
Plan your trip between the months of November to February when the weather is pleasant, making it the best time to visit Sandhan Valley. The valley becomes completely inaccessible in monsoon due to heavy rains so avoid planning your trip between May to August. However, before finalising anything, make sure you call up your adventure planner and confirm exactly when the camp is being put up.
What about accommodation?
Sandhan Valley is surrounded by small towns and villages, which means that there aren't many accommodation options nearby. However, you can head to Igatpuri, a popular hill station located at a distance of 60km from the adventure site. Igatpuri has a lot of hotels and resorts for travellers and here's our pick of the best.
A stay for two starts at ₹6,500 per night which includes a full English breakfast for the guests.
A stay for two starts at ₹3,800 and the price does not include any meals. Guests can however pay an extra ₹400 to enjoy a lovely buffet breakfast.
A stay for two starts at ₹1,700 per night and guests can pay an additional amount of ₹200 for a buffet breakfast.
How to reach Sandhan Valley?
Here's how you can reach Sandhan Valley from New Delhi:
By Air: The nearest major airport to Sandhan Valley is in Mumbai. Delhi and Mumbai are connected with several daily flights starting at ₹3,500. The adventure site is at a distance of 200km from Mumbai airport, a distance that can be covered in 4 hours by road.
By Train: Alternatively, you can also take a direct train from New Delhi to get to Igatpuri in about 17-20 hours(depending on the train you choose). Once you get down at the Igatpuri railway station, hire a local cab to reach Sandhan Valley in an hour and a half (60km).
Ever had a moment so thrilling that your heart skipped a beat? What is the most adventurous thing you have ever done in your life and where was it? Write in here and share it all with the Tripoto Community. Don't forget to check out our amazing YouTube channel for some crazy travel videos from around the world.