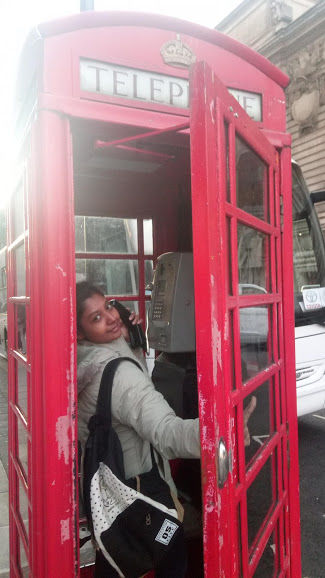 Though every country, state, town, village across the world, have their own long told fables, somehow the word 'fairy-tale' has always drifted me to Europe, the land of castles, palaces, kings, princesses, highlands and horses!
However, unknown of the reason, London somehow hadn't been on the top favourite list of mine, which is the strangest thing as I turned to fall in love with the city sooner than I could expect.
The city of London is very lively, vibrant yet living in it's own space. The streets are something to be fallen for. A mix of old world charm but not missing the present day modern existence; major part of London still has those 16 th to 18 th century style houses with Roman or Gothic influence on them, even many new buildings are still built following the baroque style. The mansard roofs above an attic pediment, white sash windows with colourful carnations, thrifts or orchids decorated by them. The Victorian doors are most attractive part of the houses to me; black, dark brown, green, red, they are of many colours, but a crimson red door with a vintage gold door knocker got a lot of my attention and may be of others too!!
As I said, London streets are the showstoppers of the city, walking across Oxford Street, then Hyde Park or the joy of finding 221B Baker Street (the famous detective crush of childhood!!) and then again walking by Piccadilly Square; passing by the restaurants or may be sitting for a cup of coffee; shopping on Primark at Oxford Street or buying souvenirs on the shops opposite to the road or sometimes seeing the cars whizz passing, on holiday everything is fantastic, isn't it??
The taxis look like vintage cars but they are quite not, then there are truly vintage cars lined up on the speckles roads for city tour (but they are far away of my pocket weight), then the double decker buses are circling the city so often, office goers on the run, some of the stations seem slightly crowded as lot of busy bees coming in and out, oh and then the cyclists are slowly flying across the roads, it's lovely to watch all these over a hot dog break..
Even among all these there are plenty of places to visit in London. During my short stay in the city, I could manage only few though, here's the list:
Change of Guards at Buckingham palace -
An 18 th century construction, though built at various sections by different emperors, the Buckingham palace is still resided by the royal family and that is why the guard change program. Every alternate day, the guards are changed and the entire procedure though short but an event to testimony. Each guard stays inside the palace on a 48 hours duty; but what they do inside or how they guard the palace, no one can see except the in-house members!! We as tourists can only see the guards switching their place. The entire observation is a bit messy anyhow, as herds of people come to witness it, so many heads at the front before I could see the red uniforms, all (including me) holding their hands up with a camera to capture such moments, hence it's getting glimpse of those 10 minutes and seizing those minutes in the device. Better to reach the place by 10:30 am to secure a good place to see everything clearly. At about 10:50 am, one can hear the trumpets playing inside the palace, then a set of guards come out with their entourage and after few minutes the new set of guards go in with their cavalry. The entire event isn't very long but those few minutes, everyone wants to snatch the peek of the entire schedule.
Buckingham palace museum: The palace also has a museum, if time permits an hour should be given there. (entry tickets required)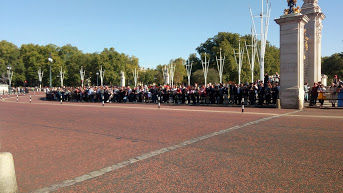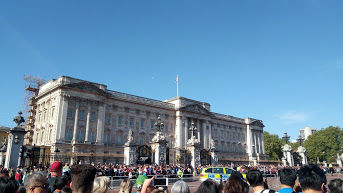 Madame Tussauds Museum:
Expecting to be one of the most popular attractions of #London. Who gets to come close to their favourite celebrities everyday (even though it's just their exact mannequins!!)?? Bollywood, Hollywood, cricket, football, the royal family and many new addition every now and then, but the best part was a ride from past to present, depicting the history of old London to the modern one we see today. A good two hours are required to see everything inside the museum thoroughly. (entry tickets required)
London eye:
Though defined as one of the biggest observation wheel of Europe, for me at first it was a humungous merry go round ride, only the wheel runs even slower than a tortoise (which is the safest part of the ride). Each capsule of the wheel can accommodate 20 people at a time, and slowly they go up and up and up, looking at the entire city from a height of about 400 ft, is just fabulous. It gives an overall sketch of London city and it's a must. Also there is a short 3D show available, don't miss that after the ride. (entry tickets required)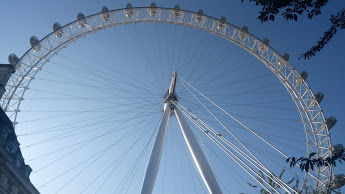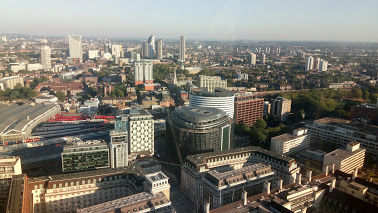 Looking over London Tower Bridge from London Bridge:
London Bridge has a long walk-a-way from where the tower bridge can bee seen and pictured. The entire backdrop is quite beautiful and apt for the selfie lovers.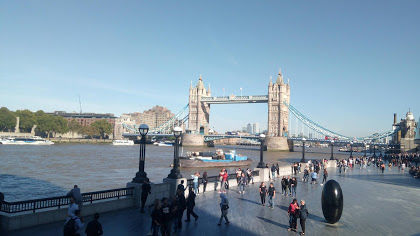 Big Ben:
Unfortunately Big Ben is under some renovation; hence i could only see Big Ben covered with long iron rods all over!!
Parliament house:
Just beside the Big Ben, the building can be seen from outside.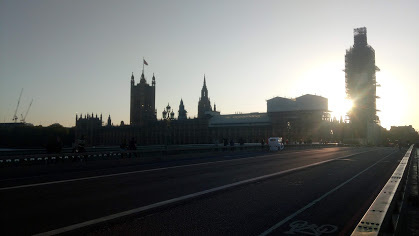 Lords Cricket Ground:
For Cricket lovers, a visit to this historic ground is must. there is a museum inside and one gets to see the ground once inside. (entry ticket required)
Some more information to share on LONDON Stay at London:
3 nights is minimum one should stay, then even a week will not bore anyone, there's so much to see.
Where to stay:
Usually, thinking of central London, people think of Oxford St; Hyde Park, Piccadilly square etc; yet wherever one stays in London, the city is well connected by underground tube railway system. An Oyster pass is handy to keep travel across the city.
Sightseeing:
It's better to take the big bus tour as it gives lot of flexibility to individual tourists to chose what they want to see, where they want to get down, which museum they want to give time to etc. or there are many city passes available which allows free entry to many of the above attractions and/or more.