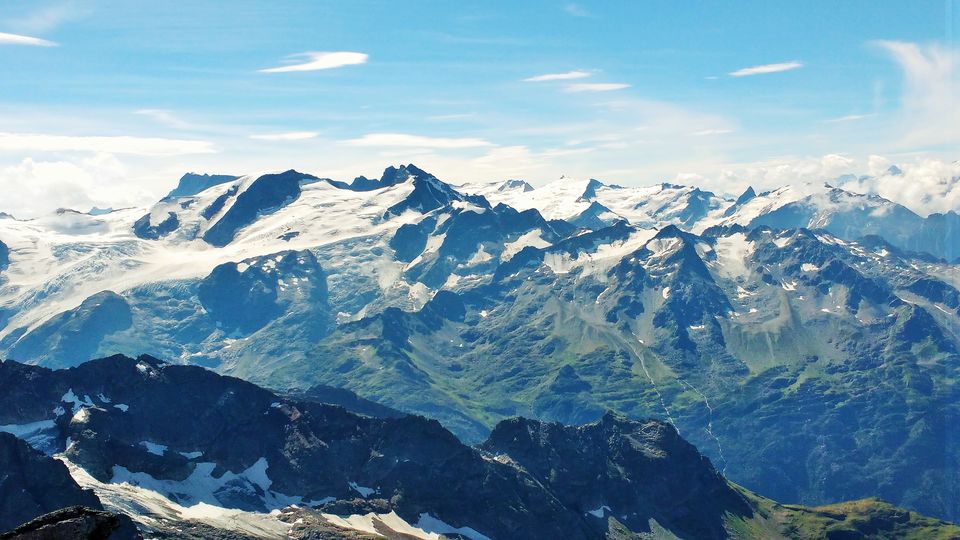 Mount Titlis is one amongst the most popular tourist attractions of the Swiss Alps. It is accessible from a small town known as Engelberg. Engelberg is in close proximity to Lucerne. A day trip to Mt Titlis from Lucerne is a perfect way to spending one whole day in the Swiss Alps. Hence, many people stay in Lucerne while visiting Mount Titlis.
Mt Titlis is a perfect all-weather destination. There are things to do in summers as well as winter. It's one of those peaks where you will always find at least some snow. We went there in the first week of September, just after the warm summer spell. We could still have all the fun in the snow. The panoramic views from Mount Titlis are mind blowing and especially for first timers, it's a really amazing experience.
If you are not skiing or hiking at Mt Titlis, then you can club a trip to Engelberg along with Mount Titlis. Engelberg is accessible by road and train. From Engelberg, one needs to take the cable car to the top of Mt. Titlis. From Engelberg till the summit of Mt. Titlis, there are total four stops/levels in the cable car route namely Gerschnialp, Trübsee, Stand and Klein Titlis (the summit). The cable cars, or gondolas (as they are rightly known) are small in size. One cable car can take up to 6 people.
How to reach Mount Titlis from Lucerne
By road: From Lucerne, it takes around 40 minutes to reach Engelberg. The distance is around 35 kilometers. And from there the cable car.
By Train: The train journey from Lucerne Bahnhof to Engelberg Station is around 50 minutes. From the train station, there is either a 10-12 minutes walk or a 5 minutes bus ride to the cable car station and then the picturesque Gondola ride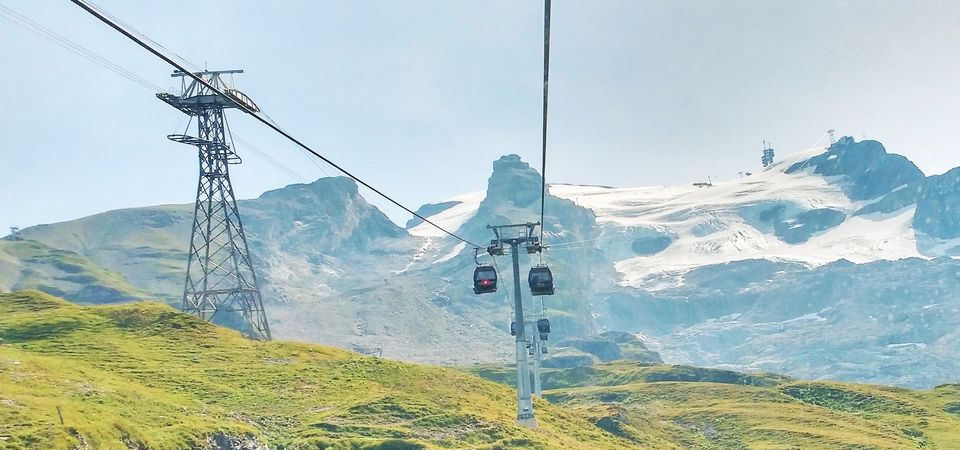 Mount Titlis Ticket Price
The cost of cable car round trip from Engelberg to Titlis is 92 CHF per person. You can find more information related to prices of other activities here. The cost of ice flyer is not included in this. It costs 12 CHF extra. There is a reduction of 50% in the ticket price if you have a Swiss travel pass, General Pass or SBB half fare card. But this reduction is applicable only to the cable car price and not the ice flyer price. The tickets for the cable car journey are available at the cable car station. You can buy the tickets for the Ice Flyer either at the cable car station or at the summit near the Ice Flyer.

Things to do on Mount Titlis
Mount Titlis has a lot of activities all year round. Some activities can be done throughout the year. Apart from these, there are also seasonal Summer and Winter activities.
Activities open throughout the year
Glacier cave: A glacier cave is constructed near the entrance of Mt. Titlis. But it just like any real glacier cave. One can take a stroll through the ice cave. It's a nice experience.
Cliff walk: There is a suspension bridge connecting two points of the mountain. It is the highest suspension bridge in Europe. Walking through the bridge you can have a beautiful and picturesque 360 degrees view of the Swiss Alps. The scenery from the Cliff walk is breathtaking

Glacier Walk: It's a comparatively flat plateau stretch where one can walk on the snow. It's a very pleasurable experience.

Ice Flyer: It's a huge chairlift that takes you from one point to the other. As the name suggests it flies/glides over the snow and the mountains. The chairlift is open and the ice flyer is an awesome and a mind-blowing experience. It's good for a fun ride and is also very popular among skiers to take them to the skiing areas.
Sledding/Snow Fun: There is a whole area allotted to snow fun. One can take a sled made of plastic or a tube to slide down the snowy slope. It is so much fun. The only undesired part is bringing the sled again uphill.
Summer Activities on Mount Titlis
Hiking: Mt. Tillis has many picturesque hiking trails. Their trails are perfect for summers. Even the weather is pleasant as you ascend up the hiking trail.
Camping and Boating in Trübsee: Trübsee is at the second level on the cable car route. There is a beautiful lake here. You can take a boat ride in the lake, camp by the lakeside, have a leisurely stroll around the lake. If you are there sometimes during peak summer of September you can also see streams of freshly melted snow water.
Alpine Flower Trails: Titlis is not only about snow and pine trees. The flora around the mountain is very beautiful. During summers there is a bloom of some amazing flowers. Two flower trails are available. One at Trübsee and one at Gerschnialp. Both these trails are easy and suitable for wandering around in the Swiss Alps.
Winter Activities on Mount Titlis
Skiing: The most popular winter activity on Mount Titlis is skiing. with sufficient snowfall and a lot of skiing areas, Mt Titlis is a perfect ski destination in the Swiss Alps. The skiers can also take part in the Cross-Country Ski run.
Winter Walking: Special winter walking trails are available from Gerschnialp. All you need is adequate snow gear and a stamina for walking for about 2 hours in the snow, and you are good to do the trail.
Staying Overnight in an Igloo: Mount Titlis has it's own Igloo Village. You can spend a night in the heated igloos. Igloos are available for families as well as for couples. A warm jacuzzi with a view, piping hot cheese fondue, a nightcap in warm sleeping bags, what else can one ask for. Staying in the igloos at Mt. Titlis is an experience of a lifetime.
Where to Eat at Mount Titlis
There are a lot of restaurants at Mount Titlis and so one need not worry. One can find restaurants at the summit, Stand, Trubsee and at the base (i.e. near the cable car station/ valley station) as well. There is also a Panorama Resturant in Titlis, where you can eat while enjoying picturesque views of the alps. Even though the restaurant is a bit pricey, but it has a lot of food options. Other cafeteria and restaurant option are also available.
Especially for Indians
There is a restaurant on Mount Titlis (I think it was at Trubsee cable car level) that serves an Indian Buffet. I don't remember the name. I have not tried the food there but I saw many Indians and others as well dining there.
This is not all. At the foot of the mountain i.e near Engelberg Cable car station there is an Indian fast food joint. One can get samosas, vada pav, idli sambar, pav bhaji and a few more dishes there. But the icing on the cake is the adrak wali chai (ginger tea)
"Thandi thandi wadiyo mein adrak wali chai ka mazaa hi kuch aur hota hai". Every Indian who likes tea would agree to it.
Special Bollywood Feature
Wait!!! it is not over yet. It was just the gluttony part. There is also the Bollywood dhamaka. At the summit, just near the entrance there is a full size cut out of Shahrukh Khan and Kajol in their Dil Wale Dulhaniye Le jayenge- Mehendi Lga ke Rakhna song attire. Yes, you read it correctly :-) :-)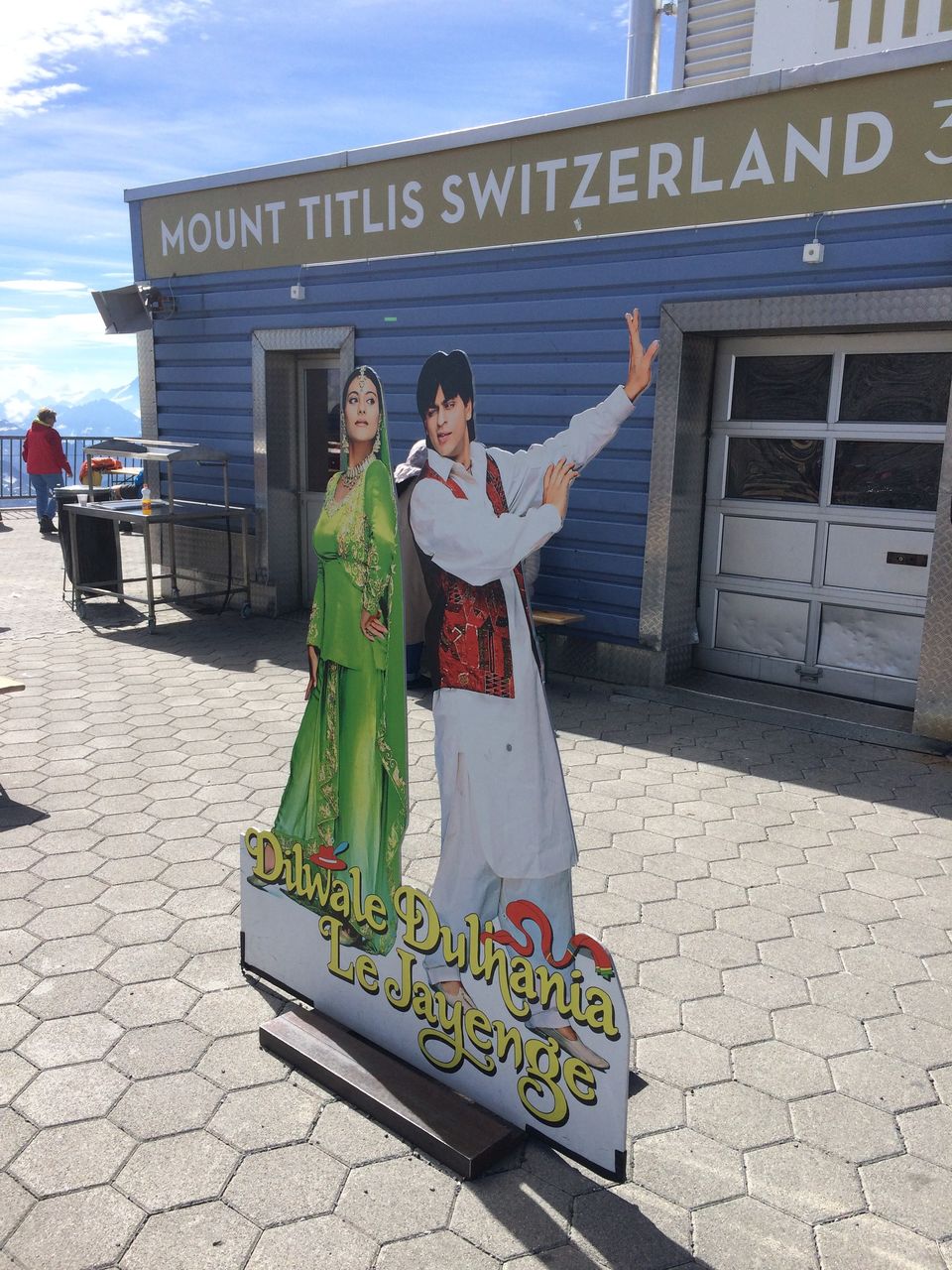 Some important points to consider while visiting Mount Titlis
1. It's always better to start early in the morning. In summers the activities on the summit as well as at Lake at Trubsee would require at least 6-7 hours if you want to have fun at a relaxed pace and devour as much of the magnificent beauty as possible. If you start early during summers, you can do a lot of activities on one day. During winters it gets dark by around 4:30 pm and the gondolas also close early.
2. If you are looking for snow-laden mountains then visit either before mid-August or after November. We had visited Mount Titlis in the month of September this year. Even though the climate was wonderful but we were a bit disappointed. Majority of the snow had melted. The mountain peaks were covered with the lesser amount of snow. Even the snow at Titlis was very muddy at some places.
3. Irrespective of the season always carry your Snow Boots and sunglasses or snow glasses with you. If you don't have the right kind of shoes or glasses, the Titlis experience can become a little bit inconvenient.
All in all the trip to Titlis was a wonderful experience. The natural beauty of Mount Titlis and the surroundings is phenomenal :-)
Mount Titlis should be on the to-do list if planning a trip to Switzerland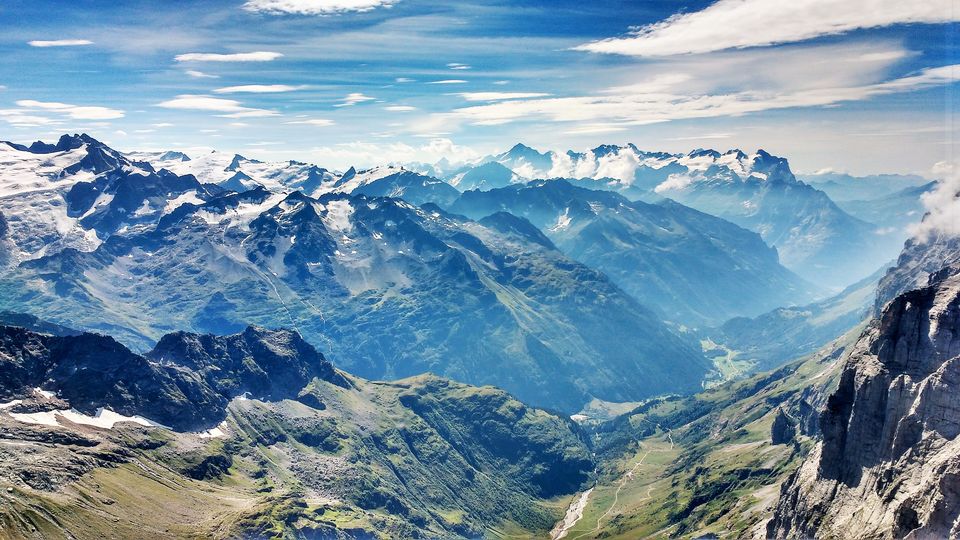 A version of this post was first published here
Frequent searches leading to this page:-
mount titlis itinerary, things to do in mount titlis, how to reach mount titlis, mt titlis attractions, mount titlis activities