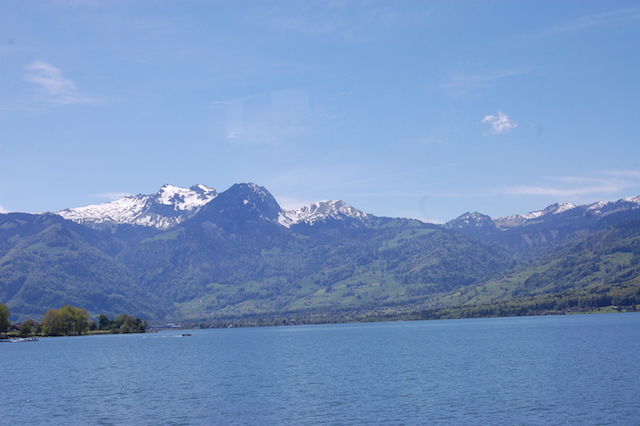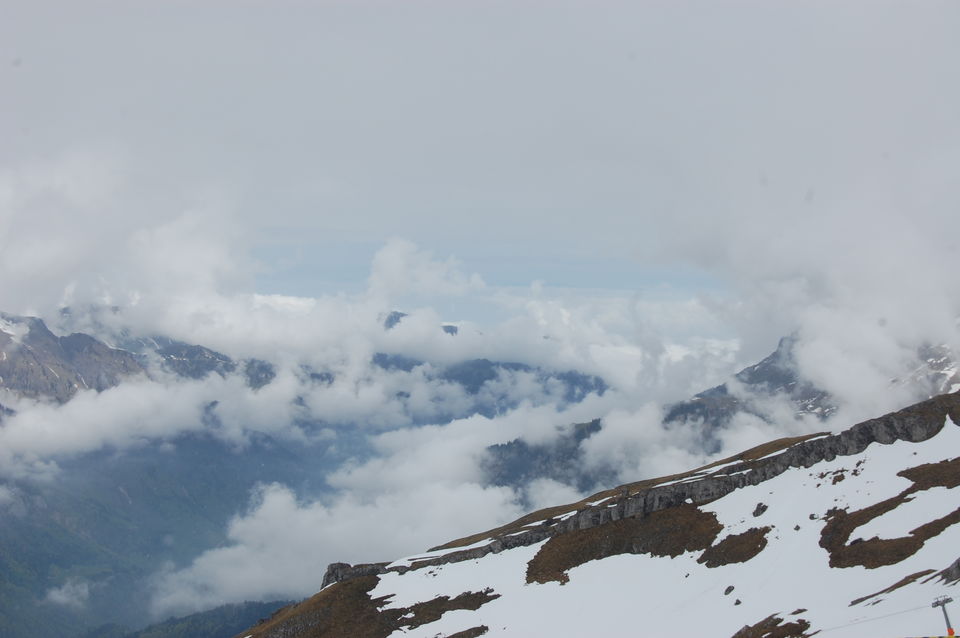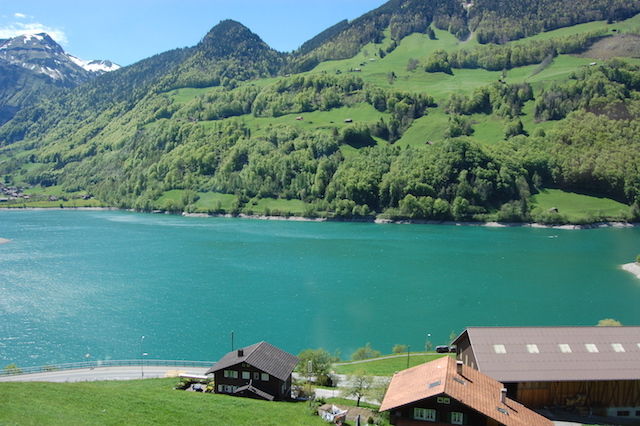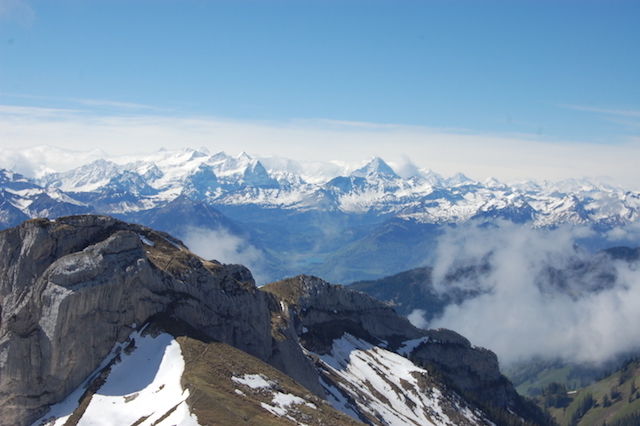 Like rest of India, I too grew up watching Dilwale Dulhaniya Le Jaayenge! The romance of Raj and Simran unfolds scenic beauty of Switzerland. I strongly thank Mr Yash Chopra for introducing me to such a beautiful destination!!
Switzerland is one of the expensive countries of Europe. It may not be the best spot for budget travellers but that being said, Switzerland is one of the best scenic places on the earth. Do not cross it off your list! 
The place is native to picturesque landscapes, lushgreen fields, small towns, beautiful churches, mountains and lakes.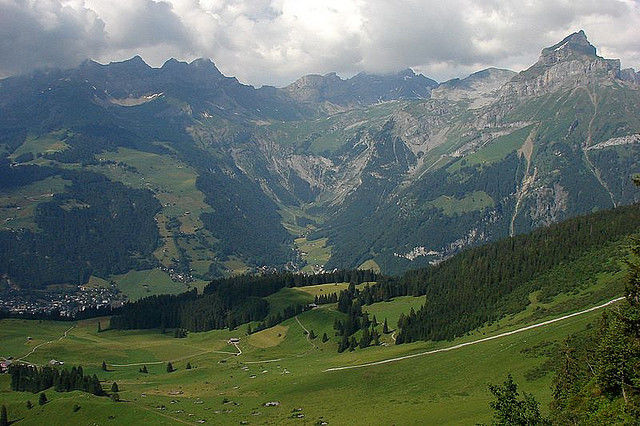 Image source: Marcio Cabral de Moura; Flickr
Destinations visited:
1. Lucerne
2. Interlaken
I had only few days and so I decided to focus on three white peaks of Swiss.
THREE WHITE PEAKS
1. Mount Titlis 
2. Mount Pilatus 
3. Jungfaru 
We landed on Zurich Airport. After collecting luggage and collecting euro rail passes, I boarded my first Swiss rail to Lucerne! This is the most popular Swiss rail route. The travel time is around 50 minutes.
We reached Lucerne around 11 pm. Lucerne is a city in central Switzerland located on shores of lake Lucerne. It is a great walking city! 
Going upto the Mountains:
MOUNT TITLIS: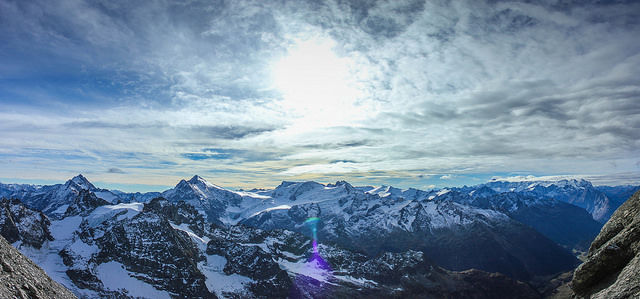 Image credit: VikaramDeep; Flickr
https://c1.staticflickr.com/1/646/23258071901_4f450d812e_z_d.jpg
It was early morning and we checked weather forecast on television screen which showed clear skies and cold temperature during the day. As soon as we were told that weather is good to go, people around me looked relieved and happy. They considered themselves lucky. Being from India, it was difficult for me to digest the correlation of being lucky and having a good weather.
Mount Titlis is located at an altitude of 10,600 feet in Uri Alps. We reached the cable car station which was packed with crowd, all mountain lovers. One can either hike up the mountain or choose the cable car from Engelburg.  
While on our way down, I could sense aroma of samosas blowing in the air! I am not really a samosa fan but I couldn't resist myself from going to the counter and asking the vendor "how much is the samosa for"? To my surprise, there were not just Indians who were enjoying samosa and masala chai but lot of foreigners too!! I was happy that samosas have left its mark in Swiss Alps!
How to reach Mt Titlis:
The journey started with swiss rail for about 45-50 minutes from Lucerne to Engelburg. 
A short bus ride from Engelburg station got us to Titlis cable ride station. 
One will have to use 3 gondolas to reach at top. 
1. Engelburg to Trübsee
2. Trübsee to Stand
3. Stand to Titlis 
From the station 'Stand', you are transferred to "Rotair gandola". The Titlis Rotair travels to the top of Mount Titlis. This cable car rotates 360 degree to give panoramic view of snow capped mountains.
Map route to Mt Titlis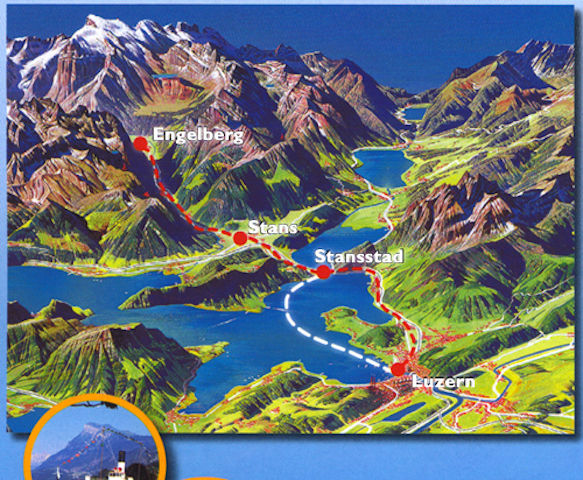 Image source: http://www.govantravelsindia.com/govant/switzerland/luzern.php
Popular Attraction:
      The Ice flyer is the highlight! The chairlift flyer rides you across the Titlis glacier.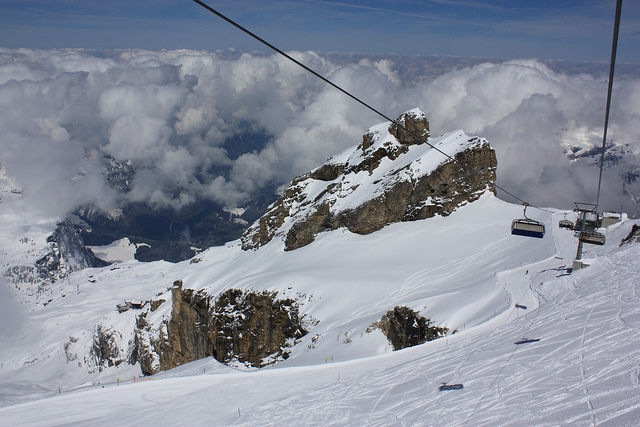 Image credit: "Dennis Tsang" Flickr
https://www.flickr.com/photos/dennistt/9659703269/sizes/z/
     The glacier cave is a frozen world of eternal ice.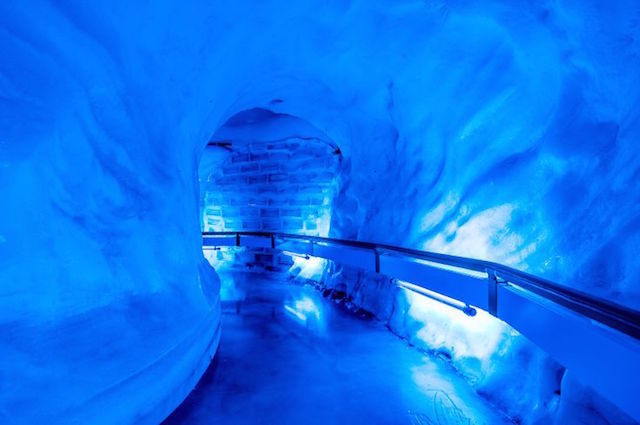 Glacier Cliff walk /Suspension Bridge

Do you have head for heights? If yes, go for it! This is a suspension bridge which is almost 3000 meters  above sea level. 

The Titlis Cliff walk holds the record for being the highest suspension bridge in Europe.
Image Credit: John Englart; Flickr
https://www.flickr.com/photos/takver/22561652316/sizes/z/
MOUNT PILATUS- THE DRAGON MOUNTAIN:
Mount Pilatus is a mountain overlooking Lucerne in central Switzerland. On a clear day it offers view of 73 peaks! Mount Pilatus gives marvellous views of city of Lucerne, Lake Lucerne and Swiss Alps.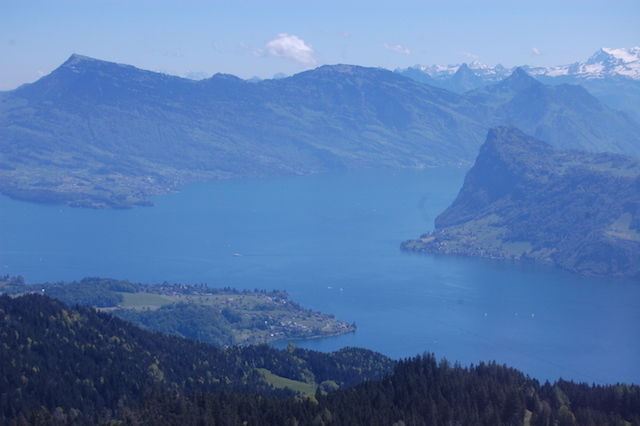 How to reach Mt Pilatus:
There are 2 ways of going to Mount pilatus. One is by Pilatus cable car and the other is Cogwheel railway. 
Usually, Cogwheel is opted for going up to Pilatus and cable cars and gondola while descending. This cable cars take brings you down to Kriens. Thereafter from Kriens, hop into a bus to Lucerne rail station. 
Lucerne is main starting railway station point. My journey started from Lucerne train station to Alpnachstad station. 
Cogwheel railway runs from Alpnachstad. This Cogwheel train runs through lakeside town of Alpnachastad and passes through tunnels. Cogwheel does not operate in winters, from November to May (depending on weather).
Map route to Pilatus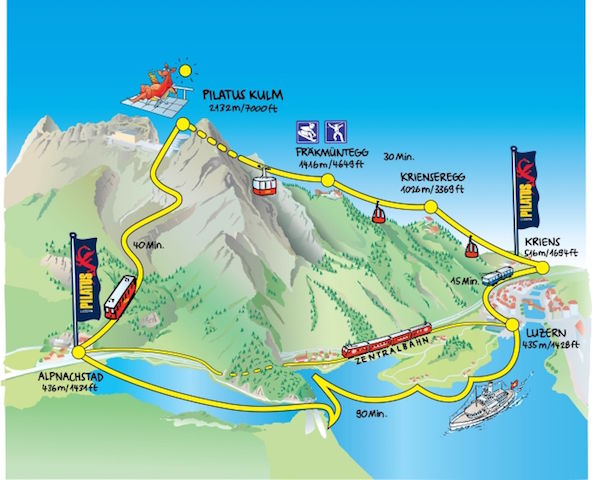 Image source:http://www.switzerland-tours.ch/images/Map%20Gonden%20Roundtrip.jpg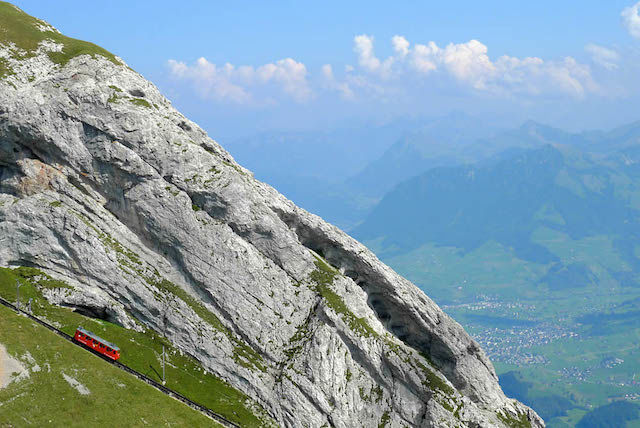 Cogwheel Journey
Image Source: http://www.bugbog.com/gallery/switzerland_pictures/lucern-luzern-pictures/4-mount-pilatus-lucerne.html
Popular Attraction:
    Enjoy breathtaking voyage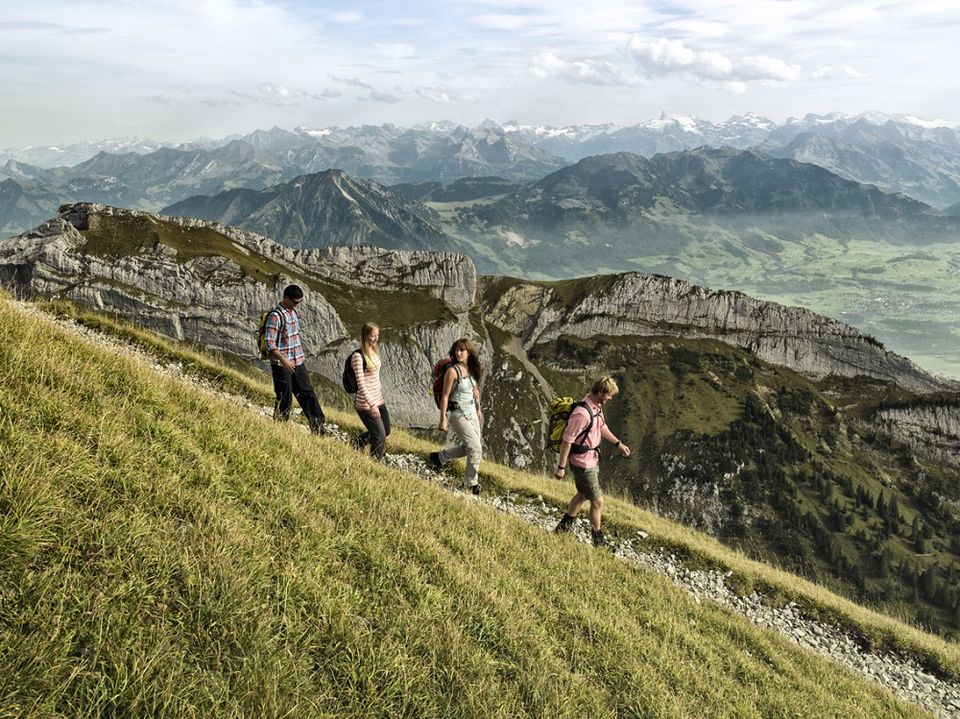 Image source: http://www.pilatus.ch/en/pilatus-active/summer/walking-hiking/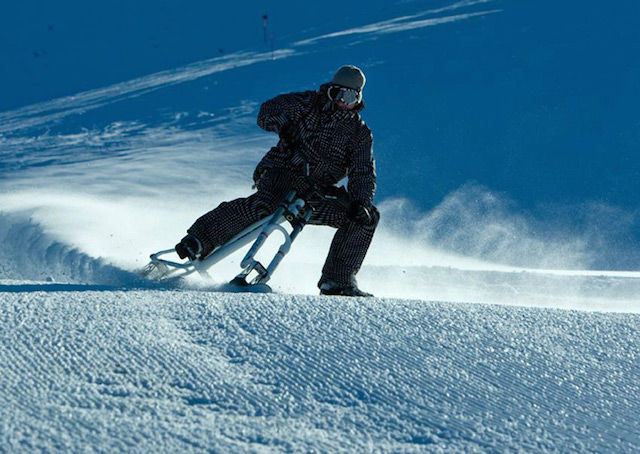 Image source: http://www.pilatus.ch/en/pilatus-active/winter/snow-fun/snowbike/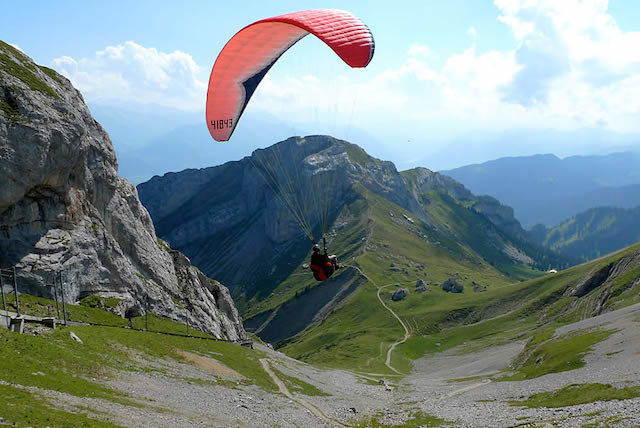 Image source: http://www.bugbog.com/gallery/switzerland_pictures/lucern-luzern-pictures/4-mount-pilatus-lucerne.html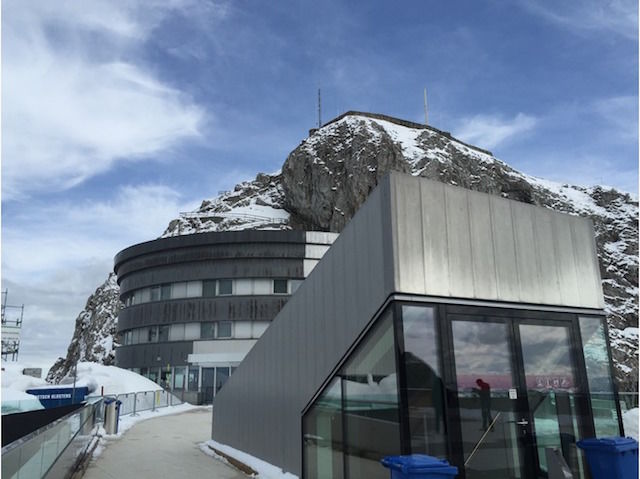 Image source: http://www.virtualtourist.com/travel/Europe/Switzerland/Pilatus-690739/Things_To_Do-Pilatus-TG-C-1.html#page=1&tgCount=0&themes=64,70
If you are not of an adventurous personality, nothing to worry! Just enjoy the magnificent beauty of the mountain. You will not go disappointed. 
JUNGFRAU - TOP OF EUROPE:
This was an unforgettable trip to an alpine at an height of 3454 meters above sea level. This is Europe's highest train station. 
The route covers initially open terrain and thereafter through tunnel in the Alpine rock. If possible, make the trek on a sunny day for mind blogging view.
How to reach Jungfrau: 
Mostly, people start their trip from Interlaken to travel to Jungfrau. However, there are other various trains departing from other stations.
There are two routes to get here, via Lauterbrunnen and GrindelwaId.
Map route to Jungfrau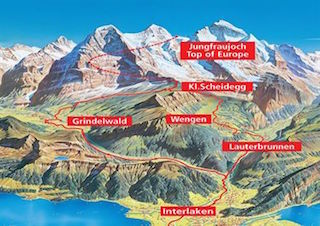 Image source: http://whitemouse.ru/photo/travel_info.cfm?t=swiss&f=jungfraujoch_history 
Popular Attraction:
One can enjoy a 360 degree view here from observation terrace and from the building.
Image source: http://www.myswitzerland.com/en-in/observation-terrace-sphinx.html
Ice Palace
This can be visited to appreciate the talent of ice artists creating new sculptures every year.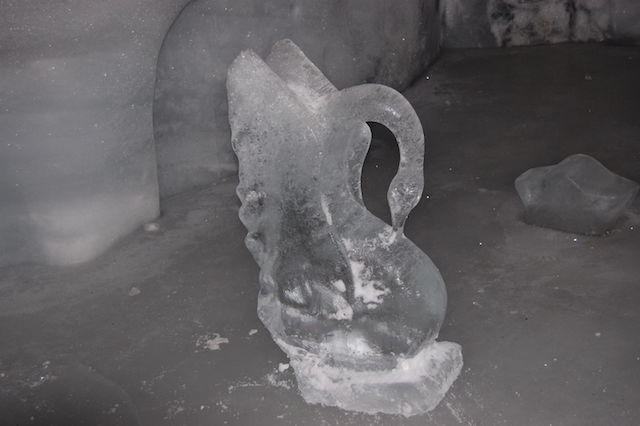 "Top Of Europe" Glacier Restaurant 
There are 6 different restaurants serving European and Asian style food. During summer, "Bollywood restaurant" offers Indian specialities.
Switzerland has swept me off my feet! Switzerland's beauty is not restricted only to Alps but also to lakes, museums, castles, chocolates and much more. I would also strongly suggest euro rail. It has it's own charm.
You don't have to die to go to heaven, just board a flight and visit Swiss Alps, it's one and the same thing!