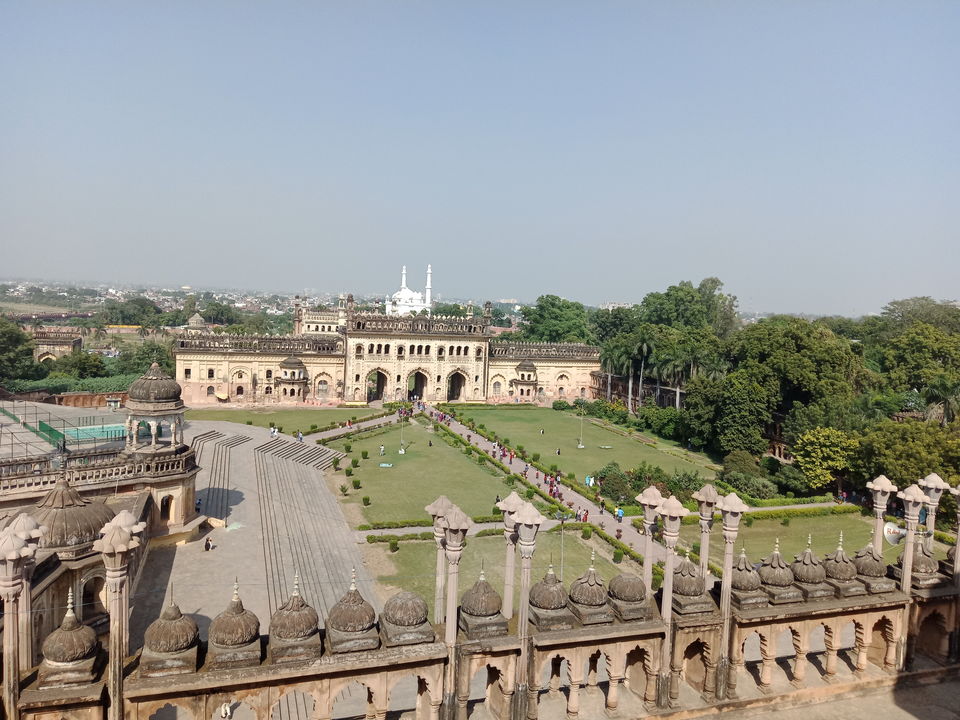 "Better to see something once than hear about it a thousand times." -Asian Proverb.
How to make best use of an evening in a new city? well we will say Roam around. So I decided to explore Lucknow the same way, but all I had is 4 hours in an evening and another 4 in the next day. So I asked Googlebhaiyya to show me some spots. Based on their open timings I scheduled like this.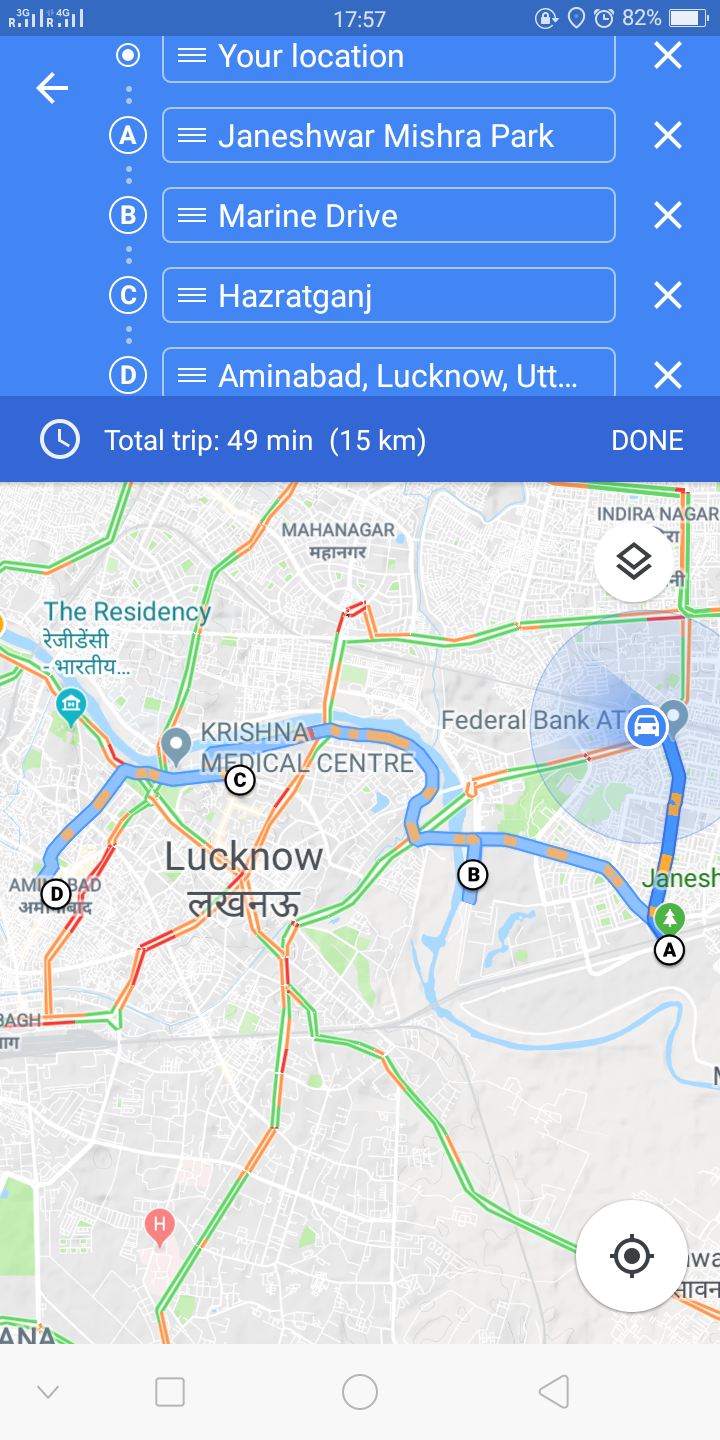 Thanks to Uber's Rs 49 for trips less than 5 kms, I was more than happy to get one.
1. Janeshwar Mishra Park.
Once you enter the park, you are greeted with a lovely fountain and some artifacts like an old Tank, an air force jet and a huge 25 feet tall statue of Mr. Janeshwar Mishra, a late Politician. Until you enter the park and start walking you never know the size of the park. It is said to be Asia's largest garden which was opened in 2014.
With a lovely boating lake and endless walkways it is a very nice spot to take a walk or jog or cycle or even if you want some quiet place to sit and hang out. The park plays some nice instrument music of all ages intriguing to spend more time in the park. So I decided to come back the next morning as well. It opens at 5am.
If the previous night was refreshing, the sunset was rejuvenating. you simply cant resist the urge to capture the glory of the sun. you can rent a bicycle at Gate no. 4 for Rs. 10 per hour. Not just the walkways, the park also showcases an Amphitheater, a national Flag, A steam engine, Children's play areas and some tit bit corners. Even the signages here are well designed. Beautiful gardens and the fragrances of the flowers of all kinds, it is really a magical place to be at.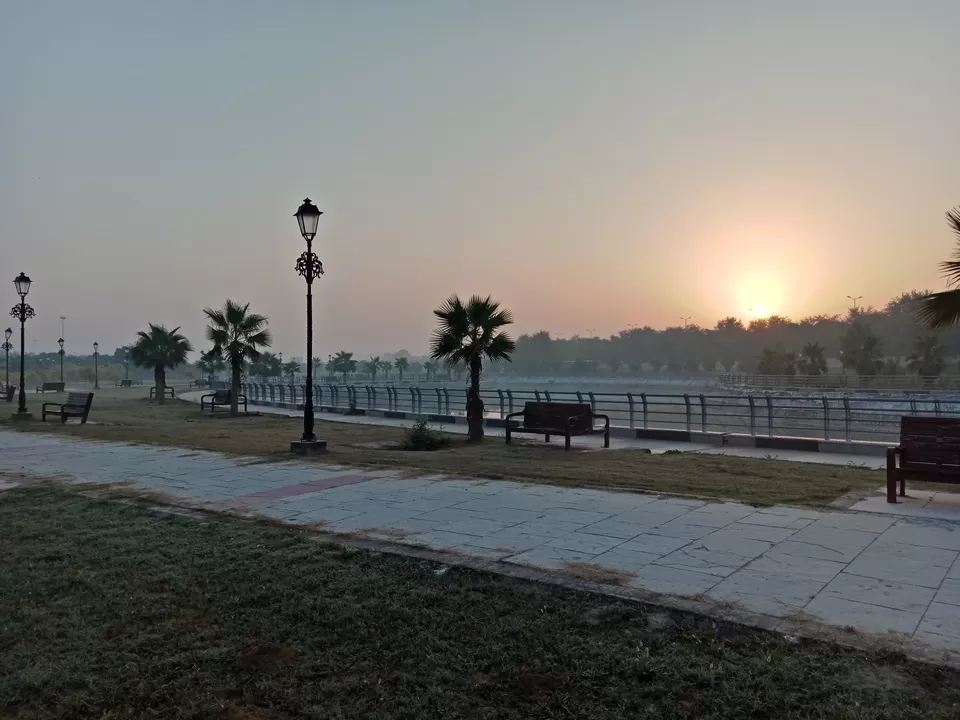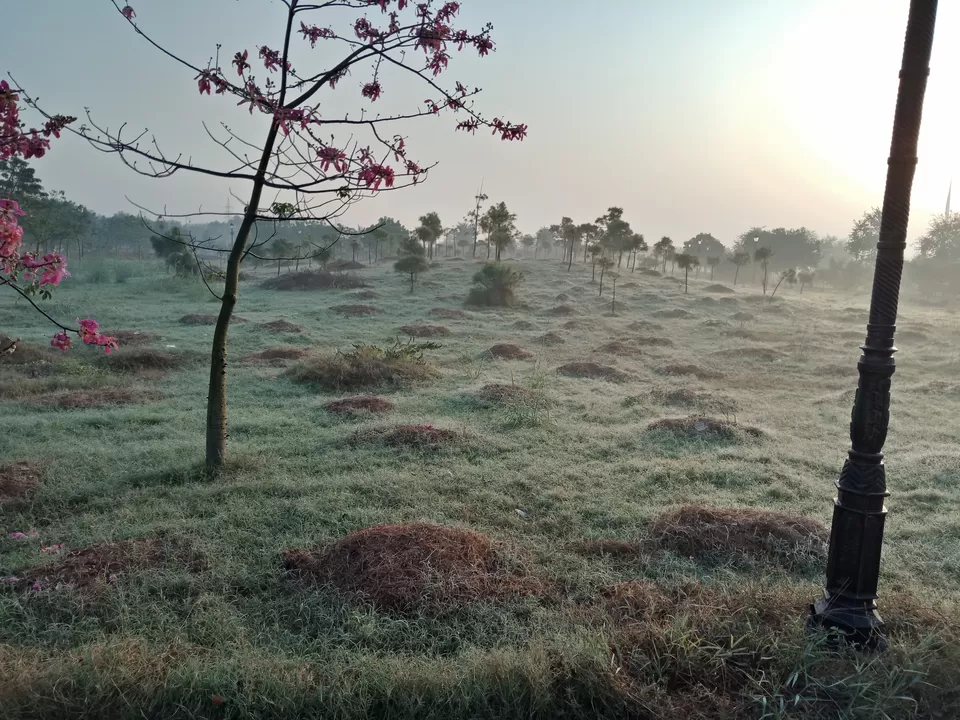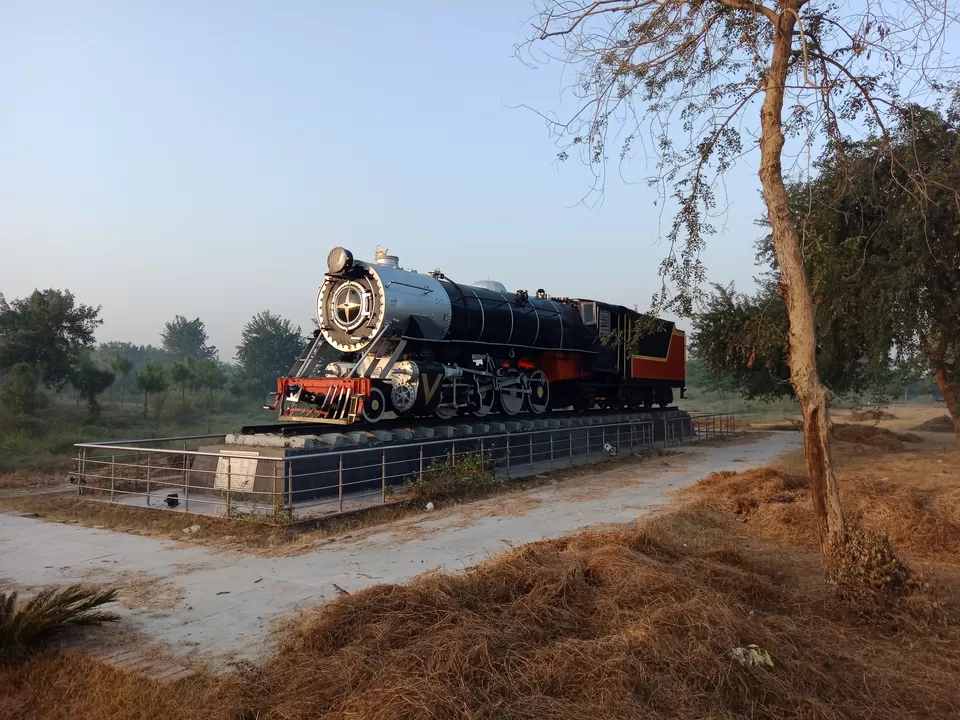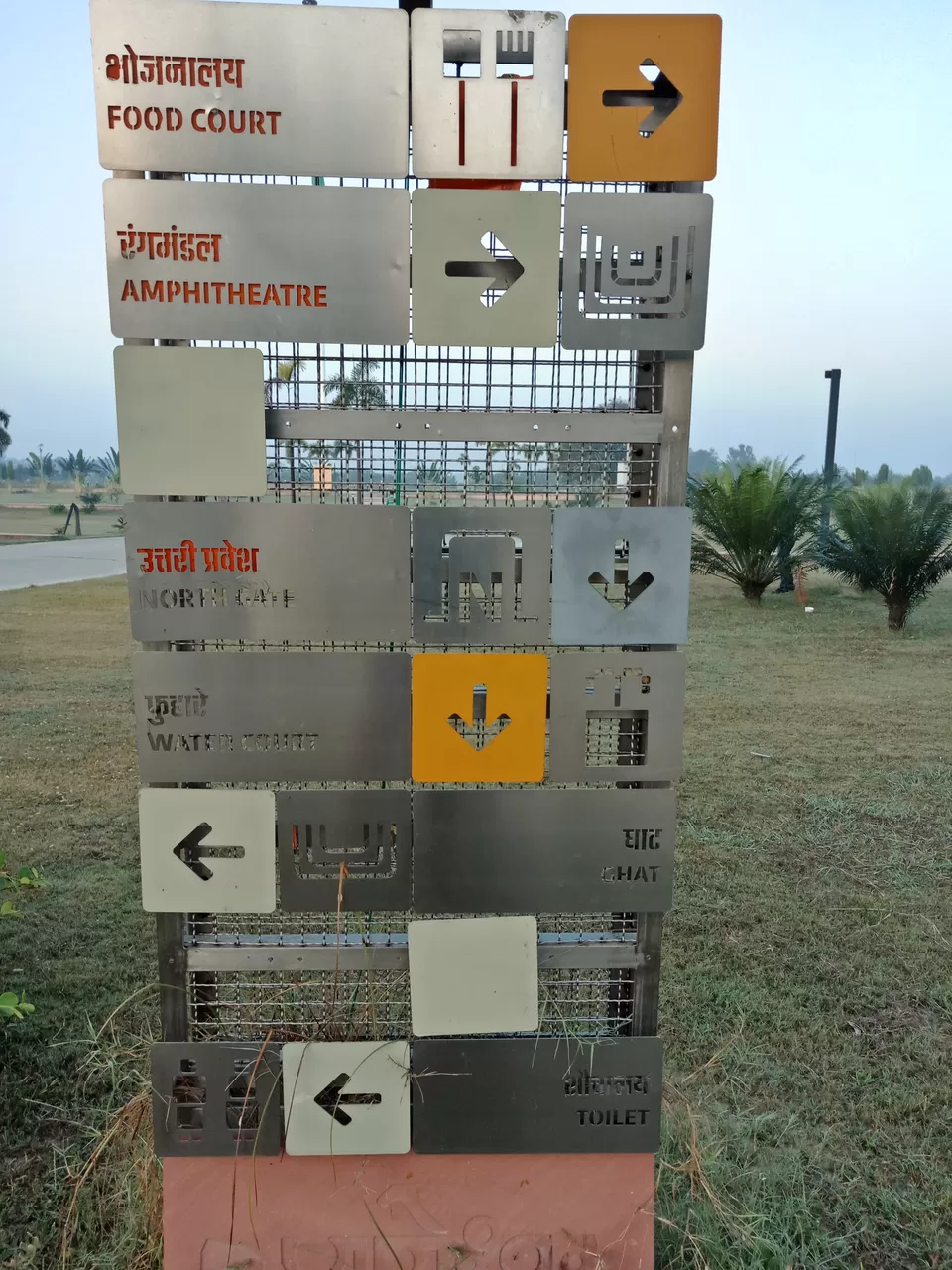 The park is open till 8pm, Then i decided to go to Marine drive.
2. Marine Drive :
As the name suggests I thought it might be similar to Marine drive of Mumbai. Since River Gomti is running throughout the Lucknow City, there was no reason to believe other wise. Once I got down the cab, then only I realized that the river is running nearby but it is not directly connected to the Road. But it is a cool spot to chill. It had got a wonderful 2 lane track and some seating by the road. It is less crowded and it happens to be a hangout place for bikers and young couples alike. Even though it is banned, youngsters perform some bike stunts and mini races. You may get lucky sometimes.
3. Hazratganj :
This is the third spot after I started from the hotel at 6pm. One cool thing was at this time, the Sunset is around 5.35pm. By the time I reached Hazratganj, I was already exhausted from long walks in the park and I was hungry. If you are in Lucknow, you should definitely try the Tunday Kabab and Prakash kulfi at Aminabad, two things that carry the true Lucknowi Spirit. Also a place known as Chowk is known for its drooling food. I wanted to visit both. Hazratganj is a market almost a 1.2 km long stretch with all good brands and with some upmarket crowd. It is similar to Brigade road in Bangalore and Delhi's CP. Due to already tiring eve and shopping was not in my list, I cut short my night by crashing into the Sahara Ganj mall. There was one more reason to it. Traveling to Aminabad, though its nearby, I simply didn't had the energy to go to try Tunday Kabab there. Luckily they had a branch of the same Tunday Kabab in the mall :) Hunger triumphs over Laziness.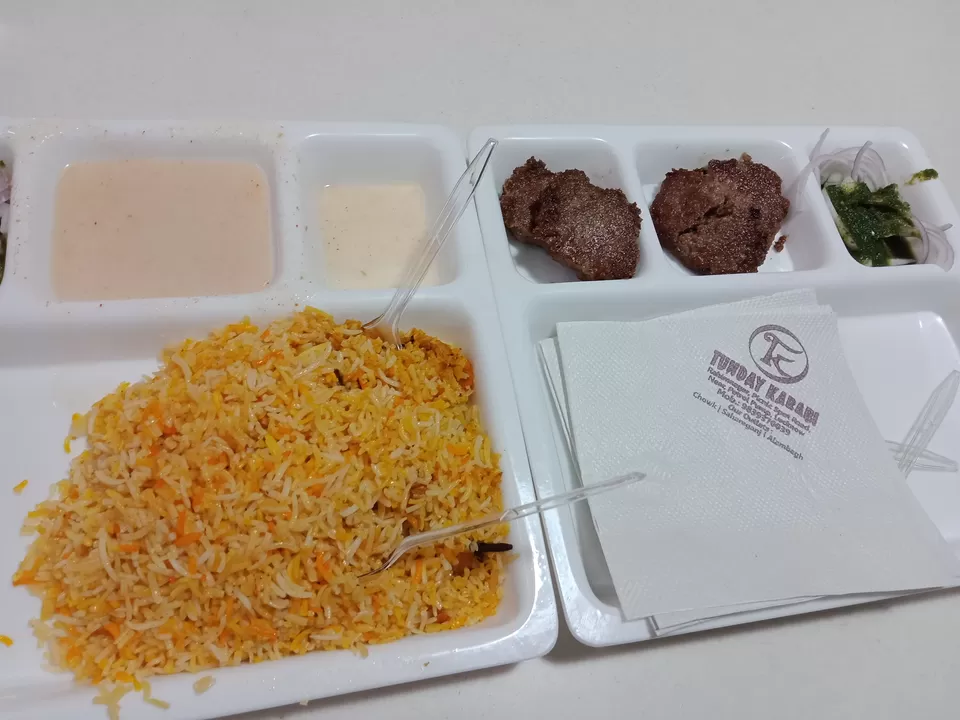 4. Bara Imambara
Lucknow's heritage is far deeper than it seem to be. And Bara imambara is one such a marvelous creation. With surprisingly advanced technologies used in the ancient times, it will make anyone go Wow about it. A walk down the history lane is the best thing you can experience in the city. As the tagline goes, Muskuraiye aap Lucknow mai hai (Smile.... you are in Lucknow)
Imambara is kind of Durgah. This is a complex with a Masjid, Durgah with a Labrynth in its walls (yes how cool is that?) and a well. This one was built in 1784 over a course of 14 years. The story behind the construction is also heartwarming. A massive drought affected then and people were dying of hunger and unemployment. They requested the then Nawab to give some jobs in order to tackle the poverty. Nawab Asif Ud Daula decided to create something that will provide their people with jobs until the city is recovered from drought. The wages were paid in food and hence no unemployment and at the same time poverty is eradicated. It is said that as much as 22000 people were employed building this and the Emperor kept on adding elements so that everyone is provided with job and food.
(a) Bowli : The well known as Bauli/Bowli which was so deep that the complex never ran out of water for the laborers, the entire construction and for everyone. The entire complex was built around this well and designed by the Iranian Architect Kifayat-ullah who was said to be the relative of Taj Mahal's Architect.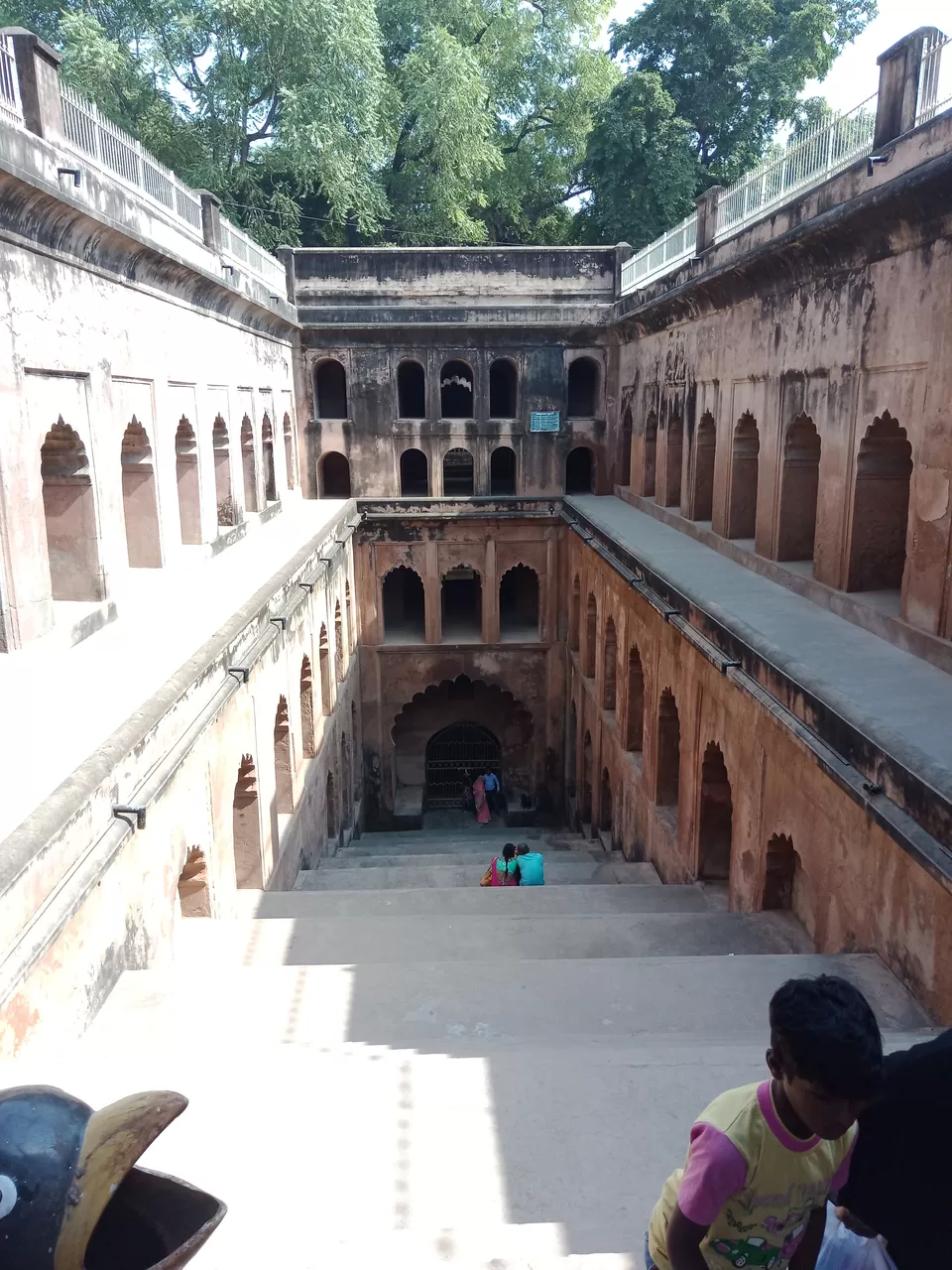 The building around is so advanced that those who come in does see only a small water body but for those inside can see their refection clearly. It helped to decide whether the incomers were enemies or not. An Ancient CCTV technique. Amazingly the well was 90 feet deep and held the key to the treasure of the Nawabi Empire. But in 1963 the Well was filled from above the water and now is only 30 feet underground.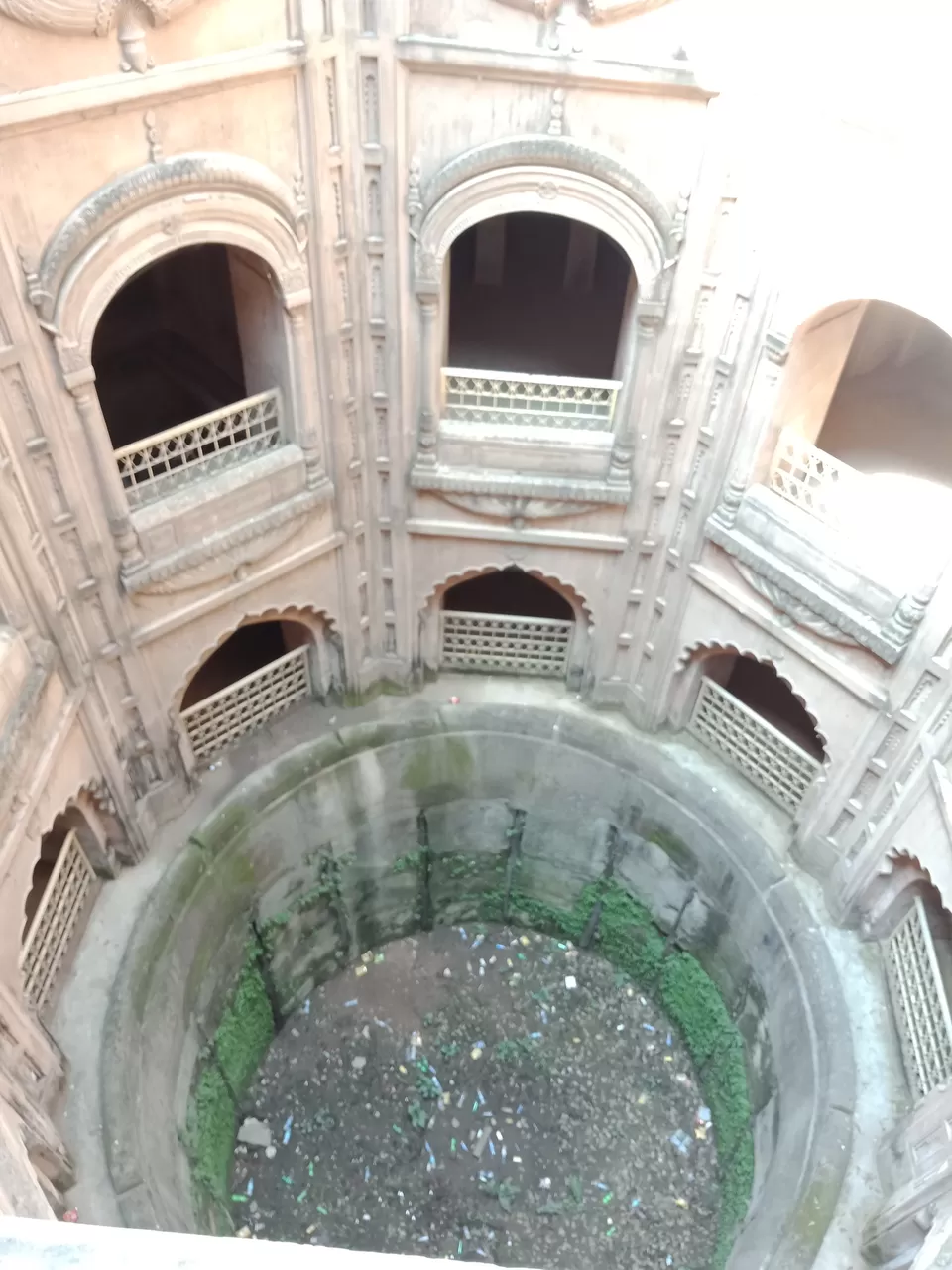 The story is much more interesting than any other Treasure hunt stories , it goes like this. The wealthy Nawabs were constantly under threat from the British and they were so keen on the Treasure. The treasure was so big that the entire Hindustan(India) could have been made rich. The Brits were able to bribe the King's Maid without him the King won't go out, as it was the maid's duty to provide with the royal footwear. And when they attacked the King didn't get up from his Throne and he knew they were coming. He could have gone into the Labyrinth in the walls which is way complicated and were the attackers will be lost their way, but he didn't. He sat there but to keep the Khazaana(treasure) safe, he had thrown the Key into the Bauli. It was so deep that the key was never found even though the King was captured. Till date the Treasure is undiscovered.
There is also a tunnel which provided access to various parts of the country. It is the route used by the Nawabs to transport weapons and other material to nearby kingdoms like Agra, Delhi etc. Having lost the key, the Brits entered the tunnel in search of the Treasure and nobody ever returned from it.
(b) Bhool bhulaiyya (Labyrinth) : This is the main wonder of Bara Imabara. It is a maze between the inner and outer walls of the Main building. From outside it looks like a normal building. But it is built in such a way that any outsider will definitely get lost and will be running around circling the inner wall. The entire construction is done with Lime stone and it also included common wheat grains, sugar cane, various pulses etc. And surprisingly no metal or wood were used in the construction. The building has complete openings everywhere for ventilation but nobody can see from the outside. Only those who are inside can see that too even the entrance of the complex. You will be shocked to see the wonders in this building alone.
The phrase "walls have ears" is believed to be originated from this Imambara. As the walls of this building are acoustically finished in such a way that even the whispers are heard far across the walls. Without even seeing the person who is murmuring, we can hear the sounds. And the Echos are completely shadowed except for the center of the walls. At one particular point you can hear the sound of a matchbox being lit from across the room.
5. Chota Imabara:
Chota imabara is though small in size, holds a key to number of ancient technology. this building flaunts its name for being created India's first Wind Gauge, First Lighting arrest and making use of first Geyser setup for warm water and First Shower.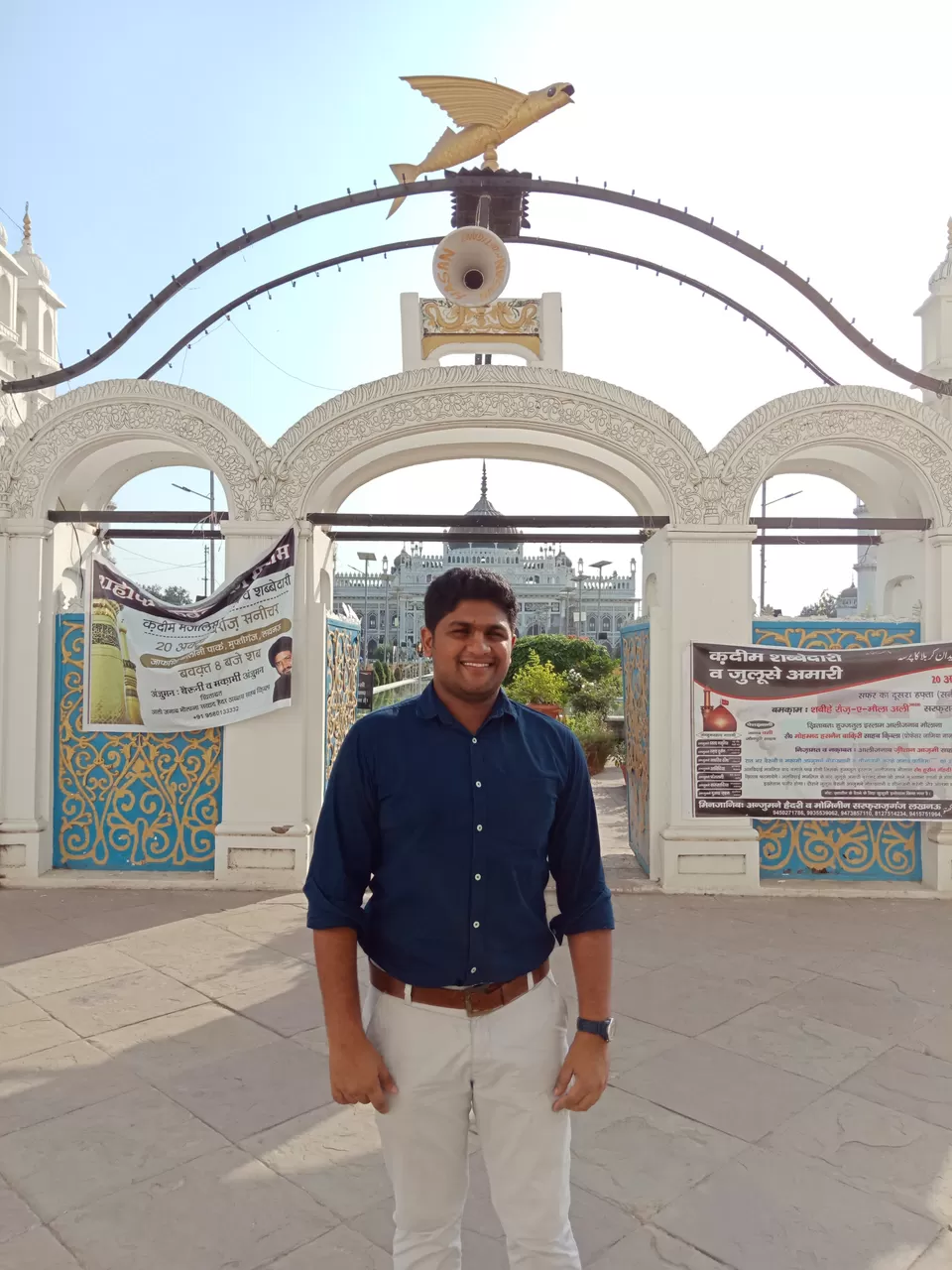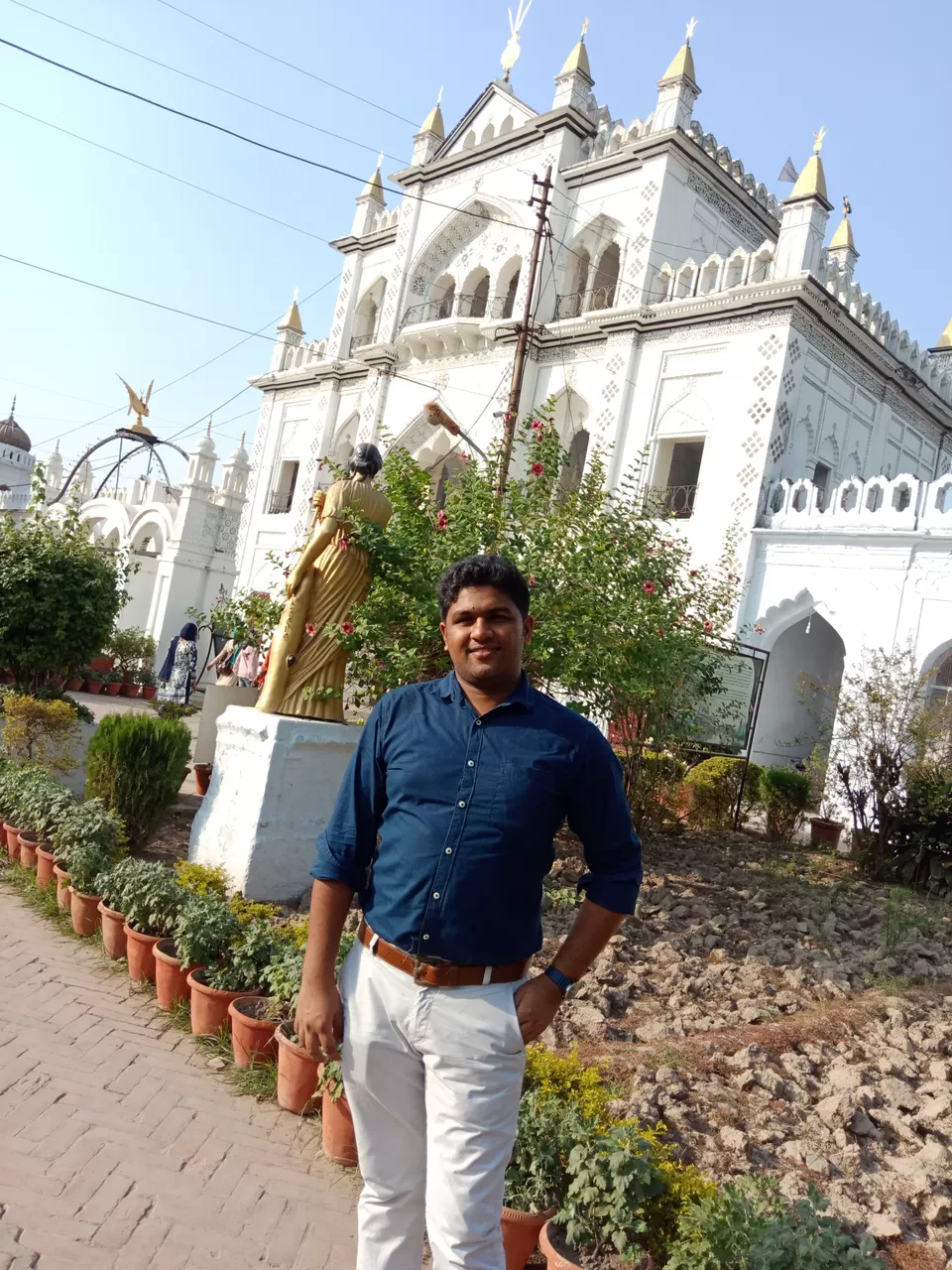 Nawab Muhammed Ali Shah used the Golden shower to take bath before entering the Durgah. He also had a small scale replica of Taj Mahal in his Daughter's memorial. Naseem Banu was 11 year old when she passed away. Only difference is this building is with 5 Doms instead of Signle Dome in taj Mahal and is made of Lime.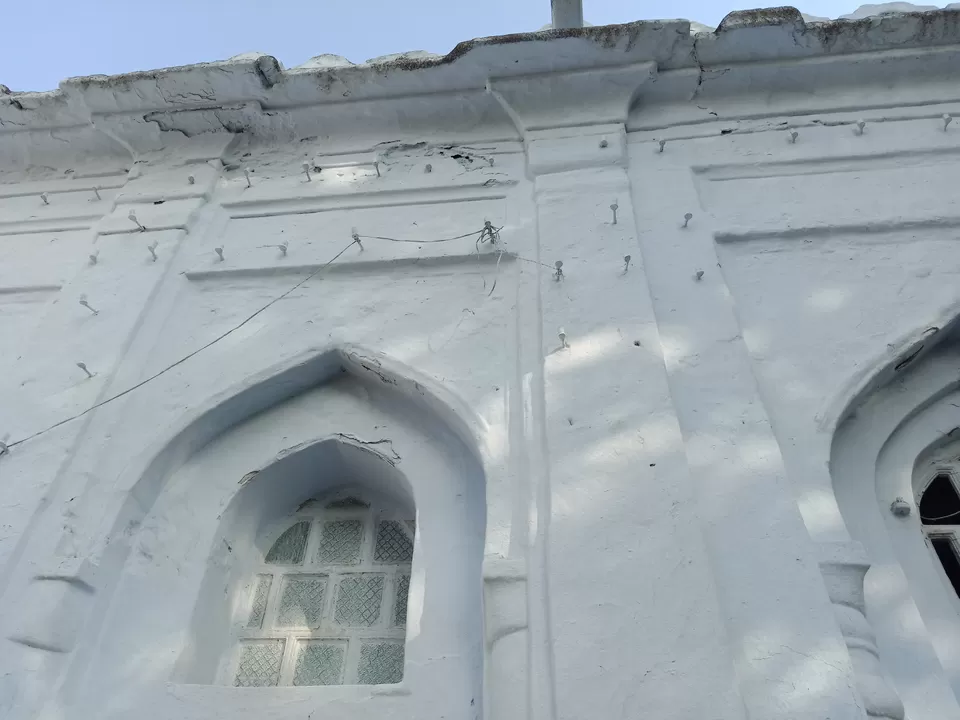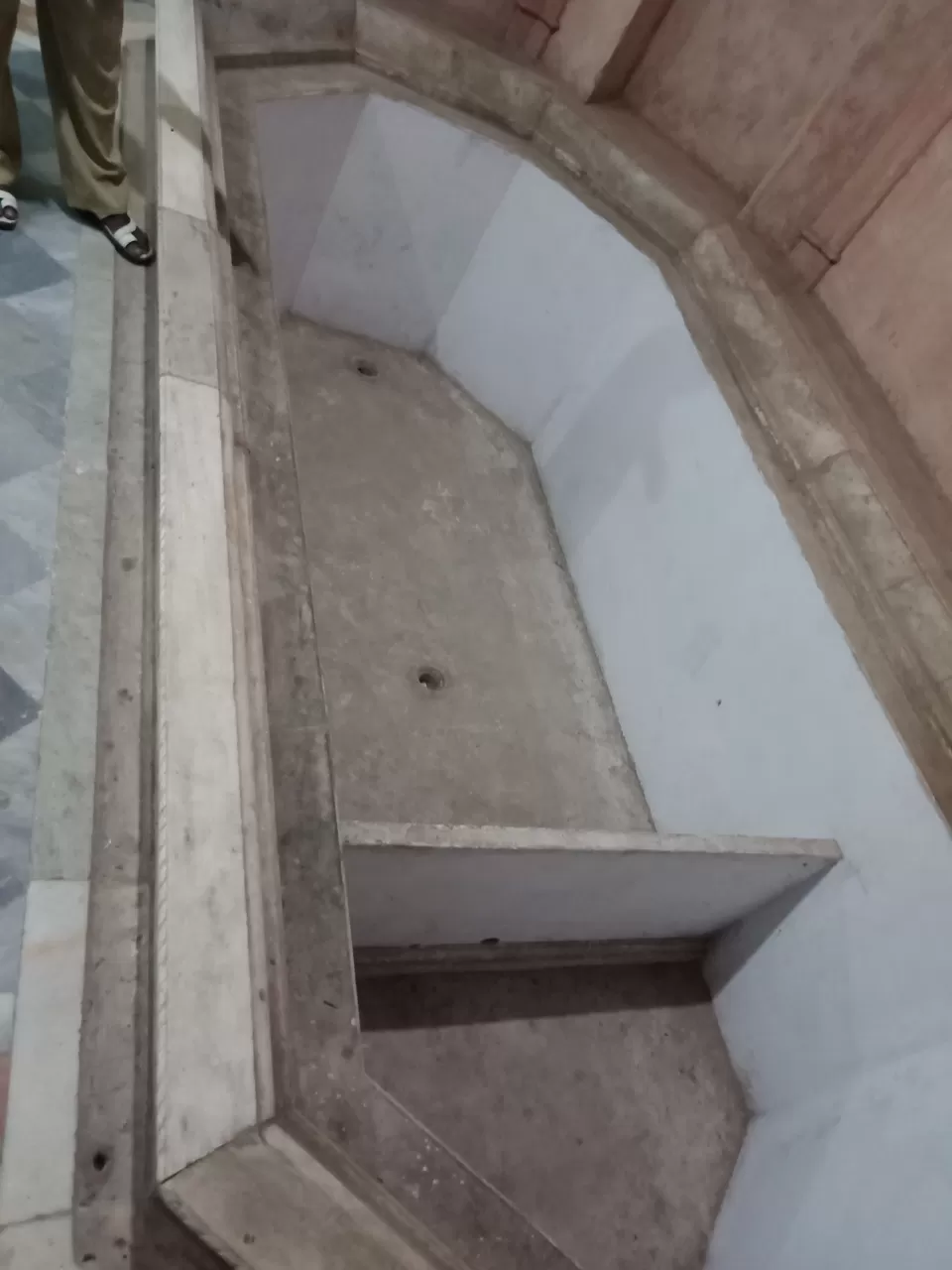 The shower complex is itself is a wonder. It had 2000 oil lamps and the time taken to light up all these is just one hour. And another coll feature is that instead of Paraffin wax which can light upto 1-2 hours, these were lit using only Beewax that too were able to lit up to 8 hours!!!!
In 1832, the Nawab used to take shower in Golden showers for which a special access was made from Gomti River. And on Thrusday nights he used to take dip in a Bath tub of 3000 Liters Rosewater. After taking a dip in the tub, the Nawab is moved on to another tank where cold and Hot water from two different tanks gets mixed in to provide warm water. Imagine doing this is 1832 :)
There is a clock tower also near to this Chota Imambara.