If you haven't figured out till now, let me inform you that I am on a Lucknow tour. This is 18th Jan 2019, Day 1 of our tour. We have already visited Chota Imambara, Rumi Darwaza and are done with a delicious lunch at Chowk.
You can read more about our exploits here: https://thoughtsasis.com/2019/02/11/lucknow-travelogue-day-1-18-1-2019/
Next on the itinerary is Bada Imambara.
The time is 3:30 PM and we are kind of stupefied to see the crowd and wondering if we need to stand in the serpentine queue for the entry tickets. Thankfully, we had already purchased a combo ticket at Chota Imambara and are spared the agony of further delay. BTW, the crowd is humongous, as the gates have just been opened after the Friday prayers.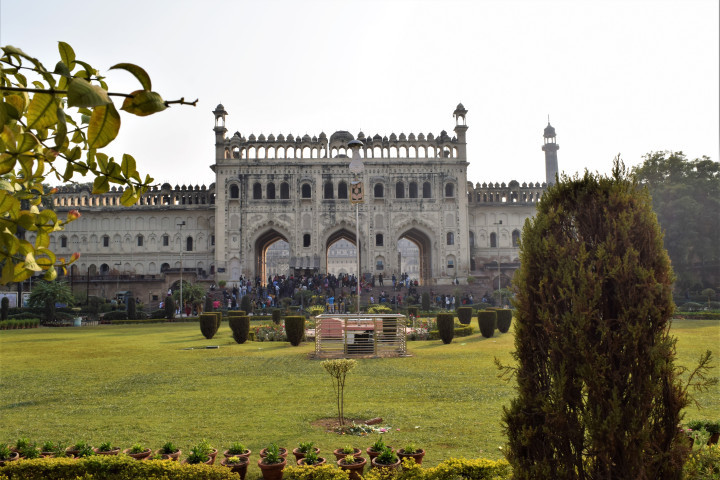 Once inside, we are greeted with a vista our eyes were not prepared for.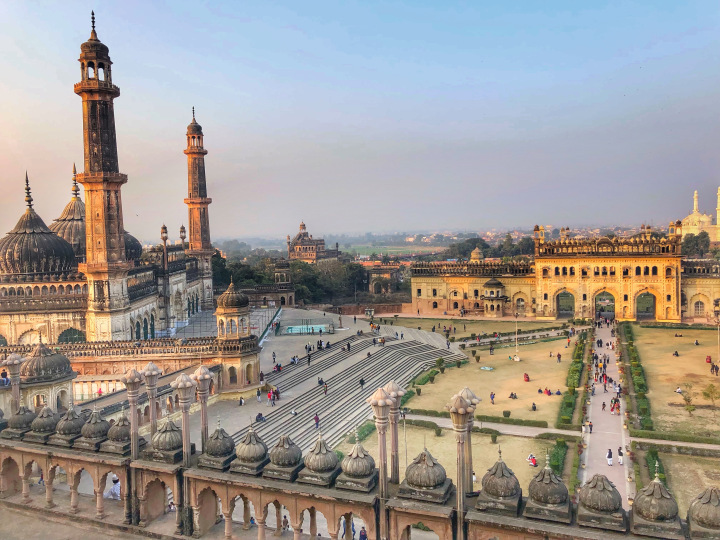 The complex is a magnified version of Chota Imambara . It houses a mosque, step well, Bhul Bhulaiya or a maze, and the main hall. The above shot is from top floor of Bhul Bhulaiya.
Our first pit stop is the mosque. While DMN and PA are on a mission to purchase a ticket for the guided tour of Bhul Bhulaiya, myself and RN have made ourselves comfortable on the steps of mosque, trying to bask in the sunset which has made the entire place very surreal.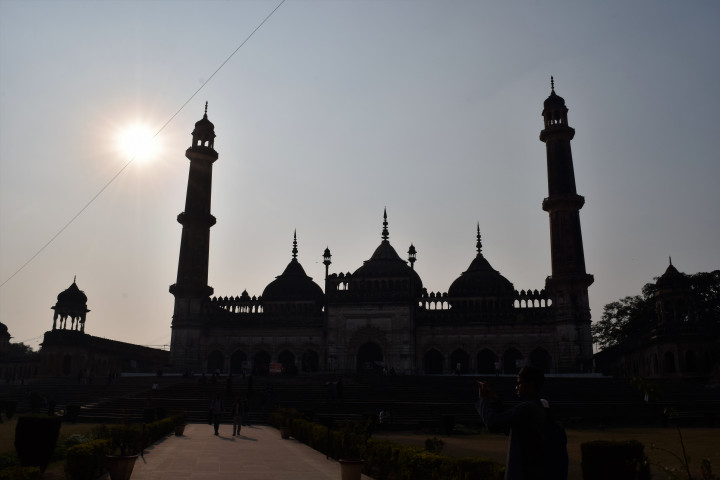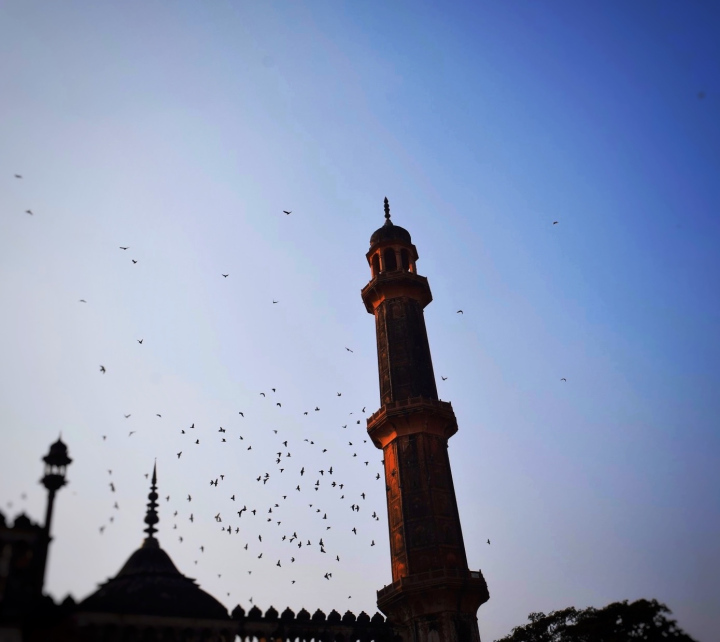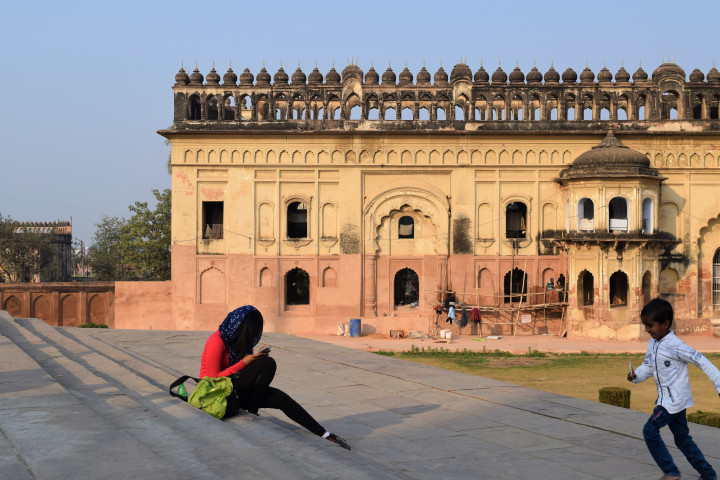 A shot which shows the activity and leisure in same frame. That's what the place is all about. Lazy and adventurous
10 min have passed, and DMN and PA are back with an announcement that we would need to pay the guide at designated places itself. This is more for your info.
A bit irritated, we head towards the step well.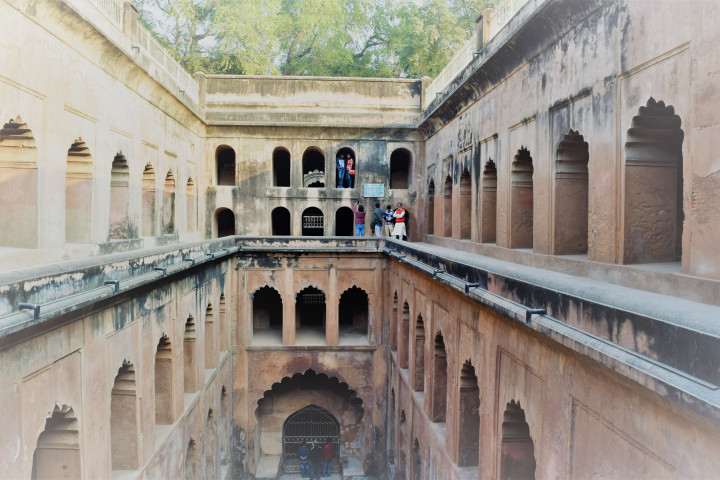 And the excitement is back.
We booked a guide for 100/ INR. He is a very sweet chap and explains the historical significance of the well , shows us the vantage points to view the enemy without being noticed and also explains the natural materials used in bricks, erected for well construction.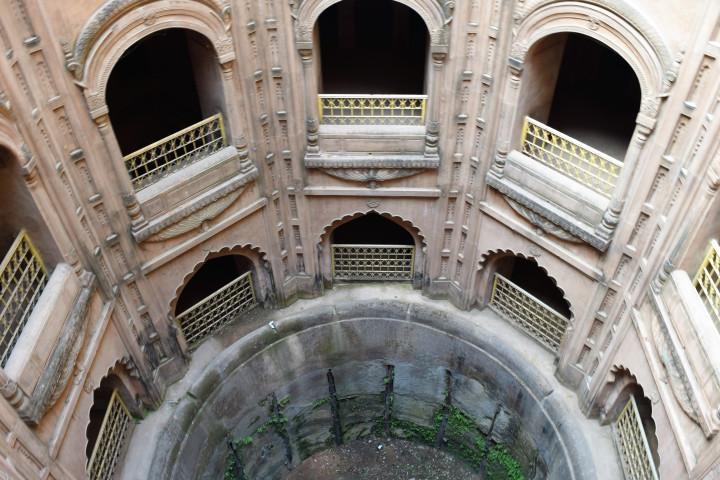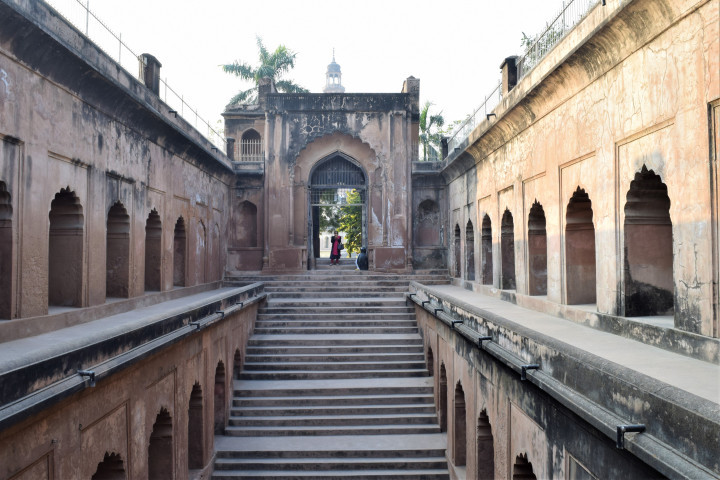 These structures had always intrigued me - They are beautiful yet useful. As if, the architect accepted the challenge to leave behind a marvel which is beyond the comprehension of modern generations - why so many doors, windows, the steps underneath, where was water supposed to flow from, flow into, who would be waiting here for enemies, what if someone just falls...
Some questions just remain unanswered.
We stroll further and come across Bhul Bhulaiya, one of the most famous obsessions of Lucknow. There is a bit of a chaos here. Basically, the guides take group tours and if you are not a group of 10 people, chances are that even after paying you would have to wait for 15 minutes for the group formation. In the meantime, we surrender our shoes, took some shots and after a bit of haggling set out on the maze.
Not much pics here, because all your senses need to be focused to ensure you don't get lost . And it's a steep flight of steps, not recommended for elders and kids alike, albeit under supervision.
I guess, there are 5 floors, and finally you are allowed to rest on 5th floor. I don't remember exactly as to why was it constructed in the form of a maze, I just remember that it's been an exhilarating experience, to climb up and down , and understand the construction of a dome shaped hall without any pillars. A few glimpses of us getting lost in the mayhem of a maze.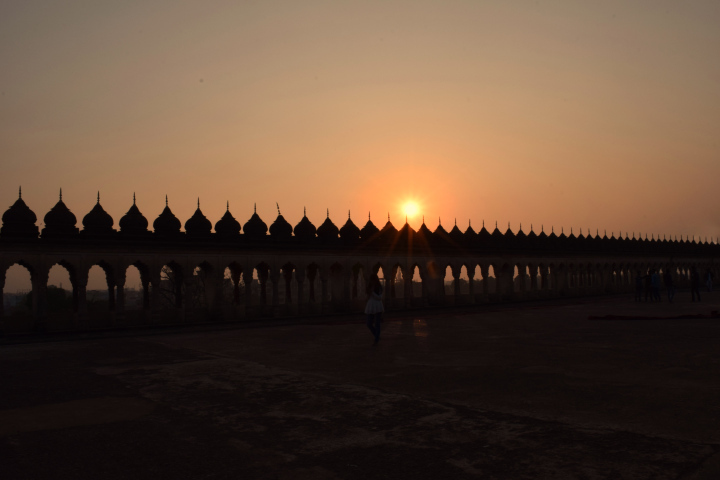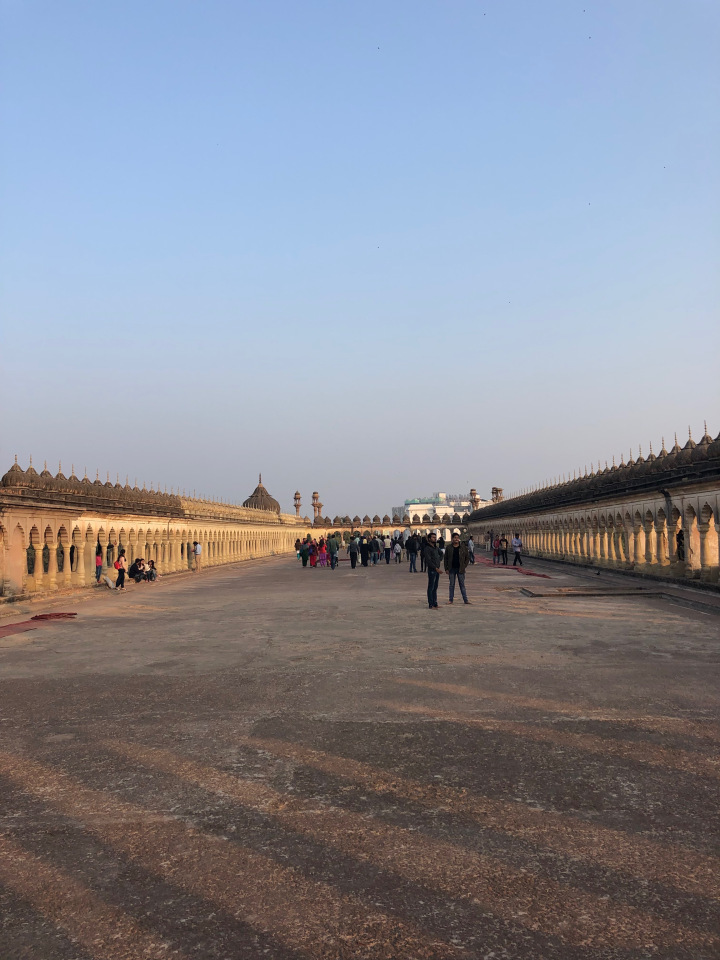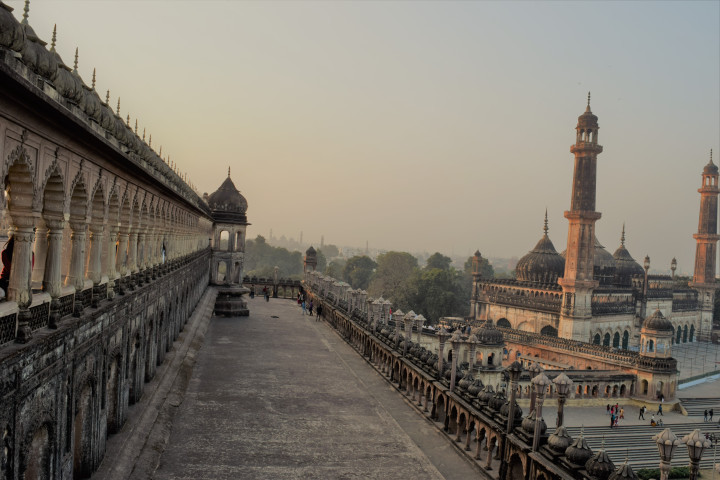 Next is the main hall which like Chota Imambara has chandeliers and Tazias. Not to that scale for sure.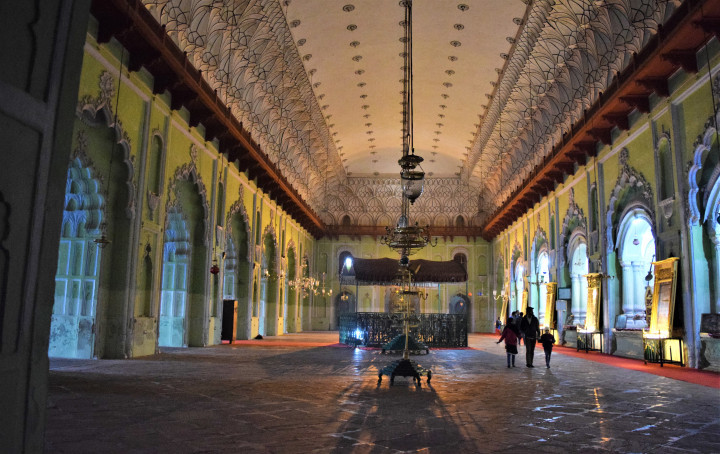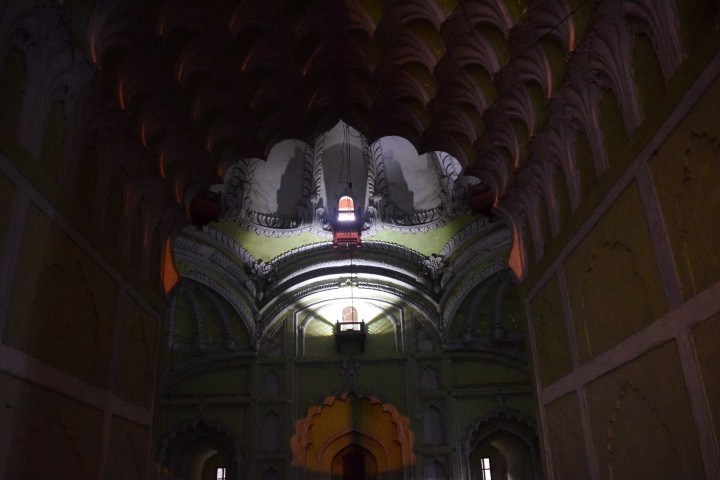 We are done with a tour of Bada Imambara and I ought to mention that it's a time well spent. We have also been lucky with respect to people we met on the way, be our fellow travelers or guides. Everyone have been really helpful and patient to honor our quest for knowledge and ignorance of surroundings.
BY this time, DMN is hungry and we head out to a chat vendor near Rumi Darwaza.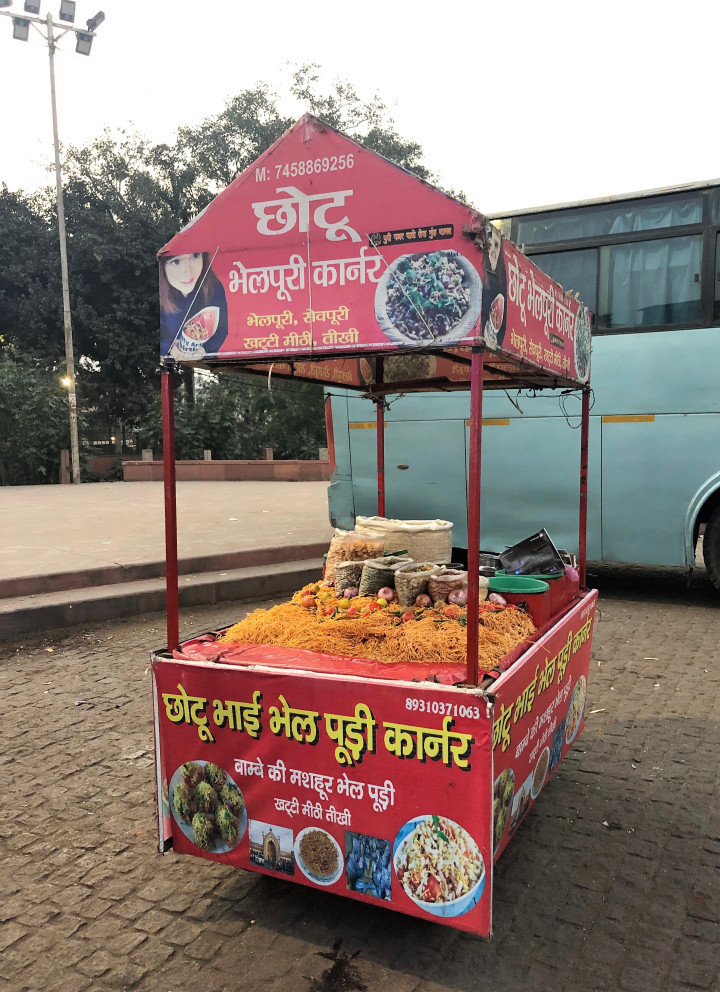 Once satiated. we spend some more time, around Bada Imambara. By the time it's dark and we realize that there's an aura around the entire place.
We head back towards Bada Imambara.
First revelation is a LED display, which can be viewed only after sunset.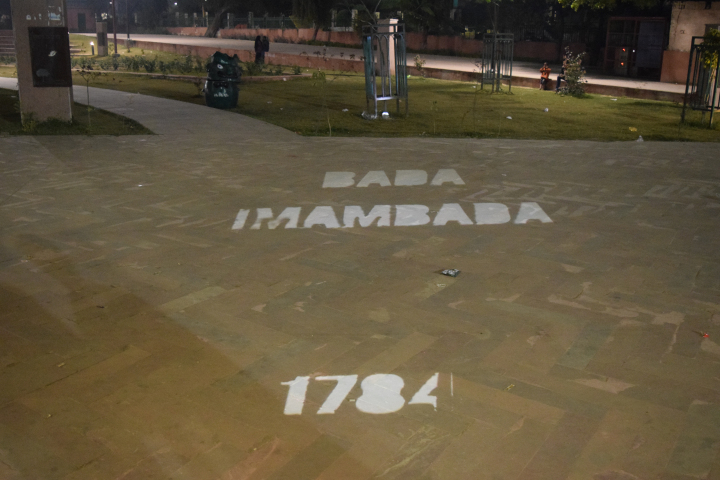 And next is this: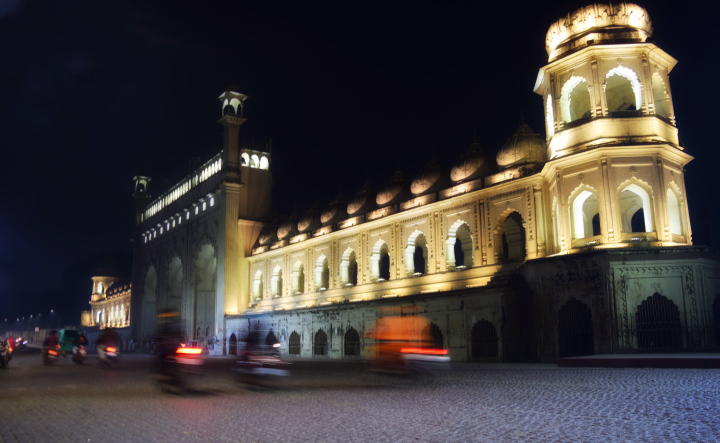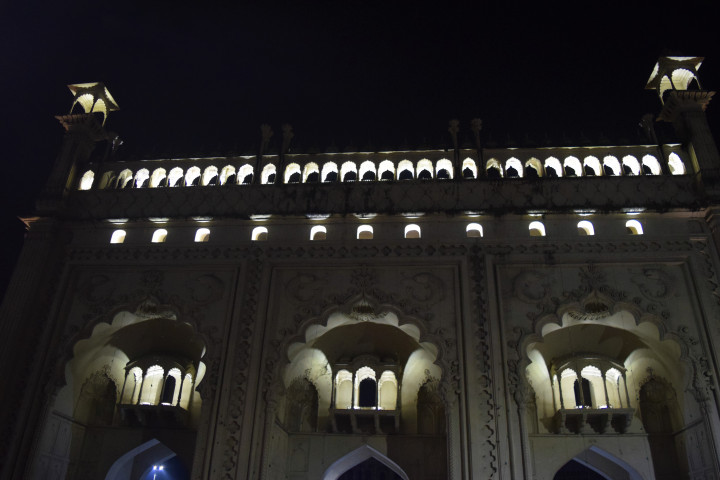 Ensure you have around 3 hours in hand for a complete guided day and night tour of Bada Imambara. Start in the evening, hang around the place, sip tea , eat kebabs , shop in the flea market only to head back home with sweet memories of an evening rich in its aromas and visual appeal.