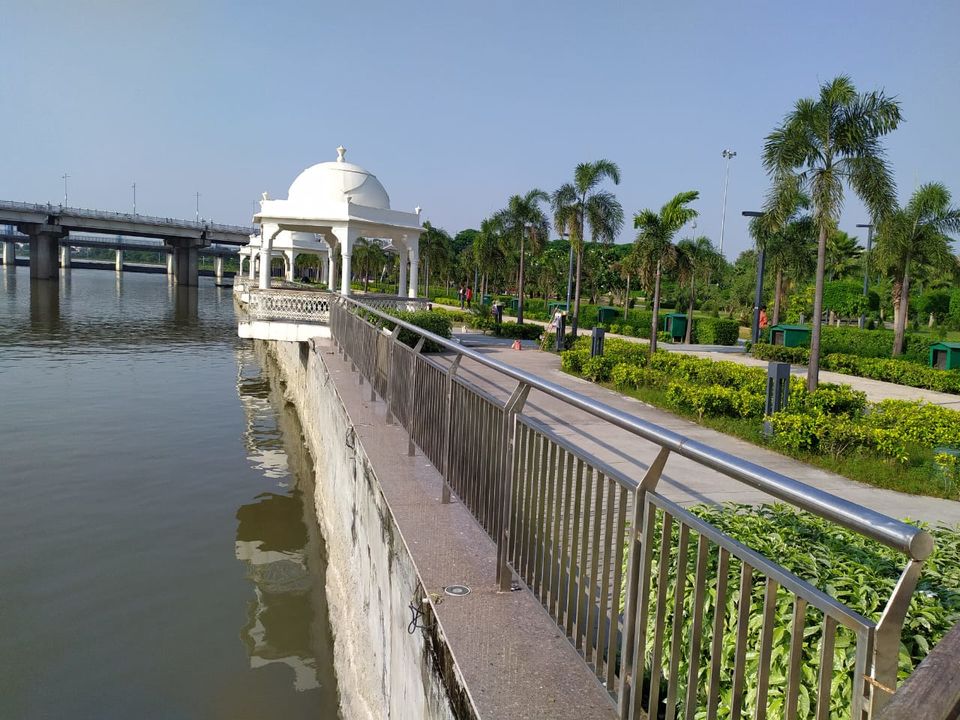 Thanks to this lockdown period, I have loads of free time being at home all day. I decided to make myself productive and was cleaning old photos from my memory card when I stumbled upon my Lucknow pics from the trip we had taken last year.
Lucknow – the City of Nawabs! Mughal architecture and Mughlai delicacies are both equally famous in this old city. The capital city of Uttar Pradesh is also the architectural hub of Northern India. From monuments dating back to the British or Mughal time period to skyscrapers and a newly launched Metro line, Lucknow maintains a fine balance between heritage and modernity.
Here are some of my favourite spots from the city that we visited.
The Bara Imambara in Lucknow is one of the most popular attractions in the city. It is also known as Asfi Imambara, named after Asaf-ud-Daula, the fourth Nawab of Awadh, who built this gigantic monument in 1784. The entire complex houses a mosque, several courtyards and gateways, and an old step-well. The arch over the central hall of the Bara Imambara is over 15 meters tall and spreads across 800 square meters, standing tall to this day without any support beams or pillars. Bara Imambara is also known for its incredibly built architectural maze of Bhul Bhulaiya, located on the upper floor of the monument. There are said to be 489 identical doorways, interconnecting numerous passages to each other. From the top, you can enjoy a stunning panoramic view of the city.
If you're a lover of history, a visit to the Residency is a must. This ruined fort is a living testament of India's first revolt against the British. The British Residency in Lucknow served as a refuge for approximately 3000 British inhabitants during the 1857 Mutiny. The walls of the structure are still marked by bullets and cannon balls.The compound is also home to around 2000 graves of British soldiers who died during the struggle. There is also a museum in the main building which is a must-see.
History says that when the famine stuck in 1784, Nawab Asaf-ud-Daula came up with a plan to feed his people. The Rumi Darwaza was built by Awadhi workers in exchange of a daily meal, thus, giving him something to be proud of even years later. It is believed that the architecture of Rumi Darwaza was modelled after the elaborately decorative Bab-i-Humayun Gateway in Turkey.Standing tall at sixty feet, the Rumi Darwaza in Lucknow is an impressive sight adorned with beautifully carved flowers and designs.It is a grand example of Awadhi architecture and well worth a visit.
A trip to Lucknow is incomplete without feasting on its sumptuous local delicacies. From soft tender kebabs to mouth-watering mutton gravy, Lucknow is truly a paradise for meat lovers. Tunday Kebabi is one of the oldest and most popular restaurants in Lucknow. It has multiple outlets in the city. The Chowk outlet serves only beef kebabs, while the Aminabad outlet serves both mutton and beef kebabs. Feast on a varied platter of lip-smacking kebabs of your choice!
During our stay in Lucknow at a guest house in Nirala Nagar, I was craving some chocolate brownies one night. When we asked at the reception, they recommended The Hazelnut Factory as the go-to place for any sweet cravings. We visited the Nirala Nagar outlet and I instantly fell in love. Decorated like a nice cosy café, this is a bakery cum fast food joint. They serve a wide variety of cakes, pastries and milkshakes, as well as sandwiches, pizza, pasta, burger, and more. I tried their walnut brownie and chocolate shake. Being a huge sweets lover, I loved my visit at the THF outlet.
Sitting at my home in this lockdown, as I look back on all these photos, my memories of our Lucknow trip are covered by the rose-coloured sheet of nostalgia. Looking forward to travel again when the world goes back to normal…
Frequent Searches Leading To This Page:-
lucknow tourism for 2 days, lucknow things to do, lucknow places to visit, lucknow weekend getaways, lucknow hotels