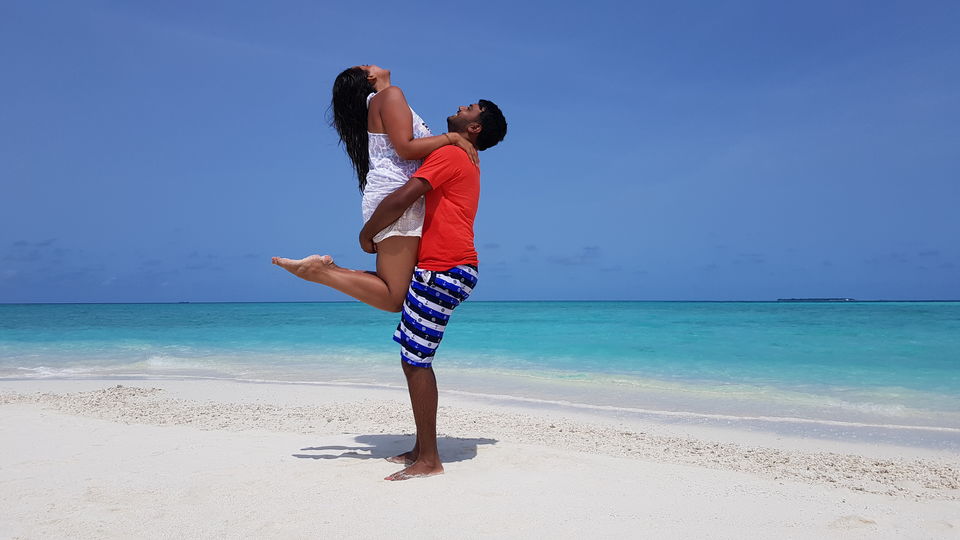 Most of the couples now-days are choosing Maldives as their honeymoon destination, and no wonder why, the turquoise waters, the beautiful beaches and exploring marine life is on everyone's bucket list.
The usual travel plan is to fly to Male Airport, take resort transfers which are quite expensive and spend maximum upto 4-5 nights in the lavish resort since it is quite heavy on pocket, and heavier if you go for overwater villa. Usually such trip costs more than 3 lacs depending on your resort.
Now lets try a different plan. So here are my tips to have a luxurious honeymoon in Maldives without burning so much cash.
1. Start with local Island - Maafushi
The local island here refers to that is run by Maldivian People, has some nice guesthouses and 3 star accommodations. It has the same turquoise waters and beautiful beaches that you have seen in the images. The island also offers all the amenities such as restaurants, tours and grocery shops. The most popular and accessible island is Maafushi which can be reached within 30 mins by speedboat from Male airport. They usually charge 15-20$ per person, or if you are lucky and have a local ferry going as per timetable, the transfer cost would be only 2$ per person.
Price Difference : The local island transfer cost around 20$ per person & resort transfer cost around 200$ per person.
2. Food & Accommodation
Since the resorts are quite expensive to build, so they charge you extraorbitantly for the food and stay, you can stay in a local island from 50$ per night including 2 meals. Also, you can purchase the basics grocery & fruits from local shops at regular MRP which are prices 5 times the MRP at resorts. Also you can get the same dreamy private romantic dinner setup in 30$ which was like 200$ at the 5 Star resort.
Price Difference : The food and accommodations cost around 50-100$ per night at local Island and are usually 500-1000$+ at resorts per night.
3. Snorkeling Tours
The local islands offers the same snorkelling tours as resorts. They take you to same dive spots or reefs for turtles, dolphins, sharks and ship wrecks. They also take you to the beautiful sand banks where you can swim & have a nice lunch included in the tour. The tours are exactly same as run by the resorts.
Price Difference : The tour cost around 25-30$ at local Island and 150-200$ at resorts.
4. Day Trip to Resorts
So this is the best part of the article, you can still enjoy all the luxuries of the resort by staying at local island. So many resorts have a thing called day pass where you can come to resort from 10 am - 6pm and enjoy everything has the resort to offer - their swimming pool, gym and sports facilities, in house reefs and also they have unlimited drinks and food for you during this time. All this for only 100-150$ per head while a night stay can cost you around 500$ per night. And you would experience the same amount of luxury, and you would not feel that you have missed out on the resort experience. My Recommendation would be Olhuveli Island Resort.
Price Difference : The day pass to resort cost around 100-150$ per person while a stay would cost 500$ per night for 2 people.
My Maldives Holiday with my wife costed me 1 Lac for 10 nights including flights. We stayed at 3 local islands Maafushi, Fulidhoo & Thinadhoo and visited 3 island resorts via Day Pass Program which were Olhuveli, Adaaran Vadoo and Centara Island Resort. Yes we splurged a little as we went to 3 Island Resorts and also stayed a night at Olhuveli as it was our 1st anniversary.
So as per my advise a couple can easily do a trip for 7 nights within Rs.50,000 excluding flights. You would also get to know more about the life of Maldivian People by staying at local island, they are really friendly and can take you on some private boat tours. Our Host at Fulidhoo was extremely generous, he took us to catch fish in the morning, then cooked amazing breakfast for us and also took us to a great spot where we saw dozens of sharks & sting rays.
I would also post an article on Maldives Itinerary and Top 10 Highlights of my trip in coming Days.