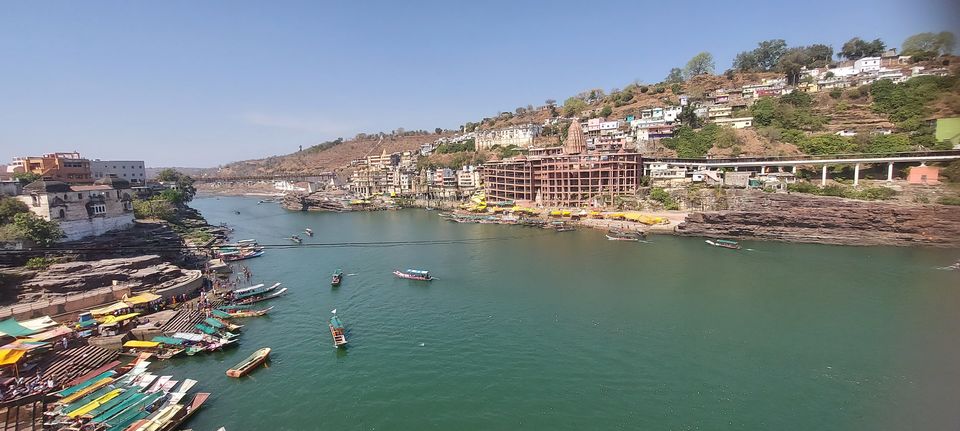 Omkareshwar, Khandwa
It is in continuation of day 1, Mahakaleshwar Ujjain:
8:30 am- We have departed by bus, booked yesterday for rs 320 per head from Mahakaleshwar temple (boarding point) to Omkareshwar. It was 4 hours journey by bus (including 1 tea break stop 15 mins).
In between we have croossed Indore outskirts, small villages in between, some hilly areas, sagoon tree jungle, linkage Shripra- Narmada river linkage pipelines.
12:30 pm: we have reached Omkareshwar bus stand, took sharing auto to the river banks of Narmada, as Mandir was closed from 12:30 to 1:15 pm for Sringaar and bhog prasad. We have decided to take holy dip in Namada river first. At the riverside banks were very slippery due to algae. We take a bath, water was very cold. It was very refreshing, then we move forward to the temple.
1:15 pm- We took prasad and left our bags at same point. We have passed local markets and joined the queque to the temple.
4:30 pm- we had darshan of Omkareshwar mahadev. We had darshan for around 5 secs and moved forward due to crowd. It took around 2:30 hrs in queque (be prepared for some hussle and tussle and small small arguements in between)
5:00 pm- Did some small shoppings, collected soveneriors.
5:15 pm: tried some local food and Lassi.
Lassi was very nice, rest of the food are quite ok ok type.
5:30 pm- Took auto to bus station and boarded bus, back to Ujjain.
9:30 pm: Reachd back to Ujjain.
JAI OMKARESHWAR MAHADEV !!
Summary:
Mode of transport used: Public bus, sharing tempo and auto.
Food tried: Aloo paratha, Lassi Pineapple juice and golgappa, sugarcane juice.
Duration: 1 day
Cost: 500 rs from Ujjain