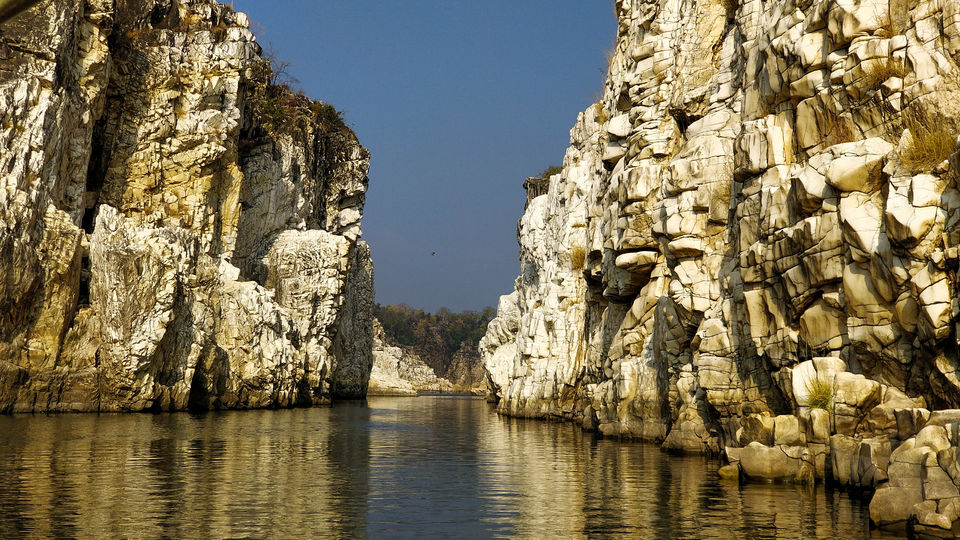 You must have seen umpteen photos of USA's Grand Canyon. The sheer scale and beauty of the destination makes it a must-go on every traveller's bucket list. Little do we know that we have our own Grand Canyons in different parts of India. The Marble Canyon of Bhedaghat is probably the grandest and the most thrilling of them all.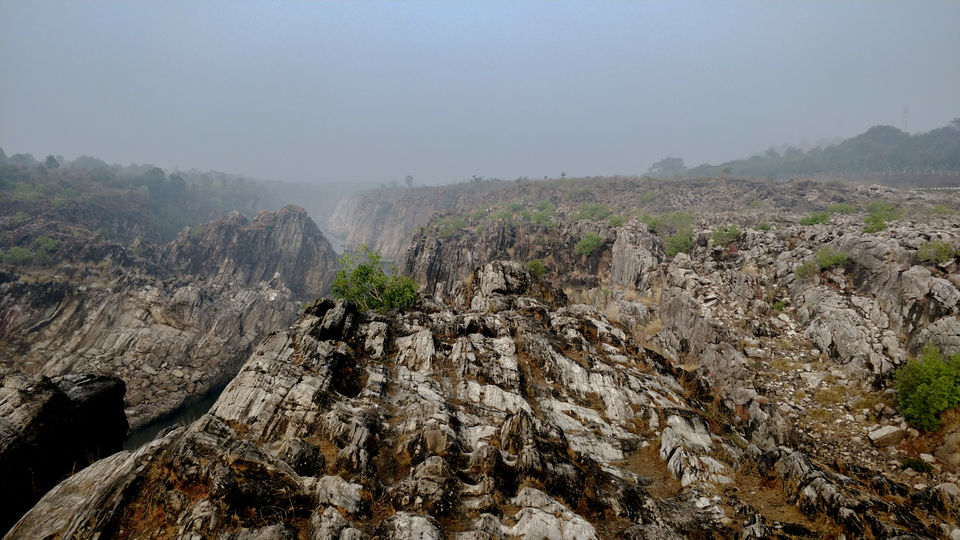 Most of the rivers in India flow from west to east but Narmada and Tapti take the opposite direction.
Narmada is a tiny stream in Amarkantak, the place from where she originates. This tiny tributary turns into a roaring river by the time she enters Jabalpur. A few kilometres south of Jabalpur, Narmada takes a mighty plunge and flows into the narrow gorges of towering limestone cliffs, creating a visual spectacle.

A visit to Bhedaghat isn't time consuming. One can take a weekend for Dhuandhar Falls and Marble Canyons and add Bandhavgarh National Park for a longer vacation.
How to reach Bhedaghat
By train – Jabalpur is connected to major railway stations. The city is six hours away from Nagpur and about 12 hours from both Delhi and Mumbai.
By flight – Jabalpur airport has direct flights from Delhi, Hyderabad and Mumbai.
By road – The national Highway (Varanasi-Kanyakumari Road NH7, Jabalpur-Jaipur Road NH12) passes through Jabalpur. There are a number of daily buses from Bhopal, Indore, Nagpur and Raipur.
Bhedaghat is about 30 minutes away from Jabalpur station. If you find a local rickety bus (Rs 30 per person) then your travel time and pain will increase. Hiring a taxi will make your journey quick and comfortable though it might be a bit over budget.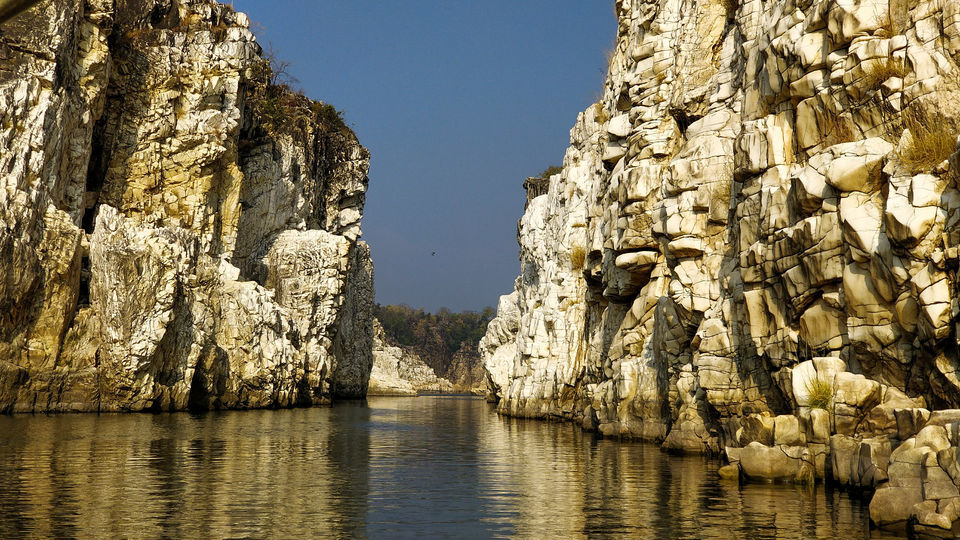 From Jabalpur station you can choose among local bus, auto-rickshaw or taxi to reach your destination. The bus drops you a few kilometres before Bhedaghat, from where you can get an auto-rickshaw. Hired taxis and rickshaws drop you at Bhedaghat entrance.
There are a number of hotels around Bhedaghat. Staying here will keep you close to this beautiful place, giving you a chance to avoid the hustle-bustle of Jabalpur.
What to see and do
Take a boat ride
Bhedaghat has two types of boats. You can either choose shared boats or hire one for yourself. Hired boats provide you the freedom to explore and observe everything.
The boat ride is an hour long. The guide on the boat tells you about the stories attached with this place. He'll also tell you about the movies like Shahrukh Khan's Asoka and Hritik Roshan's Mohenjo-Daro which were shot here.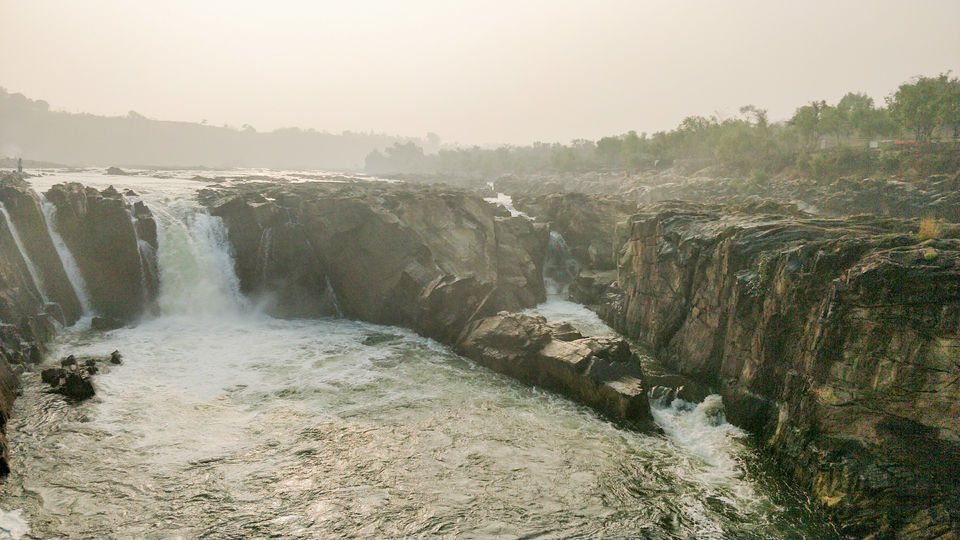 Enjoy a lemon soda and KITKAT post the boat ride to get back your energy. From the bank, a small alley leads you to Dhuandhar Falls viewpoint. This alley is filled with shops selling marble artefacts.
Cable Car
Another way (and most recommended) to reach the waterfall is by a cable car ride. You can get the tickets from entrance of Bhedaghat. This cable car will pick you from eastern bank of Narmada River and will drop you at the western bank after crossing the river.
Post your excursion, return to your hotel to rest.
Suggested itinerary
Jabalpur – Bhedaghat – Bandhavgarh
(You can also add Amarkantak before Jabalpur).
Entrance Fee
Bhedaghat Entrance Fee – None
Bhedaghat Boating charges – Rs 100 (group boating) Rs 500 to 800 (personal boat)
Dhuandhar Falls entrance fee – None
Ropeway charges – Rs 85 for both sides
Opening hours
Bhedaghat – 6.oo am to 7.oo pm (most days). Rides on full-mood nights need to be pre-booked.
Ropeway – 10.00 am to 6.00 pm.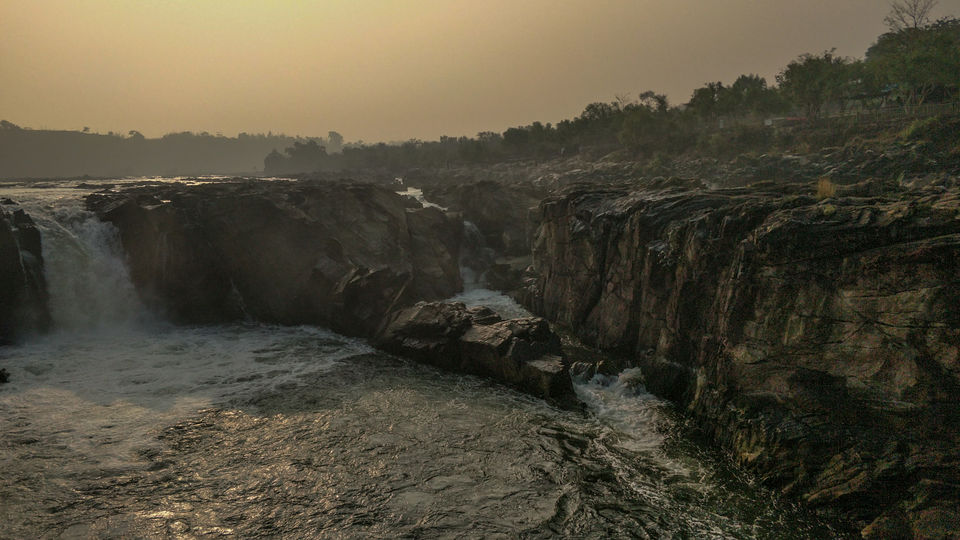 Closing time
Bhedaghat and Dhuandhar Falls are open all week. Boating shuts down during the monsoon season (Late June to Mid-September). The rope-way may not operate during lunch hours.
Best time to visit
Best time to visit Bhedaghat is pre-monsoon (Late May/Early June) or after the monsoon season (Mid-September to Late February) when the weather is nice and the river is not overflowing.
Accommodation
You have the option of staying at a luxury resort, guest house or budget hotel here. Prices range between Rs 800 to 3000 per night depending on the preferred accommodation type.
Costs
Flight from Delhi/Mumbai to Jabalpur – Rs 5000 approx.
Taxi (Jabalpur to Bhedaghat) – Rs 800 to 1200
Auto rickshaw (Jabalpur to Bhedaghat) – Rs 300 to 500
Hotel stay in Bhedaghat – Rs 800 to 5000
Cost of a meal – Rs 100 for a veg thali
Write about your own travel experience on here to get likes and comments from travellers around the world. Best trips will be featured on our Facebook and Instagram page.
Tick all hidden gems off your bucket list. Check out Kitkat Travel Breaks on Tripoto here.

The readers are hereby informed that the views, thoughts, images and opinions expressed in the article belong solely to the author, and Nestlé India Limited assumes no responsibility or liability for any errors or omissions.