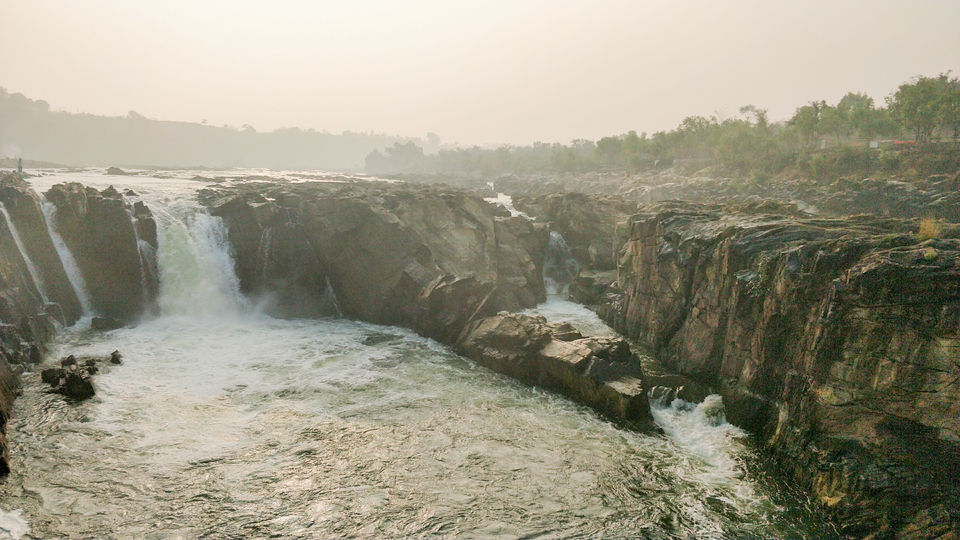 On a cozy Sunday afternoon, tucked in my thick blanket, I was browsing the internet when I came across a picture of a beautiful valley through which the mighty Narmada river flowed. This place called Bhedaghat is near Jabalpur in Madhya Pradesh. I was in Delhi at that time and the winter season was about to end. On realising that the notorious summers of MP were not fit to make any travel plans, I decided to visit this place in the coming weekend itself.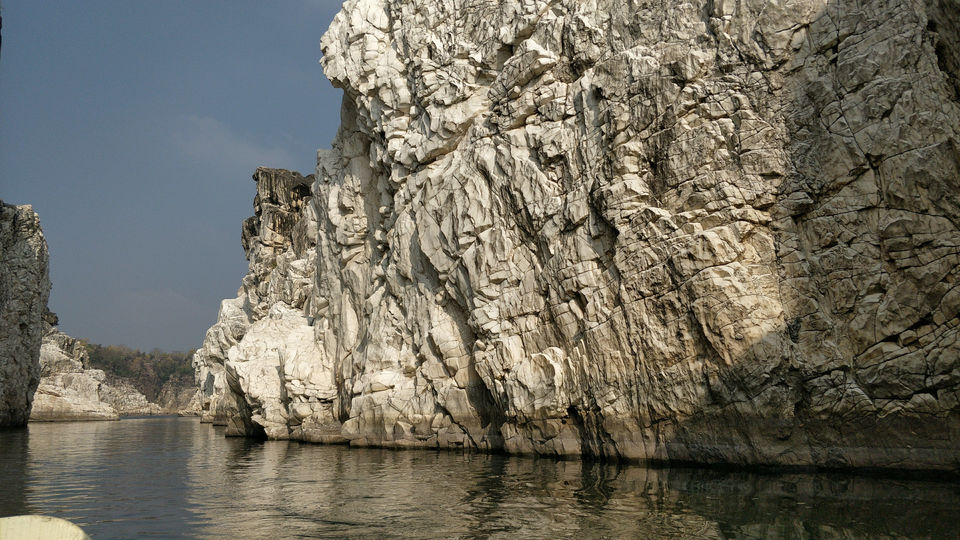 My train reached Jabalpur late in the night. Hence, I decided to spend the night in a hotel near the railway station itself. Early in the morning next day, I began my journey to Bhedaghat.
An auto-rickshaw dropped me a few kilometres before Bhedaghat village. From here, I booked another auto-rickshaw to reach Bhedaghat entrance point. A number of big and small guest houses and hotels were present and many were under construction. There were a few vendors selling lemon soda and Chuski on the way. I drank the sweet, fizzy drink and began inquiring about the boat that would take me on the river.
I got on the boat and about 10 more passengers joined me. The guide began telling stories of Bhedaghat. He told us about the shooting sequence of the movie Ashoka and how the nearby villages and the residents of Jabalpur would gather in large groups, just to get a glimpse of Shahrukh Khan and Kareena Kapoor.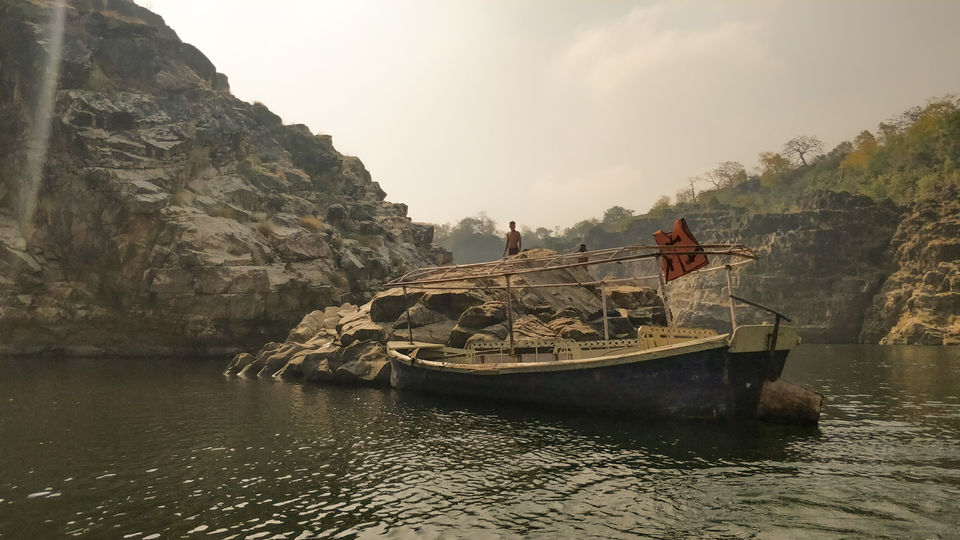 "20 rupia! 20 rupia! Upar se jump lagaega! 20 rupia."
(20 rupees! 20 rupees! We will jump from high up there for 20 rupees)
Kids from a nearby boat were shouting and trying to gain our attention. An uncle, who was sitting in a corner, all of a sudden found his inner cameraman waking from slumber. He called out to a 'bittu' and gave him a note of 50.
He whistled, another kid sitting somewhere on the rocks replied with a whistle. Soon, three kids, not more than 15 years old, jumped from the high rocks and plunged into the Narmada River. Uncle clapped and then frowned upon everyone else who got to click photos because of him.
The ride was over in two hours and I found two of the kids in the market, shirtless, and sipping on a glass of nimbu paani. I asked them what made them so fearless and if their parents knew about what they were doing. They told me that their stunts had drawn many filmmakers to Bhedaghat to shoot about these kids. Their training had begun at a young age. They learned to leap from smaller cliffs and gradually moved to steep ones. I wanted to know more about them, but they got another call for performance, and went away.
Walking ahead, I found the market at Bhedaghat. Local artisans craft many products out of marble which is very popular among the tourists here. I bought a few key rings for my family and marble ear-rings for my girlfriend.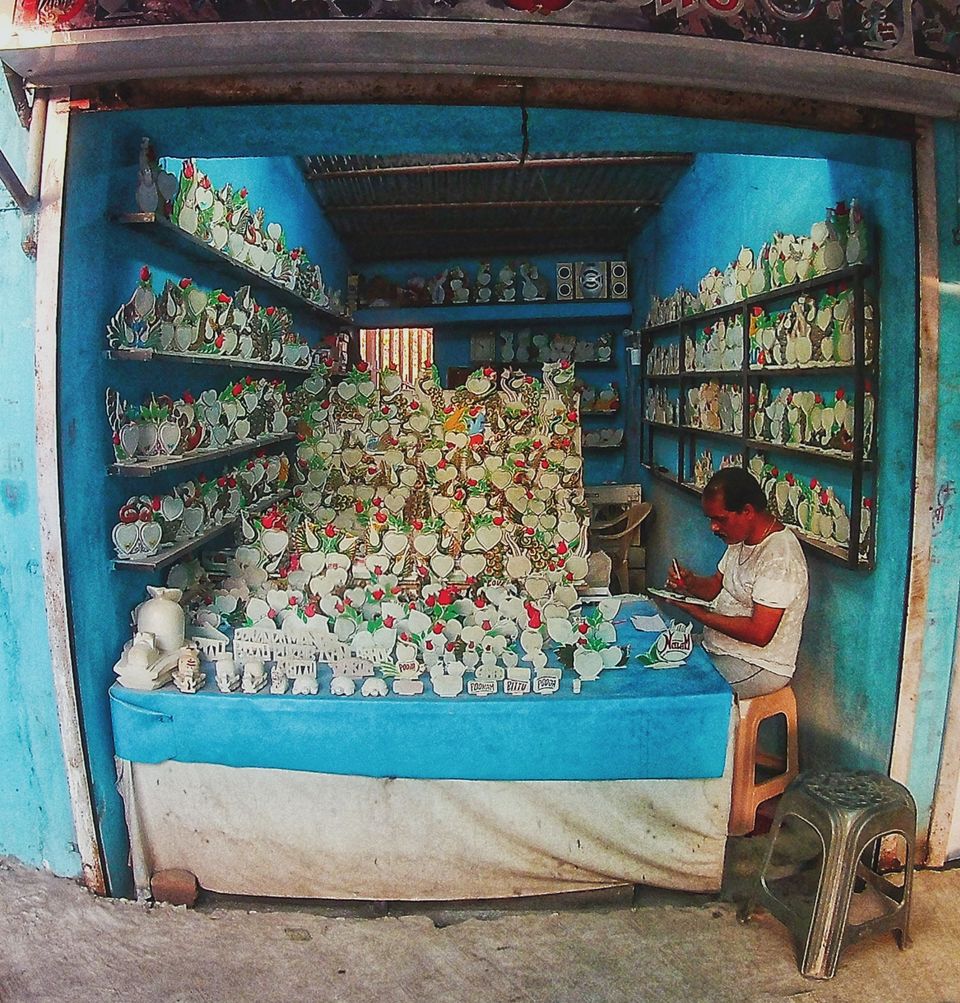 I had my lunch at Drish Food Plaza, which is the best restaurant here that also gives you the view of Dhuandhar falls. Though I was disappointed to not find non-veg on the menu, I liked their vegetarian dishes like paneer adrakhi and pyaaz ke pakode.
Bhedaghat was an awe-inspiring experience for me. The people you will meet on visiting this place are the main highlight of this destination. Every interaction brings forth the rural charm of Madhya Pradesh and how people live here. After a fruitful day, I left from my hotel and returned to Jabalpur, from where I boarded my train home.
Do you have an enchanting experience to share as well? Write about it here on Tripoto and earn yourself Tripoto Credits.

Tick all hidden gems off your bucket list. Check out Kitkat Travel Breaks on Tripoto here.

The readers are hereby informed that the views, thoughts, images and opinions expressed in the article belong solely to the author, and Nestlé India Limited assumes no responsibility or liability for any errors or omissions.