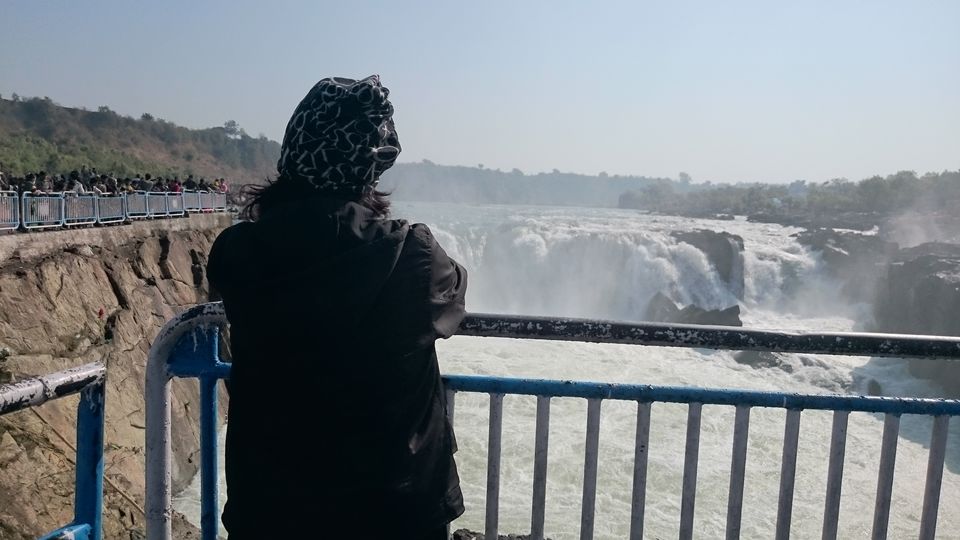 Floating slowly on 900 feet deep and calm Narmada with marble hills on both the sides is breathtaking.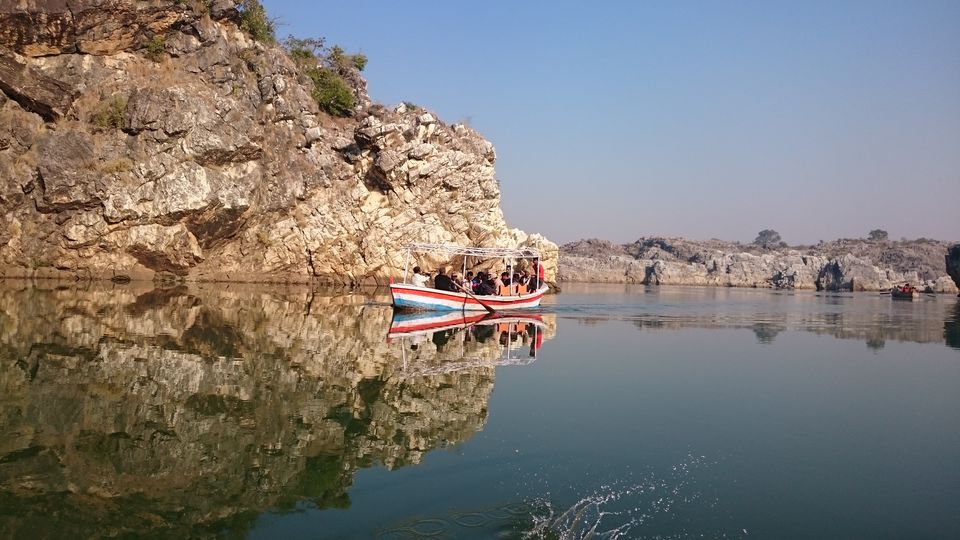 Along with the person who row boat there is one commentator who will make the ride even more interesting. The commentator will make you imagine the figures on the marble rocks. At some places you will be shown a marble car, a marble yogi, A crocodile's home and many more things. you will see different shades of Marble some are snow white, some are pink and few have shades of blue.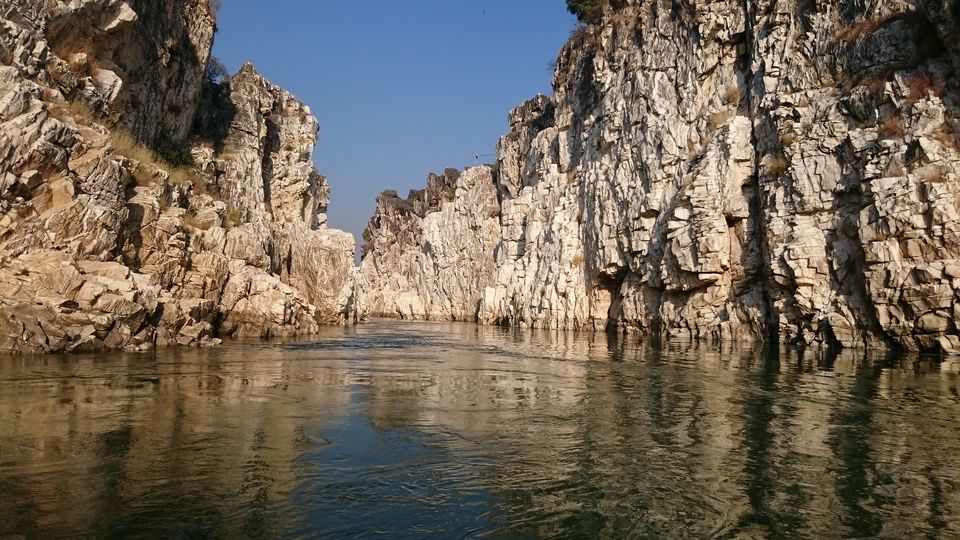 Earlier, there was a narrow Gorge in size and hence, monkeys could cross over from one side to another. This gave the Gorge its local name- Bandar Kudni (meaning- Monkey's jumping place). The white marbles are predominantly rich in magnesium and are closer in hardness to a soap stone. This softness allows them to be carved easily using just a scalpel. The area is also rich in blue and brown colored marble.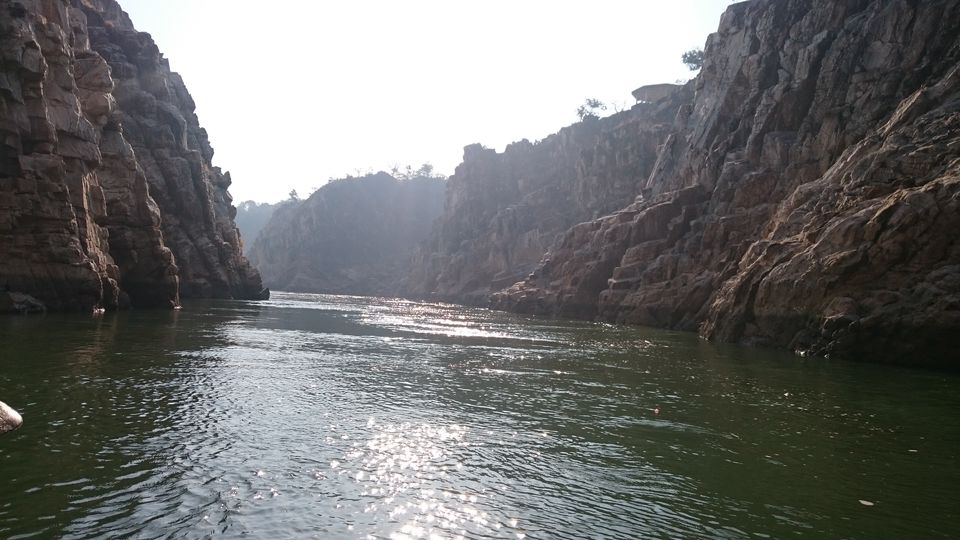 At the end there is a small water fall which is called "Swarg dawar" means Gateway to Heaven and beyond this point you cannot row further. This place is locally know as Panchvati there is one more tourist point nearby Dhuandhar Falls.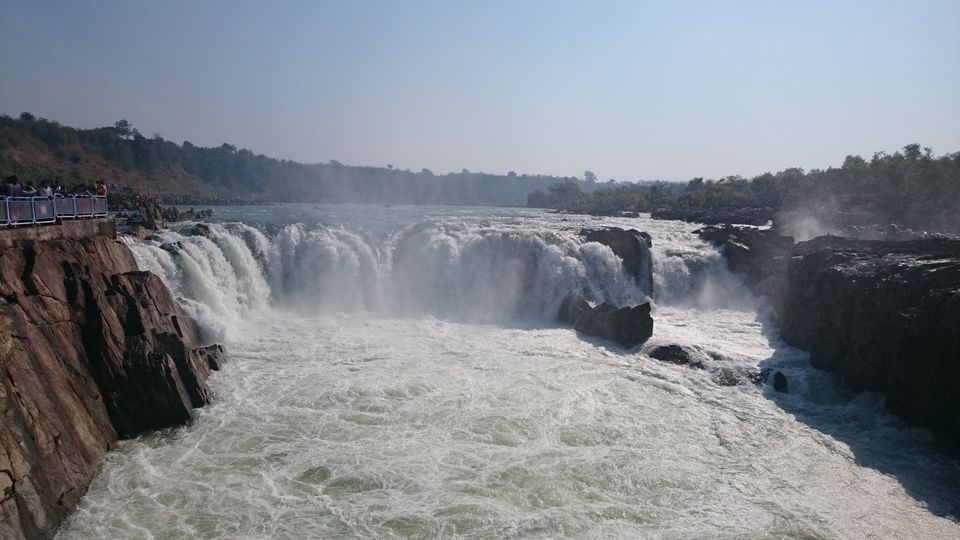 The waterfall is named Dhuandhar Falls because here we get smoke-flow like feeling this smoke is formed by water vapours or the smoke cascade.
How to reach
Air
Jabalpur is the nearest airport , you can hire a taxi from the Airport.
Rail
Jabalpur Railway station is well connected to Major cities from here you can hire an auto-riksha or a taxi for site seeing.
Road
Jabalpur is well connected to Major cities from here you can hire an auto-riksha or a taxi for site seeing.
Best time to visit
Winter is the best time to visit Bhedaghat. On Sharad purnima the boating is allowed at night too and It is wonderful thing to try.
Summers are hot. If you are planning a visit during summer then visit Bhedaghat during early morning or evening the water level is comparatively low, So you can go for swimming in side streams.
Monsoon experience heavy rainfall. Boating is closed during this time and Dhuandhar Falls becomes flat. Water level is high and dangerous. It is not advisable to visit during Monsoon.
What to Shop
There are lots of souvenirs made of marble rock are sold near Bhedaghat. the carved marble with your name written on them is pretty famous and purchased by majority of tourist, don't forget to buy one during your visit.