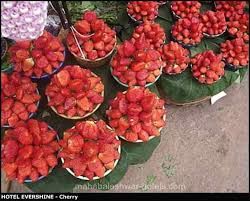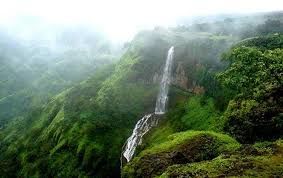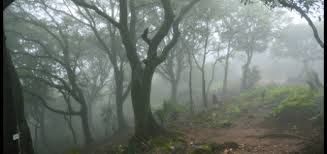 Mahabaleshwar is a scenic beauty spot through out the year, its a hill station so environment remains cool always. It's 8- 10 hrs away from Mumbai. 
In old Mahabaleshwar, 7 km from Mahabaleshwar, there are many tourist points and 5 temple to see, with examples of old Indian architecture. There are also natural view points, some named by the British, who made holidays in these places during the British Raj.
Krishnabai temple
Behind Panchganga temple, there is a small trail that leads to Krishnabai temple where the Krishna river is worshiped. It is built on the hilltop overlooking the Krishna valley and was built in 1888 by a ruler of Ratnagirion the Konkancoast. The temple has a Shiva lingam and a beautiful statue of Krishna. A small stream of the river flowing from a cow-face (gomukh) falls on a 'Kunda' or water tank. Stone carved columns and ceilings are the special characteristics of this temple. This old temple has gathered moss and is in ruins. It is not visited much by tourists and is isolated. But it provides a most exquisite view of the river Krishna.
3 Monkey Point
Named because of the natural sculpture of the stones which looks like three monkeys sitting beside each other and portraying 3 monkeys of Gandhiji. Nestled deep in the valleys one can figure out from the outline of a big stone a natural cut out it give an effect of 3 monkey sitting next to each other portraying the Three Wise Monkeys. This point is on route to Arthur's Seat.
Arthur seat point
Officer Sir Arthur Malet (1806–1888)[3](Not to be confused with British born actor of same name), who sat here and gazed at the Savitri River, where he lost his wife and children in a tragic ferry mishap
Venna lake
The Venna lake is one of the major tourist attractions of Mahabaleshwar. The lake is surrounded by trees on all sides.
In Mahabaleshwar one can get hotels for all budgets from budget hotels to 3 Stars hotels. You can get hotel from where one can enjoy the Lake's View or in midst of the Mahabaleshwar's famous market.
Pratapgad
Pratapgad is a fort near Mahabaleshwar. The fort was built by Shivaji Maharaj. The fort is popular for in History of India as Commander of Bijapur Afzalkhan was defeated and killed by Shivaji Maharaj at Pratapgad.
Lingmala Waterfalls
This waterfalls is located near Mahabaleshwar. The water here falls from a height of approximately 600 feet. The water of Lingmala waterfalls cascades into the Venna Lake. The waterfalls is divided by projecting rocks into multiple tiers.
PRECAUTIONS: Don't buy local natural products like juices, jelly, chocolates, jams etc, go for Mapro brand products since these are good quality products, local products are cheaper but are synthetically made products, doesn't give good taste and not good for health. This is personal experience.