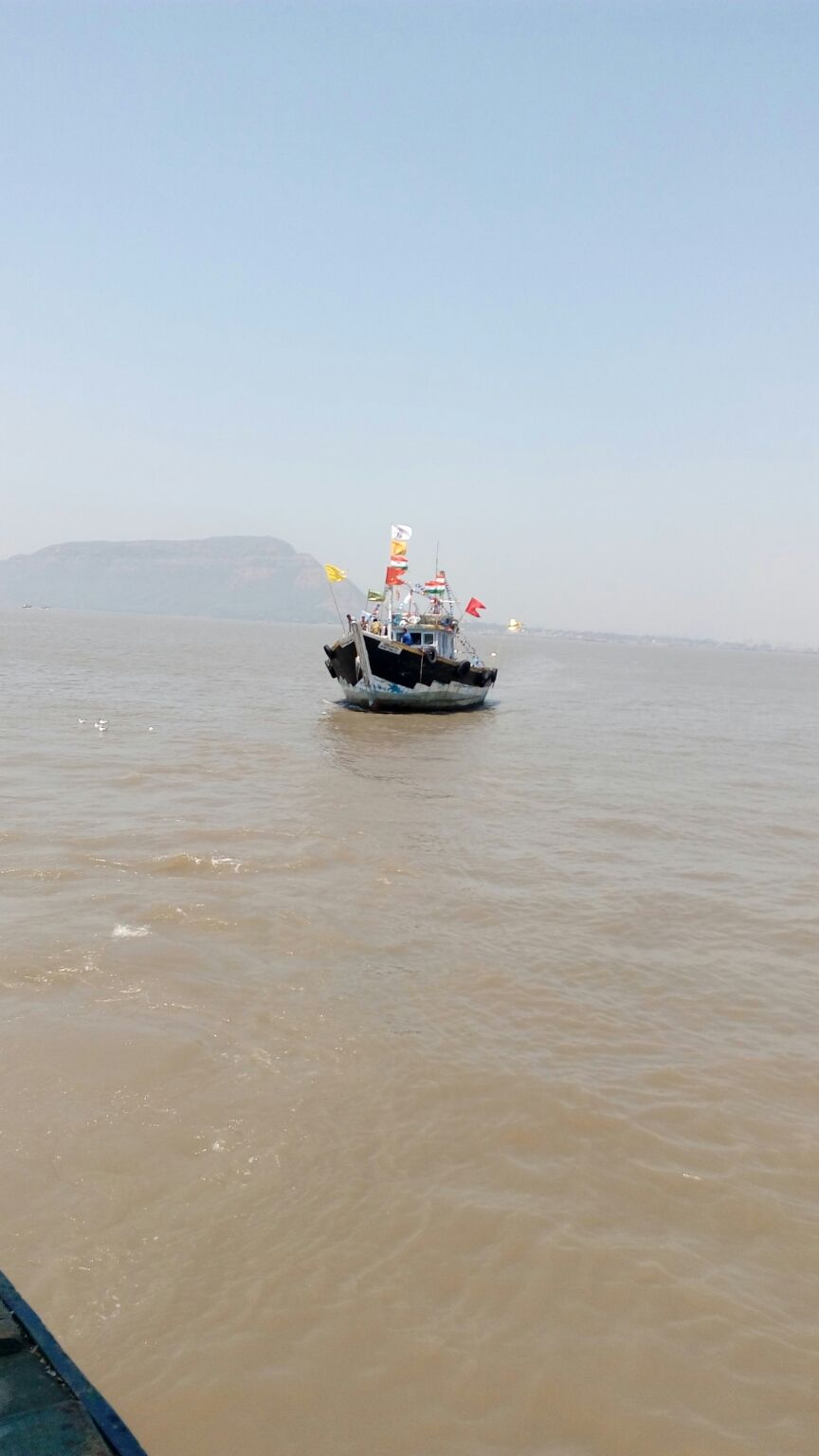 1st Day: 11th March 2017
We have reached at #bhauchadhakka around 2.30 in the afternoon as we were riding on a bike. So, we reached there and booked a tickets for three of us (Me ???? My Husband ???? & our travel partner - bike) for ⛵???? ferry.
Ferry from Mumbai - bhaucha dhakka to Revas (journey time: 1 n half hour approx)
We started our journey on ???? waves and unknowns like other people on ferry, seagle who to you expecting that you'll give them something to eat and many yatch/huge ships.
We reached revas around 4.30pm as we were running late so we decided to stay at #kihim as it's a nearest & well-known beach (for us) from revas. So we reached kihim, we had misal pav at beach as we were hungry. After eating we searched for stay; as it was long weekend rates were high but we managed to find our stay near #kihimbeach at #KalpavrukshaCottage (walkeble distance from kihim beach). At 1st day we had good journey along with good #homestay & food & #lotsoffun ????????????????????
2nd Day:- 12th March 2017
Morning we wake up had our tea & breakfast and left for out next journey as we need to reach #Agardanda to take jetty (launch) for #Dighi (to reach diveagar).
So, we start to ride from kihim, via #kashid via #murud to agardanda.
The road route after kashid beach was very scenic as we were on mountain and beach/small village/yatch/boats/greenery all were downwards; like all of them are riding with us.
We reached agardanda after 1 n half hour (approx) of riding. We caught jetty from agardanda to reach dighi (15 to 20 mins & very scenic as you can see murud-jaljira fort as well). After reaching Dighi, we again started riding as we are about to reach diveagar (half n hour).
Finally we reached #Diveagar at afternoon around 2. So now we reached at diveagar beach as e are looking for stay on the beach of diveagar but there are no stay's are build on the beach but yes stay's are there near by beach (many stays) n walkable distance. So again we came inside little bit inside the village and we found one stay #DurgaCottage get well maintained along with good food and good people (owner) very #peaceful #awayfrom #shorwala #life ???????? so we booked it. We settled down in the cottage, had our lunch and rested for one hour. And got ready to go on #beach and yes for #watersports ???????? (reasonable) #DiveagarBeach was very good, peachful & plain. We njoyed our watersports (jetsking, sleeping ride, boat ride & huge banana ride). After all this we came back to our cottage after 2-3 hrs (around 6pm). We got ready again as the owner of the cottage invited us for​ #holi #shimga #big festival in konkan . We reached at wadavli (owners village) 15 mins from diveagar. Had great fun at Holi festival with those people as this Holi celebration was completely different from the celebration we do at Mumbai. It was very cheerful and joyful experience. After all this #holicelebration we came back to cottage. We had our food & drinks (funtime????????????)...After all fun things we were very tired so slept.
3rd Day - 13th March 2017
We wake up in the morning, got ready, had our tea/breakfast as we need to leave for our next two destinations (sightseeing) #Harihareshwar #Shrivardhan
We started riding again towards harihareshwar (1hour ride) along with very exotic...Memorable... Fantastic route???????????? as one side beach & greeney/village/mountains/farms on another side. Just loved that route...It's truly amazing.
We reached harihareshwar 1st as shrivardhan was on the way destination.
@harihareshwar we visited temple first; Kalbhairav temple (main temple) second; Harihareshwar temple. After visiting temple we seen the beach and we started climbing mountain to reach another side which is very tempting (of course steps were there to climb) ???????????? which is behind the temple.
After sometime we reached another side of mountain #BeautifulView #Mesmerising. We spent our time there..???? clicked pictures...Njoyed that #Moment????
We left from harihareshwar & reached shrivardhan which was on the way. We reached shrivardhan beach spent some time there had food and came back to diveagar.
In the evening we visited diveagar beach again. Had #longwalk #qualitytime with each other ???????? had #icegola #coconutwater #sevpuri #sunset and we came back to our cottage. This day we were very tired so we slept little early.
4th Day: 14th March 2017
We woke up in the morning got ready and started our journey towards Mumbai with same route we came.
#traveldiaries #roadtrip #tripoto #changefromroutinelife #fun #experince
Frequent searches leading to this page:-
mumbai to shrivardhan by boat, diveagar-shrivardhan-harihareshwar-velas