Yes, I am a Traveler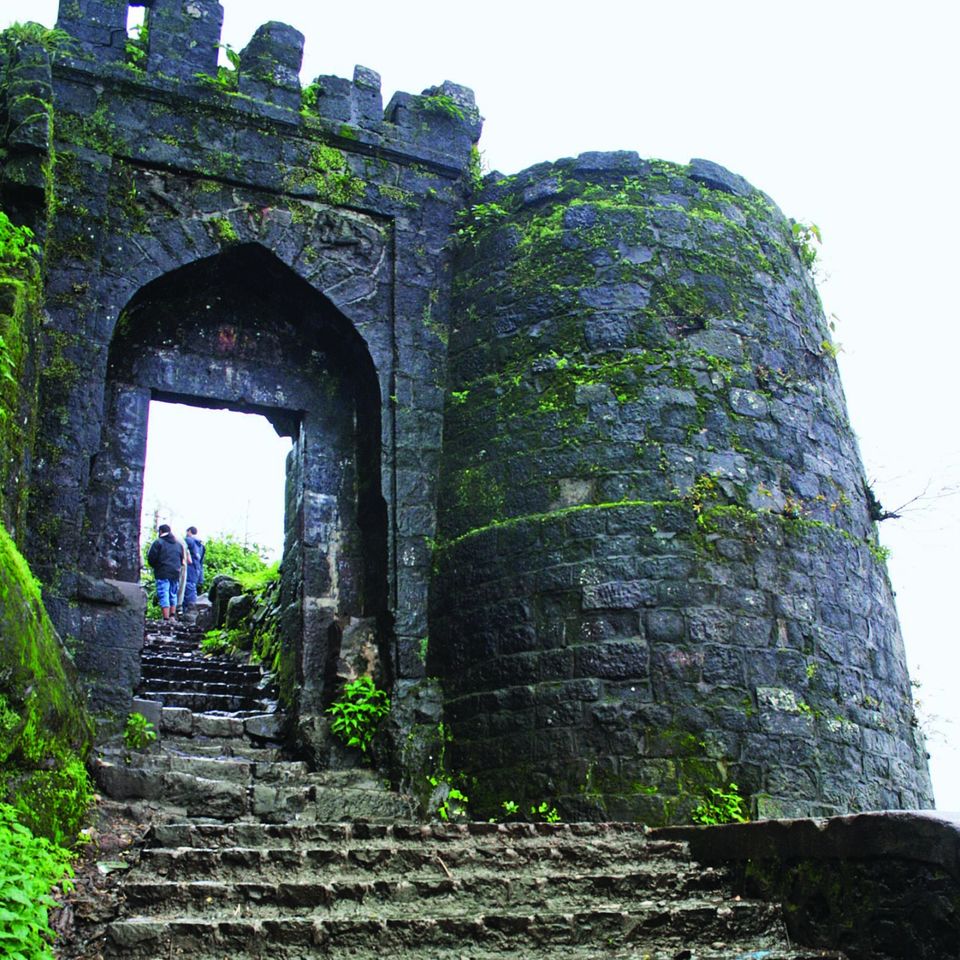 Sinhaghad Fort – Back in the history where Glorious Maratha Kingdom born.That was the fine evening I came to home early from the office by 5.45 and next day was Eid-Ul-Fitur holiday. Bored of office work thinking to do somewhat different. Went to kitchen and prepared some hot coffee. While having coffee sip by sip I started browsing places near Pune then I found this place called Sinhagad Fort. I was curious, so Googled this place and started reading the history behind this fort. Anyway I was the person who likes history from childhood. At 6.30pm I started reading .Then I found out that this fort is of 2000 years old and previously called as Kaundinya. It was captured by Koli tribal from Muhammad bin Tughlaq in the late 1328 AD.
Later during the mid of 17th century the Shahaji Bhosale the commander of Ibrahim Adil Shah I was assigned to rule the region of Pune. Up to till it was fine. But one amazing thing happened at that time. That is the birth of Shivaji Bhosale. There are some rumors that Shivaji was born to save Hindu kingdom and all. Whatever it may be but this man changed the history by his concept of Swaraj and started fighting against Adilshahi. At that time he convinced Siddi Amber, the Adilshahi Sardar and got control of this fort and this is the Birth of Maratha Kingdom.
Yaa I told too much about history now come to point.
I read each and everything about the fort. Already it was 11.30 pm .I decided to visit this place. I back packed some needed things and slept any way I was so curious that it took 1.30 pm me to sleep. I was thinking about that place only. Next day morning at 8.30 am I woke up and went to gallery there was shock. Heavy rain and that is also nonstop and got upset. But I am not ready to give-up my plan. Got fresh-up and it was 9.30 am had some breakfast took my back-pack and surprisingly rain was stopped at that time. Got my bike opened Google Map it was showing 55 km and 1h 17min to reach destination. There I started my journey.
It was almost 15 min after getting on road again rain started. Initially it was light rain I thought it would last for few min and go… it seems like that only. But It was playing with me .Heavy rain started again. That time I was no Idea for how much time it will last. Anyway I was somewhat wet by that light rain I decided not to stop and started heading towards the Sinhagad Fort. I took NH4 to reach out early as much as possible. Due to rain I was totally wet but also excited to visit that historical place. After Shindewadi village I took right turn towards Khed and Kondanpur road to reach the fort. Usually this road has very less traffic as compare to other routes and also this route has some amazing sightseeing. Below are the some glimpses.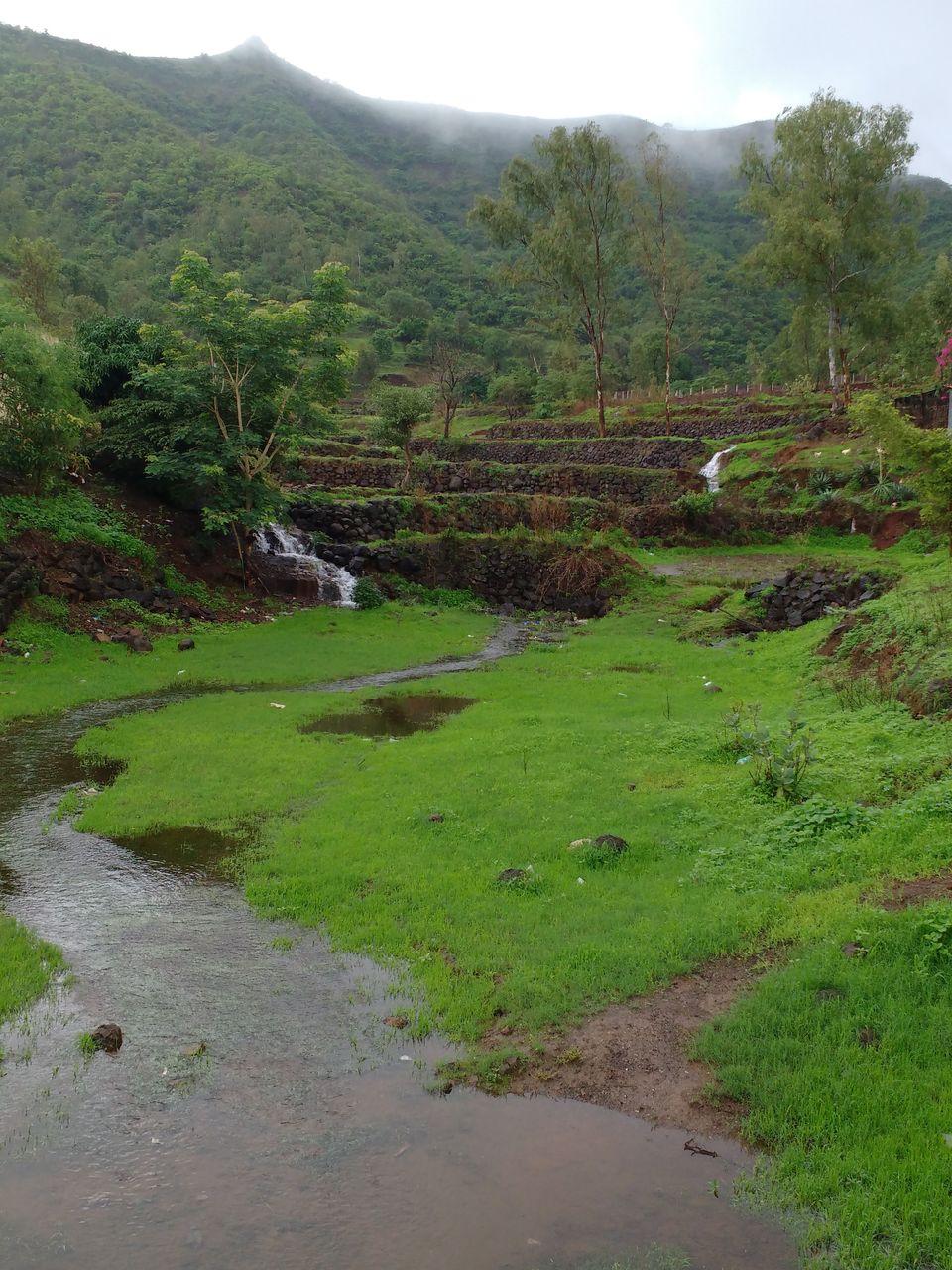 Near Awasare Nagar
Sinhagad Ghat Road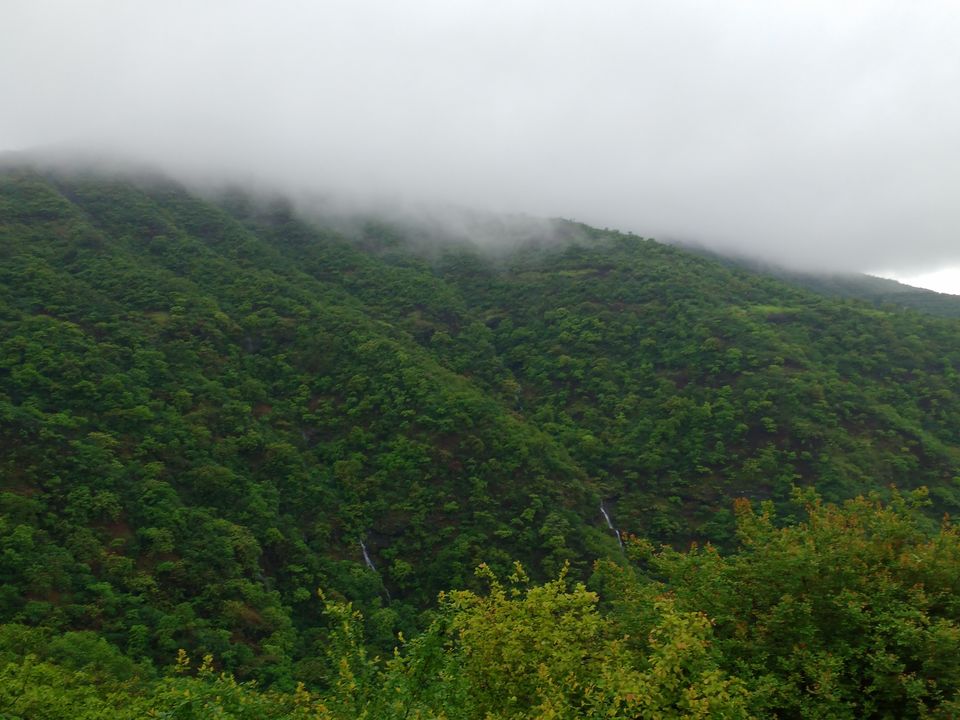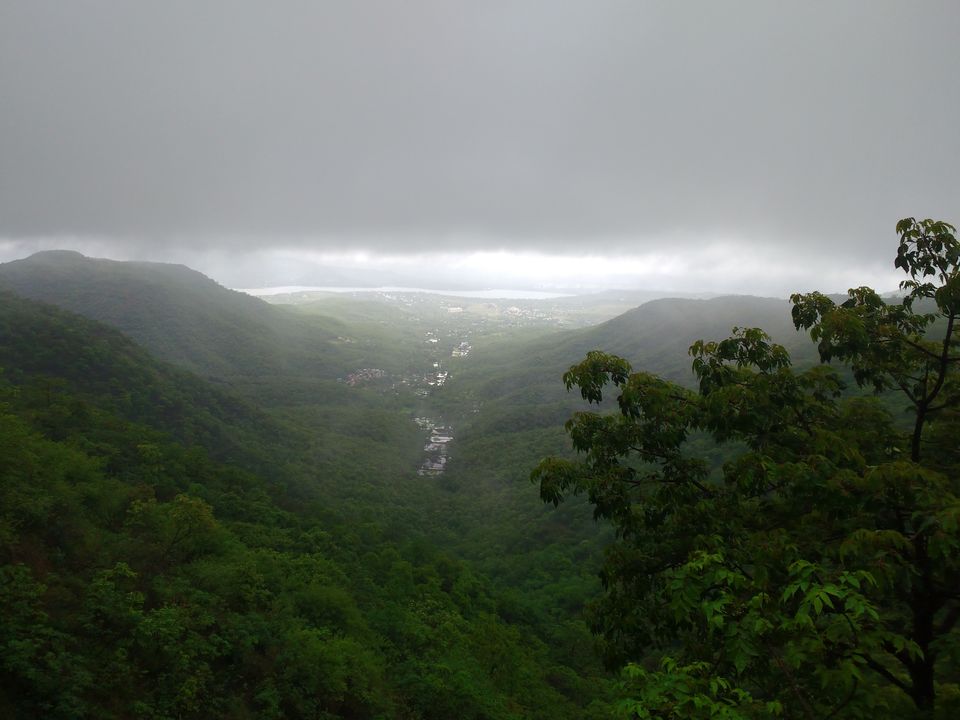 On the way to Fort I found so many visitors. These Western Ghats attract so many visitors and tourists thought the country. During rainy season it looks like heaven. After travelling around 12km on Khed – Sinhagad road finally I reached Sinhgad Fort .Due to rainy season lots of clouds are covered the hill I was not able see clearly and visibility is almost 10 meters.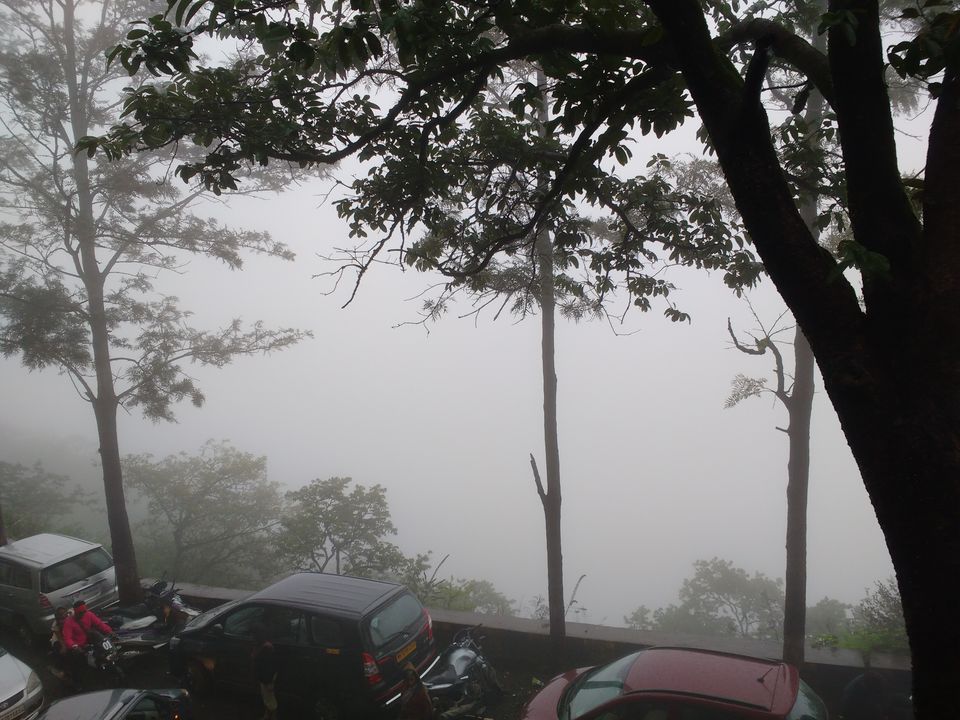 Little Traffic Jam is there due to lots of visitors
The first look of Sihagad Fort that I captured. There are two Darwaja's(Big doors of Fort) in that Pune darwaja and Kalyan darwaja are famous.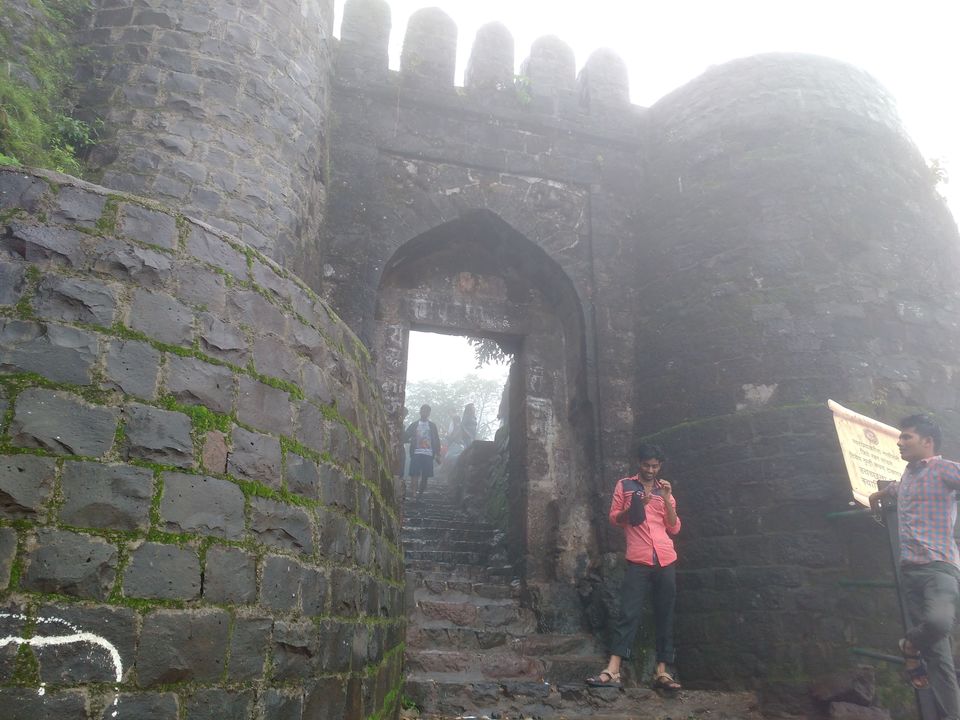 From Pune darwaja you can see the Pune city while other one Kalyan darwaja is towards Kalyan(Mumbai).This fort has seen a war called Battle of Sinhagad fought between Tanaji Malusare the commonder of Maratha ruler Shivaji and Udaybhan Rathod, fortkeeper under Jai Singh who was Mughal Army Chief I. This war fought on Feb 04, 1670 . At that time it captured by Marathas and renamed as Simhgad .Previously it was called as Kondhana. Now I am almost into the fort and started seeing that fort. This was almost same as my imagination that I made during reading. It was a mind blowing experience if you read about some place and now that place is in-front of you.
I was amazed because whatever I imagined about the place during reading was almost similar in reality.
Some time clouds fully cover the fort and it looks like the fort is floating on clouds and you are in that fort. It was nice to be in nature and enjoying its beauty. Now I entered the top of the Fort where I seen the Tope(Artillery gun) made of rock.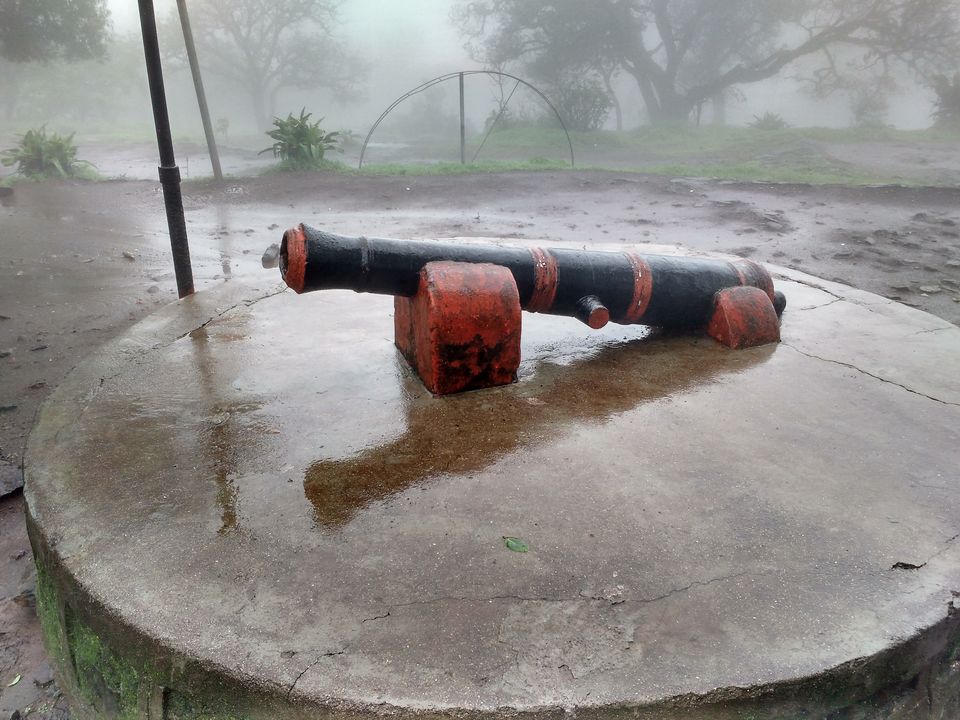 Tope(Artillery gun)
There was temple called Kaundinyeshwar temple on the top of the fort and also a Ganesh temple. Now I was feeling very cold so I had some tea .You can see lots of tea sellers and small hotels who prepare hot-hot meals for visitors and also Corn sellers. There I seen one nice corridor with lots of trees and it was quite different. In that place I seen lots of couples roaming any way I was alone felt bad for sometime and suddenly realized that I am lucky enough that I am free and enjoying the every moment of this visit without thinking of anything else. You can see that corridor below.
I have been there for 2 hours I visited some viewpoints which are made recently by the tourism department to attract tourists .And then took some cool pics and got ready to return to home. That time I seen a small mountain snake. I Don't know what's that name but it was nice. You can see that in below . It was almost 2.30pm at that time I took another cup of hot team from there and headed towards the home. At the time I reach home it was almost 4:00 pm.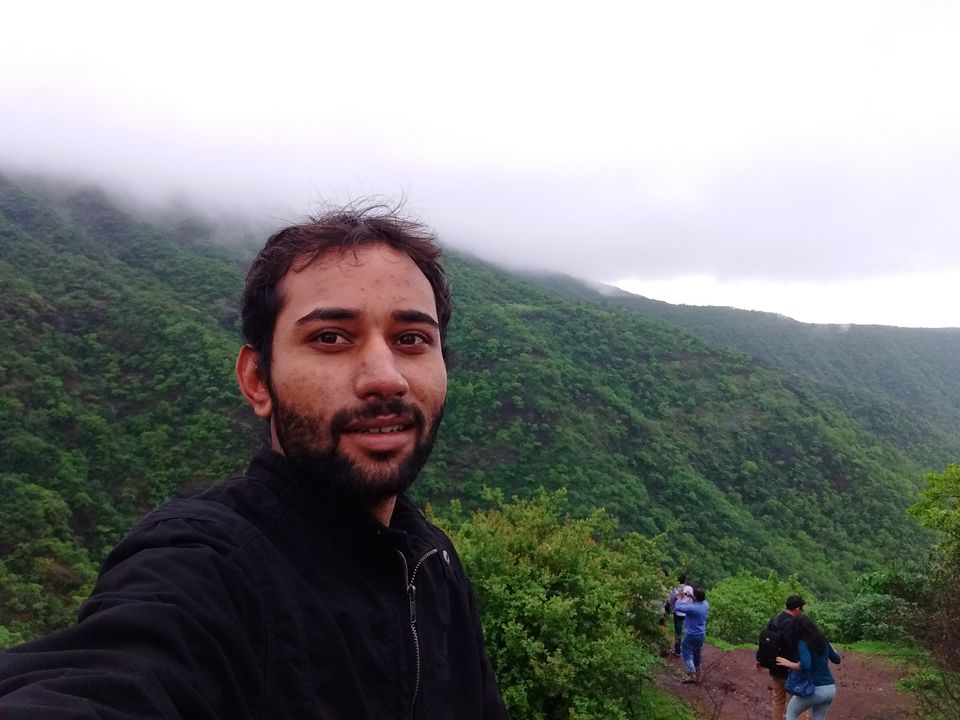 On the way back to the home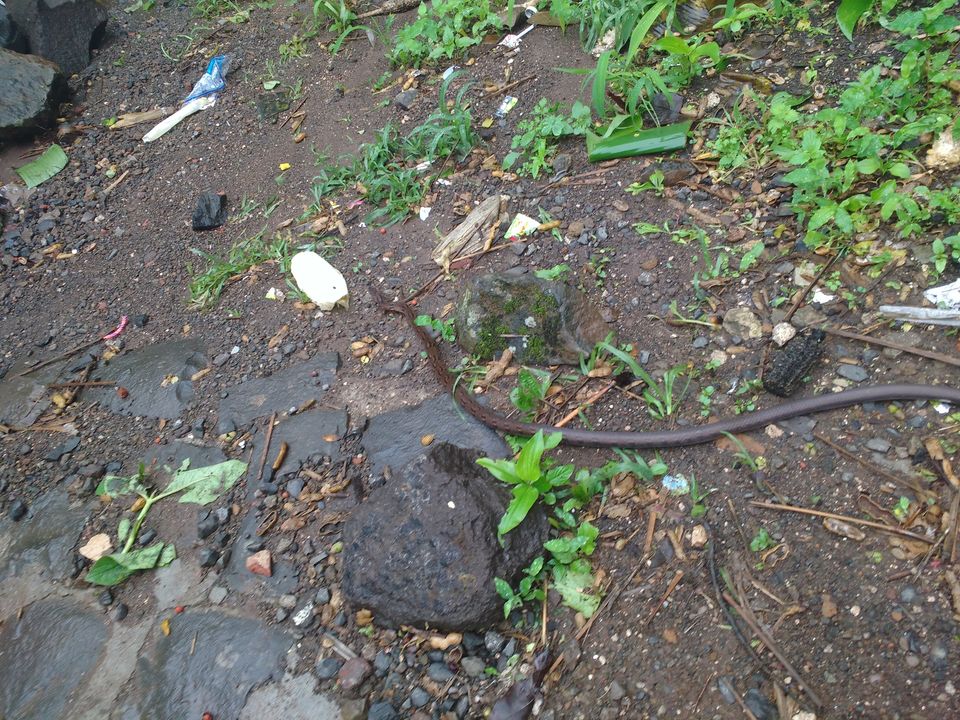 It was a good experience and also had a great trip back to the history 300 years.
Love to travel and explore new Places.