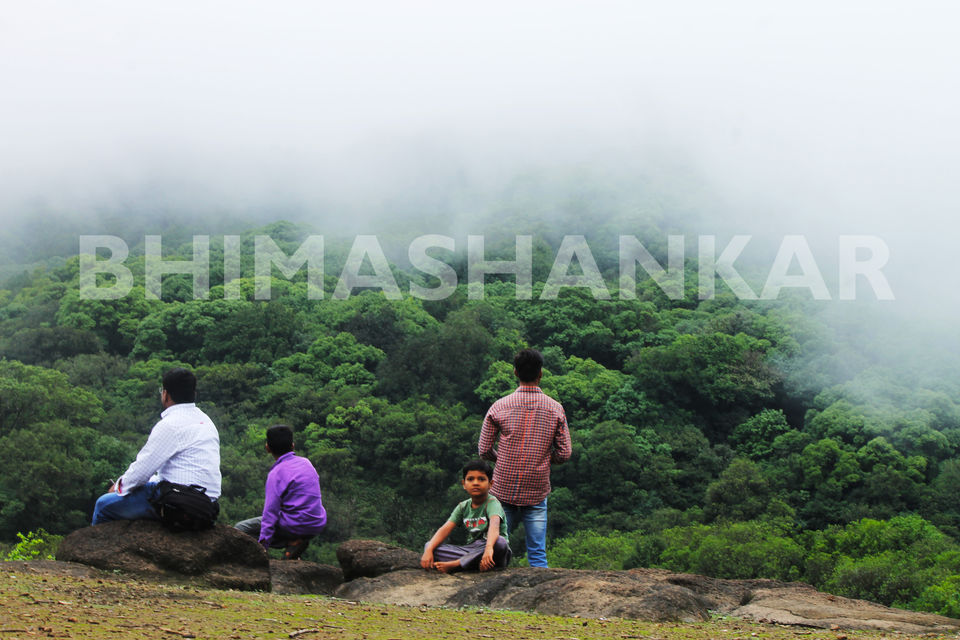 Bhimashankar: A walk with the clouds
It was 26th June 2016 and monsoon had started showing mercy on Marathi villages. Villages which perish on rain and famish on the lack of it. I woke up at 6, got myself ready at 7, packed my rain coat, camera and other stuff in my bag and had breakfast. It was drizzling.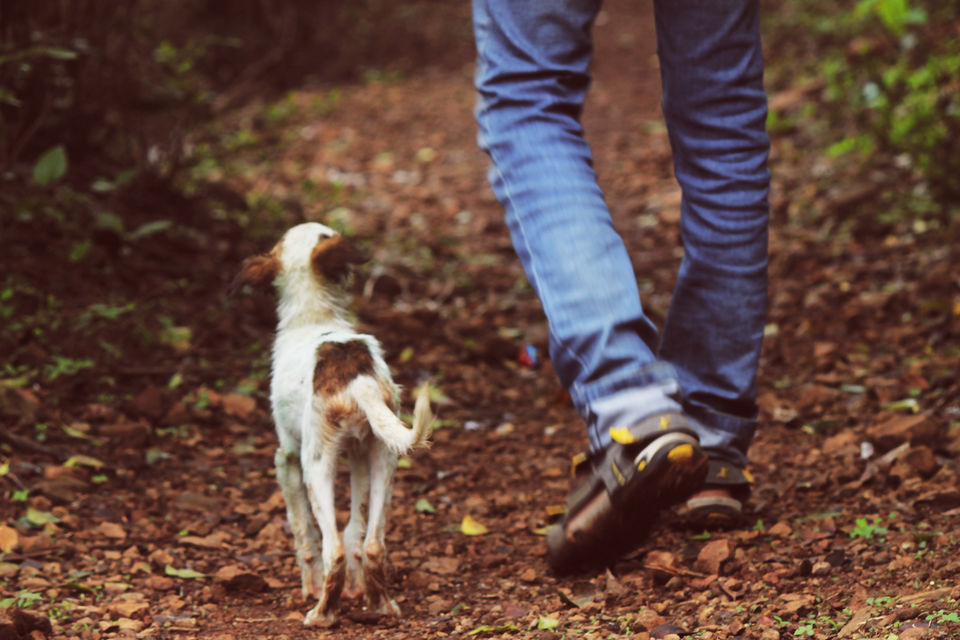 We were four. Me, Pandeyji, Nishikant and Deepayan. And we had one bike. Honda Activa rather. I had asked Avinash, our office staff from Kadus village itself, to arrange for one more bike. At 8, Avinash came with a bike. Scooty rather. Man. I was expecting a splendor at least. This was not what I had in mind for a bike trip. At least we have something now. The smooth engine was a misfit to the shaking chassis and the burned out tyres. I had serious doubts whether it would be able to take me and Deepayan to the top of the hill. We started the trip from Ananda valley at around 8 30 AM. No roads can be as bad the ones in valley. Here I am, in my first road trip, on a scooter. Sigh.
Bhimashankar was around 65 kms from Kadus. It was perfect for a single day trip. We stopped at the petrol pump and filled petrol for 200 in each scooter. And we filled a one litre bottle for emergency and kept it under the seat. Bhimashankar is a pilgrimage centre near Pune. River Bhima originates at this place and there is a shrine for Lord Shiva or Shankar. Hence the name. The place is famous because one among the 12 jyotirlings is situated here. Cool, isn't it? It was cool indeed. The weather. We hit the road after filling petrol and reached Chaas village. I wanted to stop for the famous Chaas vadapaav but we were getting late. The engine vibrated whenever speed was above 60. I had to keep it under 60 or I had to compromise the ride quality. I hit 80s when the road was smooth and kept it under 60 when it was not. Road was empty almost all the time and me and Nishikant overtook each other in turns for fun. Villages, villages and villages. Roads curved around small villages, lakes and beautiful farmlands. Marathi villages are all beautiful, especially when it rains. Children played alongside roads, other family members doing household chores and farming. Everybody looked happy. I guessed that the long awaited monsoon has got something to do with it.
20 kilometers later we reached Wada village. Roads became crowded again. Pandeyji started filming the ride in his phone. Deepayan also started clicking selfies seeing that. As we reached the centre of the village, the village started transitioning into a town. Tea shop, Photostat shops, confectioneries, ATMs. It all looked ugly. Ugliness of development. Things around us started looking pleasant again when we went further. Roads are free again and I tried to speed up. We raced for some time but then slowed it down when terrains became hilly. Climbing up and down was not much fun for the scooter. We passed few hairpins. I enjoyed the ones with steep climbs and bigger turns. Perfect climate and perfect roads deserve perfect bikes. At one point, it felt like the scooty was going to stop midway along the incline.
Sun was not found anywhere near and the increase in altitude and abundance of trees kept the temperature very low. I was in need for a tea and we pulled down near a tea shop. The shop was extension of a house, a common sight in villages here. The place was surrounded by hill on one side and farmlands on the other. There were not many houses around the shop. We were the only customers in the shop and it looked like we were the only customers in quite some time. The shop had a traditional chai kettle, few bottles with candies and few packets of Balaji chips. The kid, who ran the shop, was very happy to see us. I was wondering how much income these shops make in a day and how can people survive with the little income that comes from it. There were few cows in a cattle-shed near the house and lot of farmlands behind it. The major income is from the farms and cows and shop is just an addition. That made me realise again how dependent these villages are on rain. Tea tasted good. Pure milk, no water. The best one I had in few months and so I ordered one more. So did Pandeyji. Pandeyji is a crazy man. He was on fast for last two days,since we made the plan, and he was going break it only after seeing jyotirling. Chai and dood are exceptions, of course. Nishikant and Deepayan had few packets of Balaji. Eating potato chips was not syncing with the mood, so I stuck with my chai. Potato chips sounded artificial. Bikes, roads, tea. Yeah, scooter. Not potato chips anyway.
Roads became steeper as we went further and good roads turned into bad ones. We had to struggle for few kilometres with bad roads. The scooter was vibrating too much and the shock absorber was being tested. Steepness increased even more and the scooter was taking us as slow as you can think. There were endless hills on one side and steep troughs on the other. At some point, I thought the scooter might stop and we might have to go back. But somehow we could reach the top and the scooter sighed with relief. This must have been the toughest test it has ever faced. Roads were not empty anymore. We hit lowlands again and saw a tourist van parked alongside the road. Few teens, college undergrads I guess, were all around the place, stretching their body. Few girls ran near a bullock cart which was coming from near them and one girl was trying to touch the ox's horn. They all looked like they were seeing a bullock cart for the first time. We joined the main road to Bhimashankar after a few minutes and roads weren't empty anymore There were big buses with tourists, families in cars and bikers. We crossed a weigh bridge and then passed curvy roads with lots of trees alongside. The temperature was as cold as a cold December night. It gave us chills in our bones. We reached a police check and I let Nishikant go in the front as he was the only one with a license.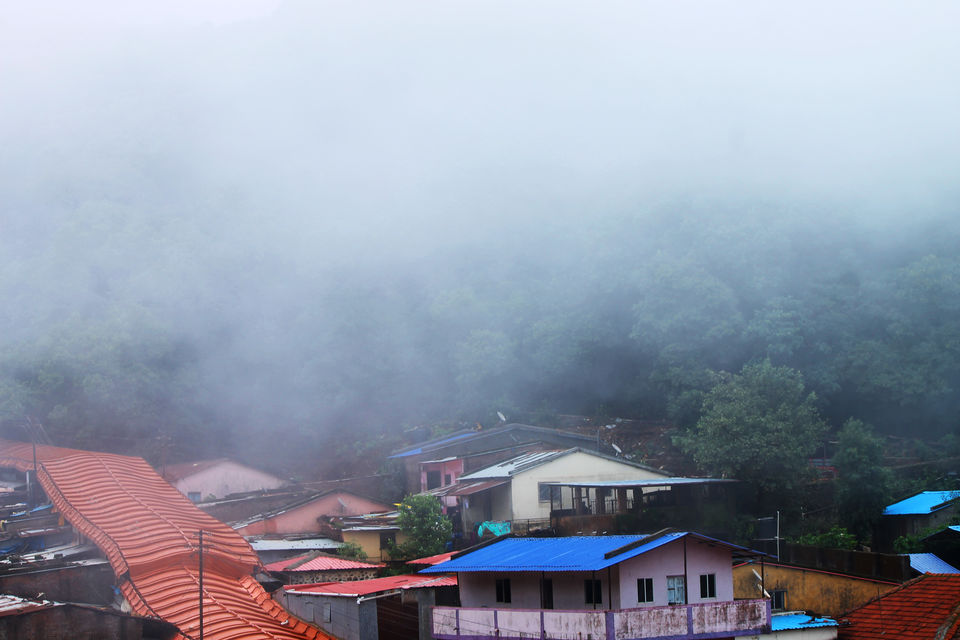 Bhimashankar was 2 kilometers from that point and we saw lot of vehicles parked there. We parked our scooters and started walking, following the crowd. After few steps and we saw that no bikes were parked there. And then we saw a few bikes coming back from the temple. We took our scooters and started again, through the crowd who were walking towards the shrine. The rough roads had tired me out a little. We parked our scooters near the bus station, and the shrine was 500 meters from there. We reached the main entrance and saw that the path diverged into two, one to the shrine and the other one to hills. Pandeyji was urging to see the shrine, so we took the path to the left, towards the shrine. Temples aren't my thing. I like the atmosphere in temples, the calmness, the devotion with people visit temples and stuff like that. I appreciate that and sometimes like people with such devotion. But I am an atheist. Nishi is also an atheist. Deepayan, from what I knew, is not that into Gods either. But Pandeyji is different from all of us. He is the guy who buys flowers and coconuts to the Gods. He is the one keeping the flower and coconut economy running. He is the one who keeps photos and idols in his room and does pooja every day. The remaining three of us just wanted to see what jyotirling looked like. We had nothing to offer Shiva and nothing to ask from him. The long passage towards the shrine has two separated pathways, one for those who were going in and one for those who were going out. The one on the left, the one that leads to the shrine was shit crowded. People, people and people. The queue looked like it had no end. We would have to wait at least 2 hours to get to see the jyotirling. No way. Small shops which sold flowers, fruits and coconuts lined along the queue. Pandeyji bought some flowers and a coconut as a present to Shankar. After standing in the queue for 10 minutes, I grew impatient and decided to skip the jyotirling and pulled Deepayan also out of the queue.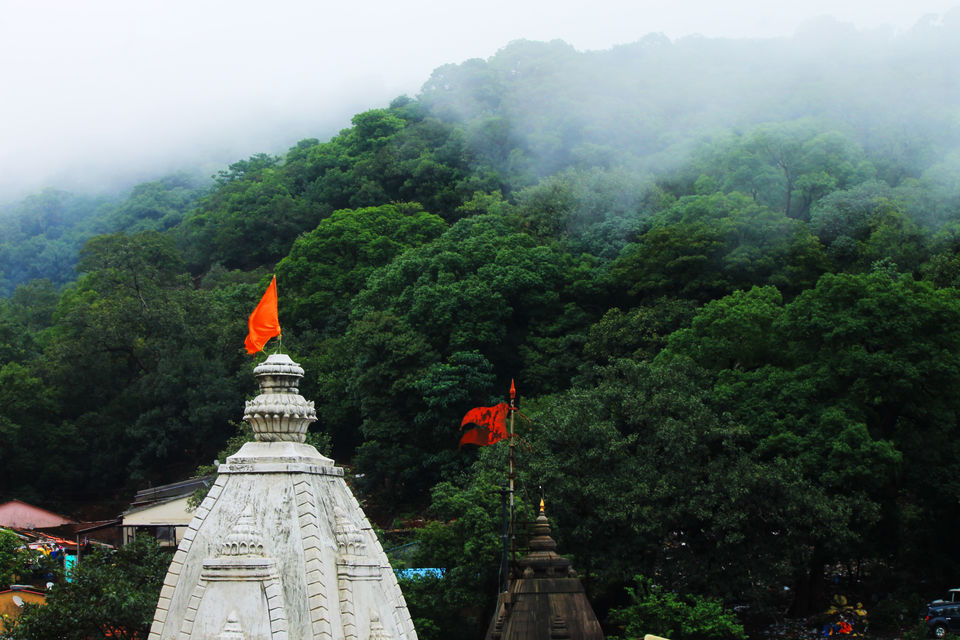 We went on to roam around the settlements near the temple. There were only a few houses and some of the people there gave me an arrogant look when they saw my camera. The houses were slightly above the shrine and I thought I could get a better view from there. The shrine looked beautiful from where I stood, the orange coloured flag contrasted in the dark green background. That was when I saw the clouds coming down. Initially I thought it was fog, but with a better look, I knew it wasn't. Clouds blended into the trees and provided a beautiful gradient to green. I was awestruck by the scene and I wanted to capture it. Deepayan was pestering me to click his portraits and I had to toggle between both. Houses were all small; ill plastered and lacked vibrant colours. Nishikant joined us after few minutes, leaving Pandeyji alone in the queue.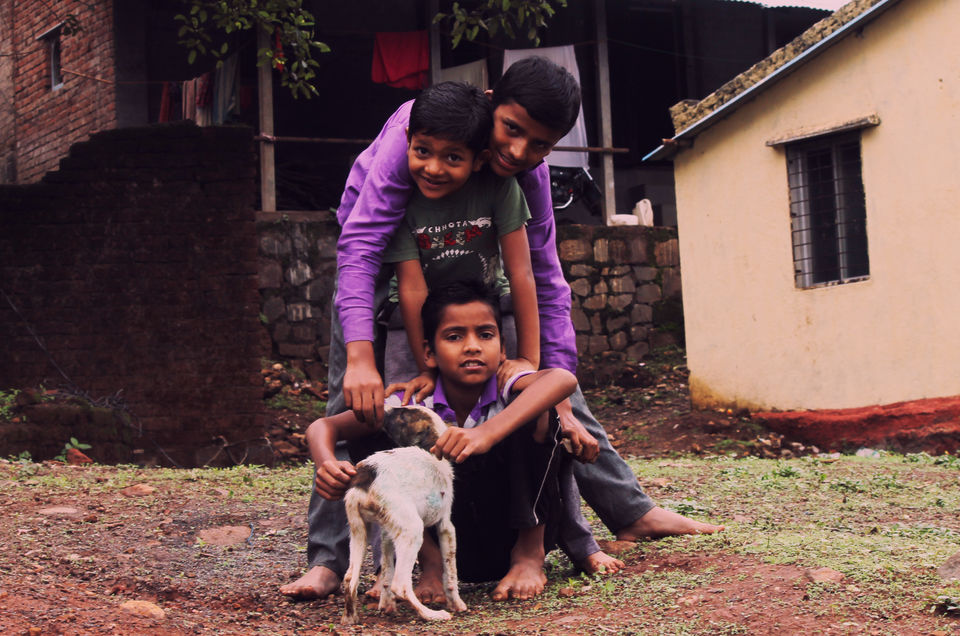 We saw three kids playing near their houses, with their puppy. They called the puppy Tommy. I clicked few photos of the dog and showed it to the smallest of them. He became so happy he called his friends who were initially reluctant to come near us and showed them their photos. I asked if I can click their photos. They happily agreed and we became good friends. The small kid asked me if I want to go near the river. I agreed and we all started following the kid. Seeing this, other two children and Tommy joined us.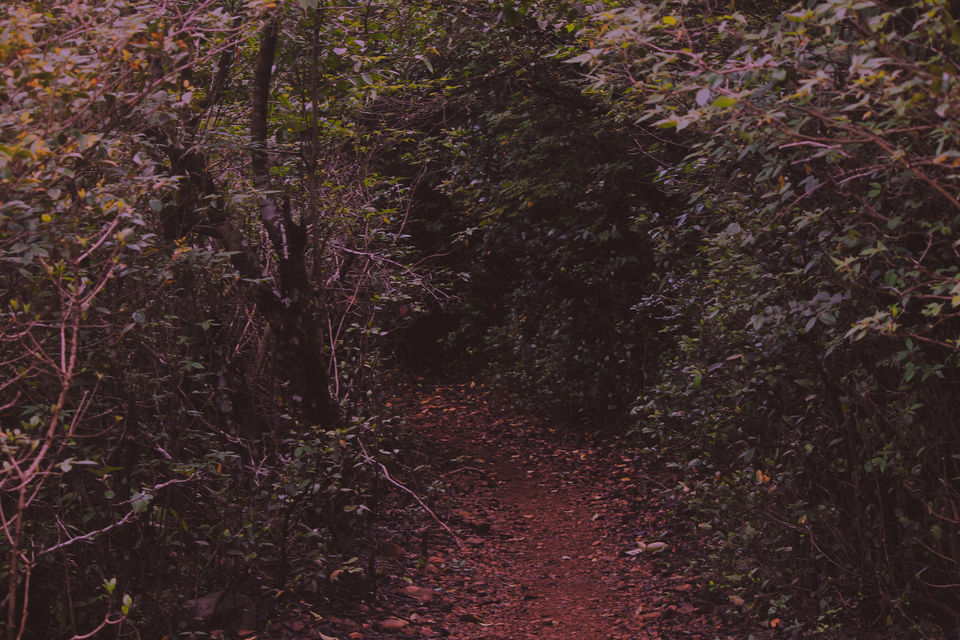 Kids led us through serpentine paths, covered with dry leaves, and dampened by the rain. It felt like we were travelling in a tunnel made up of leaves. A dark brown monochrome. We three found it hard to catch up with the tots. It was then I noticed the crabs hiding under the leaves. I haven't seen crabs on the hills before. I have seen them near sea. Dark, dull colored ones. It was quite a sight when the smallest of our three guides showed us how to catch a crab. With a long stick, he pressed against the long front claw and broke it. Without much effort he broke the other one and grabbed the crab in his hand. Crabs without their two claws removed cannot cause any harm. I felt sorry for the poor thing. It is as good as dead now. But the boys carried out it as a natural act. He asked me if I want to carry it in my hands. Though I wanted to say yes, I was afraid of it. He laughed and shared the reason for his laugh with his friends.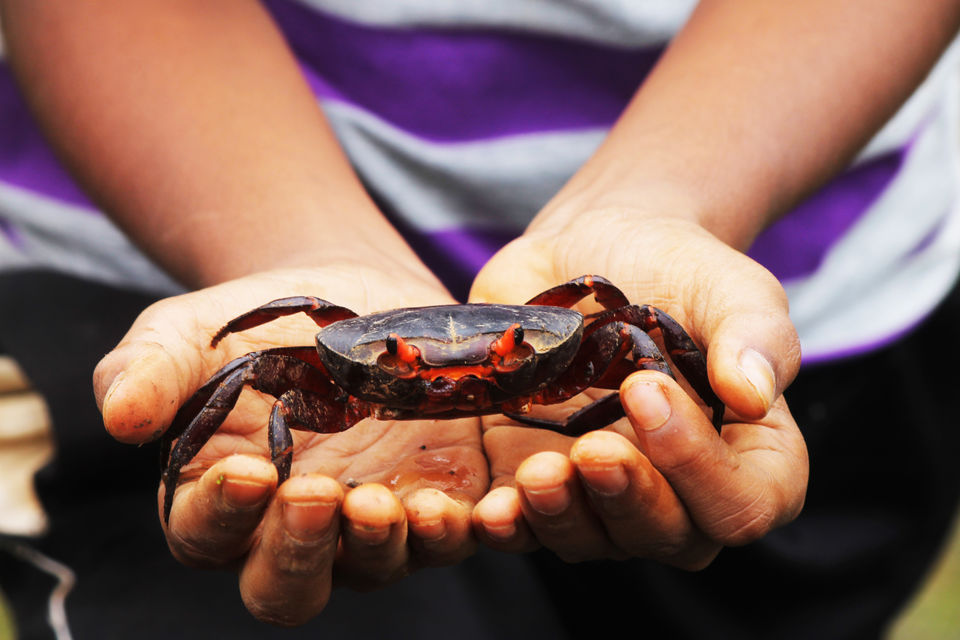 After walking for little more than ten minutes we reached an open space filled with big rocks. Upon climbing them, top of those rocks offered a spectacular view of the place; clouds descending on trees, sharing with them the stories from the sky, villages peeping out through thick blankets of rain and fog, trees dissolving themselves into air. We took some photos. Camera breathed light filled with fog and found it difficult to focus.
We walked for 15 more minutes to reach the origin of the river. There wasn't much water left in it. It looked more like an overflowing pool. Disappointed with the view, we started climbing to the top of the hill. We joined the main trek route and found lot more people. It was an easy climb. We reached the top after 10 minutes of climb. There were more small hills on the top.We climbed on to what seemed like the biggest of all. We could see clouds touching down on the top of an adjacent hill and wind carrying it towards the one on which we were standing. After a moment, we were inside clouds. The rigid practical form of the cloud was an illusion. It felt like a drizzle, but water droplets were not falling vertically. They were floating around us like air. Water and air, in unison, dancing around us. Quite romantic if our clothes were not getting wet.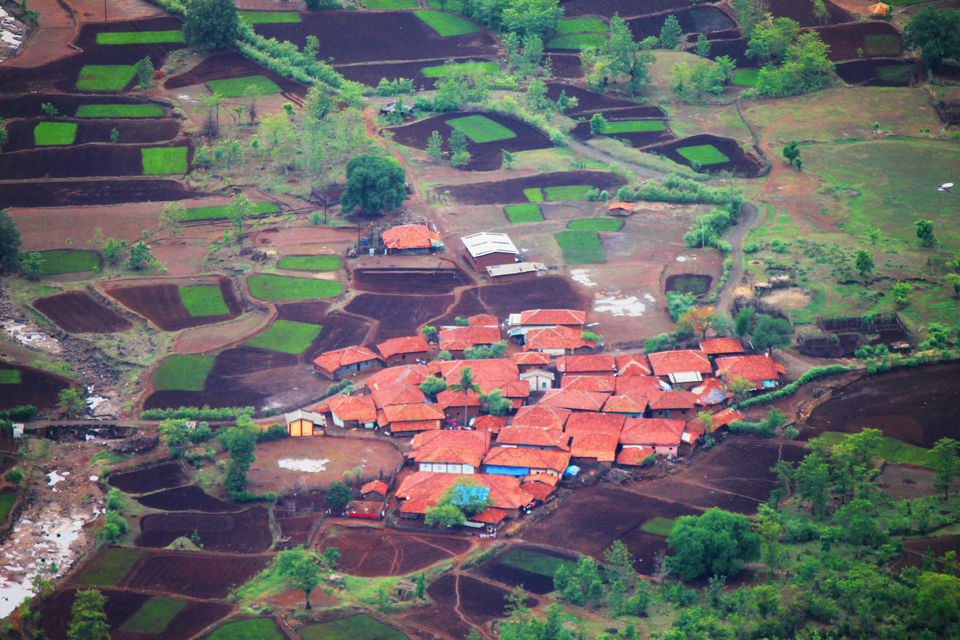 Top of the hill gave spectacular views of villages nearby. Small, orange-brown coloured houses clustered together so close like what one would see in the slums of big cities but it was clean and belonged there. Around the cluster of houses, green and brown painted farmlands alternated without any pattern.
There was a Hanuman temple nearby. From the top of the hill, we could see few people visiting the temple. The shikhara of the temple was painted orange, and the shape was similar to other temples I have seen in Maharashtra. Thickness of the forest around the temple and the descending clouds made the view picturesque.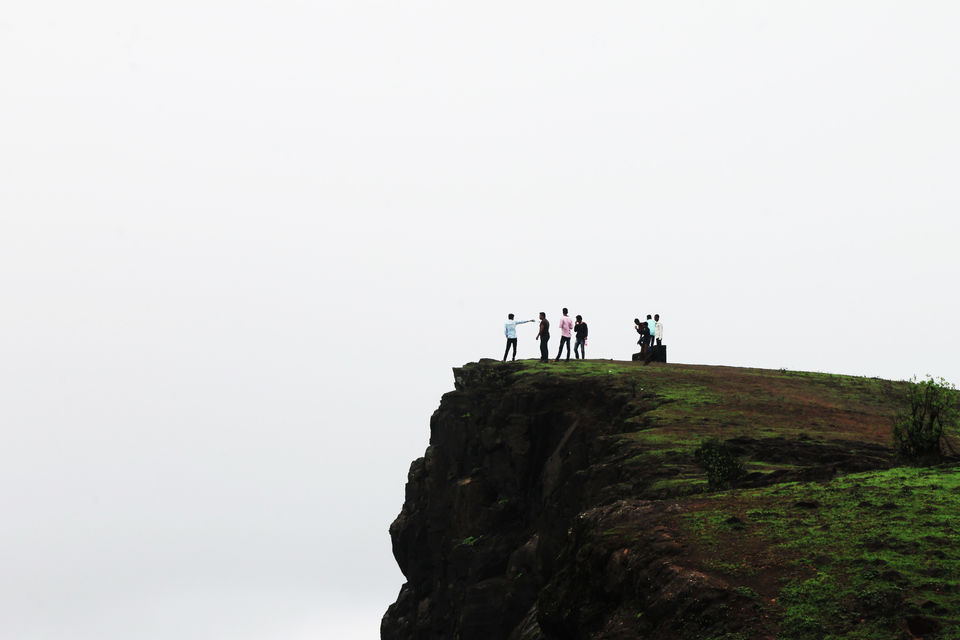 We walked towards a point on top of the hill named' Bombay Point'. Locals said that one can see 'Bombay' standing there. We could hardly see anything except the cloudy sky. We climbed down through a different route which was supposedly a shorter route. The incline was too steep far someone to climb down comfortably.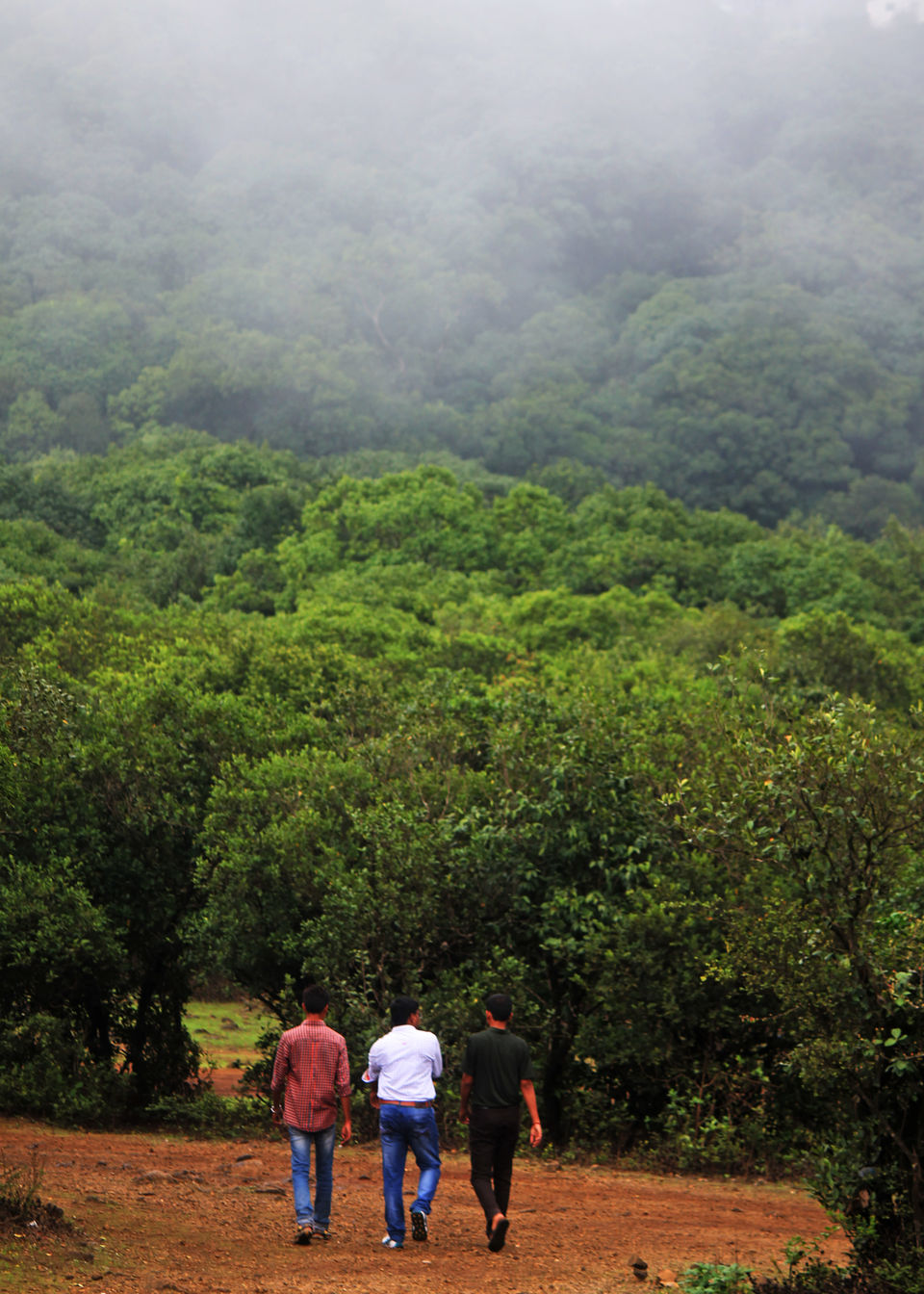 Pandeyji was waiting for us at near the shrine. He was looking very happy. He was hungry after two days fast and we started looking for food outlets nearby. We thanked the kids who taught us crab killing 101. I showed them all the photos I had taken and they seemed to like it. I was not impressed with the photos I took. Fog is a good model,not a good photographer. Outside the temple, there were a few shops selling flowers, coconuts. We found a shop selling vadapaavs and samosas. We were not exhausted or hungry because of the trek. It was an easy one. But we were hungry because it was almost 1 PM.Time is another dimension in which hunger travels. But there was no restaurant nearby to have lunch. All they had was vadapaavs, samosas and chai. We ordered some plates of both with few cups of tea and took control of hunger temporarily.
Riding back was not as exciting. We found a dhaba and stopped for lunch. Gharam roti and daal in drizzle is a culinary harmony. Sometimes nothing can be as tasty as simple. We hit the roads again. It started raining heavily. We lost the way at some point. It took us to places more beautiful. Raincoats were not helping us as water got into the coats. I was shivering while riding in rain and we couldnt find any place to halt. We continued riding in the rain. My senses had gone numb with rain hitting hard on my face. We somehow reached Wada village and stopped for tea. Tea helped a bit with the shivering body. Rain had stopped when we started moving again. We reached valley at around 5 pm. Pandeyji was so impressed by the place that he was thinking about having his marriage at Bhimashankar temple. I went inside my room to check the photos I had taken. A crab raised his claw to show his disapproval with me. Privacy violations, he said.