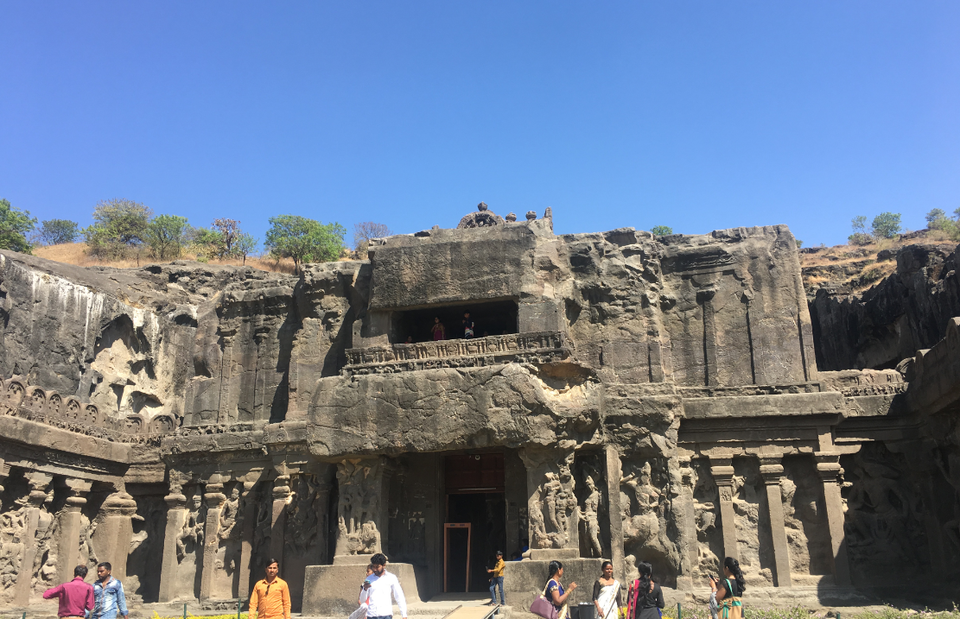 Visiting any UNESCO World Heritage Site, is always on to-do-lists for travelers and they want to convert them to 'completed' list ASAP, always. Tripanians too did the same, and we planned one-day trip to Ellora Caves, which is 255.5 KM from Pune. Generally, folks prefer to cover both Ajanta & Ellora Caves together but we wanted the visit & drive both to be justified and we confined it to only Ellora Caves.
Tripanians packed our pouches and followed the itinerary that, starting from Pune early morning, visit caves and other on the way sites by late afternoon, grab an amazing dinner at Dhabas, and back homes. Short and simple, one-day trip.
We started from Pune, quite early, around 5am and decided to have breakfast on the way. We all gathered at a common tea point and started journey from there, with favorite playlists on, some snacks loaded, loads of chatting and in some time, we welcomed the beautiful sunrise.
: This road trip/outing is extremely family friendly (accompanying kids) therefore; people can always enjoy such short trips with kids and families too.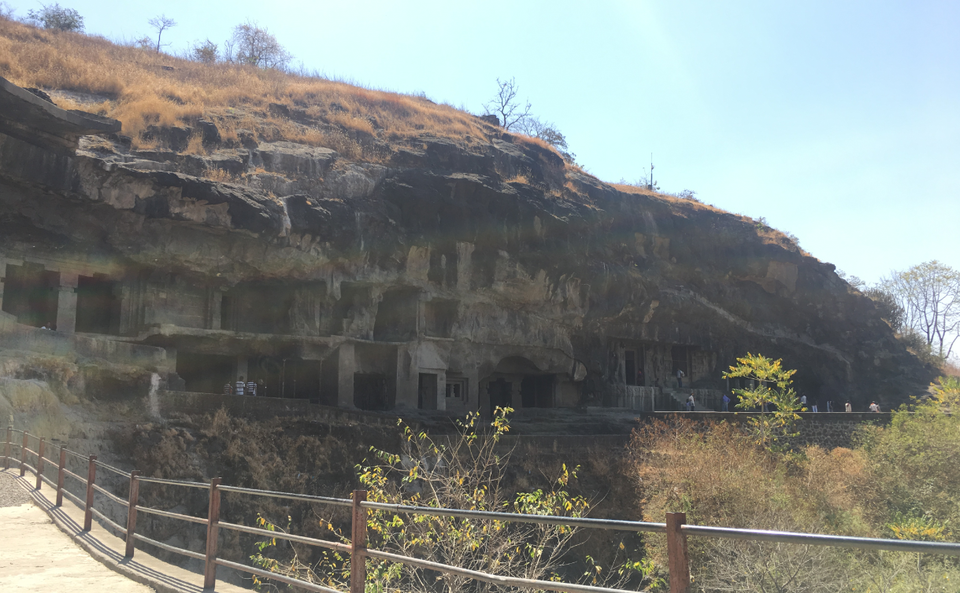 It was month of February, and sun gets harsh in most parts of Maharashtra during the time. We took our first halt at a Dhaba to have some breakfast. This time, couple of American friends too accompanied us for the day trip. We reached caves around 11am and it was bright sunny day, hence a hat and water is essential for the same. Entrance fees is, 30 Rupees for locals and 500 Rupees (8$) for foreigners. We hired a guide in around 300/- bucks for the visit because without an expert assistance, one cannot understand the history and related stories of any heritage sight, especially when visiting for the first time.
Ellora Caves, one of largest rock-cut monastery-temple cave complexes in the World, highlighting Buddhist, Hindu and Jain monuments majorly. It's a massive complex which will leave anyone awestruck that how people with only hammer and chisel could carve such massive monastery-cave complex out of one single rock, truly incredible.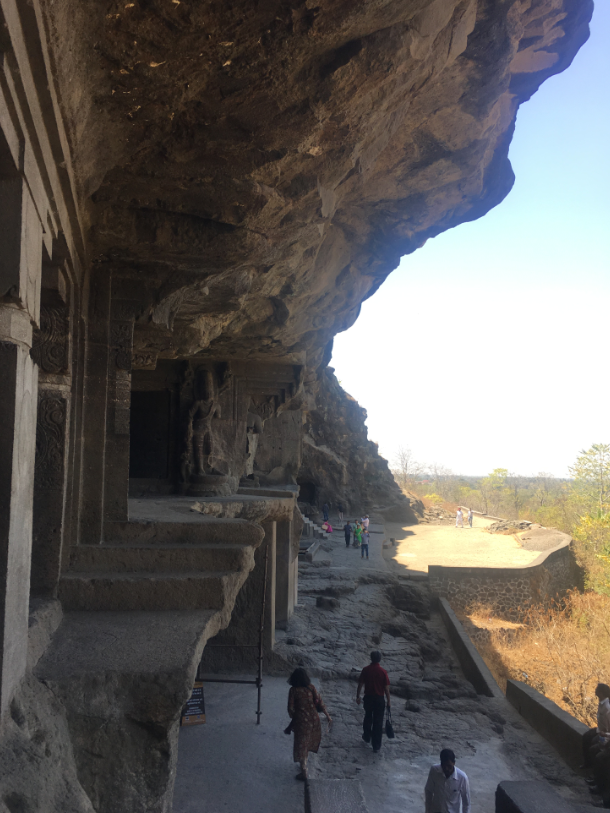 I suppose this complex consists of more than 100 caves, wherein, only 34 caves are open to public due to security reasons as there are chances of cave collapse considering the ancient structures. Therefore, these 34 consists of 12 Buddhist Caves (No. 1-12), 17 Hindu Caves (No. 13-29) and 5 Jain Caves (No. 30-34)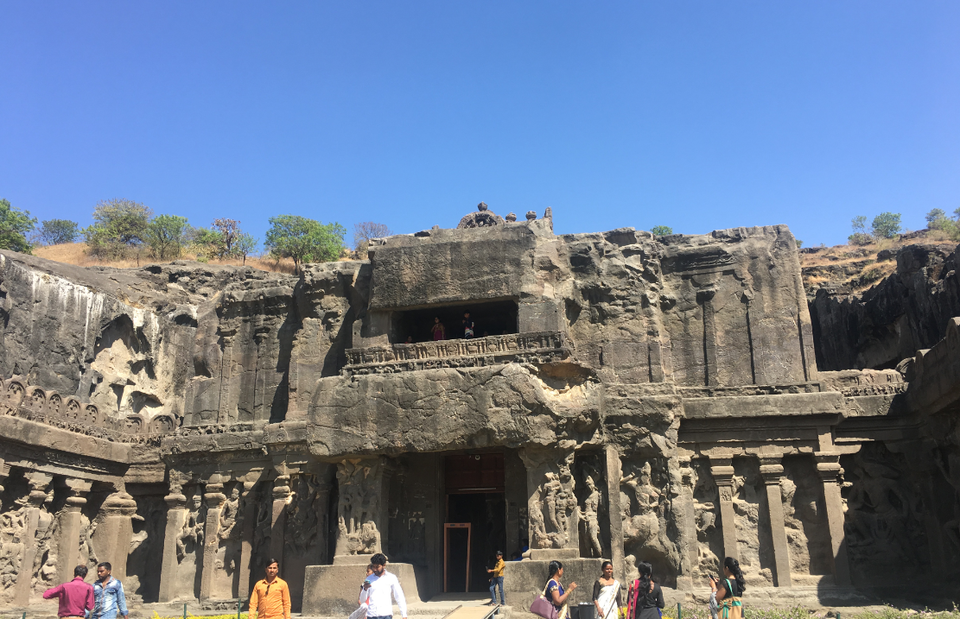 Buddhist Caves (1-12)
Built in different phrases, maximum part of caves consists of Viharas, or monastery along with shires and monuments of Gautama Buddha and other saints. These have massive quarters with kitchen, prayer halls with multi storied too, Unbelievable. Cave10 is one of most important Buddhist Cave, that is, Vishvakarma Cave, which main prayer hall out of all.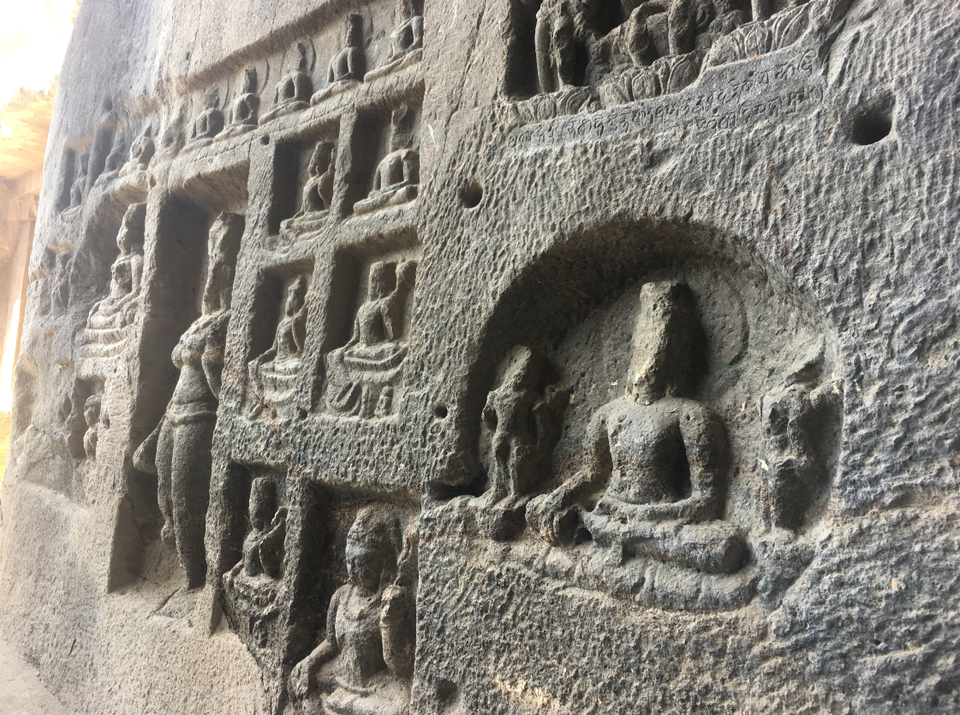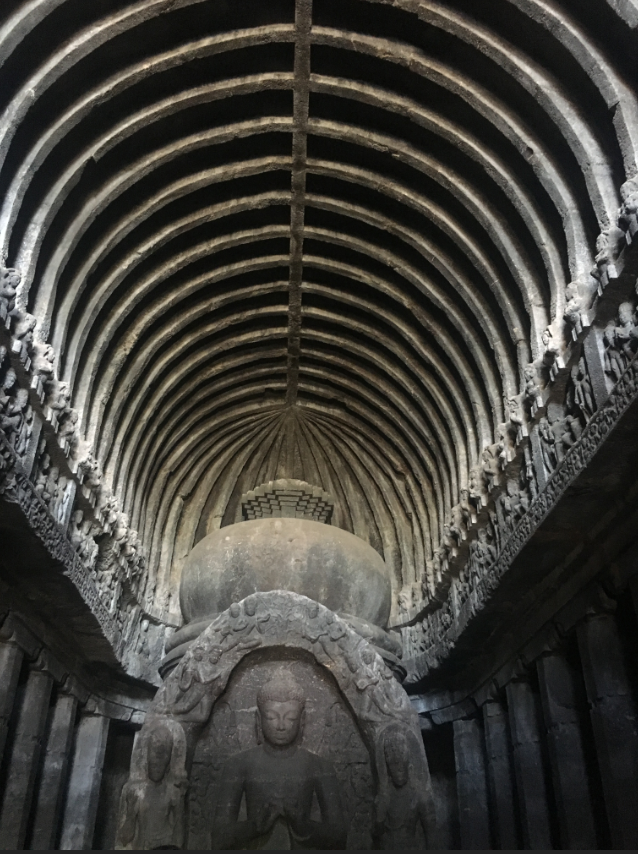 Hindu Monuments (13-29)
These masterpieces are majorly dedicated to Hindu god, Shiva and has many rituals related to the same. Consists of several amazing monuments like Kailasa Temple, Rameshwar Temple, Dashavatara Cave, Ravan ki Khai and many more which depicts Hindu mythology via several sculpture carved in the rock. The most impressive and masterpiece here is, the Kailasa Temple (Cave16) which is situated in middle of the complex and is truly an massive masterpiece which depicts several Hindu mythology and related sagas along with beautiful gallery and sculptures. Please note that it is carved out of a single rock and is inspired by Mount Kailasa.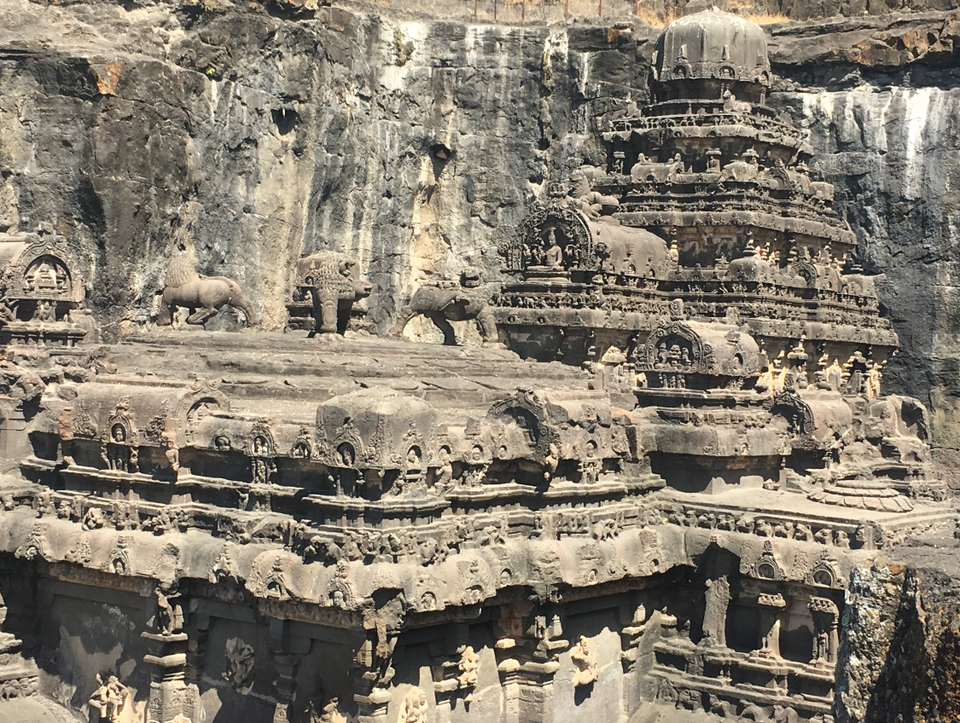 Jain Monuments (30-34)
North of Ellora has Jain Caves, particularly Digambaras, with beautiful and detailed artwork/carvings. Although these are not as big as Buddhist & Hindu Caves but has equal importance as these too depicts several sculptures of gods & goddesses, human devotees, Yaksa & Yaksi (male & female deities) and many more from Jain ancient mythology.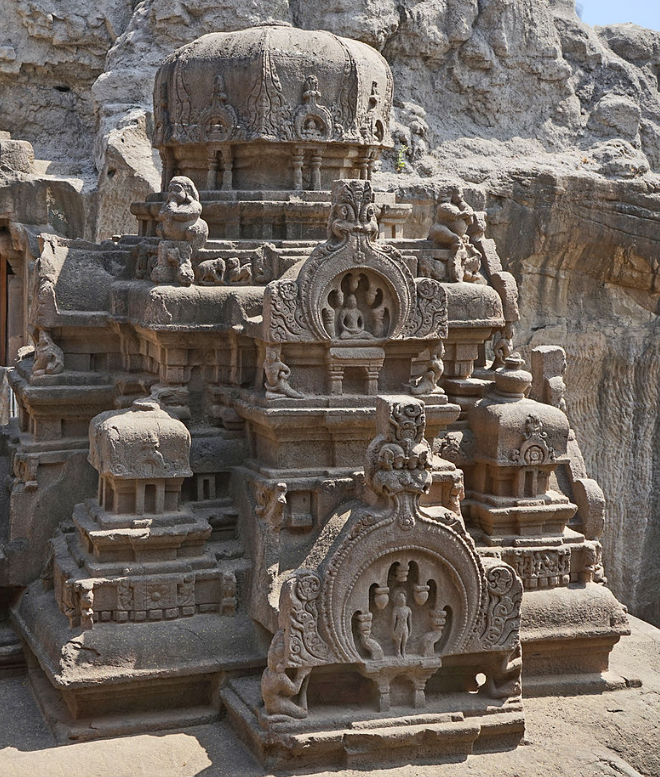 Post finishing up with caves, we decided to have lunch and refreshments, as we were extremely tired due to heat. We still had time so, decided to visit the mini Taj Mahal. Yes, there is a monument called, Bibi ka Maqbara, which is also known as, mini Taj Mahal which around 29Km from the Caves.
Bibi ka Maqbara, is a tomb of Aurangzeb's wife built by his son, Azam. This monument is not made of marble, infact has limestone walls, unlike The Taj Mahal. And this difference is definitely a major one which makes this monument stand in altogether different league. We enter the premises by paying a fee of 15 Rupees for locals and 200 Rupees (3$) for foreigners, spent around half an hour here and then left for Pune.