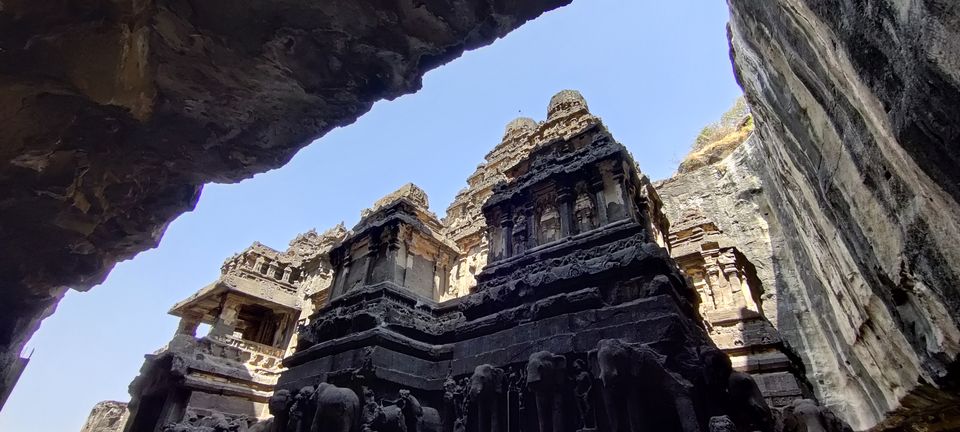 Ellora caves were built during the period of 550 CE to 950 CE. This cave system almost consist of 100 caves out of which only 34 are open for public.
Ellora Is just 30 km from Ajanta caves. Unlike Ajanta Ellora has caves belonging to various religions flourishing during that period of time, there were Hindu, Jain and also Buddhist caves and monasteries.
Ellora also houses the most famous historical monuments of ancient India The Kailash temple which is built upside down is still a mystery for modern historians.

How to reach :
Ajanta Ellora cave is a two day visit if it is covered properly.
Bus and Cab is the best way to reach the cave system from Mumbai and Pune. Mostly people visit Ajanta the first day of their journey then stays near Ajanta as lot of hotels and guest house are available. Ellora Is 30 km from Ajanta.
Where to Stay :
we stayed in Ajanta itself in a guest house which is part of MTdc. You can book this online from the official site of Maharashtra tourism.
Top attraction:
Kailash temple is the largest single stone structure built in 550 CE. it was carved from the top of the rock and all the way down. It says it took more than 100 years to construct it.
Hinduism Caves :
There are around 34 caves in Ellora and it would take 5 hrs minimum to see every single cave. There are 17 caves that depicts Hinduism and has scriptures and paintings related to Hindu mythology.
Jain Caves :

There are five caves out of 34 open which belongs to Jain community. And it shows life and teaching of Lord Mahavira.
Buddhist Caves :
This cave system has 12 caves and it also house the monastery for Buddhist monk. The cave system depicts the life and teaching of Buddha.
Budget :
Guest house : 2000
Food 500
Entry fee 40

Caution : The cave has a lot of bats.