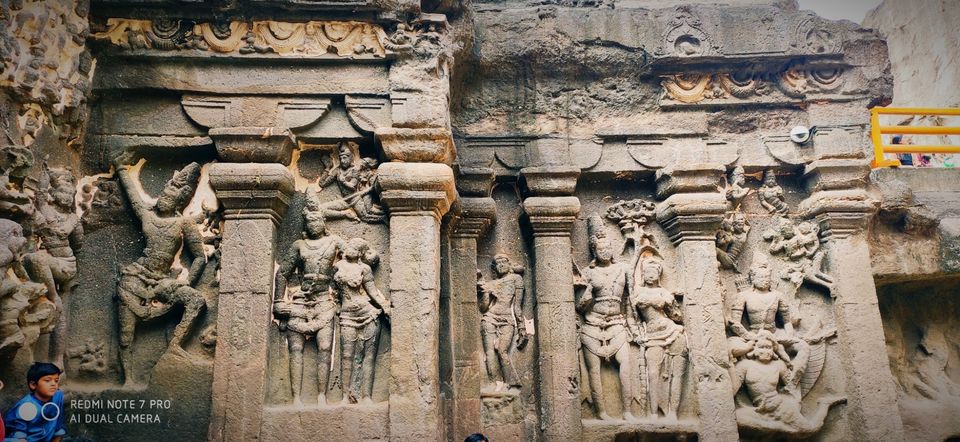 Before i am going to share my experience about ellora caves, hello guys how are you? Myself Vicky Nd I am from Nagpur Maharashtra...as me and my friend decided to go on vacation the first place was in my mind is the place" ellora caves" which is located near Aurangabad Maharashtra.
It is included in the world heritage site.  I we all started journey towards Aurangabad in our four-wheeler via Amravati buldhana, we reach to Aurangabad by traveling 12 hours journey. So we are are freshun up Nd then we further going to see the beauty of ellora cave , consist of Hindu caves, Jain caves, Nd Buddhist caves.
We spent 4 hours in Elllora caves, it is big and impressive complex. The most impressive is cave number 16 called Kailasa Temple, that stands in the middle of the complex. I can hardly imagine how people in 8th century, using only hammer and chisel created such a masterpiece from the solid rock.
Caves starting from 13-29 are" Hindu caves" decorated with column Nd art picture. Some small caves Nd some caves are so big but we are surprised as it is very old construction.
Nd caves starting from 1-12 are "Buddhist caves" . It is also decorated with Buddhist arts Nd paintings.
Nd the third one is "Jain caves" there are other caves no 30 to 34. It is also decorated with painting like arts Nd some column decoration.  After spending 4-5 hours watching this caves we return to Aurangabad Nd stays. Nd second day we decided to travel devgiri fort...I will share the devgiri fort experience in second story....bye!!!