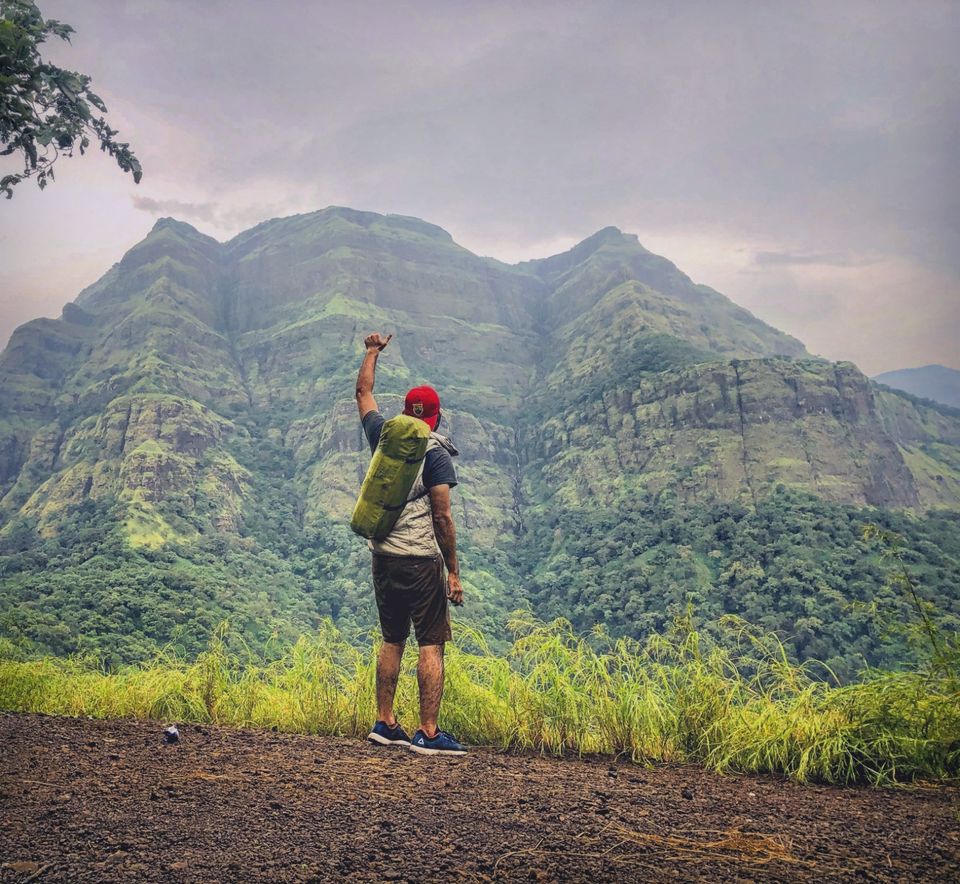 Ahupe Ghats lies in the Bhimashankar range more towards fort Gorakhgad trails.
First time during my travel days i used public transport for whole journey & my journey routed through Kalyan to Murbad & from Murbad to Uchale village.
Public transport was worth reliable as it didn't shuffled our plan & facility were available timely to curtail any excess stays or delays.
We had 11 members in all but our 2nd group of 6 members were arriving next day morning with own vehicles and were planning to start trek by 6am.
And we 5 members followed 2 days plan.
Our plan was for 2 days carried with a trek & exploring new routes via public transport & local help.
According to plan resources were packed for 2days & tent was carried for a stay on hill top.
Date 12 October 2019, We left from Kalyan by noon & reached to Murbad by an hour & our bus from Murbad to Uchale was at 2pm which dropped an hour late, but it didn't affected any of our schedule. We reached base of village by 3:30 pm.
While reaching the village the climate changed drastically & clouds turned dark. When we start our trek, we were welcomed by lord rain which was more required as the climate of Kalyan & Murbad lies more towards humid side & we were not used to it.
The rain started slowly by later on it catch up with the pace, falling heavily & we were wet within few minutes, more like a bath for a start.
We progressed with our trek & as we proceeded further the green leaves enjoying the heavy winds with dark clouds & fog the whole plot was mesmerizing as if it is pre-planned to welcome us.
The route for trek was full of surprises, along with greenery it was followed by black rocky terrain & rain has made those rocks slippery & we were adjusting our heavy bags with ration.
After 2:30 hours we reached the top at 6pm and it was mor dark than usual so we decided to camp on cave than to risk our tent in heavy rain.
We collected some sticks for camp fire & set-up tent for night stay. Later on we had some biscuits to eat as sticks were wet and took time to lit up.
The rain was so heavy that fog was entering cave & atmosphere was too cold. We even saw our shadows in that fog when we switch on mobile torch.
At 9:45 pm rain stopped & we were finally able to see full moon of Kojagiri Purnima. The sky was clear & stars were shining under light of moon.
Cold breeze, full moon of purnima, shining star, mild romantic songs on pocket speaker of JBL & hot Maggie was perfect combination after a tricky trek.
And finally we went to sleep at 11 pm into our tent as we had to trek the remaining part next morning and let campfire to lit throughout the night.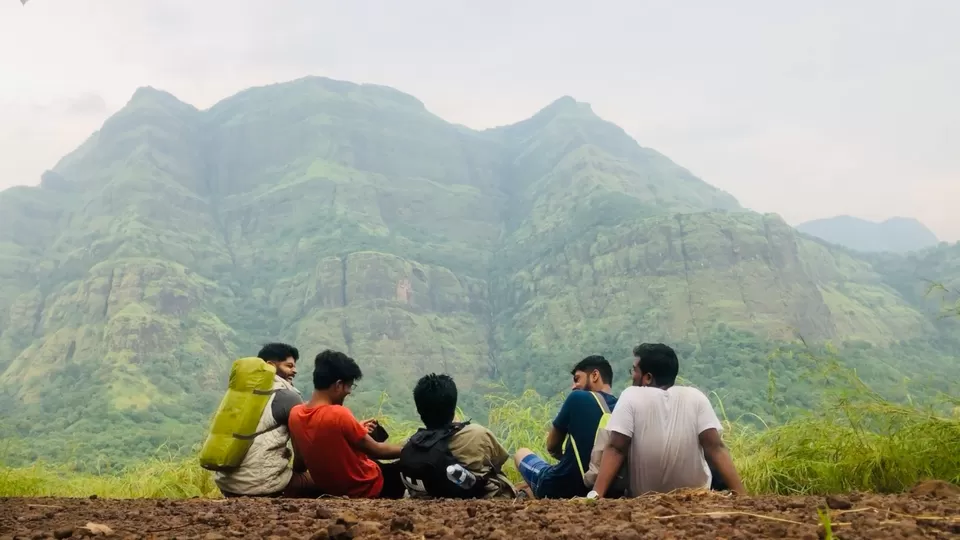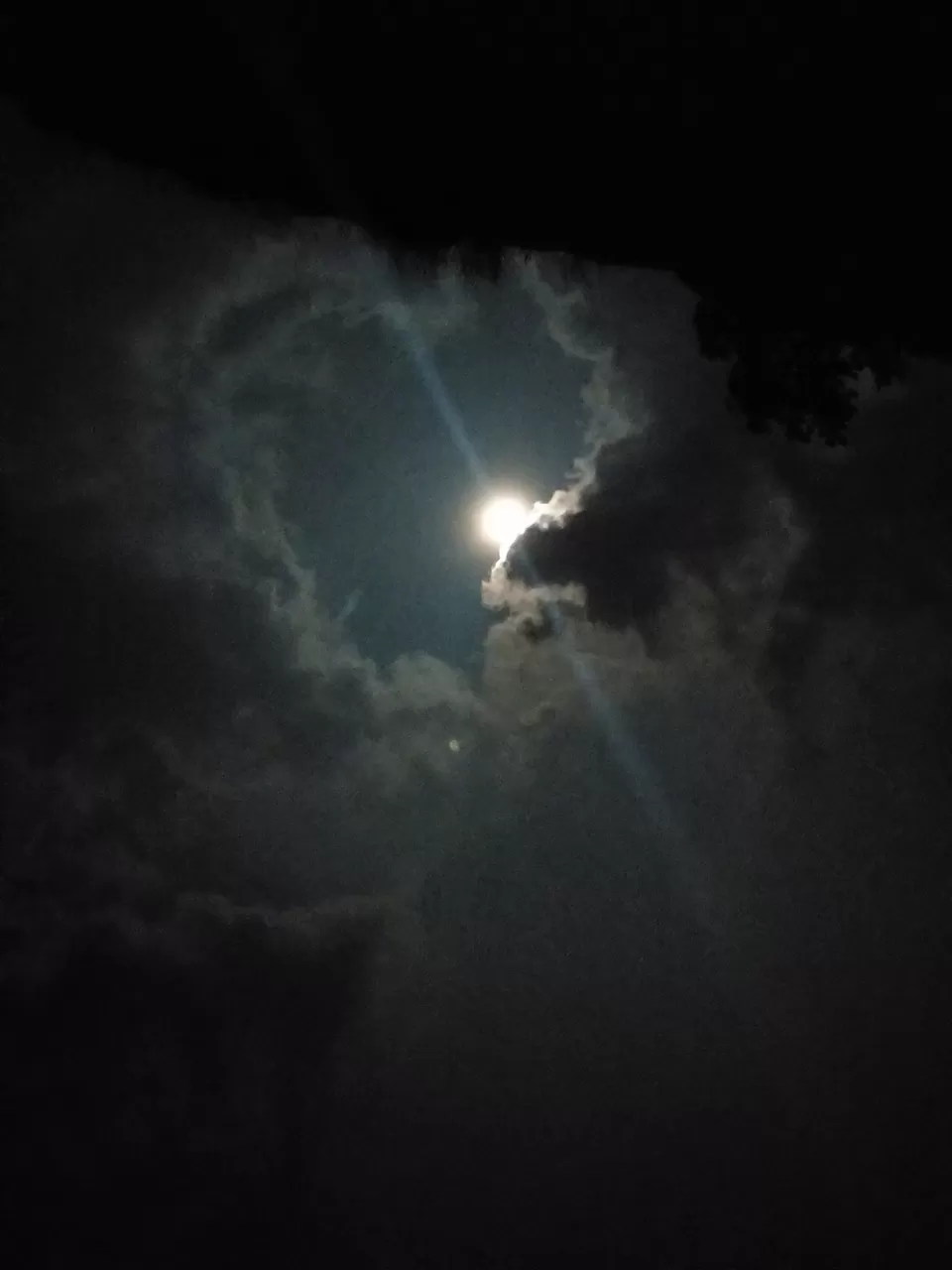 After sleep of full 6 hours we woke up at 5pm as another group of night trekkers arrived near the cave & started with Slogans "Har Har Mahadev". They made through their trek under moonlight.
We finished with our morning routine and packed up tent & wet clothes which were kept to dry thoughout the night near campfire.
We had second group and it was of "Rhesus macaque" the typical red face Monkey found on hill tops of Sahyadri. It was pack of 30-40 monkeys leaded by their ferocious leader.
The group of Monkeys were checking for food left over to feed there families. And we were searching for space in bags to keep ripe bananas purchased last noon for morning breakfast. Those bananas were placed merely 6 inches away from us & that ferocious monkey leader attacked from nowhere & out breakfast vanished within seconds & we had nothing to feed as our breakfast was in there cheek pouches.
Without our breakfast we let out for trek & to enjoy sunrise in ghats of Ahupe. The new trek was for quite an half hour & we made it before the sunrise.
Enjoying the rise, clicking some pictures we settled on top for 2-3 hours as morning sun & cold wind made our morning & decided to wait for our friends to reach on top, as our 2nd group started to trek on 7am.
By 2pm we all start to descend and it took 2 hours to reach the base of village from where our trek of day 1 began.
We saw a small water storge of fresh water made by local people to supply it for their crops during summers.
And we were pleased when locals allowed us to use it for our bath, it was quite a garnishing after sweat & warmth during descend of trek.
Finally we found a small hotel & all of us were so hungry that we hotel ran out of food but provided as much we all needed & tummies were finally full.
With Goodbye note 6 members of group 2nd head back to their roads & we waited for public transport & by night we reached at respective destination.
The whole Journey was Tangle of Joy & these ghats fail to provide those ❤️