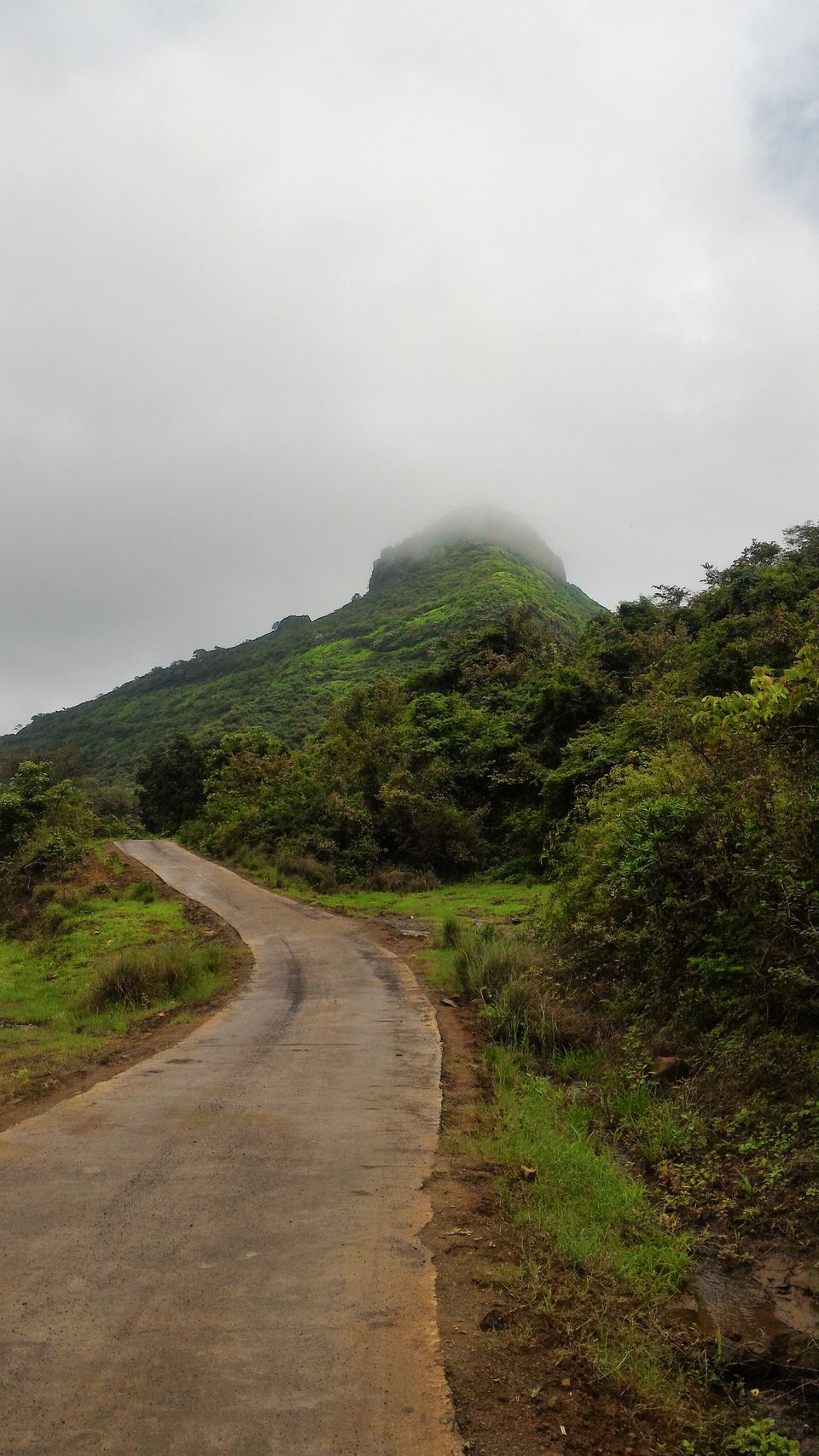 Tikona fort is located near Kamshet around 50-55 km from Pune. The base village of fort is Tikona-Peth. The fort is pyramidal in shape and the name Tikona means "triangle". On many blogs and on trekking sites, difficulty level is mentioned as easy, but it's not that easy trek for first time trekkers, but it's doable, would be a good introductory trek for first timers. It's all about your stamina.
We reached to Tikona-Peth, base village of Tikona fort around 10AM. Tikona peth is base village. When reach base village you will see Mahadev temple. There is ample parking space close to temple. From there you need to walk 2KMs to reach starting point of trek. If you have car or bike, you can reach base of fort by car/bike. There is parking available at base of the fort. But if you come by bus you need to park near Mahadev temple as road is narrow single lane. Earlier this road used to be muddy, now they have made it concrete, but it is narrow.
There is a small steep ascent as you start your trek. After 15-20 minutes of trek, you reach to a small plateau from where you get to see breathtaking views on both the sides.
Then you need to climb few rock steps which join to the route which goes towards the fort. After walking for some distance, you will see a small cave in the left. If you look down, you can see beautiful fields and the road that take you to the base of the fort. After further walking , you will come across . Lord Hanuman's temple known as Chapetdan Maruti, having a beautiful stone carving of Hanuman. After few minute walk, you will come across a temple named Lord Tuljadevi Mandir. There is small lake in front of temple. After walking for a short distance, there is a remnant of a stone grinder.
From this point, the final steep step ascent to the top begins. These steps take you to a bale-Killa. There are two set of steep stairs which need to climb to reach top. Steps are bigger than regular steps, need to take care while climbing. A rope with bolts is fixed which gives you support while climbing . During monsoon its becomes sleepery, as water is flowing from these steps. You need to climb 1st set of steep steps to reach to the first gate and then further 2nd to 2nd gate of fort.
Then further you need to climb few steps to reach Bale Killa. Once you climb the steps, there is a small Trimbakeshwar Mahadev Temple. There is a large water tank on Bale Killa.
When we reached at Top it was completely covered with Fog. View from top of the fort is amazing. From the top you will get spectacular view of Pavana Dam and surrounding scenery. We took around 2 hours reach top, as there were photo session and we stopped at a small hut to have Kanda bhaji on the way. There was little drizzles during entire trek. We started our return Journey by 1.30 PM, it took around 40 min to get down and reach base village.
Tips for the trekkers:
• Carry your own lunch in case you want to have it on the fort. There are no food stalls on the fort. We see only one hut offering Tea and Kanda Bhaji.
• Carry 1-2 liters of water.
• Places to see on fort : Entrance gate (Vetal darwaja), Trimbakeshwar Mahadev temple, Water tanks, Caves, Stone grinder. The whole fort can be seen in an hour's time.
• If you have sufficient time, you can also visit Bedse caves or Hadshi Temple or Pavana lake which are near to Tikona fort.
How to reach from Pune:
To reach at the base village of fort from Pune is Pune – Chadani Chowk – Pirangut – Paud – Take a right at Paud after Bus stand – Hadashi – Javan – Tikona Peth.
If you are going by Old Mumbai-Pune Highway then, To reach at the base village of fort from Pune is Pune – Pimpri – Dehu Road –Kamshet – Take a left turn at Kamshet, take road going towards Pavana Nagar/Lohgad –Kadadhe – Kale – take left turn ar Kale village- After crossing Ghat Section – Tikona Peth - Take left turn at Tikona Peth Village Gram Panchayat Office - Fort.
There are sign boards on road all the way to show directions for fort or you can ask Villagers.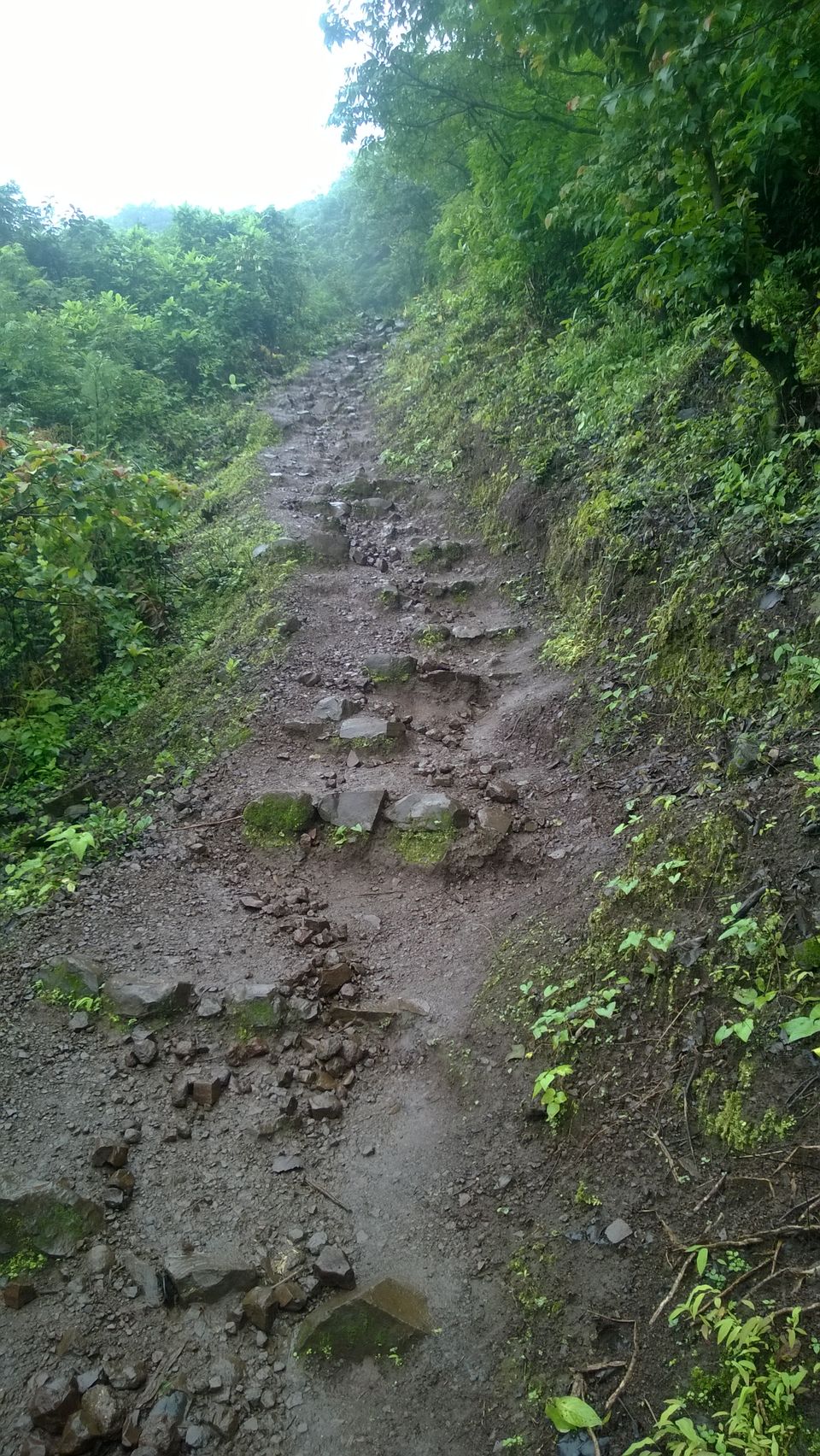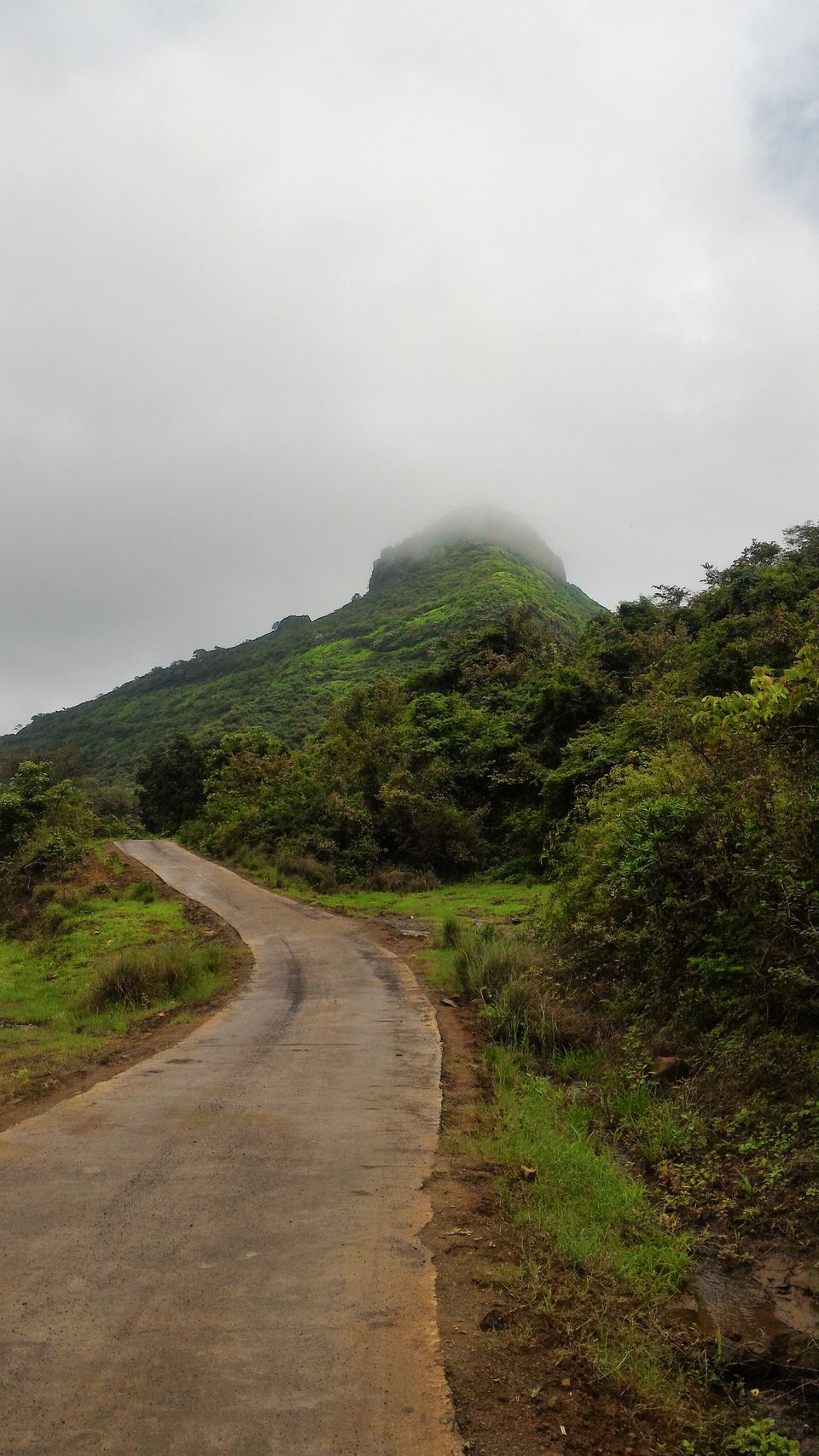 Tar Road from base village to Tikona Fort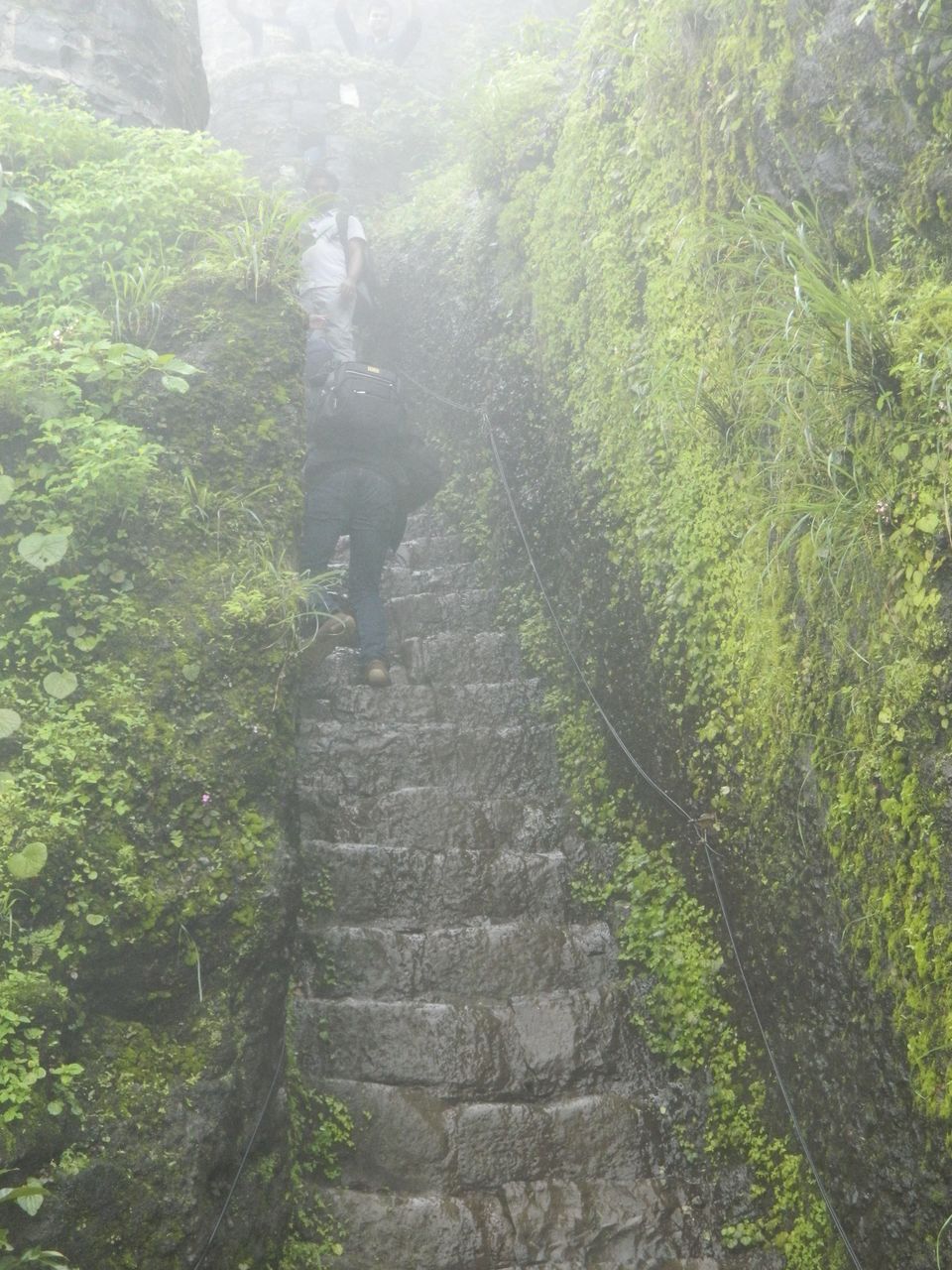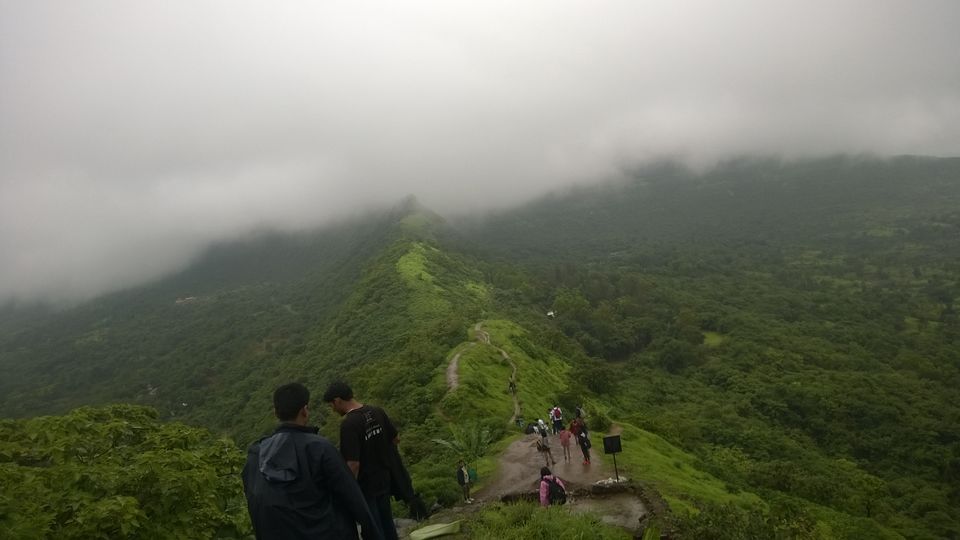 Trek Route (Taken during getting down)