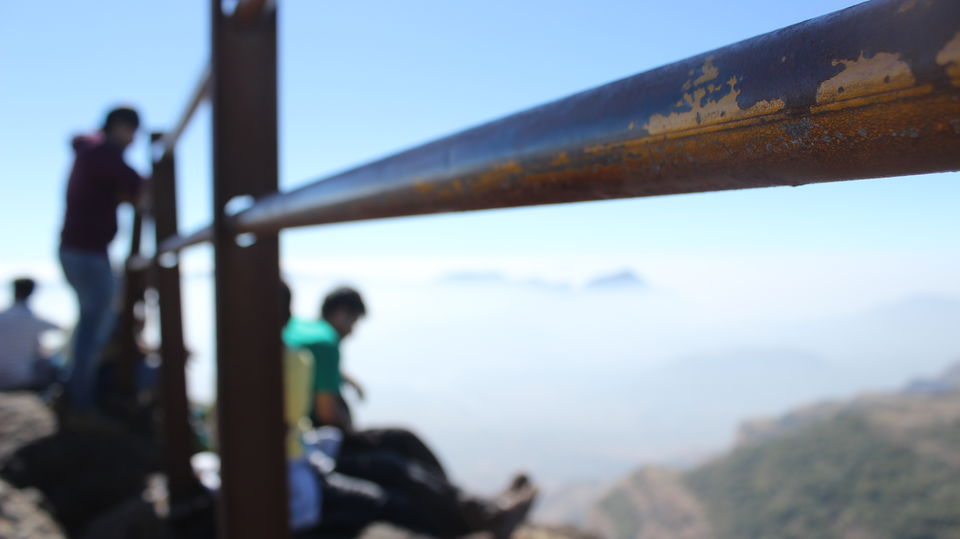 I guess when anyone gets this device they sort of start developing the love for travel and become photographs. I find it funny but also happy that it made me think so.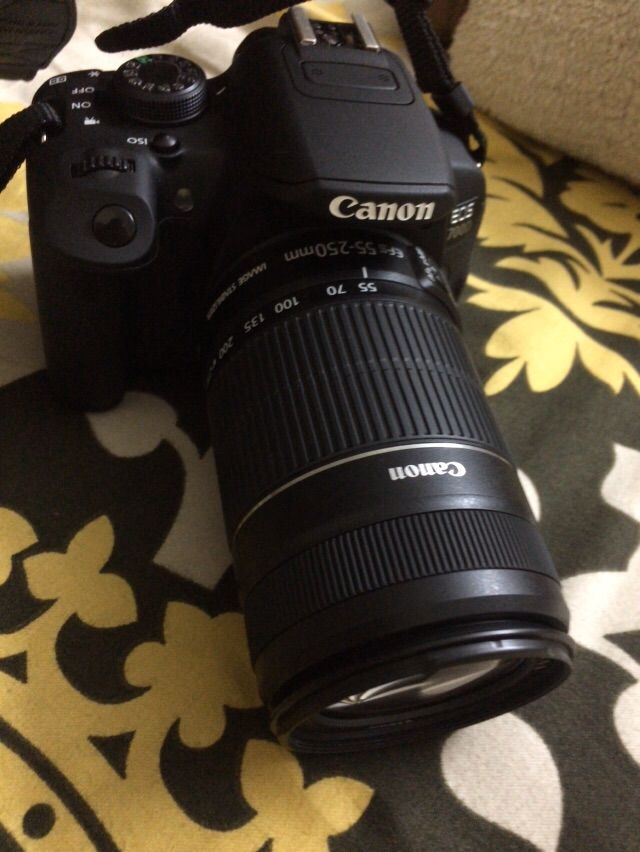 Travelling changes a mind in so many ways one cannot even imagine. It gives your eyes beauty, your soul freedom, to the mind the freshness and sooo much more.
So coming back to the story..... Forgive me if i deviate from the topic.
I love deviating topic and saying random shiz!
HA you see! Chalooo
So the first trip that i went on my own was to trek the highest peak of Maharashtra, Kalsubai.
Height: – 5400 feet
Grade: – Medium. There are steel railings, chains and ladders at places where it is difficult to climb.
Endurance: 2-3 hours of medium/steep climb for a trekkers and for first timers or beginners around 4-5 hours and 2 hours of descent.
Coming back. Road Trip Guys!!!
It takes about 2.45 hours to reach Kalsubai from Mumbai by road. It is much more convenient to travel by road instead of a train. If you're planning to make an overnight journey to this hill station, you can stay at Bhandardara which is about 20 kilometres from the base village of Bari. You can also camp there!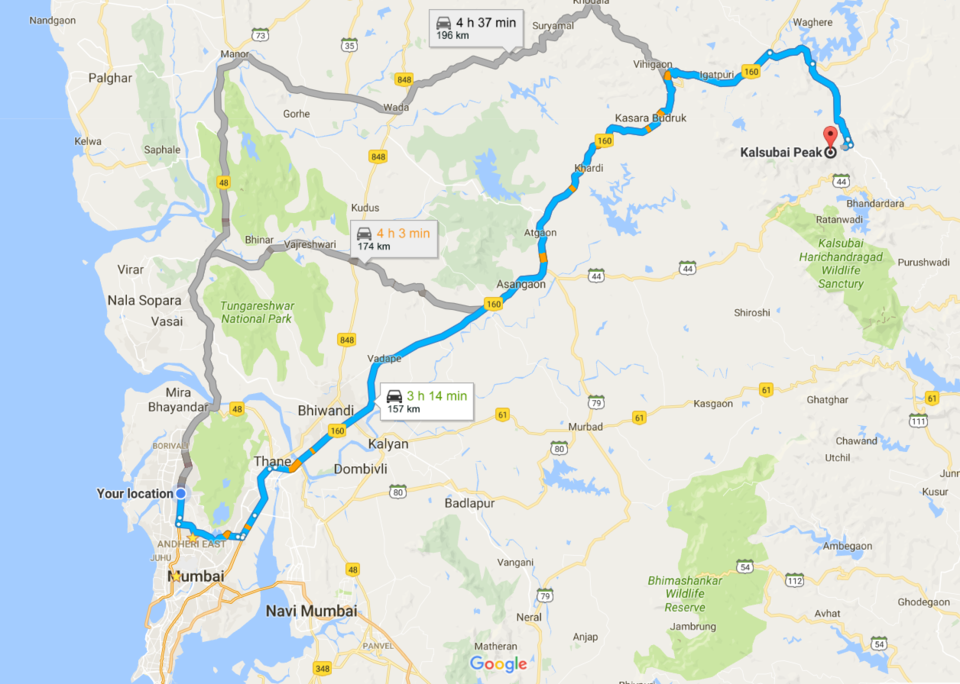 We ( My two friends and me) planned to leave at 3 am in the morning so that we come back in the evening the same day. But with all our laziness we left at 5 am. A beautiful sunrise and a very cool atmosphere (6 degrees) , what else could we have asked for more?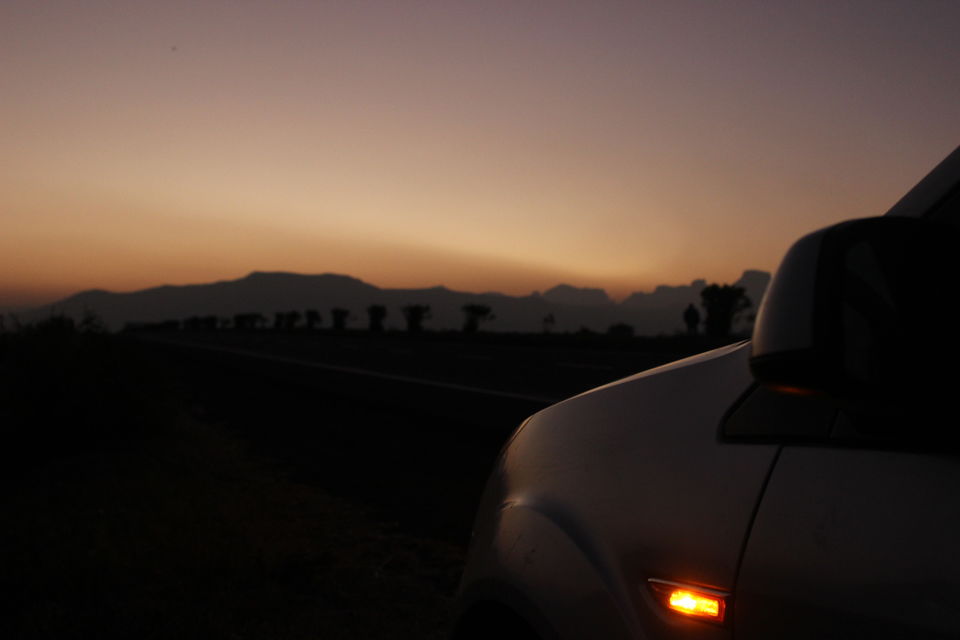 Mid way to Igatpuri we find our stomachs growling with hunger. So we halt and eat the famous Vada Pav, Bhajiya Pav and Chai (The Staple Maharashtrian Fast Food)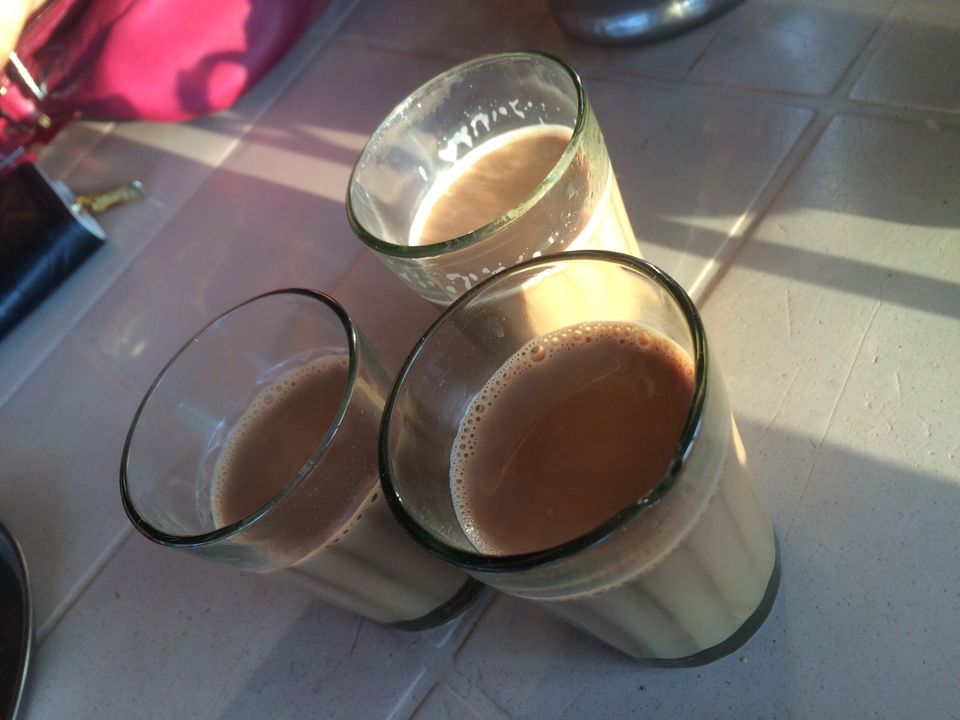 We reached the starting point i.e. the village in Igatpuri at Sharp 7. The village is called "Bari". Marathi is the local language of the bari, Mahadeo Koli tribes are the habitants of this village specifically Khade Clan and Kalsubai is their clan's Deity.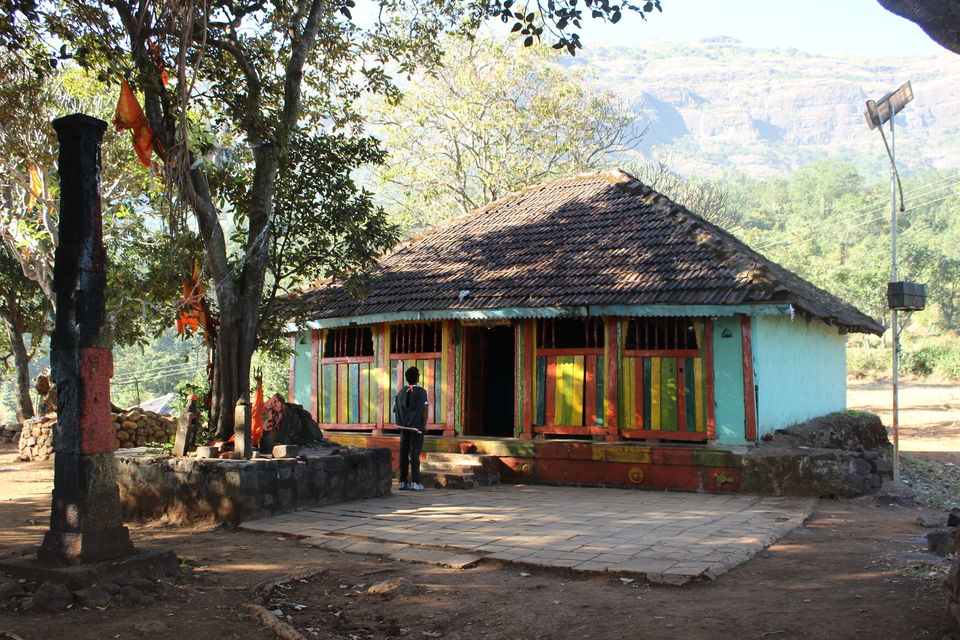 Once you start the ascend the path up there is easily identified with the trek trails. Sometimes the dogs of the village may spearhead your trek guiding you to the top. Make sure you feed them well in return.
Feeding reminds me of the stalls you can find on your way up/down which serves hot fried bhajiyas, poha, nimbu pani and chai that one can die for because they are purely amazing. YUMMY!!!! The villagers run these small stalls, we can just imagine their endurance level that how they have to trek up and down day in and day out to earn whatever little they can earn to have a living. The shocking part is most of the vendor are either old people or small children.
But yes ladies and gentlemen this makes us learn the virtue of hardwork and to have a "Never give up" attitude.
Coming back again to the story. Ha ha.
We started our trek.There were rock patches and ladders on our way uphill. Trekking was fun and so was halting to take pictures of the awesome sceneries that every halt gave us.
To the people who have fear of heights, after this trek you wouldn't have any fears. Seriously MARK MY WORDS! There are 90 degree ladders which even a trekker might fear sometimes.
The strange part of this trek is towards the end you will feel that you are near to completing the trek but darling it would be just an illusion. The mountains are aligned in such a way that at every 10 steps you feel "Only little is left" (Thoda hi bacha hai) but that little may be more than half hour definitely (Tum galat ho bhaiyo). HA HA.
Finally we reached the peak and we were up above the cloud now.
As the clouds cleared and the view was visible we couldn't believe our sight because it was so amazing that words cannot even describe.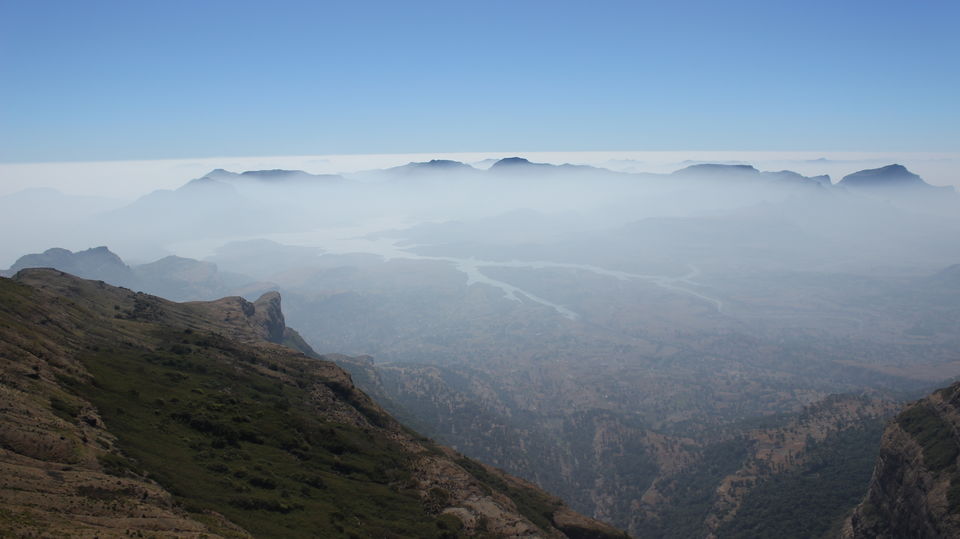 There is a small temple of Kalsubai on the top and besides it there is an elegant flag bearing the face of Shivaji Maharaj.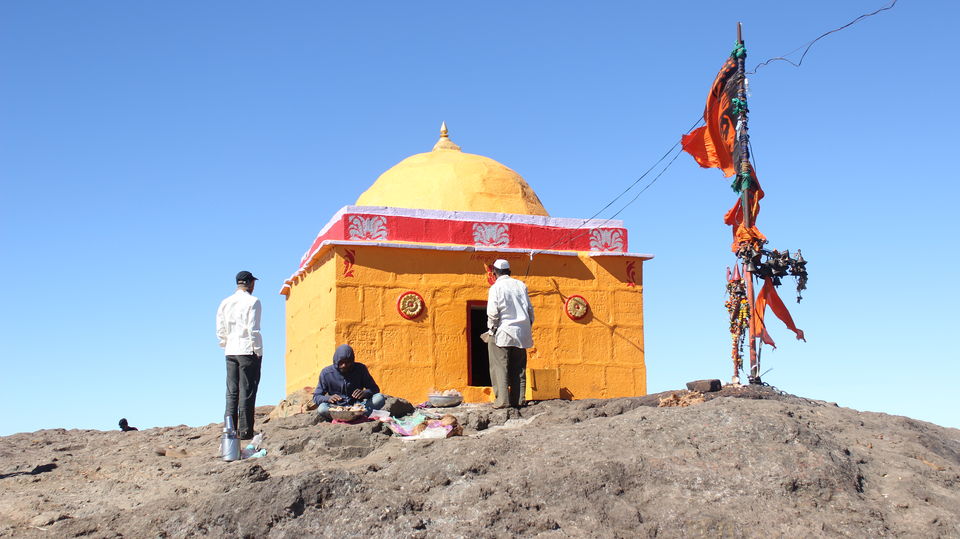 The summit or the pinnacle is mostly covered with rock patches where you can sit down and enjoy the nature and clouds down below. And we did exactly that.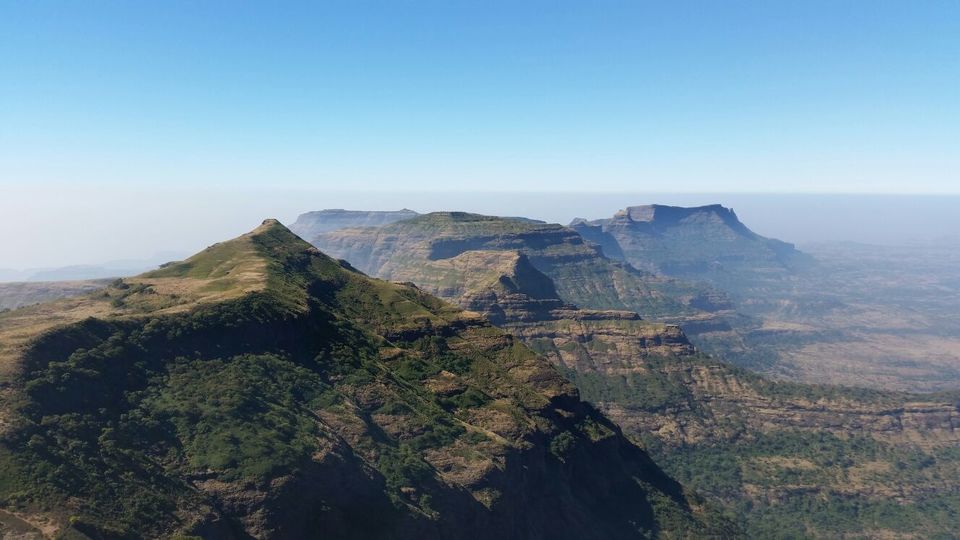 We sat down and just kept staring at the view and got lost in the beauty of our surroundings.
After 30 to 45 mins rest we started preparing for descend. It was our time to say goodbye to such an amazing place. Goodbyes are difficult. Very difficult.
On the way down took some group pics. Starting from left Varun, Deepali and me ( Anjali, naam toh suna hi hoga).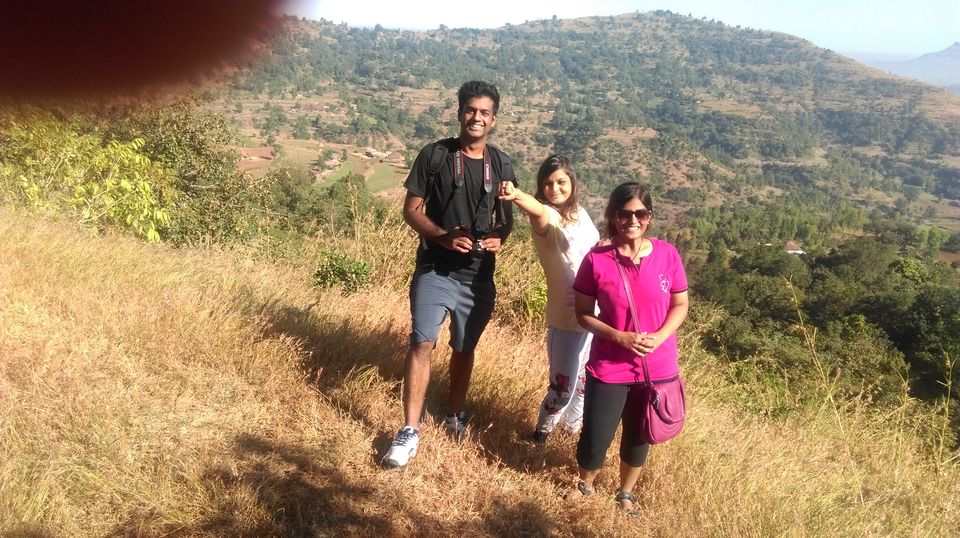 The foremost rule of trekking is keeping oneself hydrated. The descend hardly took us 2 hours but was a challenge because the one wrong step in the hurry to reach the base and you can go all the way tumbling down like Jill. Jokes Apart. Be careful and take baby steps.
Around 5 PM we started our journey back towards Mumbai with some awesome memories. It took us 5 hours to reach Mumbai with one halt for lunch. Around 9 PM we reached Mumbai.
One of the best experiences EVERRR !!!!
The story hasn't ended ladies and gentlemen... stay tuned to know one more interesting part of the same journey. (Picture abhi baaki hai dosto)
TO BE CONTINUED...