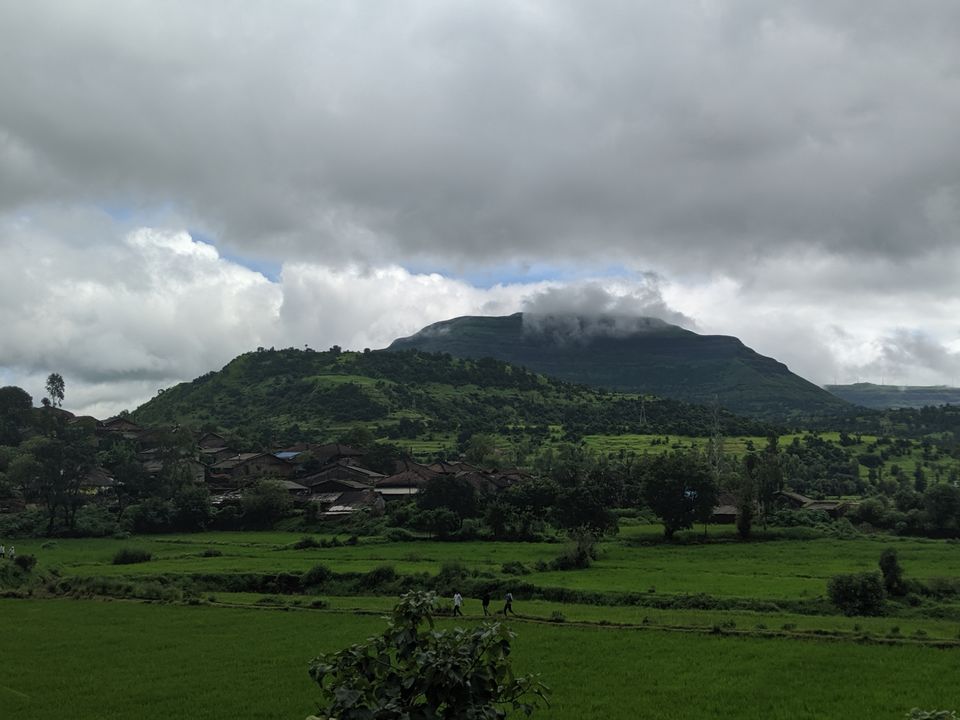 Maharashtra has probably maximum weekend getaway trekking destination when compared to any other states it seems. With in like 150-200km radius of Mumbai you can easily find bunch of places where you can go for a trek. The beauty about these treks is you can just finish them over a weekend . The best time to do these treks is just after mansoons. Even though these treks offer breath taking views during mansoon but many a times it happens like they become dangerously slippery during rains or they will be closed for trekking due to heavy rains. It happened with me once when me and my friend went for trek to
Kalavantin durg but we were stopped by police and sent back as it was closed due to heavy rains. So be sure to check if the trekking is allowed before you start.
One of my favorite trekking spots near Mumbai is Kalsubai peak. Apart from being the highest peak of Maharashtra it gives you breathtaking views and adrenaline rush both to make the trek memorable. This time when my friends came to Mumbai from Bangalore in the first week of October we were on our road trip to places near Mumbai . After Spending our first day in Daman and we drove back to igatpuri via Nasik and halted in Igatpuri. On the second day when we were thinking about what to do in Igatpuri it stuck me that a trek would be a good thing to do. As our trip to Daman was not that much exiting as we thought ( You can read my earlier story to know about It) I thought early October greenery of peaks can lift our mood and revive us for our next journey. I have done the Kalsubai trek once earlier also and I knew how beautiful and thrilling the experience was. So without thinking much we head out to base village of Kalsubai trek from igatpuri called Bari. After driving for about forty-five minutes towards Nasik in scenic and we'll maintained Mumbai Nasik highway we took a right turn to very badly maintained but breathtakingly scenic road to Bari village. The journey of about 25-30km ( I don't remember exactly how much it was) will take more than an hour to cover due to condition of the road but you won't feel fatigue as the view is superb on the entire stretch till you reach the village. You can Definitely try to take some good profile pics for your what's app and face book profiles on the way.
We had our breakfast on our way In a hotel which is about 3km away from base village. It's better you finish breakfast in some good hotel on the way as there is nothing much there in base village. We reached Bari at around 11am and after parking our car we started our trek without much delay as the both way trek will take around 6 hrs and we wanted to get back before it gets dark.
Bari is small village with hardly some 50-70 houses and but it's has lush green paddy fields all around it and they are treat to the eyes. The trek starts at the end of village of which hardly takes takes 10 min to reach from the start.
Just at the beginning of trek you have to pass a check dam .It's not deep and stones are kept in place to help you cross it without getting your feet wet. But you have to be careful other wise you will end up being all wet or else you can just walk through the steam as the water is below knee depth and enjoy chillness of stream water . You can even click some good pics there as back drop of the check dam is really majestic.
After you cross the check dam you will go through paddy fields and mud roads for about 45 min which gets very slippery at some points so be sure you are wearing shoes with some good grip in their soles. Once you are done with muddy road and paddy fields you will get steps . These steps are carved out of the rock there and you will encounter these steps at many places during trek . At some places these steps are large and tilted at one side which requires one to be bit careful . Other than these at many places you will get to climb iron ladders which are fixed mechanically through nuts and bolts to larger rocks to help us cross them . Although they look dangerous and rusty they are pretty safe and sturdy as long as you are bit careful about the steps you take. At many places during the trek you will get to see wild flowers covering an entire patch of area and making it look like a colorful carpet and it's a treat to eyes .
On the entire stretch from beginning till end you will get shops which sells Maggi,bajji ,water ,cool drinks and snacks . It really shocked me how they will carry so much stuff till there and then I realized it must have become a daily routine for them as they do it day In and day out. They do it out of necessity and they don't have much of a choice as that's how they earn for their living.
As we did the trek one thing I did is I stopped at many places and stood there for few minutes to enjoy the view without trying to capture everything in camera. I really enjoyed it . It made me feel connected to the place and I felt like part of It.
At the end of peak there is temple for deity Kalsubai after which the peak is named . I observed so many people come there to just to offer their prayers to deity and seek her blessings other than those who come for recreational purpose like us. At the peak you will feel gust of wind with mist which will give you chill and if you are lucky and there is no fog you can enjoy breathtaking view of Western ghats .
We spent some time at peak and started our descent . Descent was much harder than climbing up as route got slippery due rains and we have to take our every steps carefully. Over all the entire trek took us around 6 hours. 2 hours for climbing and around 3 hours and descent.
The trek really helps one to reenergize themselves and at the same time it is physically demanding. I will rate the difficulty level as moderate to difficult based on your fitness level. The entire route is pretty safe just make sure you carry a pair of good shoes and be careful .
And if you love nature , being outside and trekking, Kalsubai is one trek that you shouldn't miss.. Hope the write Up helps..Chao 👋