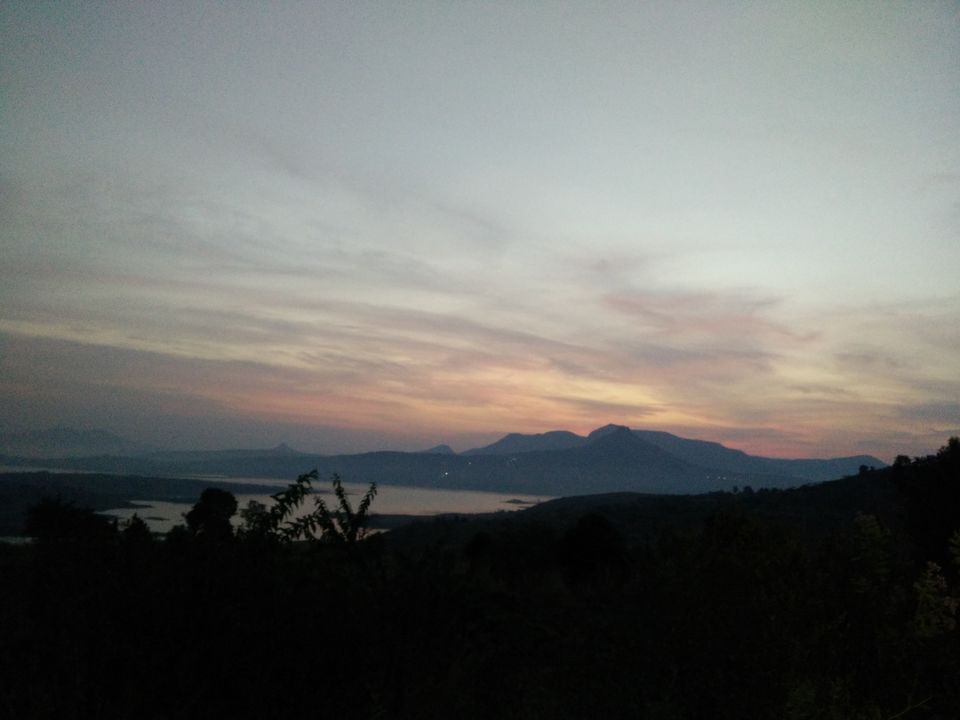 Pyramid shaped top with telescopic views
This post has taken me really wrong to write. To start with I had a blogger-block, didn't know where to start from and then I put undue pressure on myself to produce something different. I did, I write a poem, it reads like this:-
​
Tall with fame and conviction,
​of boastful views and spreading lakes.
​Unforgotten song of Maratha Culture
​crooned by the rock that gets displaced. 
​The saffron flag cuts through the air
​like the sword of a Maratha warrior.
​With a huff I enter the fort 
the air is clear and chooses to forget
​the bloodshed, destruction and hatred.
Tacky! That's what I called it, the first line will lead the readers to  Amitabh Bachhan and if they reach the end of it they might be reminded of war images from the movies. What does it have to do with a trek? Why not provide my reader friends with important data, after all I have done more than a dozen treks and never provided this:-
​
Top ten things to know about treks
Terrain- Mumbai spoils you for choices, they definitely outnumber ice cream flavours world over. You can plan for a culture - walk at Kanheri Caves within the city, then there are hills, mountains and forts at Thane, Karjat, Lonavala, Satara etc ; select the terrain keeping your fitness level in mind.
Time- The game changes with sun, the heat can make it double the work. If you are a beginner monsoon is the right time for you otherwise an early start in company of sunrise is advisable.
Homework- Invite a penalty if you have not done this, we bloggers are there to help you with essential info on altitude/ starting-point/ terrain/ difficulty/ what to expect so please make the most of it. Its a free service after all.
Water- You can leave your house without your shoes but you can't go for a trek without water. 1-2 litres depending upon the season. Certain long treks may require to carry upto 4 litres. A water advisable is advisable for these.
Guide- There are treks you can do without a guide, especially during monsoon as you just follow people. Yet there are treks that need a guide and cannot be done without one.
Camera- After water its the second most important luggage, a smart phone also serves a purpose. Selfies cause accidents, very soon phones will come with statutory warnings, 'Selfies are risky'.
Be Steady- Keep a steady pace in the uphill climb, try not to take long pauses even if you are tired.
Anyone can Trek- Like dance like trek, with a proper selection this can be a recreational activity for the entire family.
Food- Small in size and high in energy. Nuts, chocolates, dates, parathas.
Exercise- At least three times a week, any form of exercise is must for all trekkers at the least.
Am I happy with this? Lets just say I have got myself started.
Tikona is mid-way between Pune and Lonavala  off the NH4 and is an hours drive from either of the two places. However we were staying near Tung Fort (an hours drive from Lonavala on the Aamby Valley Road) on the opposite site of Lake Pavna. Tung Fort is another must do in long list of forts in Maharashtra and avid trekkers can bundle the two treks together ideally over 2 days. We started an hour before sunrise (it was no less adventurous to be up at that time( 5.00 am) of the day) from our resort near Tungi to drive towards the base of Tikona Fort. We drove through the Javan-Tungi road around lake Pavana. The road was paved for the most part but stretches of it were equivalent of treks for the car.  The drive through woods was majestic, encountering exotic views, inhaling rich air, the colour of sky changing rapidly like the score in a cricket match. It took almost an hour to cover the distance of 24km, to reach the Peth Tikona, A small village at the base, we picked the guide.
​He is, Sujit who is employed by the trust that administers the fort. Sujit also arranges camping at this fort. He can be reached at +919545863824
For a trekker, the chill in the air vanishes as fast as leaves from a tree in autumn, we bore the chill as we started the trek through the undercover. A little escalation and 15 minutes of walk, we felt warm. Sujit (guide) spoke about flora, the history of the fort, its restoration and the challenges they faced.
​
This fort is maintained by a trust, the above posters give the viewers information about the history and restoration of some forts under it. The cost of maintaining this fort is around 35000 Rs per month. The grinder in the picture was manoeuvred by bullocks to crush limestone and mix it with jaggery to create building material. There are caves, temples and a 45 feet deep water tank which is cleaned every other day. Shivaji Maharaj had seized this fort from a Nizam and many statues of Hindu Gods were found buried.
It is a easy trek, though at places it is rocky and requires focus and strong legs.
The rocky road led to panoramic views
The lake in the picture is Pawna Lake and the mountain is the home of Tungi Fort.

Going down is always faster than coming up, isn't that true for life too?
​
​Tikona is 60 km away from Pune, which is where we headed to after the trek.

​Thanks for reading my blog. Read about more treks here
Satara- Kaas, Sajjangad, Pateshwar, Chandan-Vandan