Trip : Chennai - Pune - Matheran - Pune - Chennai
Trip Dates : August 23, 24 2014
Trip Mates : Karthik, Murugan, Sriram
Pune - Matheran - 126 kms by road Mumbai - Matheran - 90 kms by road
Matheran was in my list for some time, but, suddenly got an opportunity to execute my plan ! Thanks to Murugan and Sriram for joining me with quick arrangements and helping my see Matheran :)
Matheran is the smallest hill station in India. The hill station has lot of view points which provide a panormic view of the Western Ghats and Sahayadri Range of Maharashtra. One feels lost in nature in most of the places in Matheran for the grandeur of nature. At the same time, one feels lost at times because of lack of direction and sign boards.
Neral is the nearest rail station to reach Matheran. From Neral, there is a narrow gauge train that connects to Matheran via Aman Lodge => Same like Mettupalayam - Connoor - Ooty. However, the distance is dramatically shorter when compared to Ooty.
The toy train is connected to mainline trains at Neral Junction. From Neral, the narrow gauge Train takes one through a zigzag route of about 21 kms. to Matheran in two hours time. Unfortunately, when we went we saw a board that the train is cancelled from June to October !!
Day-1
We started from Pune around 2 AM; caught the Siddeswar express around 3 AM and got down at Karjat around 5 AM. On the way, when we passed by Lonavala-Khandala, the view was beautiful in the early morning with fog in the valley and lots of light beaming amidst the fog. From Karjat, we took local train to connect to Neral. This was a 20 minute commute and we reached there around 5:45. Since the narrow gauge train was cancelled, we hired a cab to Aman Lodge for Rs.300. The driver however took more people enroute and collected money from them too. So, please be aware. Looks like one can use this service at Rs.70/- per head. We, being there, so early in the morning, we do not want to waste time at the foothills and moved on.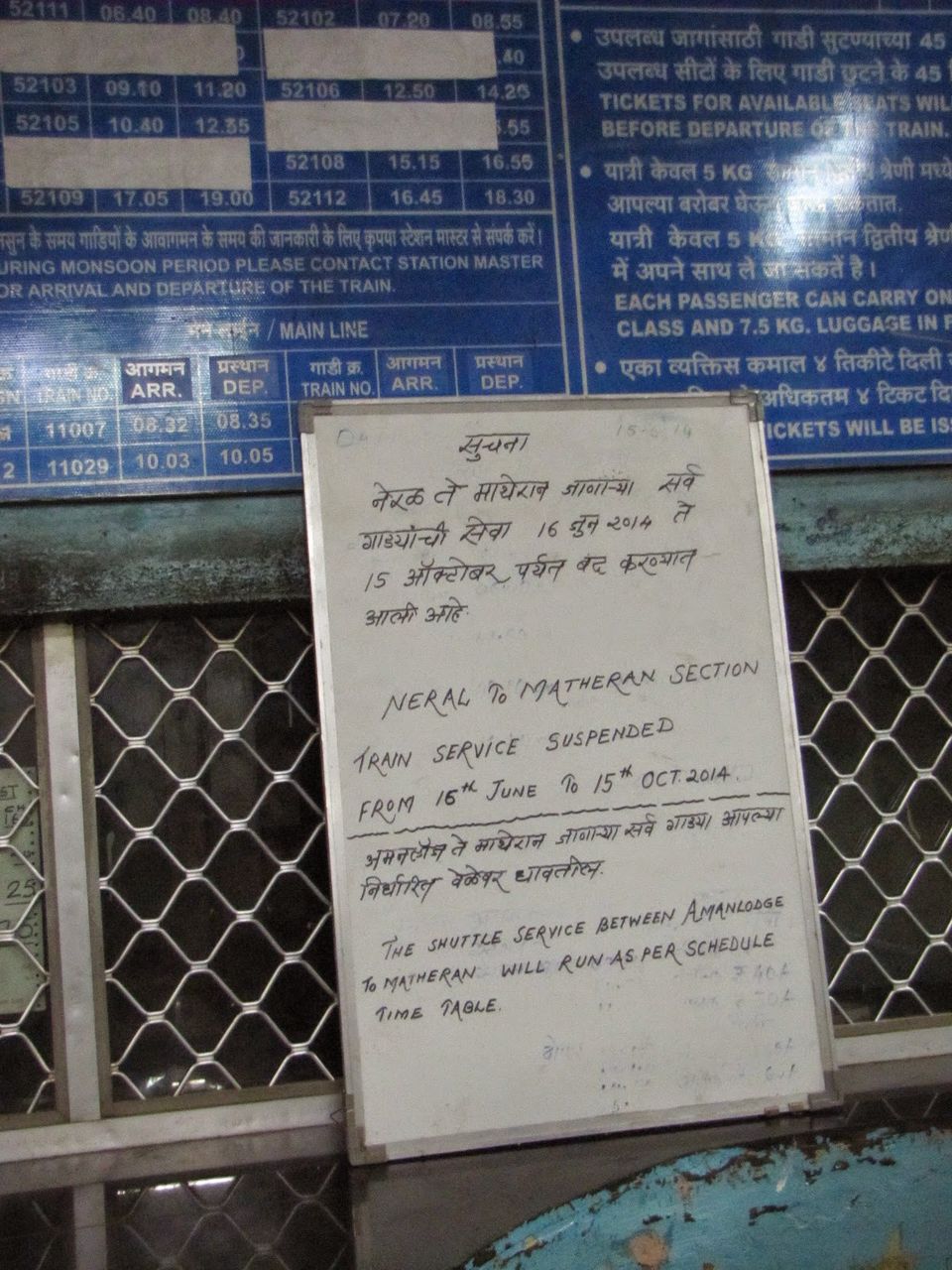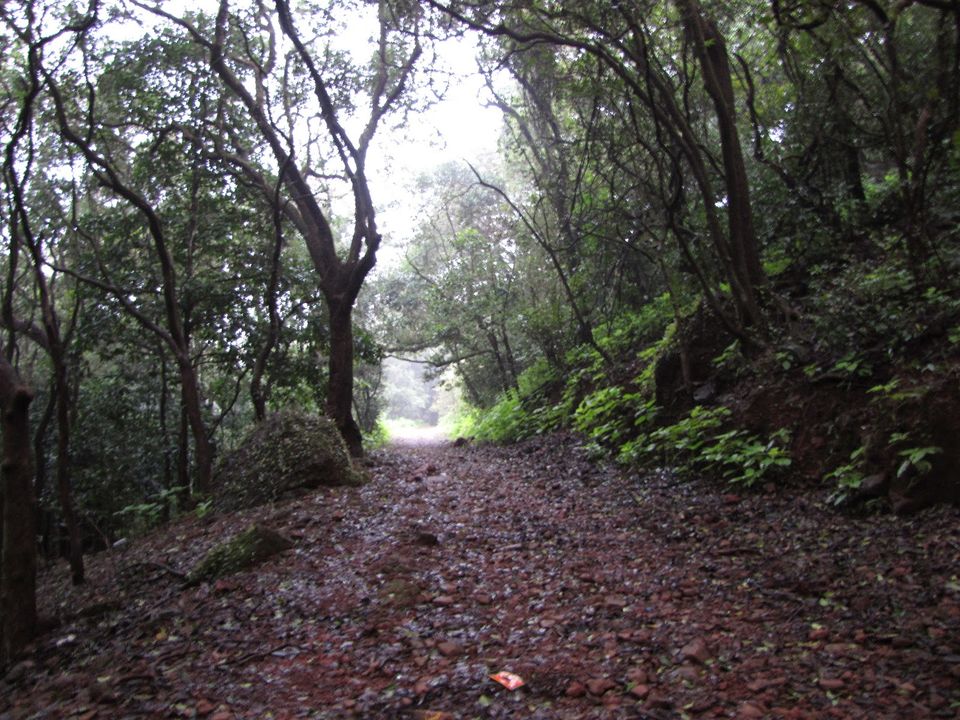 We reached Aman lodge and they charge Rs.50/- as visitor fees to enter Matheran. One has to take the toy train from Aman Lodge to Matheran or to walk on the track. We first decided to do a trek to Panorama point from Aman Lodge - the farthest point. It was a close to 3-4 kms trek - one way; and we sighted amazing views of sunrise and fog. The timing was a great coincidence and unsure whether proper planning would help anybody see this !!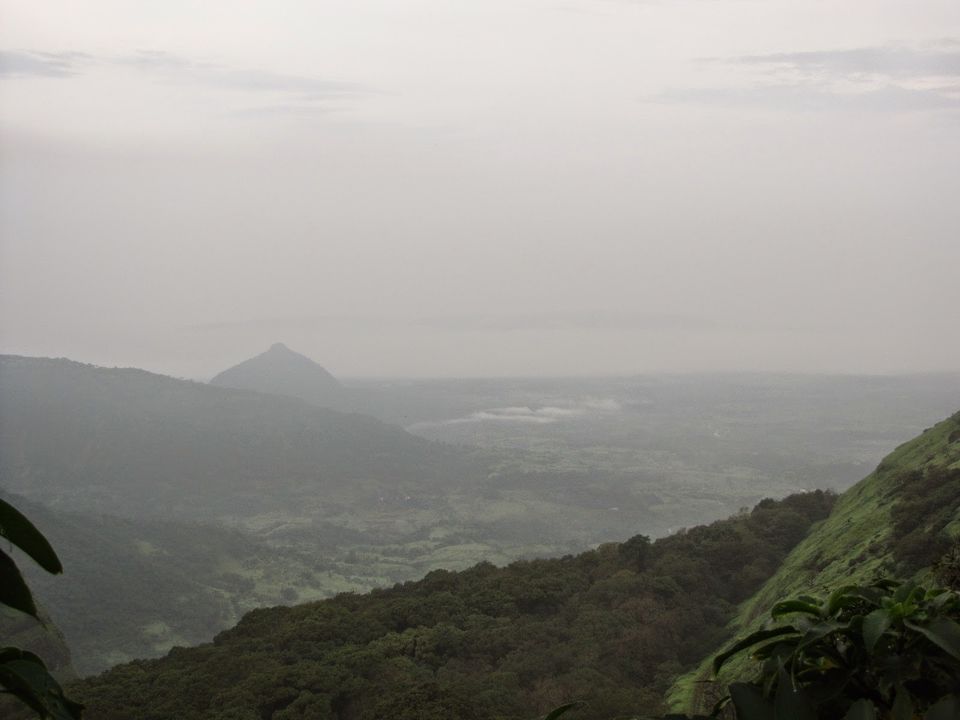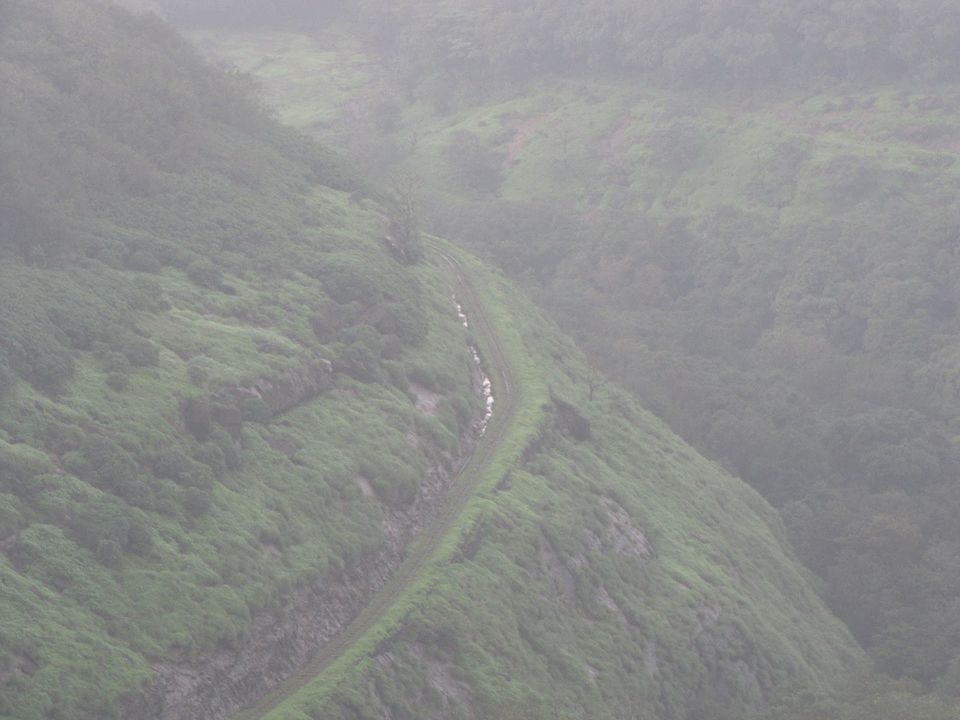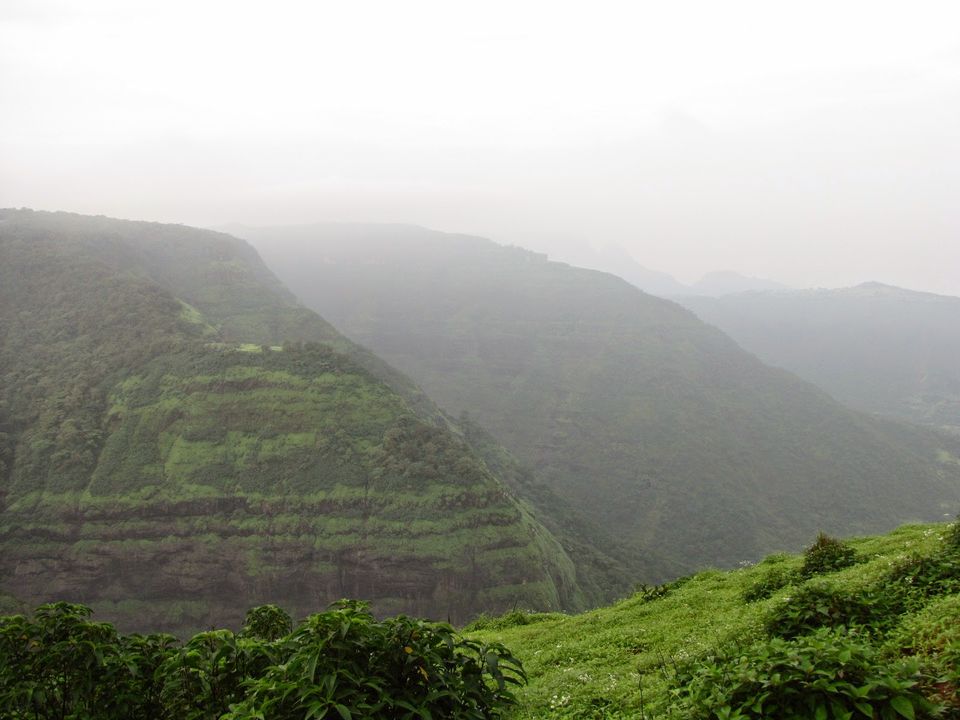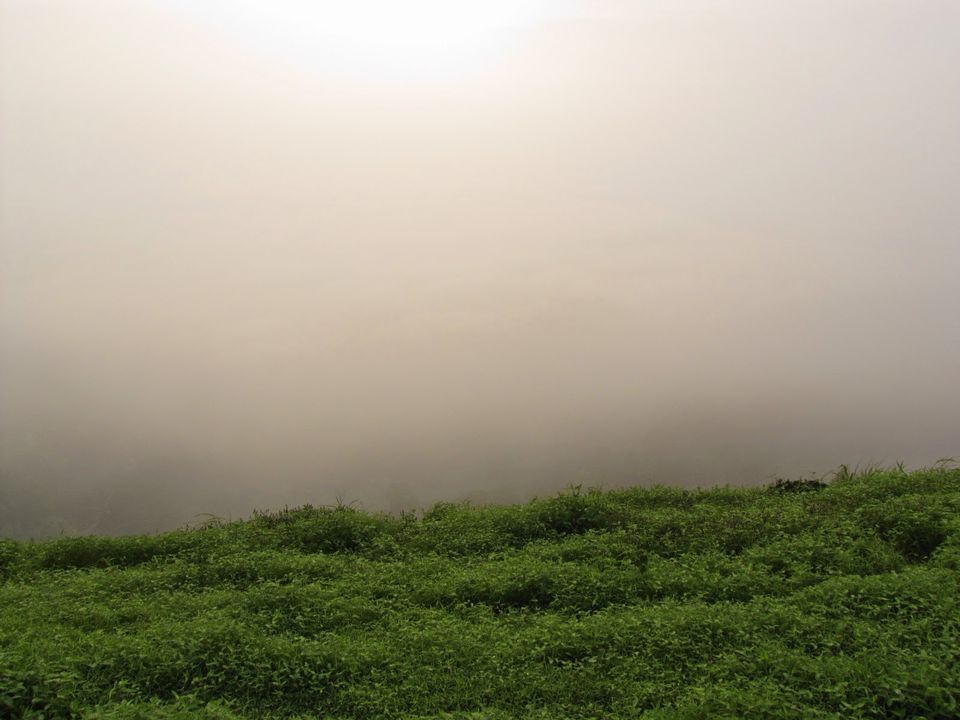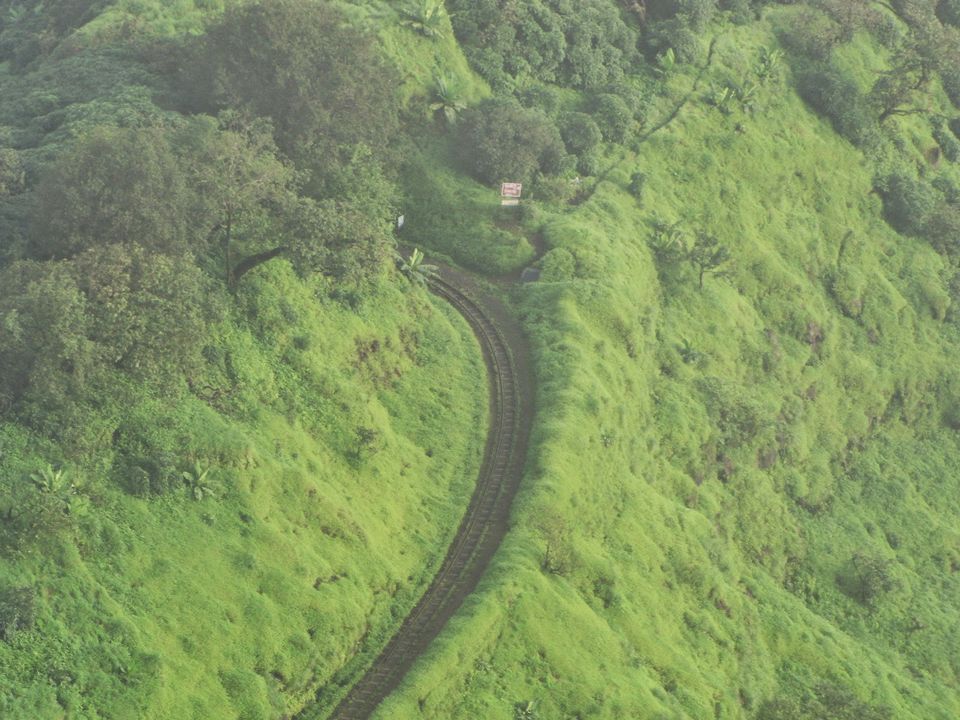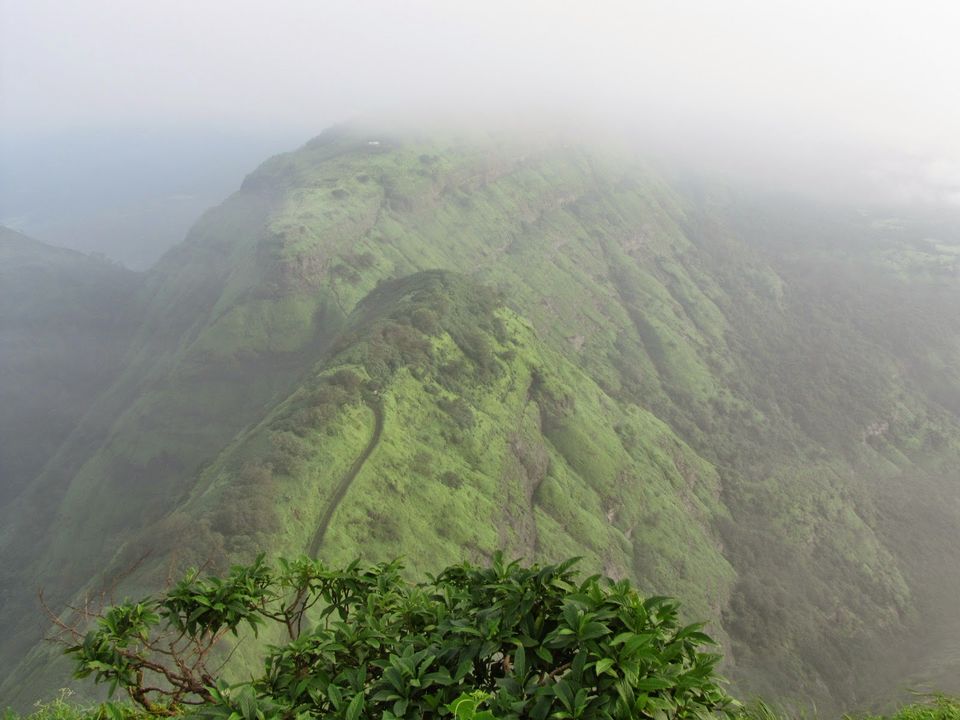 We had a very silent nature give us a great treat of views of valleys, hills, fog, slight drizzles and sunrise ! The Great blend of nature was just amazing !!
We reached back to Aman lodge around 8 AM and had breakfast at Hotel Vithanga - part of the MTDC. Tasted some native food - Misal Pav, Poha and Tea. We now thought about the trek to Matheran after the breakfast and just saw that the first train was ready - Rs.45 per head, we took the toy train to Matheran. The journey had couple of good views on the way. However, it was quite sunny and we could see people getting tired who were walking to Matheran. One can also hire horses to reach Matheran from Aman Lodge.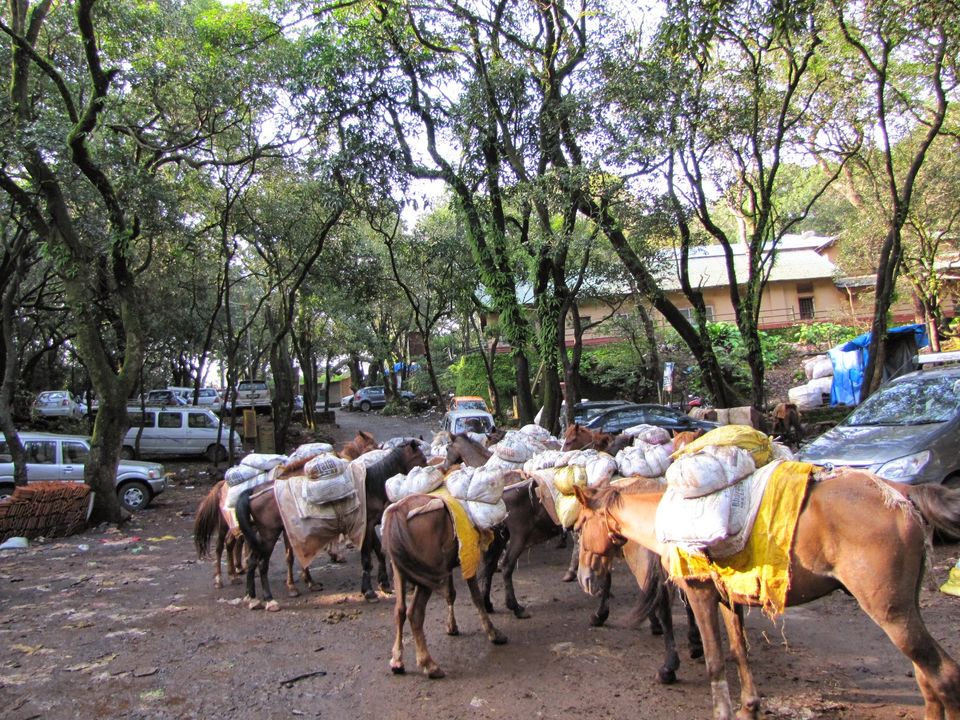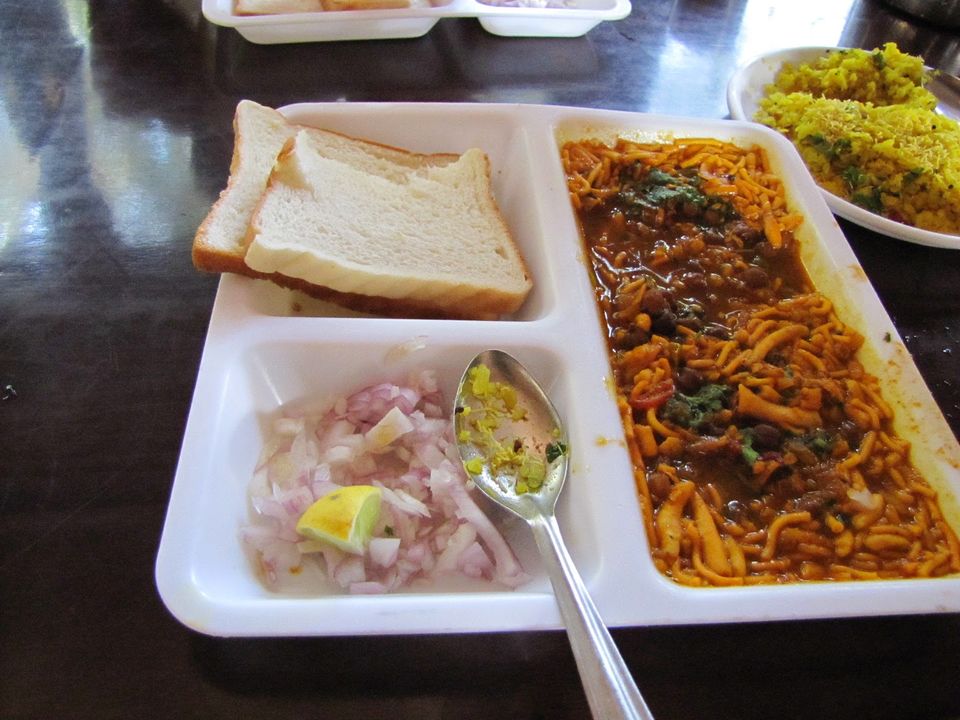 Those who come by road to Matheran, Aman Lodge is last stop. This is the car parking area. The parking entrance fees and daily parking fees need to be paid here. No vehicles are allowed beyond this point. This point is called Dasturi Car Park.
Stay @ Matheran
We had booked a room for 3 at Hotel Panorama after reading reviews in TripAdvisor. The hotel is a budget hotel and we had our rooms ready when we reached. The hotel is 0.5 kms from the Matheran Railway Station. There are lot of stay options. Most of them come with lunch, dinner and breakfast along with the room rent. Overall, the food seams to be good. There are handful of quickbites and chikki shops all around in the Bazaar Peth (Market Road) of Matheran. The stretch of 1 km of Market road is the lifeline of Matheran. Rest all are view points.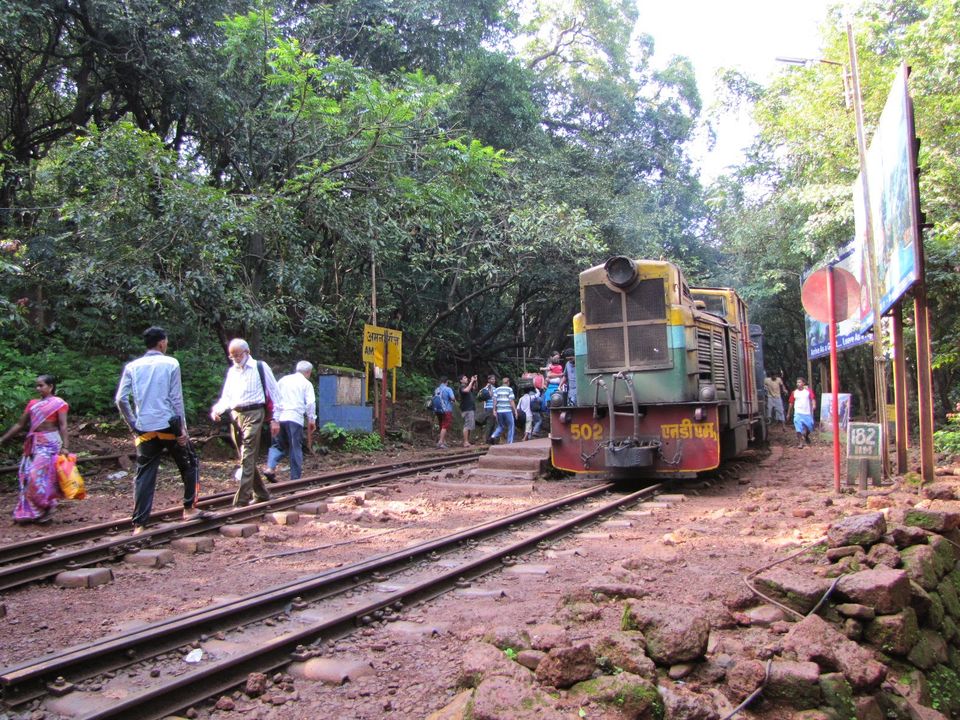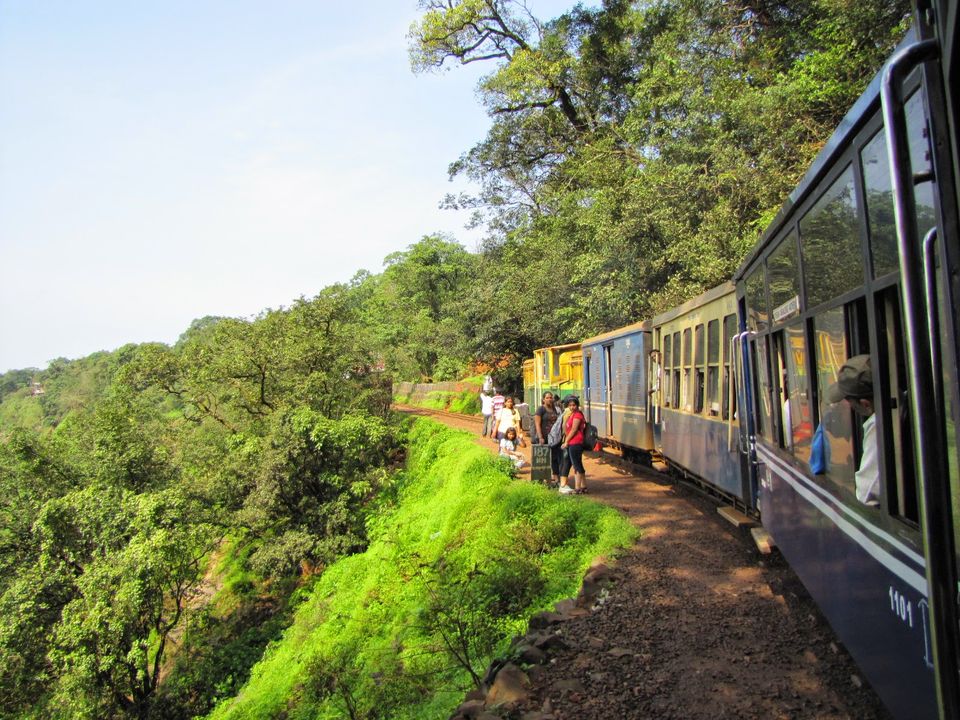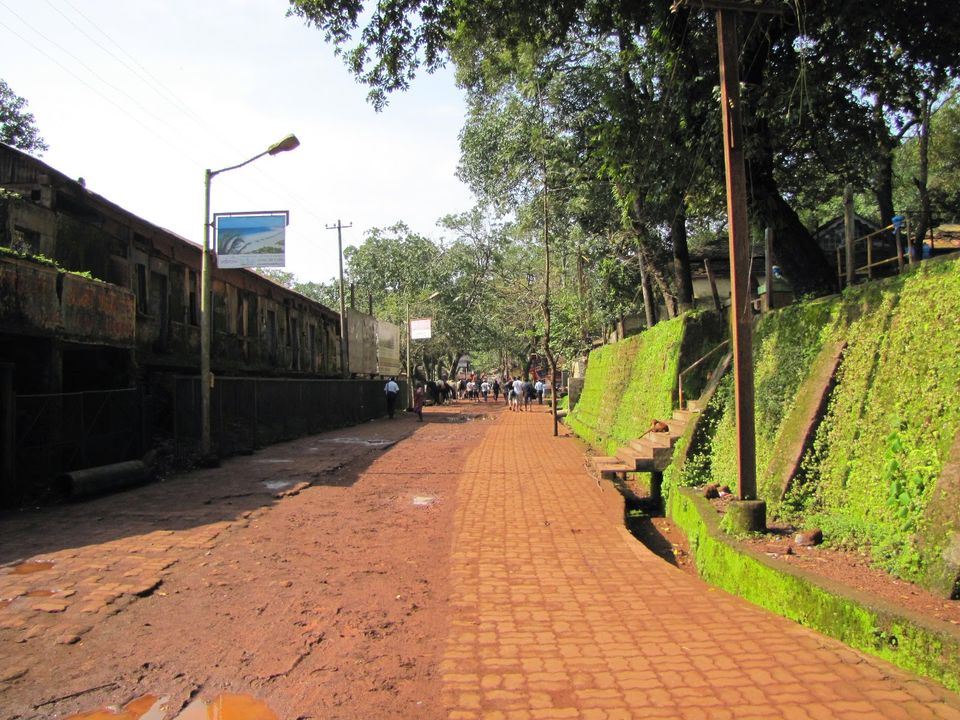 We took rest for an hour and refreshed and started the day plan by 11 AM comparatively fresh after the morning trek of around 7-8 kms.
We preferred to do everything by foot and want to avoid horses. The first point we trekked was to Charlotte Lake. This is a view of the a dam and the when water is released, it would turn out to be a water falls. When we went, there was not much water and no water falls. The water falls was used as a view point. Nearby located is, Lord Point. From this point, we would see many small falls on the hills. The whole of Matheran has several view points of the same Ghats Section - but each of them offers a different view. If one gets to see all the points, we can see all view points itself from the views :)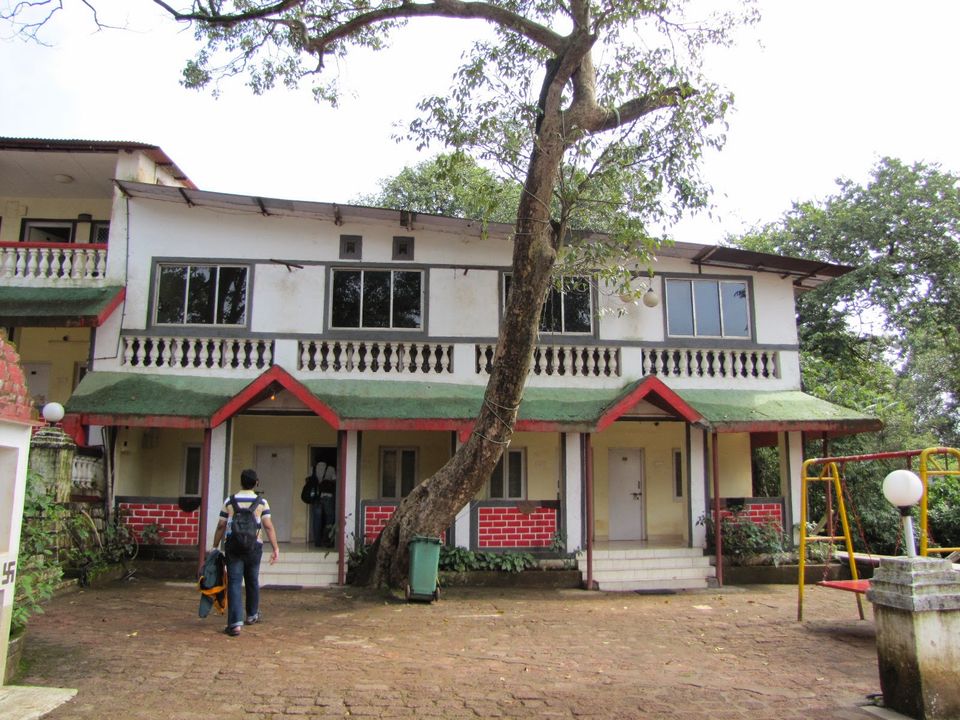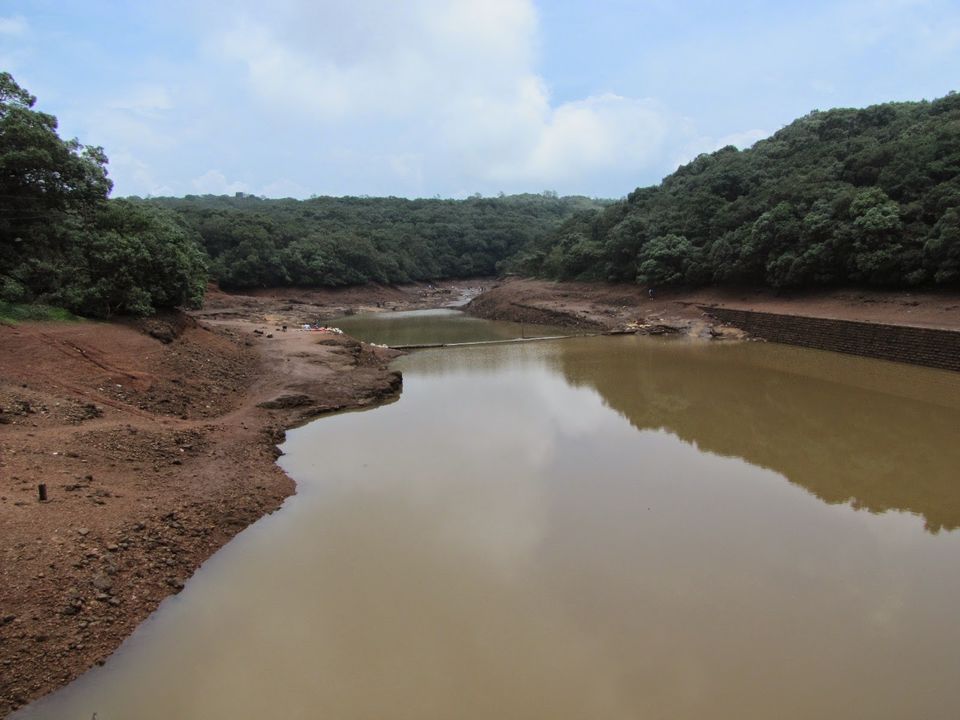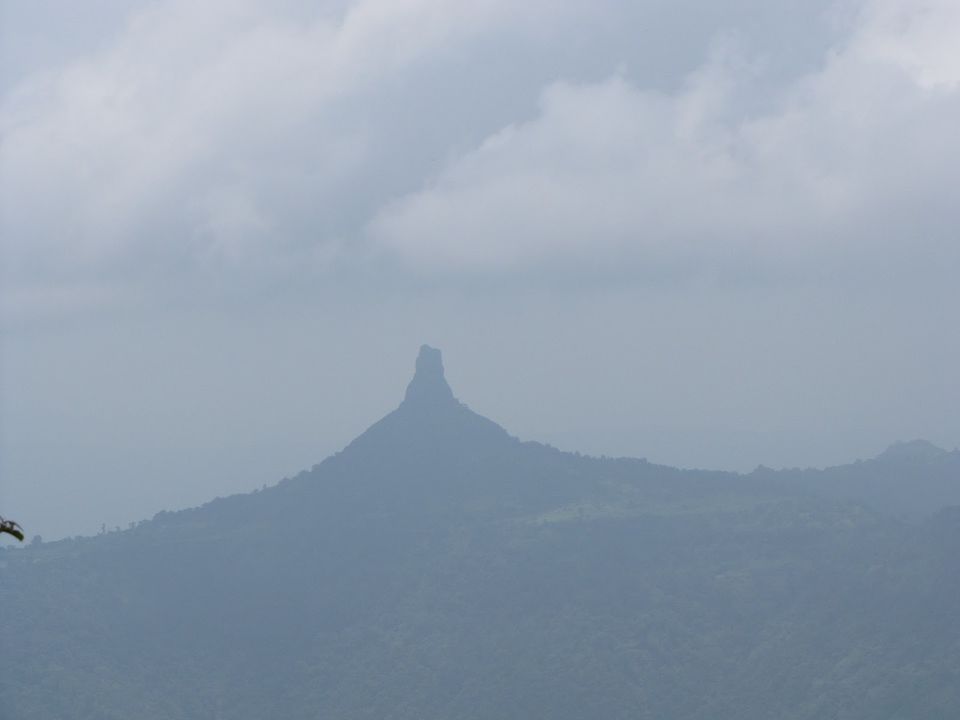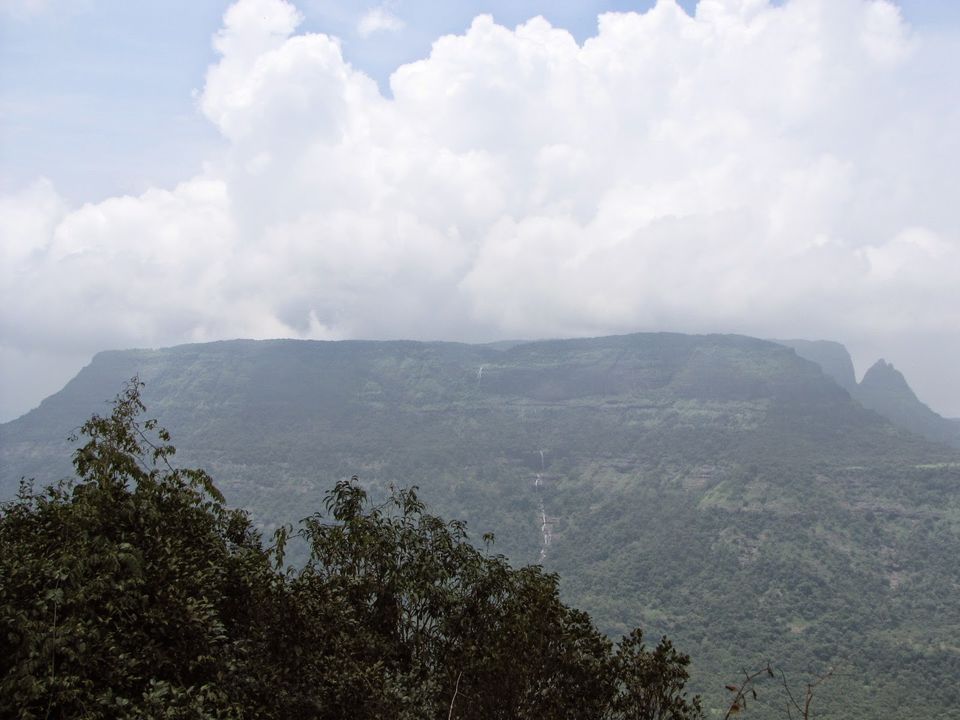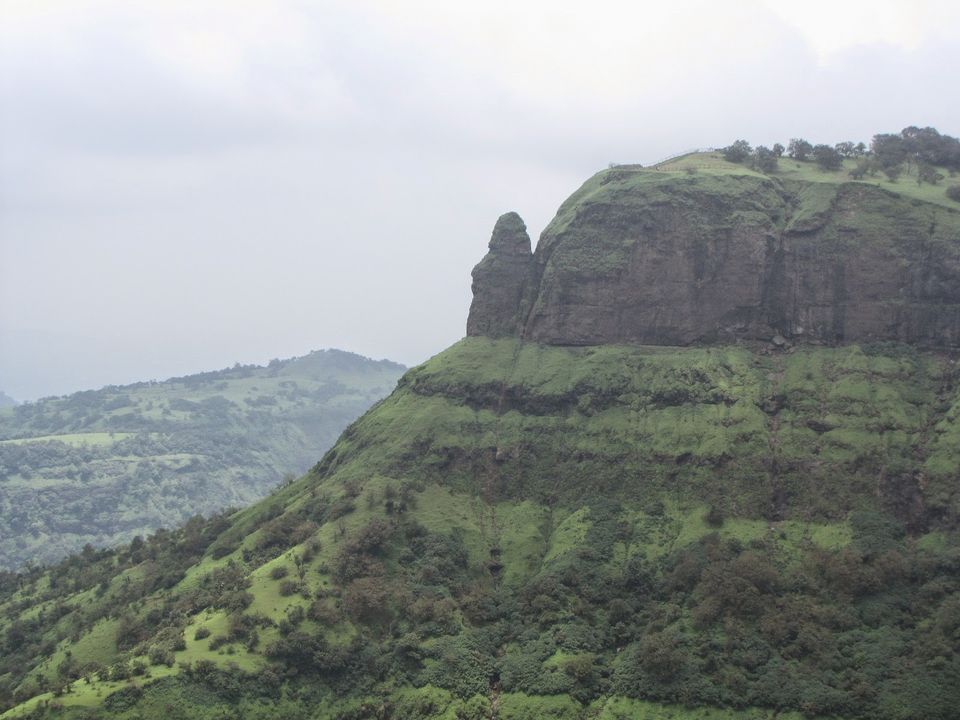 From Lord point, we could view rest of the points like Echo point till Lousia point. Our next point is Echo Point. We saw a deep valley closed by mountains on all sides and yeah, it echoes ! There are shops here and there selling water, coffee, tea, lime soda, soft drinks, biscuits and few selling Maggi, Sundal. We had some Sundal at the Echo point. The whole stretch of trek is on red mud. Imagine rains all the way and choose your attire accordingly. Some light weight dressing with shoes is advised and not worried about getting dirty ! :)
From Echo point, around 1 km was Honeymoon point. This is a 2 -min walk from the main path. It leads to a narrow path and a good view of the Lousia point. Well, why is this named Honeymoon point, coz, there is a bench where 2 can be seated ! :)
It was already around 2 PM and our timekeeper Sriram (!!) was reminding us for lunch ... we had some hot-hot Maggi and completed our lunch ! Then, we started back and after a 20-min walk, there was a 3-way junction and no direction board ! Well, we waited for few minutes and got someone to show us. Unless you have someone around reaching back or on horses, we may not the right way. Many places lack direction boards. At some places, the distances mentioned are misleading, say, 2 kms, but one could reach in 3/4th of a km ! May be .. some strategy for horses to make money ! Some, are real distances :) .. Beware... If you ask me, so what to do .. answer is ... walk :)
At one point, we saw a direction board points to Malang point, Sunset point and Lousia point. We decided to visit Lousia point first - it was around 4 PM when we reached here. May be after seeing Lousia point, we planned to goto Sunset point. Lousia point is one of the beautiful places and the views from here are just amazing. Most of the view points are not so safe with respect to safety barriers in place - so, beware if you travel with kids and elders. Also, most of the places are skiddy, which means, avoid going closer to the edges !
Lousia point is so green and moist ! From here, one can view rest of the all the view points seen from morning ! The monkeys here are so naughty they pick up anything you keep on the ground - cameras to backpacks to handbags to purses to umbrellas to anything. Also, they don't mind climbing on you to grab anything that comes to your hand. One easily gets carried away with the beauty of the place and be ready for some show by monkeys ! :) By the time, we spent close to 30 minutes here, suddenly black clouds appeared from nowhere and a heavy rain started ! ok.. get back now ... was the signal !
Visiting Malang or Sunset point is no more a point provided the downpour .. yeah it poured! We enjoyed every bit of our walk back to rooms - around 3+ kms and we needed guidance at several points - at times, out instinct and common sense, at times, we would someone by coincidence to help ! Reached back and had a hot hot cup of tea ... and now, it was pouring much bigger !!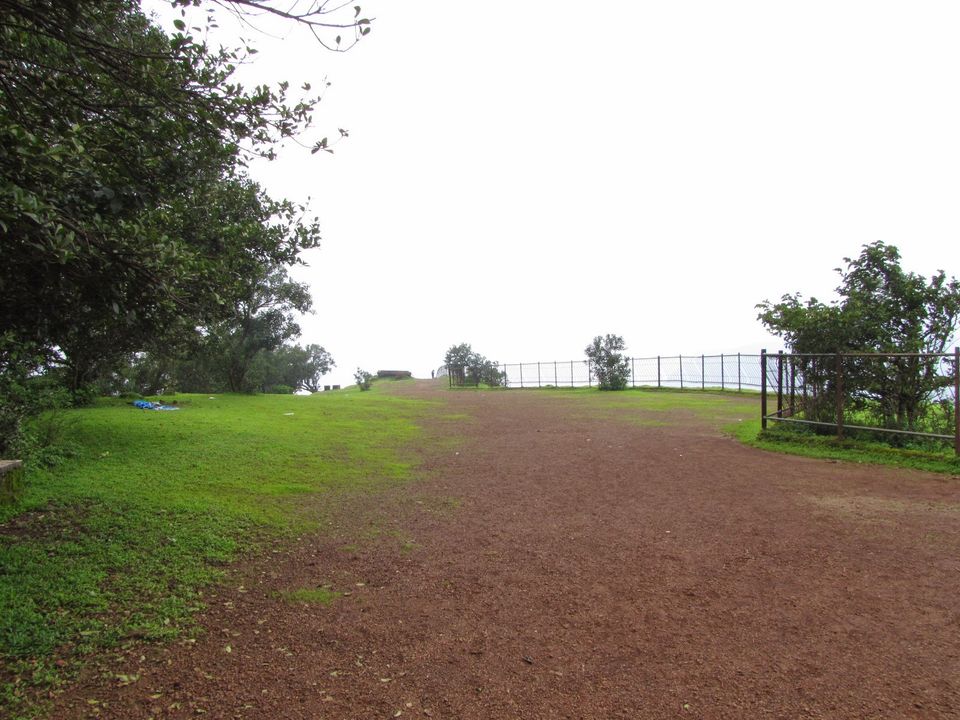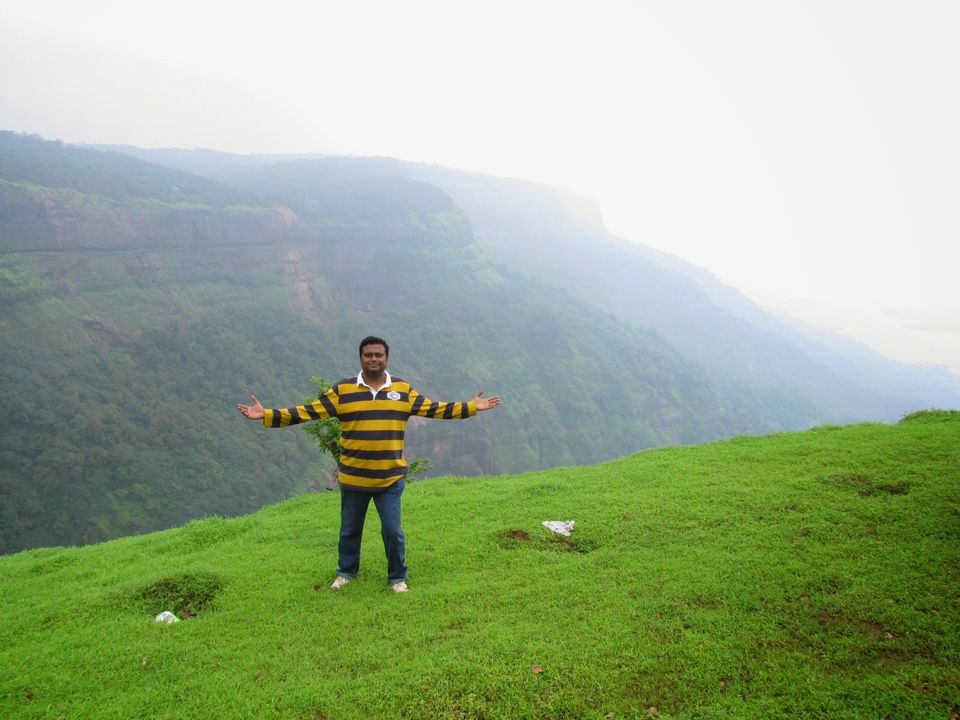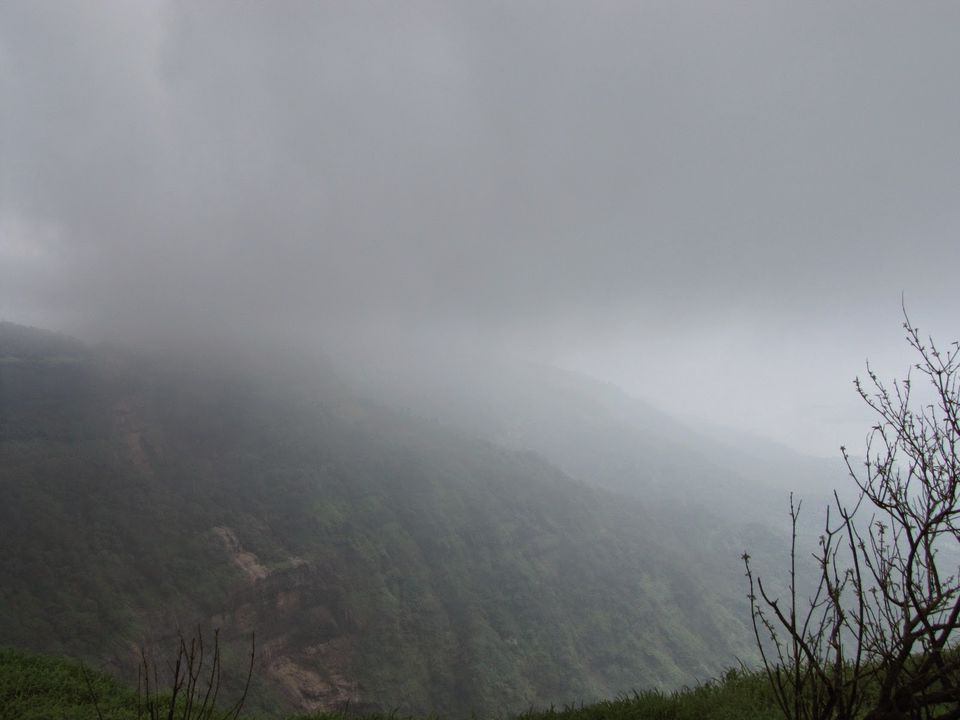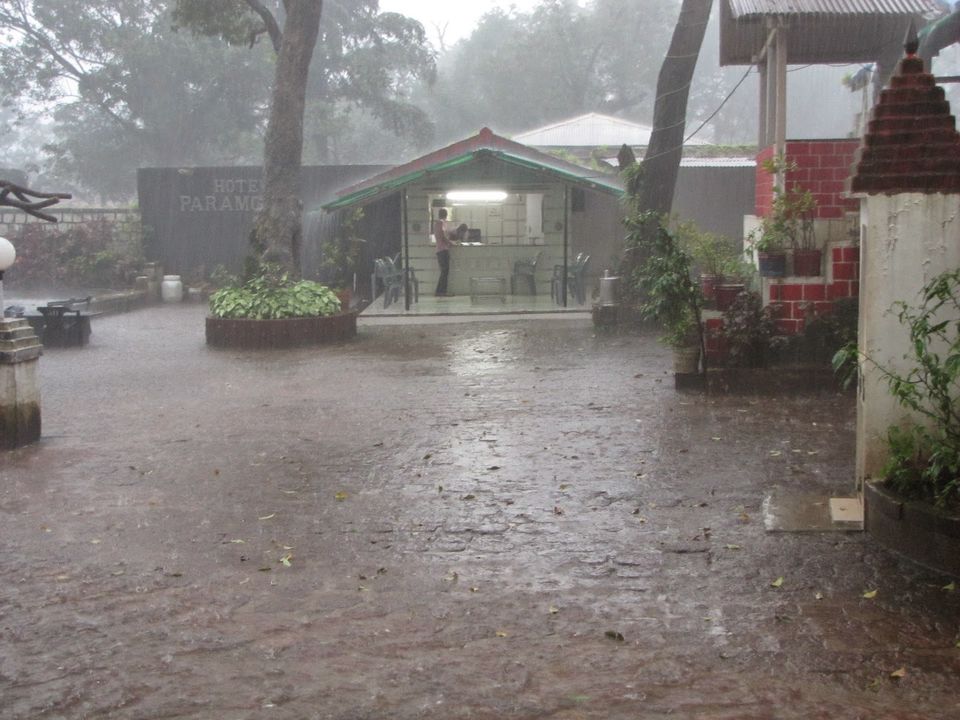 After an hour of downpour, the skies were clear and said all travellers - hey, get out and spend your money at Matheran Market .... ! We walked around the market and bought some leather goods and chikkis. Chikkis are very popular in Matheran - raw materials are coming from plains, however, the blend of making it, seams to be the secret of Matheran. We also had some samosas, bhajjias, pav, etc. - something hot in the rain is always nice to have. By 8 PM, has the dinner buffet open (part of the package @ Hotel Paramount), hot and sour veg soup, Chappathis, Panner gravy, Jeera rice and Gulab Jamun.
Day-2
After a good sleep, got up around 6 AM, refreshed and started for a morning trek. We decided to cover few places before breakfast. Our checkout time was 10 AM. The plan was to visit some places before check-out, have breakfast, then check-out, visit more and return back to Pune.
The first place was Khandala point - may be just 300-400m from Hotel Paramount on the market road. This was 2-min walk from the market road, and the view was breathtaking - one could view the complete stretch of Ghats until Khandala. The early morning dew made the view amazing and remarkable. We could see the clouds caressing the mountains and the sunrise made it glow between the Ghats. The white line of water falls and streams running all the way was just adding more spice and flavour to the view.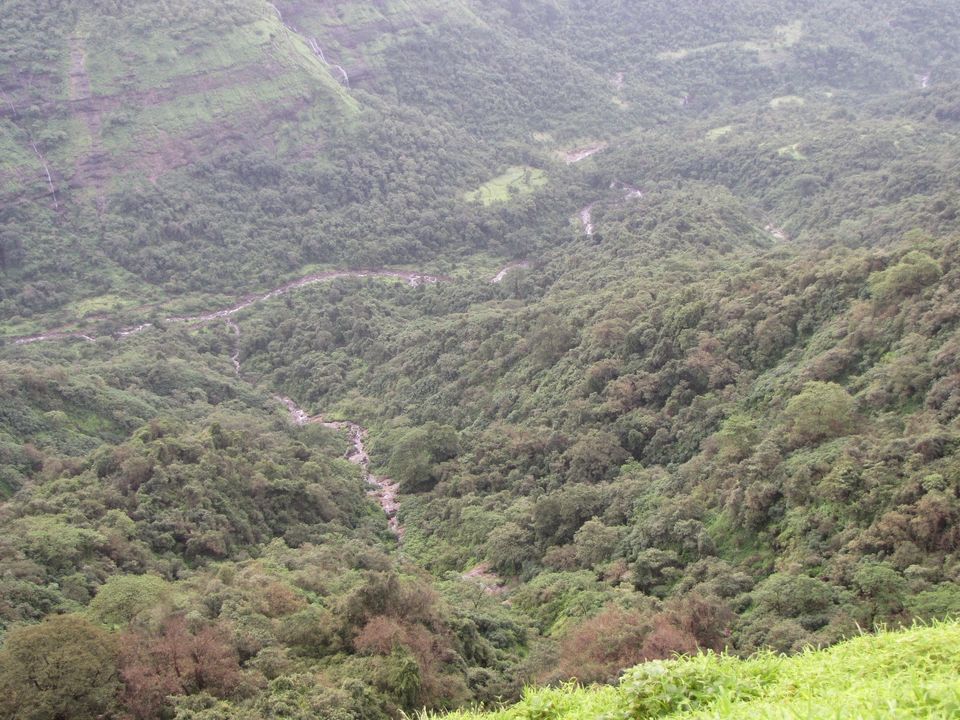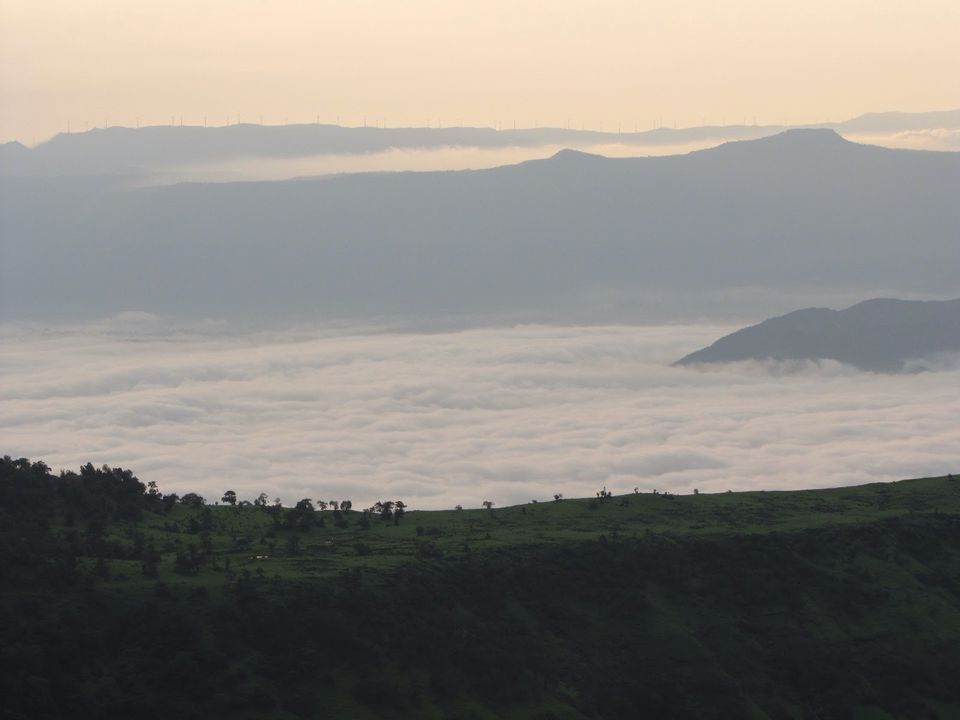 We decided to add a longer point to the morning list - Belvedere Point and One Tree Hill point - around 2+ kms from the Khandala point. Belvedere point was one the best view points we saw - provided we saw the maximum portion the valley along with most of the mountains around and a water reservoir beneath. Not sure how other visitors view the point, for us this was the best panorama view point to see the whole of the region. It was around 7:30 AM, and the Sunrise golden rays made the place more special. On any day, I would advise anyone not to miss this point. We could see the One Tree Hill also from here. It was 8:15 by then, and we got our morning stomach bells ringing. We returned back to the hotel to have some sandwiches and idlis.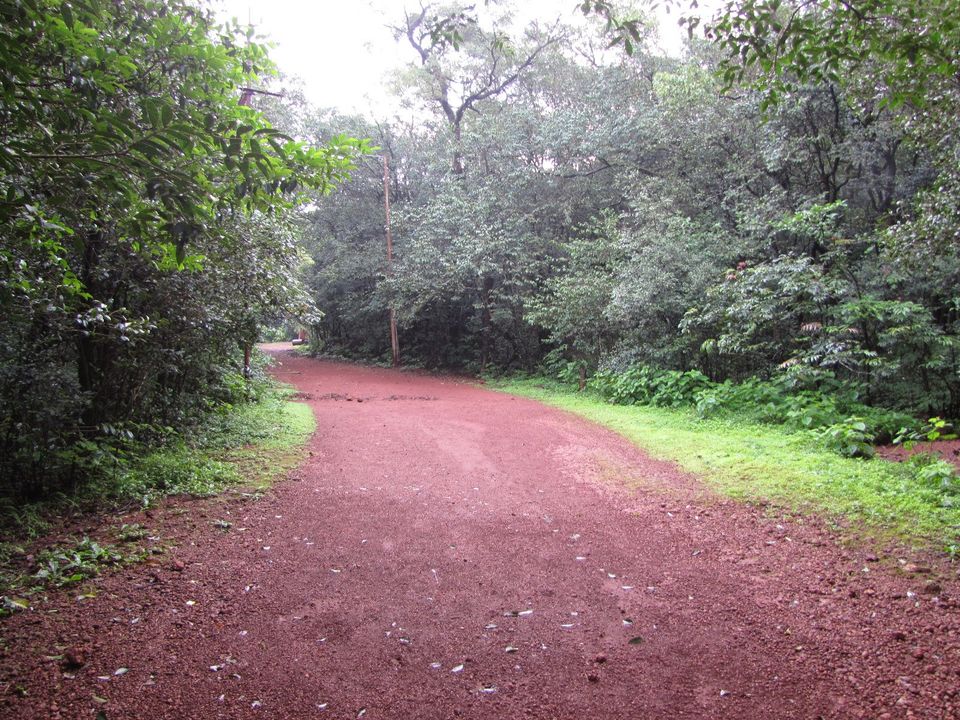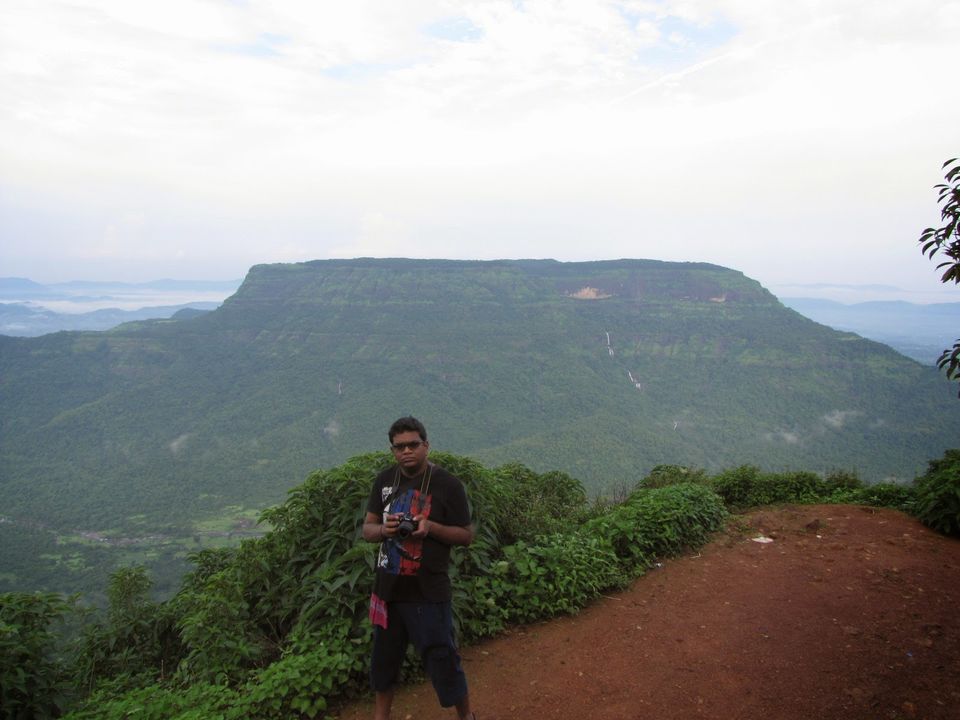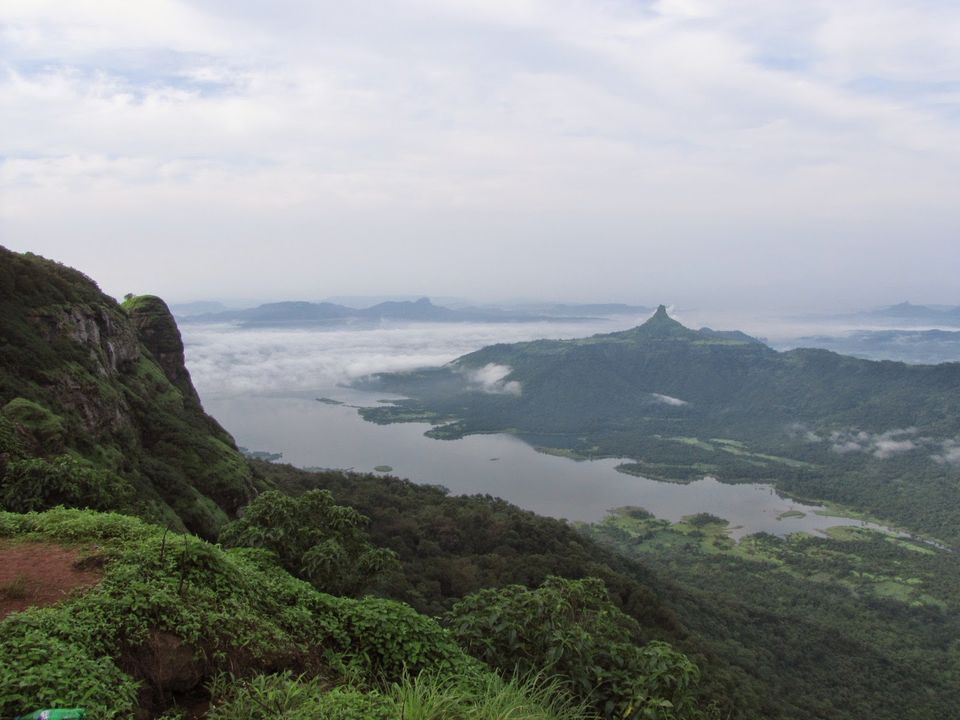 After Check-out, we decided to visit 2 more points - Alexander Point and Rambagh Point. Alexander Point also gave very good view of the valley we saw from Khandala point. Rambhagh point offered a bigger view of the view from Alexander Point. We felt never boring seeing the nature's view so many times. It was just amazing. The weather was quite sunny. If it could have been little colder, it would have icing on the cake. We took the narrow gauge train back to Aman lodge. We had our car booked to goto Pune after the tiresome treks - close 30 kms in 2 days.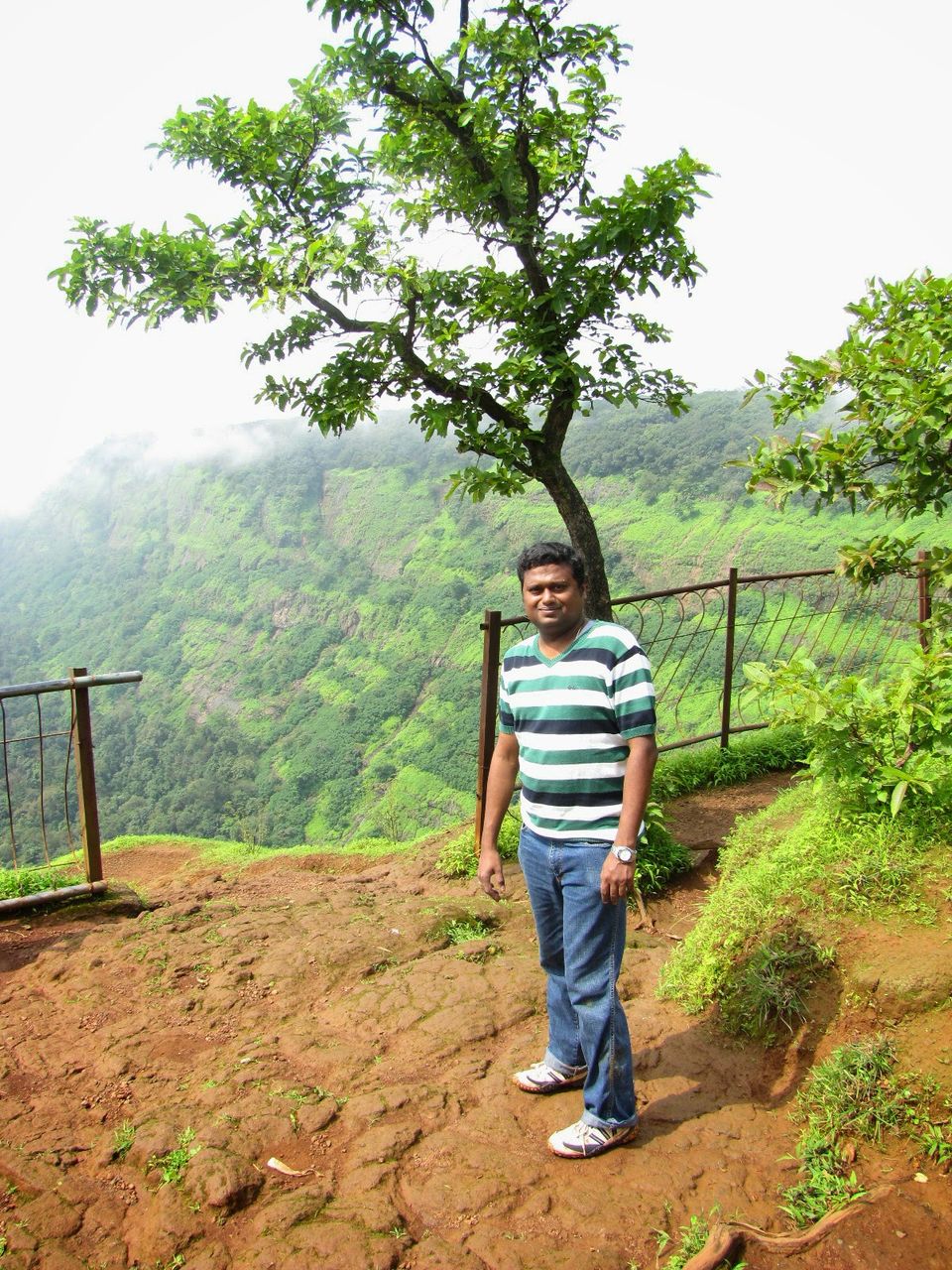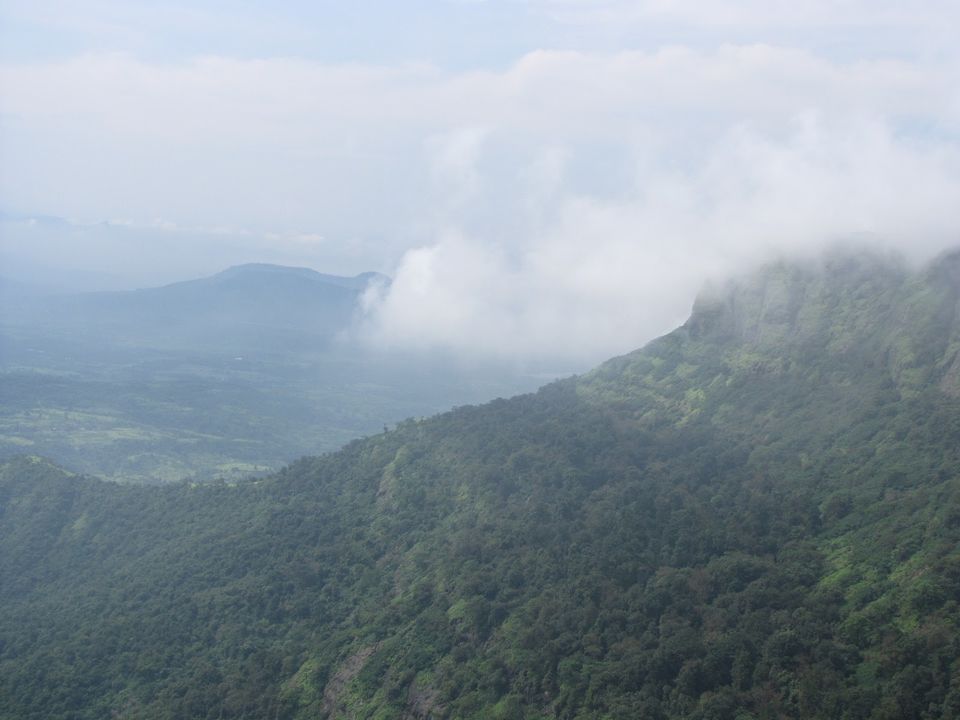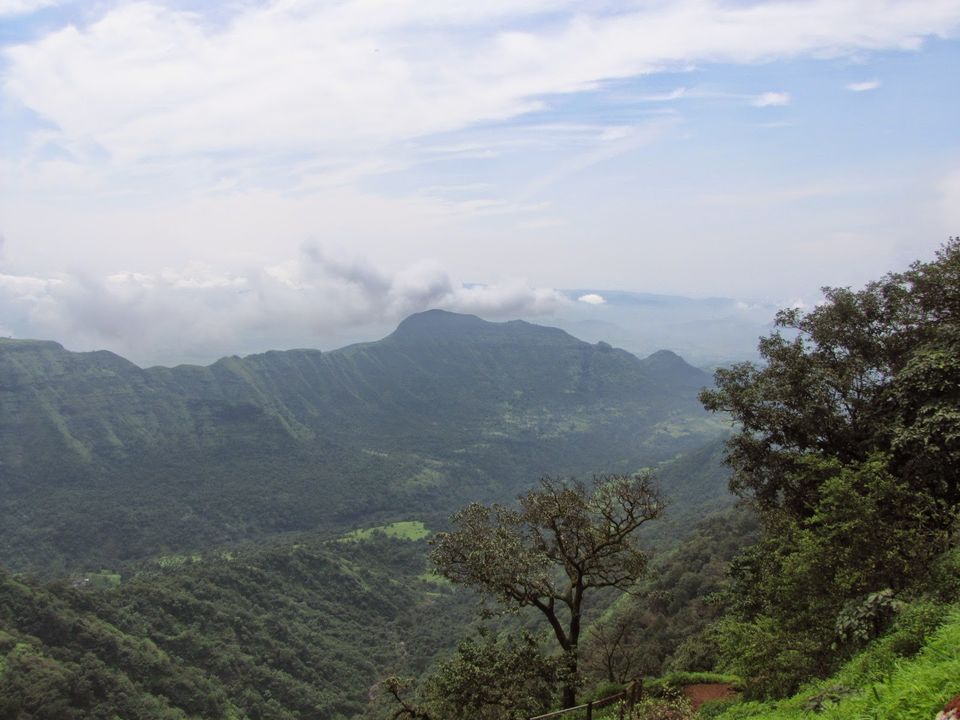 A very memorable trip with Murugan and Sriram and ready to goto office next day !